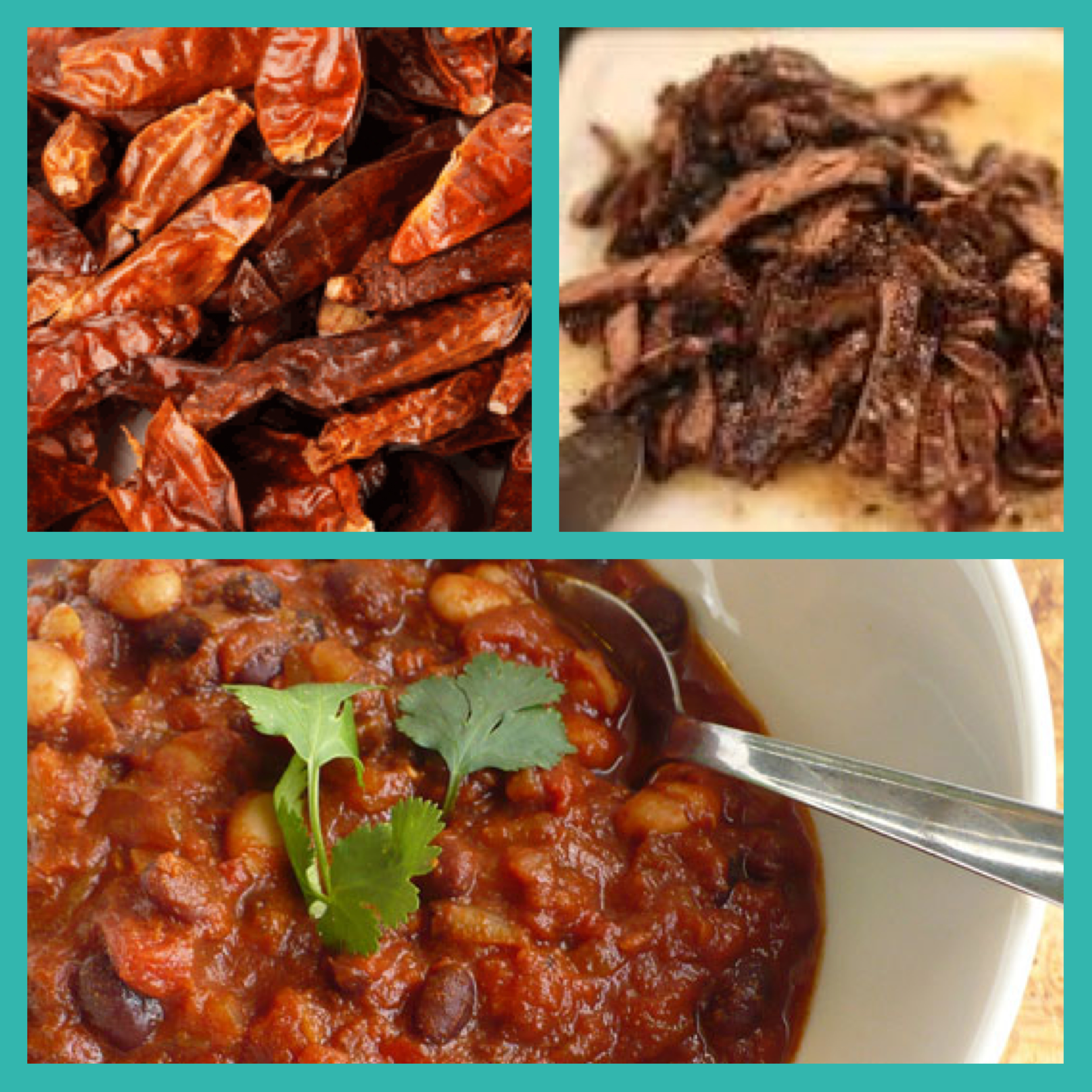 On Sunday, watching both the Super Bowl and the commercials, Suzen and I wanted food prepared in advance, easy to serve and as spicy as the New Orleans setting.
Suzen had some leftover steak and a friend who had sample the meat said, "Make chili!" Great advice. This recipe cooks for hours but that's good because your kitchen will be totally aromatic.
We used six dried chilies, three of them ancho, and the other three were dried, red and hot. This is a panty-clearing option for you. How do you know if you have enough chilies, the right chilies? It's simple. After you have soaked and blended the chilies into a puree, take a whiff or a taste. If it blasts you off your feet, cures sinus problems, and make you search for a beer, you have succeeded. [That means, if the mixture is not earth shaking yet, you'll need to add another chile, which means you'll want to soak a couple of extra ones. Don't worry. You can always put those extra pods to use. For example, blend the leftover chilies with mayonnaise for a different chip dip.]
Suzen's Chili with Beans, Steak and Tequila
Yield: serves 8
Ingredients:
1 pound cooked red beans [discussed below]
1 teaspoon oregano
1 bay leaf
3 dried ancho chilies, toasted and seeded
3 other dried chilies, toasted and seeded
1 teaspoon dried oregano [Mexican variety preferred], crumbled
1 28-ounce can tomatoes
2 bay leaves
1 teaspoon salt, or to taste [very likely you'll use more]
½ to 1 pound cooked steak, cut into small, bite-size pieces
1 medium white onion, chopped
2 tablespoons tequila
Chopped fresh cilantro for garnish
Chopped white onion for garnish, optional
Shredded cheese for garnish, optional
Sliced avocado for garnish, optional
Preparation:
Prepare the beans by putting them in a large pot and covering with water. Add a teaspoon of Mexican oregano and a bay leaf. Cook over medium heat for 1 ½ hour until the beans are tender, but not falling apart. Remove the bay leaf.
While the beans are cooking, soak the toasted chilies in very hot water for 30 minutes to soften. Only use enough water to just cover the chilies. Put the chilies in a blender and discard the soaking water. Add the oregano and tomatoes. Blend until as smooth as possible. [This is precisely the situation where a Vitamix is preferable to a conventional blender. The Vitamix will produce a perfectly smooth product for you.]
Strain the cooked beans and return to their pot. You may wish to save some of the bean water to thin the dish out as it cooks. Add the pureed chili mixture to the beans. Add the bay leaves, salt and sliced steak. Cover and begin to cook.
In a skillet with a little olive oil, fry the onion until it starts to brown. Add the onion and the tequila to the beans. All to cook for at least 30 minutes so the flavors can blend.
Serve then, with the garnishes. Alternatively, remove from the heat for up to two hours, then reheat and serve.
Left overs can be frozen and delectably desired later.
Serving options include straight in the bowl, over chips, or over rice. White rice flavored with cilantro is an excellent option.
Source: Suzen O'Rourke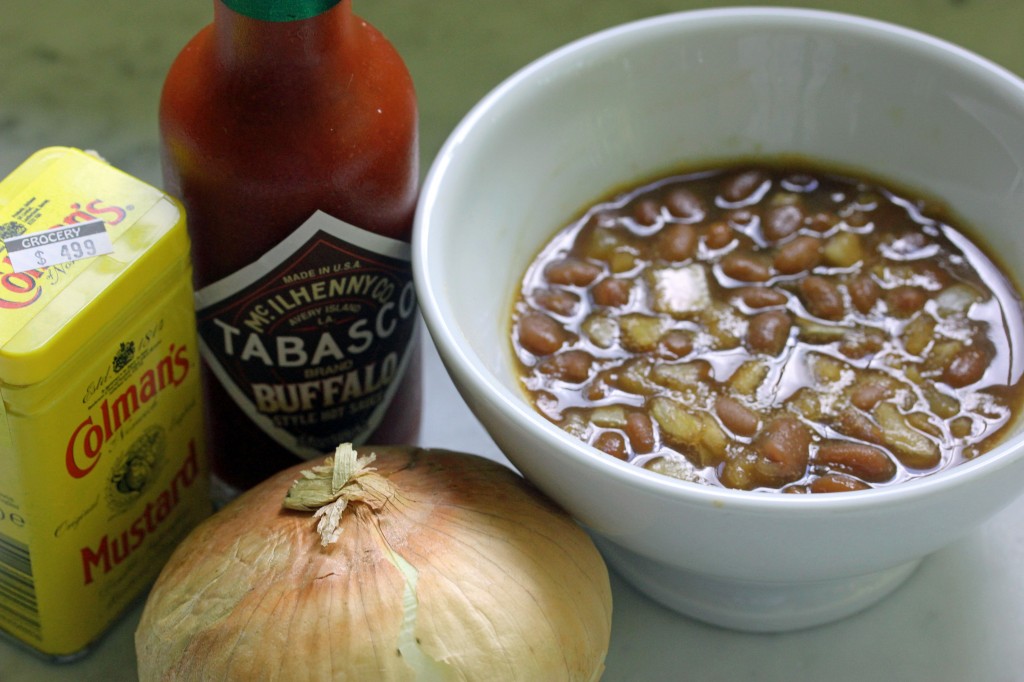 You are male. You are by yourself. You are hungry.
Your tools: a can, a can opener, onion, hot sauce, and mustard.
Your prospects: excellent.
Sometimes I am by myself and I do not have Suzen here to help me, encourage me, or feed me. I happen to like my foods hot and sweet. You can't live on chicken wings and chocolate chip cookies. Not all seven nights.
Regular canned baked beans are decent, but here's the way to convert them into a truly interesting dish, for a side or for you main dish.
Just use regular beans but add to them. Seriously add to them. In the picture above, I show the big three contributions: dry mustard, Tabasco Sauce, and onion. Oh, you could add a sweetener, too, say sugar, but I did not put that in the photo. I'm on a diet. It's in the recipe below though. The proportions here are approximate and you are perfectly free to use more, to use less, or to substitute: scallions, peppers, dice tomatoes, …
These beans are very simple to make and addictive. They will get you through until you see your wife again.
Brian's Beans
Yield: 2 servings
Ingredients:
1 16-ounce can of bake beans [the bland normal style is fine, it'll be fixed]
1 medium onion, diced medium
2+ tablespoons Tabasco Sauce
1 tablespoon dry mustard
½ cup brown sugar [optional but I think mandatory]
½ cup molasses [optional but up to you]
Preparation:
Put all the ingredients in a saucepan and stir to mix. Then turn the heat to medium. Stir occasionally, making sure that the sugar melt.
Bring almost to a boil and simmer for two minutes.
Serve immediately.
These do store for the next day and lunch, in case she has not come home yet.
Source: Brian O'Rourke