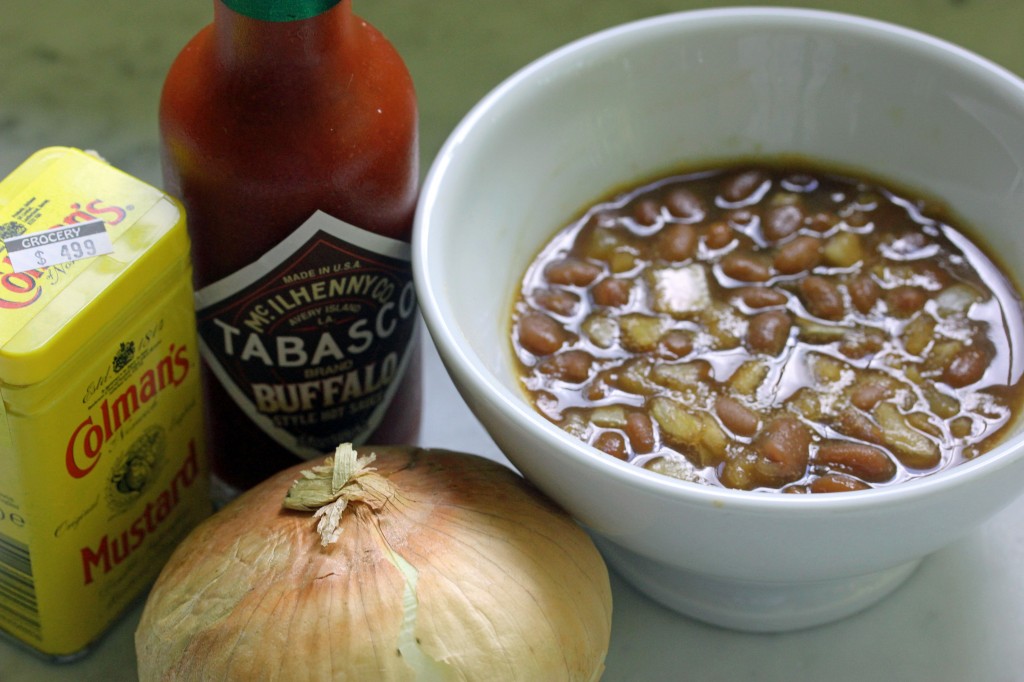 You are male. You are by yourself. You are hungry.
Your tools: a can, a can opener, onion, hot sauce, and mustard.
Your prospects: excellent.
Sometimes I am by myself and I do not have Suzen here to help me, encourage me, or feed me. I happen to like my foods hot and sweet. You can't live on chicken wings and chocolate chip cookies. Not all seven nights.
Regular canned baked beans are decent, but here's the way to convert them into a truly interesting dish, for a side or for you main dish.
Just use regular beans but add to them. Seriously add to them. In the picture above, I show the big three contributions: dry mustard, Tabasco Sauce, and onion. Oh, you could add a sweetener, too, say sugar, but I did not put that in the photo. I'm on a diet. It's in the recipe below though. The proportions here are approximate and you are perfectly free to use more, to use less, or to substitute: scallions, peppers, dice tomatoes, …
These beans are very simple to make and addictive. They will get you through until you see your wife again.
Brian's Beans
Yield: 2 servings
Ingredients:
1 16-ounce can of bake beans [the bland normal style is fine, it'll be fixed]
1 medium onion, diced medium
2+ tablespoons Tabasco Sauce
1 tablespoon dry mustard
½ cup brown sugar [optional but I think mandatory]
½ cup molasses [optional but up to you]
Preparation:
Put all the ingredients in a saucepan and stir to mix. Then turn the heat to medium. Stir occasionally, making sure that the sugar melt.
Bring almost to a boil and simmer for two minutes.
Serve immediately.
These do store for the next day and lunch, in case she has not come home yet.
Source: Brian O'Rourke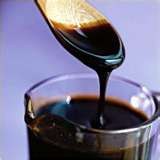 In upstate New York today, it was in the high 60s so that Halloween snow is gone. But more snow is on the way. That's why this was a Kindling Day. Warm, blue sky, no snow or ice. The perfect day to gather firewood and kindling. There may not be another day like this until April.
"This is crazy," my oil delivery man said to me. I think he was a bit disappointed at the temperature.
"That vine on the side of the house?" I pointed. "It's budding." And that vine has not had leaves for two weeks.
"Oh" he was now truly unhappy.
"Don't worry. Snow on Thursday," I said.
"Great." He whistled his way back to the oil truck.
After a few hours of lifting things, I wanted a quick, "comfort food" meal. I know that I rant about only cooking from scratch, but the truth is there are days when some grocery store beans are a great start. A start.
I took a 28-ounce can of baked beans and augmented it: sautéed celery and onion plus some molasses. The result is a one pot meal that, coupled with a good beer, lets the day end on a perfect note.
And for that molasses? Look for something a bit different. Suzen and I found some sugar cane molasses at a Middle Eastern market in Brooklyn. More subtle, and probably more sweet, it made for great beans.
Brian's Baked Beans, Augmented Style
Yield: 2-3 people
Ingredients:
1 28-ounce can of baked beans
1 stalk of celery, finely diced
1 medium sweet white onion, diced
2 tablespoons butter
½ cup molasses
Preparation:
Open the beans and pour off some, but not all, of the liquid. You'll be adding about ¾ cup of liquid between the molasses and vegetables. You want beans here, not soup.
Dice the celery and onion. Melt the butter in a 2-quart sauce pan. Add the vegetables and sauté until translucent. Add the baked beans and the molasses. Stir to combine. Heat until it bubbles, stirring occasionally.
Source: Brian O'Rourke