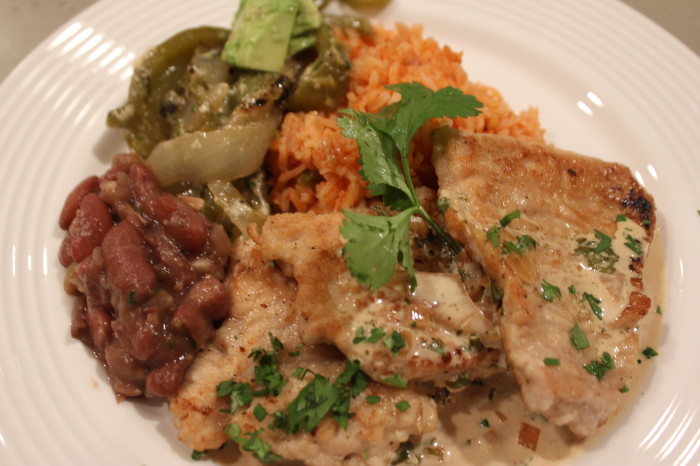 Yes, the picture above is the same as yesterday. That post was for the turkey medallions on the right, recipe circa 1988.
The beans and rice on the top and left are, on the other hand, much more recent recipes: 1991! If you have never seen Rice: The Amazing Grain by Marie Simmons then you owe yourself a visit to a bookstore or, more likely Amazon. You can still get a copy after 22 years. There's no better way to spend $5!
Pairing this beans and rice dish with turkey medallions gives you a hearty meal with complementary textures as well and flavors. This dish is not quick. A few hours are needed for cooking and simmering. The investment in time will be repaid, I promise. The first bite will remind draw a smile as all the ingredients sparkle in their own flavor layers. Rice and bean dishes can be, forgive me, boringly bland. Not this gem.
Which is why, if you can, you'll find putting Rice: The Amazing Grain a wise choice for your bookshelf.
Drunken Red Beans and New Mexican Rice
Yield: serves 6
Ingredients:
For the beans:
¼ cup flavorful extra-virgin olive oil
2 cups chopped onions
1 tablespoons minced garlic
1 pound dried red kidney beans, rinsed and soaked
1-5 cups unsalted chicken broth
1 ½ tablespoons tequila (plus a little more if you like)
2 bay leaves
1 piece (about 1 ½ inches) cinnamon stick
Hot pepper sauce to taste
For the rice:
3 tablespoons flavorful extra-virgin olive oil
½ cup chopped onion
2 cloves garlic, minced
2 cups uncooked long-grain white rice
3 ½ cups of half unsalted chicken broth and half water
2 teaspoon salt
½ cup pared and finely chopped carrot
½ cup finely chopped celery
½ cup diced (¼ inch) sweet red onion
½ cup diced (¼ inch) green bell pepper
Preparation:
For the beans:
Heat the oil in a large heavy saucepan. Add the onions and sauté, stirring, until coated with oil. Cover and cook over very low heat, stirring occasionally, until golden brown, about 15 minutes. Stir in the garlic and sauté uncovered, for 3 minutes.
Drain the beans, then add them and the broth to the onion. Heat to boiling and cook, covered, over low heat for 2 hours. Add the bay leaves and cinnamon. Cover and continues to cook until the beans are very tender, about 1 hour. Season with salt and hot red pepper sauce and add tequila. (The beans can be prepared up to 24 hours before serving. Reheat, adding additional broth if necessary).
For the rice:
Heat 1 tablespoon of oil in a heavy saucepan. Stir in the onion and garlic, and sauté, stirring, just until tender, about 5 minutes. Stir in the rice until coated with oil. Add the water (or broth and water) and salt, then heat to boiling. Cover and cook the rice over medium-low heat until the liquid is absorbed and the rice is tender, about 15 minutes.
Heat the remaining 2 tablespoons of oil in large skillet. Add the carrot, celery, and red onion, and sauté, stirring, until tender but not browned, about 5 minutes. Add the green pepper and sauté until crisp-tender, about 2 minutes. Set aside.
Toss half of the sautéed vegetables with the rice just before serving. Spread a mound of the rice in a shallow soup plate and top with the beans. Garnish each with a spoonful of the remaining sautéed vegetables.
Source: Rice: The Amazing Grain, Marie Simmons, 1991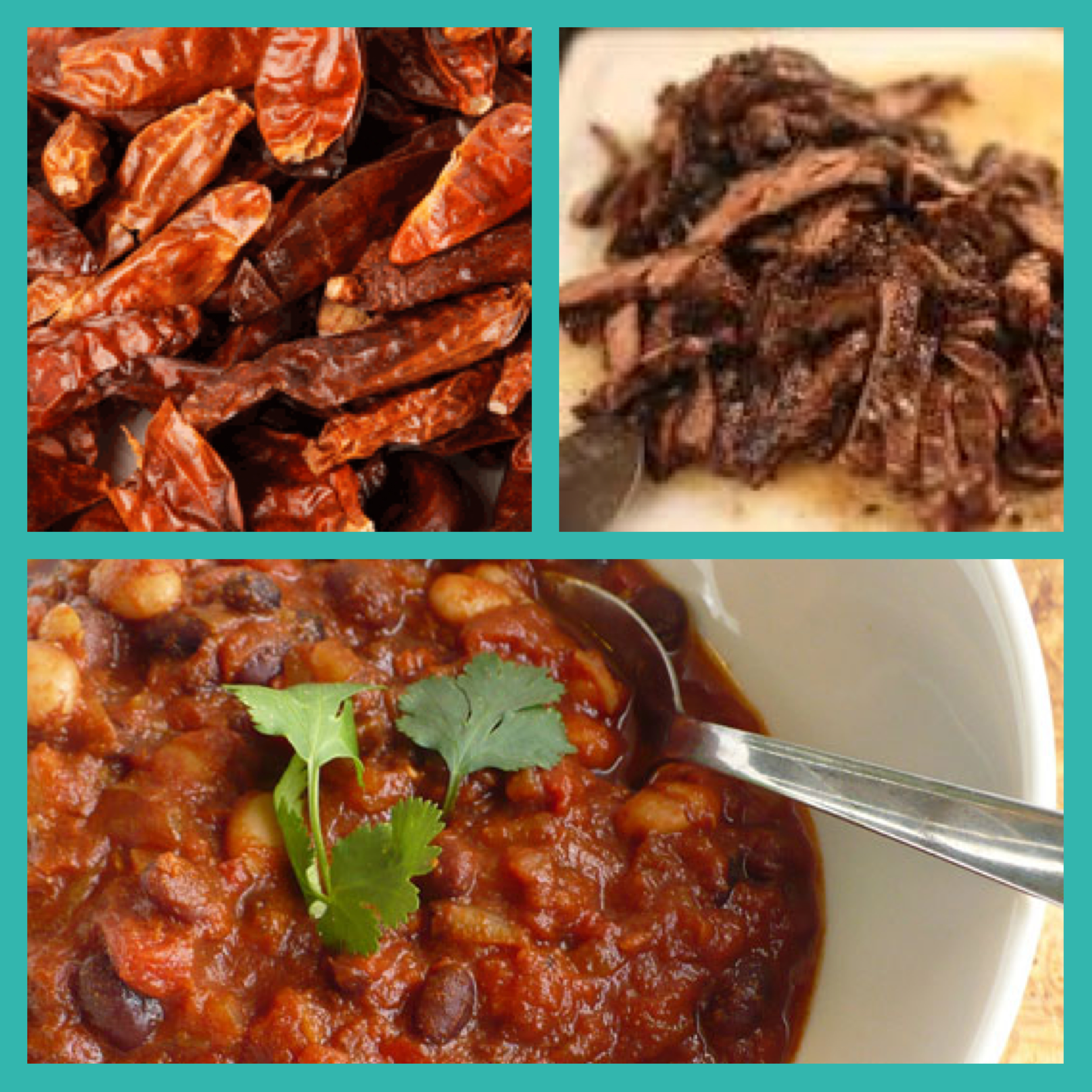 On Sunday, watching both the Super Bowl and the commercials, Suzen and I wanted food prepared in advance, easy to serve and as spicy as the New Orleans setting.
Suzen had some leftover steak and a friend who had sample the meat said, "Make chili!" Great advice. This recipe cooks for hours but that's good because your kitchen will be totally aromatic.
We used six dried chilies, three of them ancho, and the other three were dried, red and hot. This is a panty-clearing option for you. How do you know if you have enough chilies, the right chilies? It's simple. After you have soaked and blended the chilies into a puree, take a whiff or a taste. If it blasts you off your feet, cures sinus problems, and make you search for a beer, you have succeeded. [That means, if the mixture is not earth shaking yet, you'll need to add another chile, which means you'll want to soak a couple of extra ones. Don't worry. You can always put those extra pods to use. For example, blend the leftover chilies with mayonnaise for a different chip dip.]
Suzen's Chili with Beans, Steak and Tequila
Yield: serves 8
Ingredients:
1 pound cooked red beans [discussed below]
1 teaspoon oregano
1 bay leaf
3 dried ancho chilies, toasted and seeded
3 other dried chilies, toasted and seeded
1 teaspoon dried oregano [Mexican variety preferred], crumbled
1 28-ounce can tomatoes
2 bay leaves
1 teaspoon salt, or to taste [very likely you'll use more]
½ to 1 pound cooked steak, cut into small, bite-size pieces
1 medium white onion, chopped
2 tablespoons tequila
Chopped fresh cilantro for garnish
Chopped white onion for garnish, optional
Shredded cheese for garnish, optional
Sliced avocado for garnish, optional
Preparation:
Prepare the beans by putting them in a large pot and covering with water. Add a teaspoon of Mexican oregano and a bay leaf. Cook over medium heat for 1 ½ hour until the beans are tender, but not falling apart. Remove the bay leaf.
While the beans are cooking, soak the toasted chilies in very hot water for 30 minutes to soften. Only use enough water to just cover the chilies. Put the chilies in a blender and discard the soaking water. Add the oregano and tomatoes. Blend until as smooth as possible. [This is precisely the situation where a Vitamix is preferable to a conventional blender. The Vitamix will produce a perfectly smooth product for you.]
Strain the cooked beans and return to their pot. You may wish to save some of the bean water to thin the dish out as it cooks. Add the pureed chili mixture to the beans. Add the bay leaves, salt and sliced steak. Cover and begin to cook.
In a skillet with a little olive oil, fry the onion until it starts to brown. Add the onion and the tequila to the beans. All to cook for at least 30 minutes so the flavors can blend.
Serve then, with the garnishes. Alternatively, remove from the heat for up to two hours, then reheat and serve.
Left overs can be frozen and delectably desired later.
Serving options include straight in the bowl, over chips, or over rice. White rice flavored with cilantro is an excellent option.
Source: Suzen O'Rourke