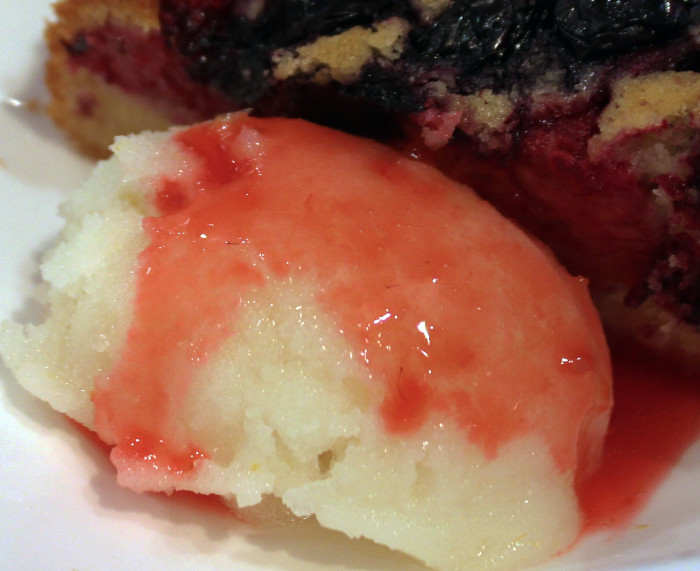 On the top edge of the picture above, you see some Double Berry Polenta Cake, which I posted about a few days ago. I said then that the cake was so good that it could stand on its own: no adornment needed.
While that is true, Suzen often loves to pair cake with ice cream or sorbet. Those pairings enable multiple contrasts: temperature, texture, and flavor tones. Citrus notes are often used to draw out the potential of berry flavors and here it is done with a bright lemon sorbet that itself is overlaid with strong basil flavor. It's a punchy combination, ideal for a brunch where you have champagne on hand for every course.
Basic and lemon is a classic combination, but you can certainly change the herb content here, substituting or adding. For example, oregano or thyme often replace or accent basil. And that lemon flavor could be swapped out for lime or orange or even grapefruit. Adjust the sugar in each case to match the tartness.
And, if you need assistance in mix and match herbs in general, you'll love this Herb Substitution Chart at About.com:
http://homecooking.about.com/library/weekly/blherbsub.htm
---
Basil Lemon Sorbet

Yield: 5 cups

Ingredients:

2 cups water
1 ½ cups sugar
1 ½ tablespoons lemon zest, divided
2 cups freshly squeezed lemon juice
1 ½ cup fresh basil leaves
Preparation:

Prepare a lemon simple syrup with the water, sugar and 1½ tablespoons of the lemon zest by combining all three in a medium saucepan set over medium-low heat. Cook mixture until the sugar is fully dissolved. Remove from heat.
Once the simple syrup is ready, add the basil and salt. Let the mixture steep for 30 minutes. Stir in the lemon juice. Cover and refrigerate 2 to 3 hours, or overnight. Strain the chilled mixture through a fine mesh strainer.
Turn on the Cuisinart® ice cream maker; pour the mixture into the frozen freezer bowl and let mix until thickened, about 15 to 20 minutes. When the sorbet is almost done, add the reserved zest through the opening on top of the ice cream maker and let churn until combined. The sorbet will have a soft, creamy texture. If a firmer consistency is desired, transfer the sorbet to an airtight container and place in freezer for about 2 hours. Remove from freezer about 15 minutes before serving.
Source: www.cuisinart.com

Photo Information Canon T2i, EFS 60 mm Macro Lens, F/5 for 1/50th second at ISO‑640

Is it possible to figure out how many potatoes you have eaten in your life? At my age, and with my growing-up-in-the-50s background, my PPC — Personal Potato Count — is very, very high. Baked potatoes, French fries, hash browns, potato salad, … That veggie has been a major part of intake.
And my favorite? Well, for ease of use, I love them baked. However, I could use a baked boost. Just baked with butter is good — although I have been accused of adding too much salt and pepper. But that standard pairing day-in-day-out can get a tad boring. Sour cream and chives? I've been there. Worchester and other steak sauces? Spicy and interesting, but not every day. And there is salt there, too.
Yes, it was suggested that I lower my salt intake. And, yes, my lovely wife is monitoring my intake grain by grain.
Back to that butter. That unsalted butter by the way. This summer Suzen is offering her Cooking by the Book clients steak with an herbed butter. I expanded that idea this weekend to create this flavored butter that was just outstanding on my baked potato. The butter flavor is there, of course, but now augmented with the tasty boost of peppers, basil and cilantro. The best part of this? There is enough flavor here that you do NOT want to grab for the salt shaker.
Pepper and Herbed Butter
Yield: 12 tablespoons
Ingredients:
1 stick of butter [4 ounces or 8 tablespoons]
⅓ cup of canned red pepper, finely diced
5 basil leaves, finely chopped
1 tablespoon cilantro, finely chopped
Preparation:
Take the stick of butter from the refrigerator and finely slice it on a cutting board. Place the slices in a bowl and using a wooded spoon work the butter until it begins to soften. You'll need at least 2 minutes here.
Add the remaining ingredients and continuing working the butter. At some point you may want to use your hands, not a spoon, to gently fold the peppers and herbs into the butter. I had a lot of pepper to incorporate; dicing the peppers finely makes the incorporation stage easier.
Form the butter into a roll, seal in plastic wrap, and refrigerate for at least one hour before use.
Source: Brian O'Rourke