A long time ago, our friend Stephen Schmidt gave us the recipe for these barbeque rolls. Yes, they are softer than Charmin. No, they do not have to be used with barbeque. Oh, with pulled pork and sauce? You'd think you were in the The Carolinas or maybe Texas Hill Country. But really, these wonderful rolls are the only ones you'll ever need. Breakfast, lunch, dinner and snack. Hungry at 2AM watching Seinfeld reruns? Heat one of these up, add some butter plus honey or jam, and even that Seinfeld show is finally going to make sense.
You will have different rolls in your eating career. You will never, ever have anything better.
Soft Barbeque Rolls
Yield: 24 rolls serving 8 to 10 people
Ingredients:
1                  Cup lukewarm water
2                  Packets active dry yeast
8                  Tablespoons (1 stick) unsalted butter
1                  Cup milk
2                  Large eggs, at room temperature
1/3               Cup sugar
1                  Tablespoon salt
6                  Cups all-purpose flour, just a bit more for kneading
Preparation:
Pour water into a large mixing bowl and sprinkle yeast over the top.  Set aside 5 minutes to allow yeast to dissolve.
In the meantime, melt butter in a small saucepan over low heat.  Remove from heat and stir in milk.  Mixture should be lukewarm; if necessary return to heat briefly.  Pour into yeast.
Add eggs, sugar, and salt and beat well.  Add 4 cups of the flour and stir briskly until mixture is smooth and begins to come away from the sides of the bowl.  Work in the remaining 2 cups of flour.  Let stand 3 minutes, then turn out onto an unfloured work surface.  Using a rubber spatula or metal pasty scraper, slap dough back and forth until it begins to gather into a ball.  Flour hands and knead dough lightly for 1 minute, reflouring hands as necessary.  Dough will remain extremely soft and sticky.
Scrape any dried doth out of the mixing bowl. Place dough in bowl, cover with plastic wrap, and let rise in a warm place until doubled, about 1 to 1 ½ hours
Brush a 9 X 13-inch baking pan with 2 tablespoons soft or melted butter.  Turn dough out onto a lightly floured work surface and roll into a wide log.  Divide the log into four pieces, then cut each into 6 strips.  Roll the strips between your hands into 24 balls, tossing each onto a lightly floured work surface as it is formed.  Lightly dredge balls in flour.  Arrange rolls in six rows of four each in the pan.  Drape loosely with a sheet of plastic wrap and let rise until almost doubled, about 45 minutes.  Bake at 375 degrees for 25 to 35 minutes, or until lightly browned.  Turn out of pan, then reinvert onto a plate or, if you are not serving at once, a rack.
Source: Stephen Schmidt
Photo Information: Canon T2i, 18-55MM Macro Lens, F/2.8 for 100th second at IS0 2000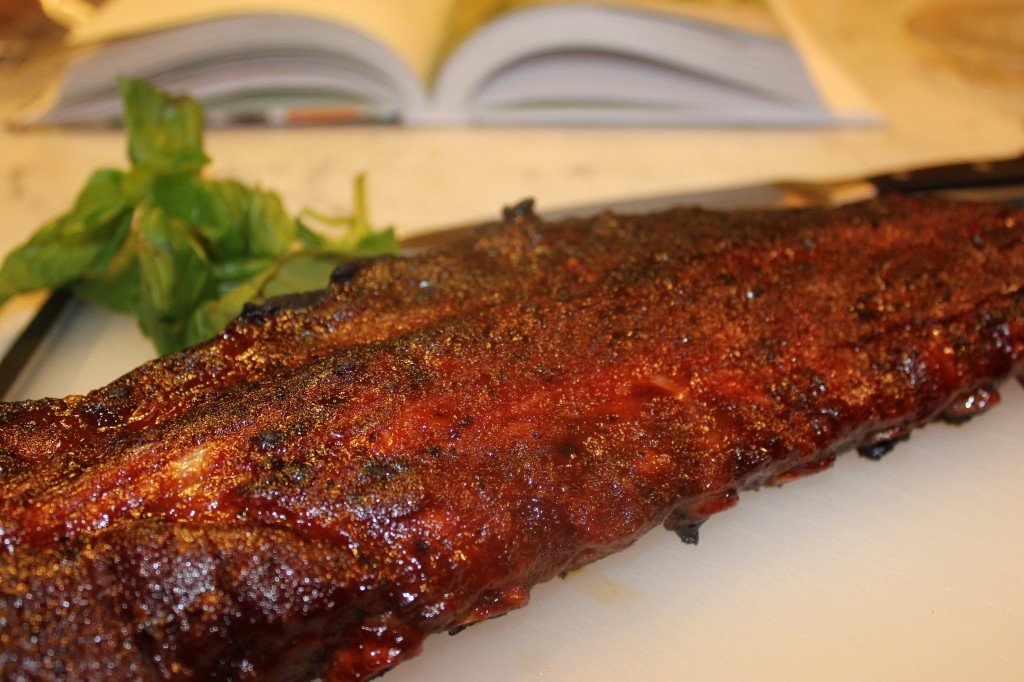 This is a long post, but worth it. Why? This is about the best pork ribs you will ever have in your life. Ever, anywhere, anytime. And it all started because I was seriously rib-deprived.
"How was the Q?" Suzen asked me. I had just returned from two weeks in Austin and, true to family, tradition, I had made the rounds of some Texas barbeque joints. Both old friends like Rudy's [where you can fuel your car with Shell and your tummy with rich ribs] and some new spots.
"Well," I began carefully, "some of it was very good and some okay. But I did not have anything outstanding." And that's the truth. I don't want to denigrate Rudy's, which is quite good, but I haven't bitten into ribs that make me cry for a long, long time. That's bizarre because in Texas you are never out of sight of at least one of these three things:
A church
Someone wearing a football jersey for the University of Texas or the Dallas Cowboys.
A garish neon sign or a fading hand-painted sign for barbeque
In Texas, they take those three things seriously. One Super Bowl Sunday, I was checking into a Dallas hotel. The man in front of me was wearing a Washington Redskins football jersey. "Sir," the desk clerk cautioned him, "I strongly advise you not to go out on the street wearing that jersey."
Oh, there's a fourth thing you always see: gun racks.
After I unpacked my bags from Austin, I turned to the mail. And there, as if God loved me, was a copy of America's Best Ribs by Ardie Davis and Chef Paul Kirk. There are wonderful recipes here: from Kentucky, Arizona, Minnesota, … Folks from Texas, and Tennessee and The Carolinas may be upset at that, but great barbeque is out there. It can, however, be hard to find the truly great ribs.
Barbeque chefs are very special. They have those cook-offs where thousands of people test their rib fantasies. The chefs feature family recipes they claim have been honed for generations. And the recipes themselves are named with boldness. It's not "Great Ribs" but "Best Damn Fiery Things You Ever Dared to Consume." Modesty is not in order here.
Now, America's Best Ribs includes Mr. Piggy's Revenge: Grilled Chipolte Baby Back Ribs. Ah, how comforting: revenge on behalf of the pig? And "grilled chipotle?" Smoke upon smoke?
Suzen saw this recipe and was all in. We spent a warm spring afternoon buying ingredients, cleaning the grill, planning the meal. We woke up the next morning to 4" of snow. No grilling. We followed the recipe below except for baking the ribs for 2 hours until that blackening meat was just sliding off the bone. We still basted for just the last 30 minutes.
The recipe is not hard, but it involves both a dry rub and a sauce. That sauce is mixed but not cooked. The rub? It's got 12 things in it. If you were starting from scratch, you might just add a tablespoon of each one. Not here. There's a tablespoon of this, a teaspoon of that, a ½ teaspoon of something else. This is precisely the "tuning" you'd expect to see in a recipe that has, in fact, passed through generations of cooks and countless slabs of ribs.
The result: the best ribs ever. You take this one to a ribs cookoff, and you are going to win. Serve this to your family, and you will be a culinary hero. Eat a few yourself with a cold beer, and you will be happy.
Mr. Piggy's Revenge: Grilled Chipolte Baby Back Ribs
Yield: serves 4 to 6
For the rub:
¼ cup white cane sugar
2 tablespoons seasoned salt
1 tablespoon onion salt
2 teaspoons garlic salt
1 teaspoon celery salt
2 tablespoons paprika
1 tablespoon chili powder
2 teaspoons lemon pepper
1 teaspoon freshly ground black pepper
½ teaspoon ground ginger
½ teaspoon dry mustard
½ teaspoon ground chipotle chile
For the ribs:
For the sauce:
½ cup tomato-based barbecue sauce
1 ½ tablespoons orange marmalade
1 ½ tablespoons chopped chipotle chilies in adobo sauce
¼ cup water
Preparation:
Heat a cooker to medium to medium-high.
Combine all the ingredients for the rub n a small bowl and blend well. Season the ribs all over with rub.
Combine all the ingredients for the sauce in a small bowl and set aside.
Oil the grate and place the ribs on it bone side down over direct heat. Cover and cook for 45 minutes to 1 hour, or until pull-apart ender, turning every 5 to 7 minutes and glazing with the sauce during the last 30 minutes of cooking.
Transfer the ribs to a cutting board and let them rest, covered loosely with aluminum foil, for 10 to 15 minutes. While the ribs are resting, boil the remaining sauce for 1 to 2 minutes, if desired, before serving with the ribs
Source: America's Best Ribs by Ardie Davis and Chef Paul Kirk