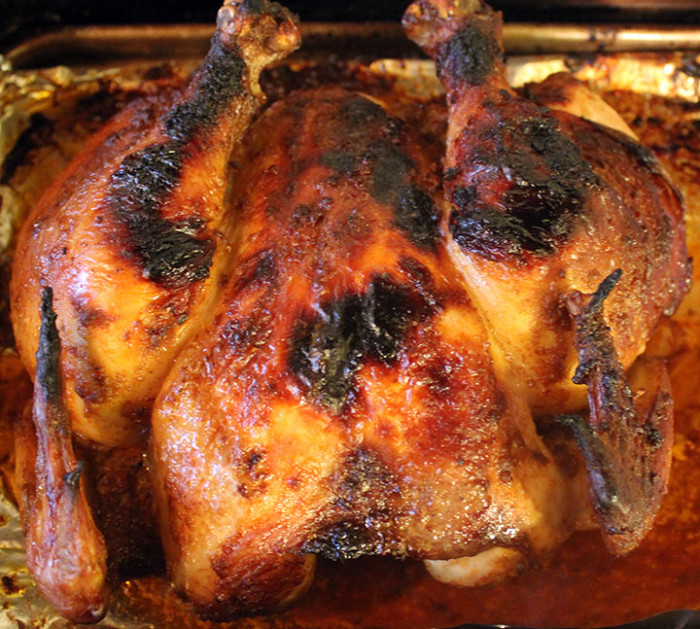 Our first test from Pitt Cue Co.: The Cookbook was more than a success. It was delicious. There are two recipes here, one for the chicken which involves the second, a House Rub that you can use and use again. The range for the rub is far beyond chicken.
The header for this recipe says to go old. Get an old chicken if you can, old and free range. The "normal" chicken in your store is really a baby, fed well for six week and then given the axe. A free range chicken, with some months of wandering about on its resume, will give you the better flavor
The recipe calls for cooking this on a smoker. We did smoke, using our Cameron stovetop smoker with apple wood. Our chicken was thick so Suzen did the splitting job. The chicken did not suffer.
The Pitt Cue Co boys suggests that this dish be served with their special Iceberg Salad and Anchovy Salad Cream. Recipes shall appear here promptly. In the meantime, do look for a copy of Pitt Cue Co.: The Cookbook and prepare to be pleasantly surprised. Yes, the authors are British. Yes, they know how to barbeque, really know.
Whole Spicy Smoked Roast Chicken
Yield: serves 3 to 4
Ingredients:
3 tablespoons chipotle chili paste [the adobo paste in the can]
½ stick unsalted butter
3 tablespoons maple syrup
1 ¾ ounces roasted garlic paste [roast garlic and mash it up]
Heaping ¼ cup House Rub [recipe follows]
1 free range chicken, about 3 ¼ pounds
Preparation:
Blitz the chipotle chili paste, butter, maple syrup, roasted garlic paste, and house rub in a blender to a paste. Make slashes about ½ inch deep into the thighs of the chicken with a sharp knife, then rub the chicken thoroughly inside and out with the paste. Put it into a dish, cover and leave overnight in the fridge.
Prepare a barbeque for smoking [see the book pages 114-115 for details, another reason to buy the book].
Put the chicken , breast-side up, into a roasting pan that will fit inside your barbeque and smoke/roast for 1 ½ hours, or until the internal temperature reaches 158°F and juices run clear when the chicken is bricked with a knife at the thickest point of the thigh area.
Remove the chicken from barbeque and let rest for 10 minutes before carving.
Source: Pitt Cue Co.: The Cookbook by The Boys at Pitt Cue
Photo Information [top]: Canon T2i, EFS 60 mm Macro Lens, F/4 for 1/20th second at ISO-3200
House Rub
Yield: 10 ½ ounces
Ingredients:
1 ½ tablespoons fennel seeds
1 teaspoon cumin seeds
1 teaspoon black peppercorns
1 teaspoon coriander seeds
½ cup dark brown sugar, packed
¼ cup granulated sugar
1 tablespoon garlic powder
⅓ cup fine salt
2 tablespoons smoked paprika
¼ cup regular paprika
1 teaspoon dried oregano
1 teaspoon cayenne
Preparation:
Toast the fennel seeds, cumin seeds, peppercorns, and coriander seed in a dry pan over medium heat for a few minutes, shaking the pan, until the spices release an aroma. Tip into a bowl and let cool.
Blitz the toasted spices in a blender to a rough powder. Combine with the remaining ingredients and mix thoroughly. Keep in a sealed container for up to 1 week.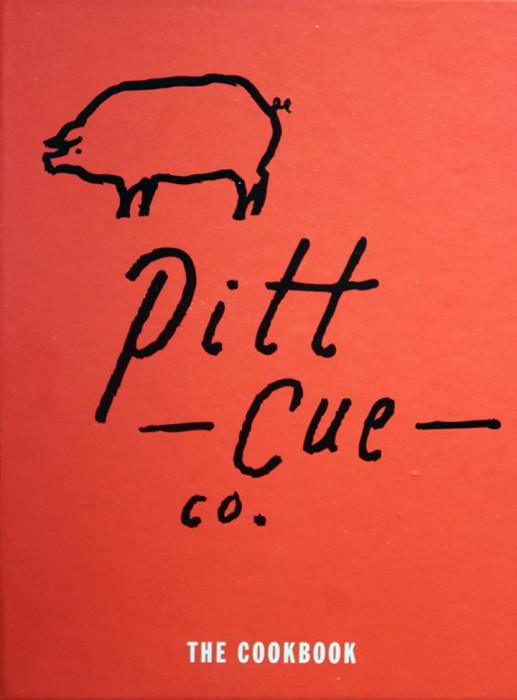 There are debates that cannot be won, assuming no one has a permit to carry.
Oh, I know that is insensitive but this is about barbeque and in Texas you can carry. Everybody carries. That's why they all walk lopsided.
Back to the endless debate. Which city [or state] has the best barbeque? Now, we know that New York and Idaho and Minneapolis are not going make the list. Too far north. No, barbeque country is North Carolina and Ashville, Memphis and Kansas City, Hill Country in Texas, Dallas and London.
The conversations about all these locations can go long and hard, possibly lubricated with beer or bourbon. And in addition …
Oh, I lost you. You are back there two paragraphs up looking at "London" in the same list with Dallas and Kansas City and wondering if I have finally lost my mind.
I can explain this all to you in two simple words: globalization and espionage.
Where was your cell phone manufactured? Your iPad? Those jeans? Your yoga mat? Globalization began with those "things" but now it extends to our very "culture" as well. A style of cooking may begin here, but it can be adopted, extended — and, yes, improved —around the planet.
Four British guys came to this country a few years ago. They came to visit, to sample barbeque, and to take notes. They traveled all over: from the upscale barbeque joints in New York City to the little barbeque gems in rural Texas known only to the locals and God, who does have a permit to carry.
They took a lot of notes — and apparently did drink a lot of bourbon [I'll explain]. Went back to London and opened a popup barbeque shop. In a year they went brick and mortar. Now just two years after that, they have won awards and praise unending. The restaurant is a hit in SoHo, and London has a serious barbeque enterprise.
And, after two years, we have Pitt Cue Co: The Cookbook. A quick review? This is a top class barbeque book, one unlike any you will have seen, and you want to buy and use it. It's an important book because of the wealth of information here, the substantial recipes, and the new perspective it can give you for this "American" style of cooking.
There are only five chapters in Pitt Cue Co, but they are packed.
Chapter 1 is Drinks, which is really a misnomer because these guys are in love with bourbon. There are 40 pages here of drinks, some familiar, many new, and all inspired. And heavy on bourbon. One of the authors had a relative who was the aide [well, personal bartender] to General "Black Jack" Pershing in the First World War. From this distinguished source, we have the Side Truck, not a mere Side Car. It's bourbon, Cointreau, lemon juice, orange bitters, and simple syrup. The full page picture of it shows a large glass being held with two hands. Consider yourself forewarned.
Chapter 2 is Snacks. The first recipe here proves this book is British, not American: Fennel-Cured Scratchings call for the skin from a whole pork neck end; said skin is dry cured in fennel, salt and molasses, and then deep fried. There are Habanero Pigs' Ears and Crumbed Hog Jowls and Buffalo Pig Tails. As the chapter flows, it gets a tad easier: Smoked Lamb Marrow with Anchovy, Pickled Shrimp, Pickled Wieners, and Kimchi Hot Wings. The reason for 40 pages of bourbon in Chapter 1 is to give you the inspiration [and courage] to tackle Chapter 2.
Chapter 3 is Meats, Sauces, and Ribs. It also gives you a Master's Degree in food chemistry. The first 14 pages here are background for you to read — and you will love it — on buying meat, picking cuts, the importance of collagen, why drippings matter, how to set up your direct or indirect fire, and how to know when the meat is done. The description on aging meat is truly valuable. As you might expect, the best way to age meat is the most expensive: it requires time and involves weight loss due to evaporation, which impacts your sales by the pound. The boys at Pitt Cue Co go for the quality, and explain in easy terms what happens when different aging processes are followed. Yes, "aging" is a pleasant term for controlled decomposition, but you'll get over it.
The recipes here begin with rubs and sauces and fruit ketchups. A 12-ingredient House Rub, which I will post this week, had Suzen salivating as she made it. "This is great, this is great," she uttered like a mantra. I could smell the rub from across the room.
The meats? There are ribs, sausage, steaks, prime rib and standing rib. Yes, prime rib. This is British barbeque. No burgers, but yes to pulled pork. Mutton shoulder and mutton ribs. I said, this is British barbeque. We've made the Whole Spicy Smoked Roast Chicken and loved it — recipe to come this week, too.
On their spying mission to the United States — which I which I personally believe was orchestrated by Edward Snowden — the lads learned the single most important lesson for a barbeque restaurant: you cannot live on smoke or meat alone. You need sides and you need desserts. Good ones. Nothing disappoints a barbeque enthusiast like great meat accompanied by crummy slaw.
Chapter 4 is devoted to those Sides and the mandatory Slaw. The boys relish in pickles, already a British standout. But in New York City, they learned about Pickled Watermelon Rind. A perfect recipe appears. So too do Pickled Pomegranate and Pickled Cherries. There is Chipotle Slaw and Chipotle Mayonnaise, Mustard Slaw, Green Chili Slaw and just plain old fire breathing Vinegar Slaw, plus an Anchovy Salad Cream that the boys say bests the Heinz salad cream that you'll find on every London shelf. Finally there is a Hog Mac 'N' Cheese involving too many ingredients to describe: it simply must be tasted.
The book concludes with Sweet Stuff in Chapter 5. There is a Lemon and Cherry Posset — and if you have been reading this blog you know the posset goes back centuries as a British concoction of cooked cream, soured with lemon juice, chilled and then flavored, here with cherries. The very first dessert is clearly the best: Banoffee Mess. Shortcakes and meringues adorned with bananas and bourbon caramel sauce, with additions of custard and shavings from frozen candy bars. This is a Mess you want.
This cookbook is distinctive. You won't confuse it with something American. It's barbeque, but it's foreign, but it's seductive. What else can you do but buy some bourbon, a good roast beef, some bananas, and the candy bar of your choice. Drink, cook, enjoy. Don't cut yourself shaving the candy bar.
This book will win awards. More importantly, it will win your heart.