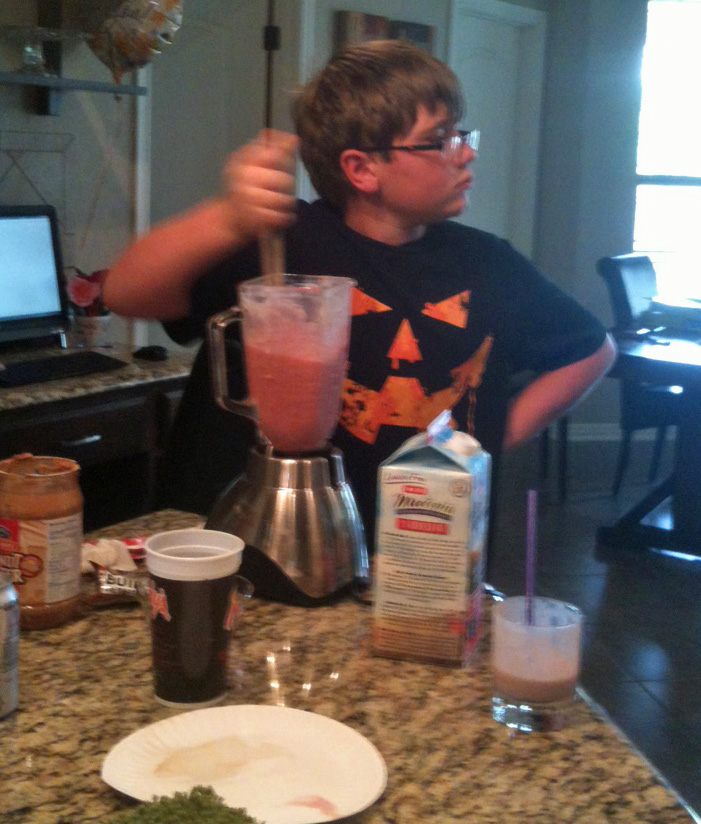 My twin grandsons are mirror twins. That's like being a SUPERTWIN. They look alike, but they "mirror" certain things. One is right handed, and his mirror brother is left-handed. One is artsy, and one is analytical. One is destined to be a chef and the other will be his lawyer.
That's Chef Daniel in the picture. His brother, Reid, is on the sofa to the right, out of sight. Reid is watching TV. Actually, so is Daniel, which helps explain why this smoothie took 45 minutes to make.
Reid had asked his mother, Michele, for a smoothie. She made him one. Reid, who may turn out to be a food critic and a lawyer, said he did not like it.
"I'll do it," said Daniel. That's when the clock started. Like his father, Daniel is a natural cook but a very meticulous one. He did not use a cookbook here, he did survey every shelf in the refrigerator and freezer and pantry for ingredients, and he was taste testing along the way.
He created the smoothie below. Because Daniel is already preparing his own private collection of recipes, I cannot reveal here the exact proportions of ingredients, but Daniel did agree to share the ingredient list. With Suzen, we have guestimated the ingredient amounts shown below. Daniel may, in the future, choose to share some of his other recipes. Suzen and I will strive for full disclosure.
Oh, Reid tasted this new smoothie and still was a tad dissatisfied. "Too cold," he commented.
These guys may be mirror twins, but they do share one characteristic: they are total perfectionists. Twenty years from now, you really will be astonished at the food in Daniel's restaurant while you sit with Reid going over every detail of the contract he has drawn up for you.
As their grandfather, all I can do is hope for a discount.
Daniel's 45 Minute Banana Strawberry Smoothie
Yield: 1 drink
Ingredients:
1 banana, peeled of course
1 cup of fresh strawberries, hulled and halved
1 small container of strawberry yogurt
1 cup of ice
Preparation:
Place the ingredients in a blender and process until smooth. Adjust the ice as necessary to attain the texture you desire. Add more yogurt to increase fluidity.
Source: Chef Daniel Scott O'Rourke, Austin, Texas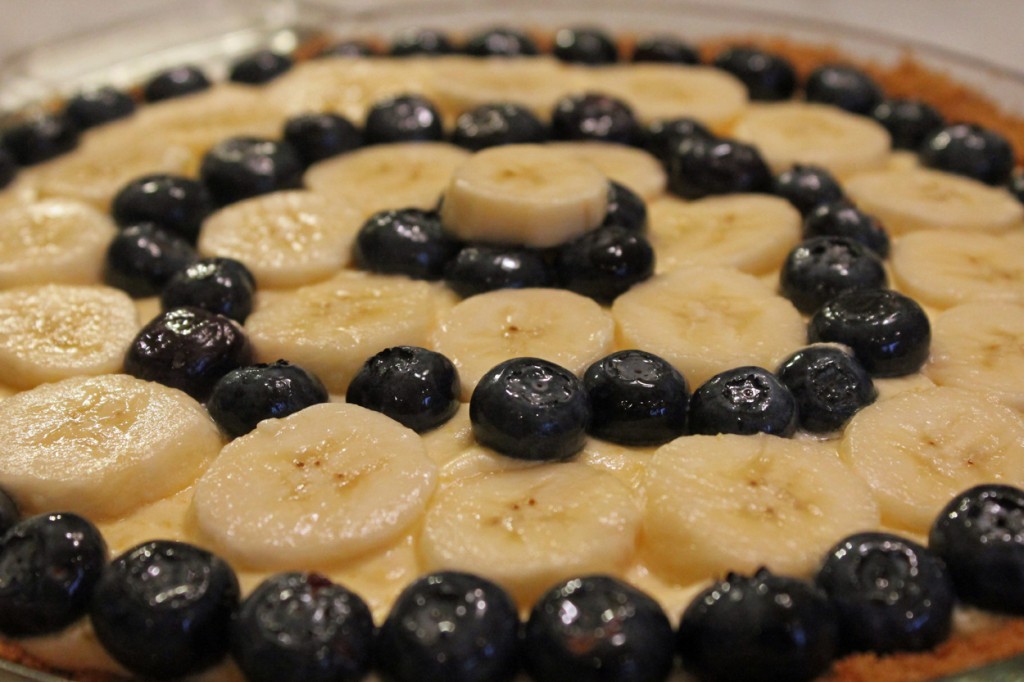 Looks good? Well, it tastes better. There is a story to this pie, but first a summary. This a chiffon-style pie with a liqueur-infused gelatin base folded into slightly sweetened egg whites and unsweetened whipped cream. Alright, I strongly sweetened the egg whites and I could not resist putting more sugar and booze into the whipped cream, but that is beside the point. I used banana rum for the very delicate chiffon, then garnished it with both banana slices and sugar coated blueberries. Even Suzen liked it. She said it was too sweet, but …
In 1970 the wonderful Craig Claiborne published a reader's recipe for Brandy Alexander pie. It became one of the most requested recipes from The Times — pre-internet. Other readers improvised and sent in many personalized versions. Dick Taeuber, a statistician from Maryland, went berserk, perfecting the recipe and suggesting twenty different liquor combinations: chocolate mint, brown velvet, raspberry alexander, Cheri Suisse, … His full list was published by Claiborne in 1975 in The Times and now appears in The Essential New York Times Cookbook.
I have tried many different liqueur combinations, and enjoyed them all. There are two changes or points of order to consider when making this pie. First, it calls for ½ cup of liqueur. That may have been appropriate for the 1970s but we are all so much more sophisticated now. Amanda Hesser, in Food 52, says there is "enough alcohol to raise the hair on your neck and then make your neck wobbly too." So, I reduce the liqueur to ⅓ cup — not counting that dash in the whipped cream — and I'm thinking of going even lower. This pie can rock you or be subtle.
Second, the recipe requires using a package of gelatin, heating it with liquids, and then letting it cool. I have made some real mistakes here. Once I let it not just cool but entirely solidify in the refrigerator — I just forgot about it because it was the fourth quarter and the Jets were about to fumble again. Solidified gelatin is not an easy item to fold into egg whites. And then I tried an ice bath where it did not all solidify, just the part on the bottom — I was watching a TV trial where they let the murderer off.
Be careful with your gelatin. Don't over chill. Don't let it solidify. Don't cook and watch TV at the same time. Do let this pie chill for hours or overnight.
Let your imagination run wild. Is there, on a top shelf, some liqueur you bought in a stupor and never wanted to look at again? Now's the time!
Dick Taeuber's Cordial Pie
Yield: 6 servings, enough for up to 6 people but more like 3
Ingredients:
1 ½ cups gingersnap crumbs or graham crackers
¼ cup melted butter, [⅓ cup graham crackers]
1 envelope unflavored gelatin
⅔ cup sugar
⅛ teaspoon salt
3 eggs, separated
½ [or less]cup total of liquors, Brandy, Crème de Cacao, …
1 cup heavy cream
Preparation:
Preheat the oven to 350°F.
Combine the crumbs with the butter. Form into a 9-inch pan and bake for 10 minutes. Cool.
Pour ½ cup cold water in a saucepan and sprinkle the gelatin over it. Add ⅓ cup sugar, salt and egg yolks. Stir to blend.
Place over low heat and stir until the gelatin dissolves and mixture thickens slightly (it won't be as thick as a custard). Do not boil! Remove from heat.
Stir the liqueurs or liquor into the mixture. [For this banana version, I used banana rum that literally was sitting on the shelf.] Then chill until the mixture starts to mound slightly.
Beat the egg whites until stiff, then add the remaining sugar and beat until the peaks are firm. Fold the meringue into the thickened mixture.
Whip the cream, then fold into the mixture. [Remember, Brian sweetened the cream here and added a splash of liqueur, which could be the same liqueur as in the gelatin or something complementary.]
Turn the mixture into the crust. Decorate as you desire. Here we used bananas and blueberries, but you can leave it alone, dot with whipped cream, shaved chocolate, … Use what works with the liqueur you have added.
Chill for several hours or overnight.
Source: Food52.com, a haven for all foodies