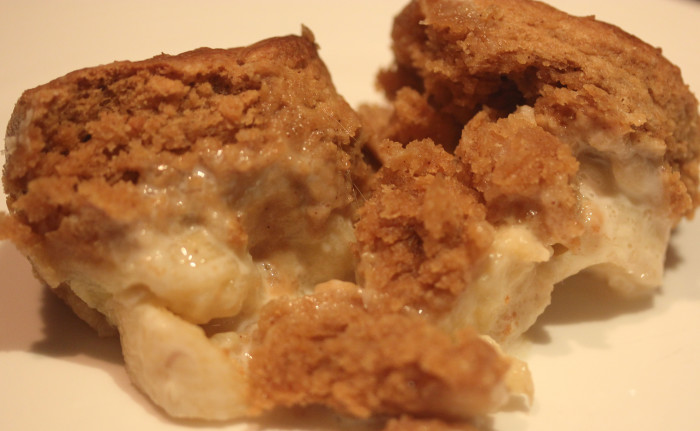 There was no way I was not going to make this. First, the header notes says it is a "decadent dessert for cold winter days." Second, it has the word "molasses" in the title. "You are a sucker for titles," Suzen says to me. "You are just lucky I happen to like a pretty face," I reply. It's true. She has a pretty, no a gorgeous, face. And, yeah, I can get sucked in by recipe titles. I was not born in Dixie, but I am up for anything that is molasses. And I love bananas and this says "cobbler" too. Far too much to ignore. It turns out, this dessert is decadent and comforting, all at the same time. It was 10° outside. Suzen actually made this cobbler [my pastry skills were deemed lacking]. We ate it in front of the fireplace while the snow kept coming down. A snowy night and bananas? It's a combination that once was rare and now can be yours anytime you want. This cobbler can be crafted in just a few moments and enjoyed until the last flakes have fallen. This recipe is from Cinnamon Spice and Warm Apple Pie, a clever little book with many more pleasures awaiting you.
Molasses Banana Cobbler
Yield: serves 4-6
Ingredients:
Banana Layer:
4 medium bananas
2/3 cup heavy cream or canned
evaporated milk
2 tablespoons dark soft brown sugar
Molasses Scone Topping:
1 3/4 cups self-rising flour
a pinch of salt
1/2 stick unsalted butter, chilled and cubed
2 tablespoons sugar
1/2 teaspoon ground cinnamon
3 tablespoons dark molasses
2/3 cup milk, plus extra for glazing2 teaspoons dried red pepper flakes [without seeds] or 1 teaspoon chili powder
Ice cream or whipped cream for topping [optional]
Preparation:
Peel the bananas and slice thickly. Arrange in a baking dish. Mix the cream with the brown sugar and pour this mixture over the bananas. Sift the flour and salt into a bowl and rub in the butter. Stir in the sugar and cinnamon. Combine the molasses and milk, whisking with a fork until the molasses has dissolved. Quickly pour the treacle mixture into the flour mixture and mix to form a soft dough. Tip the dough out onto a floured work surface and knead briefly until smooth. Use the flat of your hand to pat out to a thickness of % inch. Stamp out as many rounds as you can with a cookie cutter, re-rolling the trimmings as necessary. Use these to cover the bananas. Brush with a little milk and bake in the preheated oven for 15-20 minutes, until the scones are well-risen and golden brown on top. Cover with a piece of foil if the scones are cooking too quickly and the banana is still raw. Serve warm with cream or vanilla ice cream.
Source: Cinammon Spice and Warm Apple Pie from Ryland Peters & Small
Photo Information [top picture]: Canon T2i, EFS 60 mm Macro Lens, F/2.8 for 1/100th second at ISO-1250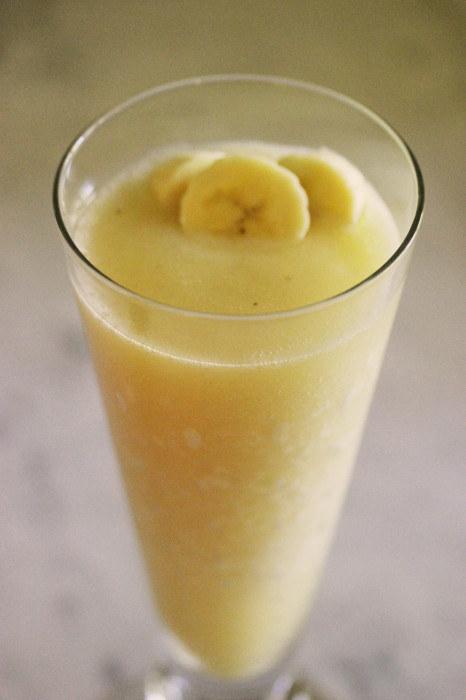 I don't know why, but my back is killing me. Not a muscle pull but spasms that dash up and down when I twist, reach, or just move.
I was trying to make a Banana Daiquiri, but the rum was one shelf too high and I could not easily get to that bottle. I could not get to that bottle, period. However, the pisco was right in front of me. And so, this lovely drink was born.
I did make multiple adjustments to the classic daiquiri recipe. There is pisco instead of rum. And simple syrup instead of raw sugar, and in a larger quantity. Mandarin Napoleon replaced the traditional Triple Sec.
The result of all these modifications? Something banana, of course, and something whose flavor I really, really like with its different component flavors. The Mandarin Napoleon liqueur offers a strong orange tone that can bounce against the lime and yet easily merges with the banana. And yet, there is no dominant flavor with these proportions and I find this "flavor mystery" to be a true adventure.
I wanted my banana drink. A real one. Not one using banana liqueur, but one incorporating a real banana. Why? Well, a banana that has spent a few moments in a Vitamix produces a beverage with a lovely texture. This is not a milkshake, no milk for one reason, but it has that smoothness that oozes satisfaction. Every sip has substance. It's not a simple liquid. It's a bit of a meal.
Oh, a couple of these and you smile and the spasms go away. Or, at the least, you don't notice.
Brian's Back Spasm Banana Backup
Yield: 2 seriously large cocktails
Ingredients:
1 ounce Mandarin Napoleon orange liqueur
2 ounces pisco
1 ounce simple syrup
Juice of one lime
1 medium size banana, peeled and cut into a few chunks
6-8 ice cubes
Preparation:
Put everything in a blender [better a Vitamix] and process until very smooth. Don't add too much ice or you'll have issues with "pourability."
Pour into a tall cocktail glass.
Garnish, if you wish, with some slices of banana.
Source: Brian O'Rourke
Photo Information: Canon T2i, EFS 18-55mm Macro Lens, F/2.8 for 1/50h second at ISO 3200