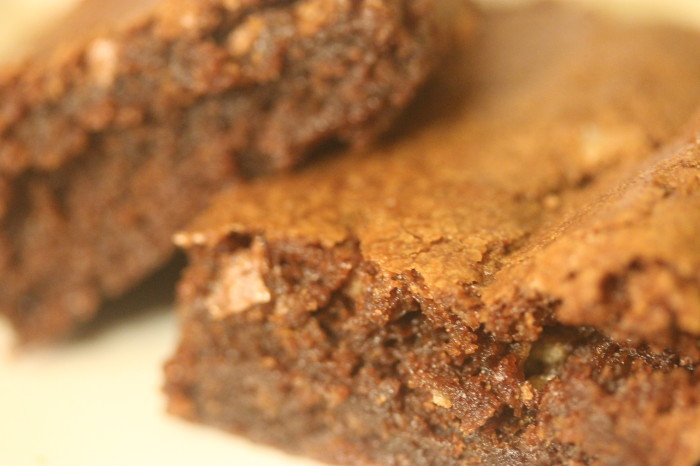 This is different kind of brownie recipe. No mix master, no stack of bowls to clean. It's all done in a single saucepan. Most importantly this recipe employs much less flour than normal — so the result is a moderately thin and very fudgy brownie. Very fudgy. I do like my cake-like brownies, soft, fluffy, and 3" high. You bite and your teeth gently ease through.
Not with this one. You bite and there is resistance, not hard but not subtle either. You are so very aware that this is goo you are about to ingest. And chocolate goo at that.
These are the perfect brownie to introduce to kids. No massive mixing, no big mess. Just one saucepan that the kids can lick clean.
Oh, you bake these for 30 minutes and you stop. Don't test with a toothpick. If you do, and it comes out dry, then you have over baked. Fudgy means fudgy.
These are easily made. Easily eaten. You can do two batches a day. Easily.
Fudgy Saucepan Brownies
Yield: 16 brownies, 2" X 2"
Ingredients:
½ cup butter [one stick]
3 ounces unsweetened chocolate, coarsely chopped
1 cup sugar
2 eggs
1 teaspoon vanilla
⅔ cup all-purpose flour
¼ teaspoon baking soda
½ cup chopped nuts
Preparation:
In a medium saucepan, heat and stir the butter and chocolate over low heat until melted and smooth. Set aside to cool.
Meanwhile preheat the oven to 350°F. Line an 8X8X2-inch baking pan with foil, extending the foil about 1 inch over edges of pan. Grease foil and set aside.
Stir the sugar into the cooled chocolate mixture. Add the eggs, one at a time, beating with a wooden spoon just until combine. Stir in vanilla.
In a small bowl stir together the flour and baking soda. Add the flour mixture to the chocolate mixture, stirring just until combined. If desired, stir in nuts. Spread the batter evenly into the prepared pan.
Bake for 30 minutes. Cool in pan on a wire rack.
Carve when cool.
Source: Better Homes and Gardens Baking
Photo Information: Canon T2i, EFS 18-55MM Macro lens shot at F/2.8 1/15th second, ISO 3200
The press release for the brand new Better Homes and Gardens Baking begins with "Whether novice or pro,…"
That is the perfect summary for this very accomplished all-in-one baking tome. Baking is an encyclopedia covering literally every aspect of home baking. It's the size of an encyclopedia too: over 520 oversized pages, 350+ recipes, and 600+ photos. I'm fond of cookbooks rich with photos. While a recipe title may entice me, a photo will seduce me. There is seduction aplenty in Baking.
The pathways of our daily lives have guideposts that are important and often icons. When I go out on the street in the morning, I can turn north and see the Empire State Building. For better navigation, I use my iPhone with that perfect design. As the cars zip by, I may see a Thunderbird and recall the heyday of the "real" Thunderbird. Do any of you remember 77 Sunset Strip from 1961?
In our kitchen, we have icons. One certainly is the Better Homes and Garden Cookbook. "Where's that recipe?" Suzen will ask me. "Purple book, two rows up and over from Better Homes," I will answer. Even unopened, the red-and-white checkerboard cover is our kitchen compass.
Baking has the potential to be that fundamental a cookbook. It's strange actually to page through it — which I did — and just see the perspective about contemporary American baking. Compared to cookbooks of two or three generations ago, Baking has an amazing spectrum of recipes. And a very different perspective on what people will be baking at home.
There are 17 chapters including:
Cookies
Bars and Brownies
Decorated Cakes
Cheesecakes
Holiday Baking
The difference between "old" and "new" baking attitudes is easily seen in comparing those first two chapters: Cookies versus Bars and Brownies. The cookie chapter is good but slim. I suppose that is a reflection that we all bake cookies less than we did — I know that I more frequently go for something "big" instead of wafer thin. If you want richness and goo, you hit that bars and brownies collection that includes:
Cream Cheese Marbled Brownies
Best-Ever Bourbon Brownies
Triple Chocolate and Espresso Brownies
Dulce de Leche Marshmallow Fluff Brownies
Fudgy Saucepan Brownies
If you think those titles sound interesting, you should see the full page photos. Lickable.
Other chapters offer new ideas that are certain to intrigue:
Chocolate-Walnut Bread Pudding with Coffee-Kahlua Cream Sauce
Brown Sugar-Bacon Monkey Bread
Potato-Bacon Batter Bread with Caramelized Onions
Chile-Cheddar Casserole Bread
Rustic Chocolate Tart
Butterscotch Cream Pie
The casserole breads, for example, are ones that a novice can undertake but that any pro will be proud of. These are literally new bread ideas that would make a full warm meal on a crisp fall night.
Baking is filled with hints, ideas, suggestions for recipe options to "make it your own," and of course many instructional photos. The recipe for Fudgy Saucepan Brownies is a mini-course in brownies, telling you the impact of changing the proportion of ingredients and how, in this case, you don't want to do that "toothpick in the center" test for doneness.
There's a wealth of detail in Baking, but gracefully packaged. You won't be overwhelmed by Baking. But you will be awed.