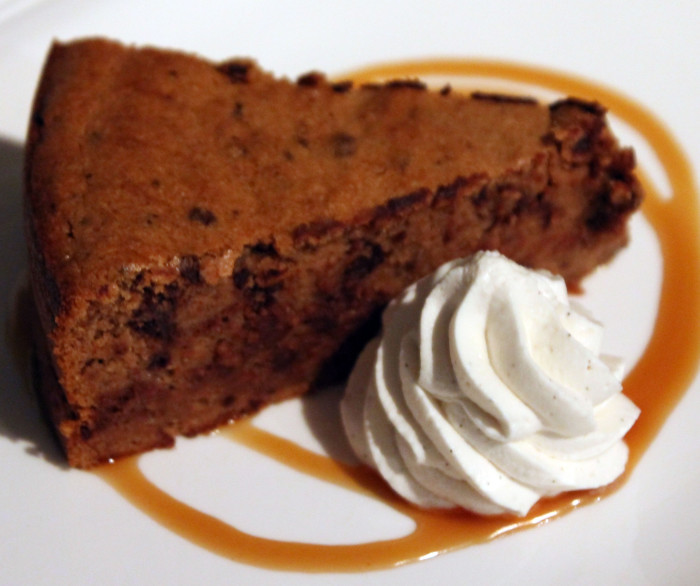 Amber Rose has just published Love Bake Nourish, a baking book that reflects a very distinctive personal nature. She's a passionate about foods that are seasonal, organic and not processed. She loves different flours and she cannot abide processed sugar. In her career as chef and author, she has scoured for recipes, old and new, that meet her standards for superior and naturally healthy baking.
This dish is old, Italian, and a treasure. No sugar, just honey. No flour, just ground walnuts plus chestnut puree. There is a reason traditional recipes are the core of our culinary heritage. They taste good.
Amber's recipes typically end with serving suggestions. I expected to read about whipped cream. How lovely to find she wants this dense, rich cake served with sour cream. This combination is truly self-intensifying.
And, uh, no, there is no chance of confusing this cake for a baked potato.
Addendum
Suzen made this cake for her monthly group of celiac patients from the Columbia University Center for Celiac Disease. She teaches patients and their families, not just how to get through, but how to thrive. Our pastry chef made this cake and I reminded her that it should come with sour cream. Our pastry chef is from the Caribbean and very dignified and a bit terse. "No, whipped cream," she said. And that's what the picture shows.
This cake is unleavened, so it is Passover ready.
A Comforting Chocolate and Chestnut Cake
Yield: serves 10-12
Ingredients:
5 large free-range eggs, separated
½ cup honey
7 tablespoons unsalted butter, softened
18 ounces unsweetened chestnut puree
1 ½ cups ground walnuts (or hazelnuts)
Finely grated zest of 1 unwaxed lemon
4 ounces dark chocolate (70% cocoa solids), grated or chopped
Preparation:
Preheat t h e oven to 350°F. Grease and flour a 10-inch loose-bottomed cake pan.
Mix the egg yolks and honey in a large bowl until thick and smooth, then add the butter, pureed chestnuts, walnuts, lemon zest, and chocolate, and mix thoroughly until everything is completely incorporated.
In a separate, very clean bowl, whisk the egg whites until stiff peaks form. Carefully fold the egg whites into the cake mixture, trying not to lose the air from the mixture, and don't bang the bowl. Scrape the mixture into the prepared pan and bake in the oven for 50 minutes to 1 hour. Remove from the oven and leave to cool in the pan.
When the cake has cooled completely, turn out onto a serving plate. Serve cold with a little sour cream or crème fraiche. I like it with cherry compote.
Source: Love Bake Nourish by Amber Rose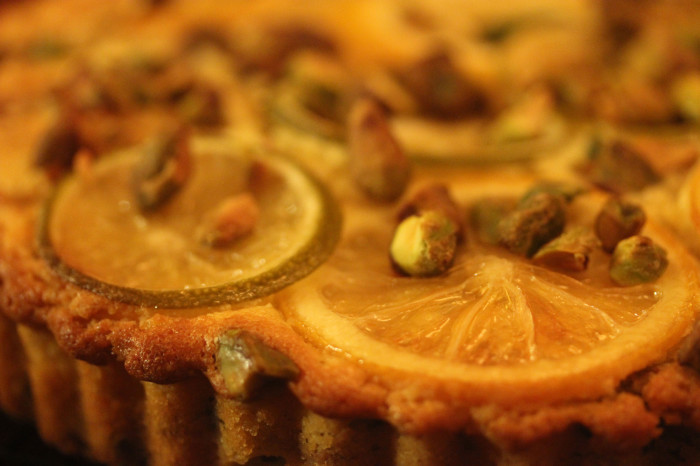 From the back of the book, you learn that Roger Pizey is a renowned baker and patissier. His experiences in Great Britain, in top restaurants and television food shows, have given him eminent skills.
But as you turn the pages of World Class Cakes, his latest book, none of that matters. All that you will care about is how quickly you can get to baking yourself.
Tomorrow, I'll post an overview of this powerfully packed book with recipes that are, truly, from around the world. In a tribute to Turkish ingredients, Roger has created this cake filled with lemon flavor and pistachio crunch. The cake is spectacularly beautiful.  As you turn pages of World Class Cakes, you'll stop on many pages, but this one captured my attention and Suzen's. She likes lemons, but pistachios are a passion for her.
Roger is British. So the temperature and dimensions you'll see below may not match your oven settings or the cake rounds on your shelf. We did 325°F and a 7-inch round. No problem.
Pistachio and Lemon Cake
Yield: serves 8
Ingredients:
½ cup superfine sugar
½ cup water
1 lemon sliced
1 lime, sliced
½ cup [1 stick] utter, soft
¾ cup superfine sugar
3 eggs, lightly beaten
¾ cup all-purpose flour
Pinch of salt
½ teaspoon baking powder
¾ cup good quality pistachios, chopped
Juice and finely grated zest of 1 lemon
Finely grated zest of 1 lime
Preparation:
Preheat the oven to 310°F, and grease and line a 6 ¼ inch round and 2 1/ inch deep cake pan with parchment paper.
Make a sugar syrup by heat the ½ cup super fine sugar and ½ cup of water in a pan. Cook over low heat until clear, stirring continuously, then boil for a minute or so. Pass the liquid through a strainer. Removed from the heat and let cool.
Place lemon and the lime slices and sugar syrup in a pan and gently simmer for 10 minutes. Drain and let cool.
Cream the butter and sugar together until light and fluffy, and add the eggs on at a time.
Sift in the flour, salt, and baking powder, then add two-thirds of the pistachios, the lemon and lime zests, and the lemon juice. Mix well.
Pour the batter into the prepared cake pan, place the fruit slices on top and sprinkle over the remaining pistachios. Bake in a preheated oven 40 minutes or until a toothpick inserted into the center comes out clear.
Removed from the oven and let cool for 15minutes in the pan. Then turn the cake out onto a wire rack and strip off the parchment.
Ideally, serve with a glass of aromatic Turkish tea.
Source: World Class Cakes by Roger Pizey
Photo Information [top picture]: Canon T2i, EFS 60 mm Macro Lens, F/2.8 for 1/25th second at ISO-3200