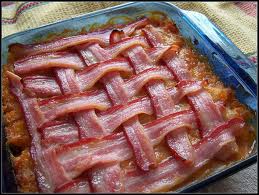 When our friends Cynthia and Robert asked if we could come to dinner, Suzen automatically said yes. And I was so happy.
Robert is gentleman, with a talent for sangria. Cynthia is an exceptional party cook. Everything, and I mean everything, at her meals is wonderful. This Saturday there were spiced cashews on the first table. And dessert featured her chocolate pecan pie — she's an Oklahoma woman — and a fresh mango trifle. I, uh, was planning on getting a third dip of that delightful trifle, but I noticed Suzen noticing me. And saying it was "fruit" was only going to draw hell. Besides I'd already had dessert with the main meal.
While everything Cynthia serves seems perfect, these baked beans were astonishing. They "dominated" the plate. There were ribs and chicken and slaw, but Lord there were these beans. All the table conversations shifted from golf, politics and Arizona real estate to these beans.
In a phrase, these are the best beans I have ever had. They are sweet, intense, with a balanced flavor. There's just the right amount of each ingredient. It clearly represents lots of tries and a passion for bean perfection.
Here is the recipe from Cynthia. And to give full credit, the recipe is credited to Paula Deen from the Food Network.
food network. There are tradeoffs in life. Flavor versus healthiness is one of them.
On this night, I voted for flavor.
Cynthia used very thick strips of high quality bacon, and not super lean. The bacon fat was certainly a contributor to the overall flavor. Look for "up-scale" cans of pork and beans, a "good" mustard and other quality ingredients. It'll pay off.
[Oh, I am going to get that mango trifle recipe!]
Best Baked Beans Period
Yield: 6 servings
Ingredients:
1 large onion, diced
2 16-ounce cans pork and beans
3 tablespoons prepared yellow mustard
¼ cup maple syrup
¼ cup light brown sugar
4 tablespoons ketchup
1 tablespoon lemon juice
½ pound bacon strips, cut into ½-inch pieces
Preparation:
In a Dutch oven, mix the onion, pork and beans, mustard, maple syrup, light brown sugar, ketchup and lemon juice. Top with the bacon pieces. Bake, covered, for 45-60 minutes.
In the picture above, the Dutch oven was replaced by a glass baking dish. And, "topping" with bacon can be an art form. You can give  the dish a apple-pie-style basket weave. In that case, bring the beans to the table for all to see.
Sources: Paula Deen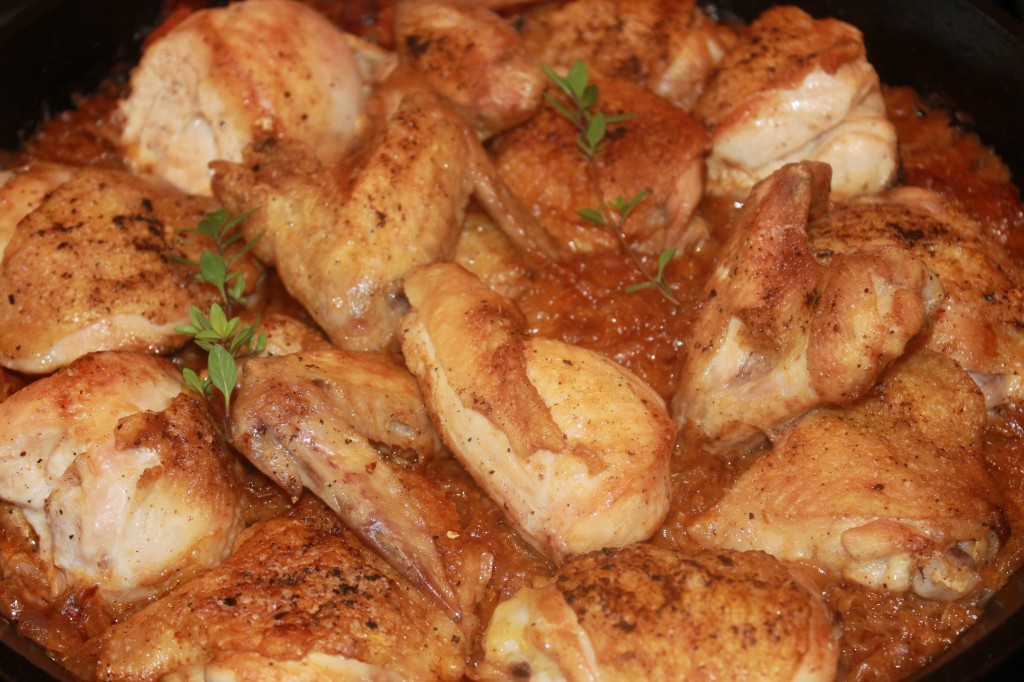 "I'M TRYING TO WORK HERE!"  Suzen was vociferous.
"I was just trying to clarify a point about you, Suzi. You are really a Queenie."
"Brian, for the last time, I am a Brooklyn girl."
"No, your parents had their home in Queens."
"I was BORN in a BROOKLYN hospital."
"Yeah, well that's a bit like people from Peru or China coming to the US and having their kid here so they can claim US citizenship, for the kid. Your parents were from Queens, you grew up in Queens."
"I was born in Brooklyn, we soon moved to Brooklyn, Brian."
"Okay, so I can't call you a Queen?"
"NO!"
"How about just Princess?"
"I swear to God," she got up and began moving away. "I'm going to the vet the next husband and …"
The words got lost, overcome by the stamp of her feet. I love to watch Suzen. She is very feminine with a strong stride and lovely shoulders. Perfect hair that bounces as high as her temper. She can get so animated at times. Anger truly becomes her.
Suzen is a Brooklyn girl, I admit. And if New York is the food capital of the world, then Brooklyn poses a serious challenge to Manhattan for food and cuisines. It hurts to say this, but Manhattan can be boring. Brooklyn is exciting. Four or five block of Bedford Avenue in Williamsburg or of Clinton Street in Cobble Hill offers more intrigue than that many miles of First or Second Avenue in The Big City.
Brooklyn offers a wondrous array of cuisines from the around the world. Like this chicken recipe from Bulgaria and now documented in the amazing Edible Brooklyn Cookbook. That book features many other treats for you including:
Egg Breakfast Tacos
Pickled Fiddlehead Ferns
Rugela with No Raisins
Actually, that last recipe is just for rugela but I love it because it does not have raisins. I hate raisins and when as a boy I had rugela in Oregon, there were no raisins. Suzen says I'm totally wrong, but what does she know. She's from Brooklyn.
You may know the many Edible magazine publications. There are dozens of them now: Edible Brooklyn, Edible Manhattan, Edible Hudson Valley, Edible Austin … These are valuable resources for those who love their food local and authentic. Look for your local version at the markets where all those "foodies" tend to gather. Soon you'll know why. This book form is the first of hopefully many to collect the very best ideas from a neighborhood and assemble them so that Americans can share the brightest gems of our national culinary landscape.
This chicken dish is rich in flavor, moist and abundant with her flavors. We did cheat just a little bit: using Proseco instead of water or chicken stock. While I am not a sauerkraut fan, the transformation here is a miracle. The slow cooking, the spices, the chicken juices — all transform the sauerkraut into a treasure of mild yet bright taste.
This is a dish fit for a Queen. Oh, dear, I can't say that. Well, then, whatever your city, your heritage, your rank, this disk is for you.
Bulgarian Cast Iron Chicken with Bacon and Sauerkraut
Servings: 4
Ingredients:
½ pound slab bacon, diced
1 whole (3—4 pound) chicken, quarter
Salt
Freshly ground black pepper
1 large or 2 small onions, chopped
vegetable oil, if necessary
2 small sprigs thyme
1 bay leaf
1 teaspoon crushed red pepper flakes
1 teaspoon sweet smoked paprika
1 pound sauerkraut
½ cup chicken stock or water
Preparation:
Preheat the oven to 350°F.
Render the fat from the bacon in a large cast-iron skillet or ovenproof pan set over medium heat. Remove the bacon and set aside.
Season the chicken with salt and pepper to taste on all sides, and brown in the bacon fat. Transfer to a plate. Brown the onions in bacon fat, adding a bit of oil if necessary. Add the thyme, bay leaf, red pepper flakes, and paprika, and sauté briefly. Return the bacon to the pan and stir to mix in. Add the sauerkraut to the pan and stir to mix. Arrange the chicken pieces around the top of the pan on top of the sauerkraut and add the stock.
Transfer the pan to the oven and roast the chicken, uncovered, for about 40 minutes, checking the chicken pieces for doneness after 30 minutes. (If the pan begins to dry out, add a bit more stock.) The chicken is cooked when the juices run clear and an instant-read thermometer inserted into the thickest part of the thigh reads 165°F.
Serve the chicken immediately with plenty of sauerkraut and pan juices.
Source: Edible Brooklyn: The Cookbook by Rachel Wharton