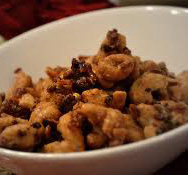 Tomorrow is the 4th of July and many of us will be at or giving parties. After Super Sunday, the 4th is probably the biggest snack day in the USA.
Cashews are the nut I always crave. Peanuts are fine, but cashews have that very special richness and distinctive flavor that you never tire of. By themselves, cashews are a treat. Combine them with bacon in a candy syrup, and you have a snack that will fly off your holiday party table.
Try these as a snack, but also consider them for other uses:
Tossed into a salad
Ground into a powder and used in place of bread crumbs on pork chops
Add-ins to a meat loaf that will make heads turn and lips smile
This recipe calls for sugar, meaning white granulated. For extra flavor, consider using brown sugar or some other exotic sugar. You may need a slight adjustment in the amount of water to achieve syrup of the consistency you prefer.
Candied Bacon Cashew
Yield: 5 cups
Ingredients:
¼ pound slab bacon, cut into ¼-inch slice
½ cup sugar
½ cup water
4 cups raw cashews (1 ¼ pounds)
1 tablespoon unsalted butter
Smoked sea salt
Preparation:
In a small skillet, cook the bacon over moderate heat until browned, about 7 minutes. Using a slotted spoon, transfer the bacon to a paper towel-lined plate. Measure out 1 tablespoon of the rendered bacon fat and reserve
In a medium saucepan, combine the sugar with ½ cup of water and bring to a boil. Add the cashews and cook over high heat, stirring constantly, until golden, about 8 minutes. Stir in the butter and the reserved 1 tablespoon of bacon fat and cook over low heat, stirring for 2 minutes. Remove from the heat.
Stir in the diced bacon and season with smoked salt. Let cool completely, then serve.
Source: Food and Wine Cocktails 2012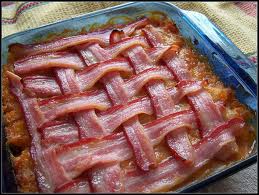 When our friends Cynthia and Robert asked if we could come to dinner, Suzen automatically said yes. And I was so happy.
Robert is gentleman, with a talent for sangria. Cynthia is an exceptional party cook. Everything, and I mean everything, at her meals is wonderful. This Saturday there were spiced cashews on the first table. And dessert featured her chocolate pecan pie — she's an Oklahoma woman — and a fresh mango trifle. I, uh, was planning on getting a third dip of that delightful trifle, but I noticed Suzen noticing me. And saying it was "fruit" was only going to draw hell. Besides I'd already had dessert with the main meal.
While everything Cynthia serves seems perfect, these baked beans were astonishing. They "dominated" the plate. There were ribs and chicken and slaw, but Lord there were these beans. All the table conversations shifted from golf, politics and Arizona real estate to these beans.
In a phrase, these are the best beans I have ever had. They are sweet, intense, with a balanced flavor. There's just the right amount of each ingredient. It clearly represents lots of tries and a passion for bean perfection.
Here is the recipe from Cynthia. And to give full credit, the recipe is credited to Paula Deen from the Food Network.
food network. There are tradeoffs in life. Flavor versus healthiness is one of them.
On this night, I voted for flavor.
Cynthia used very thick strips of high quality bacon, and not super lean. The bacon fat was certainly a contributor to the overall flavor. Look for "up-scale" cans of pork and beans, a "good" mustard and other quality ingredients. It'll pay off.
[Oh, I am going to get that mango trifle recipe!]
Best Baked Beans Period
Yield: 6 servings
Ingredients:
1 large onion, diced
2 16-ounce cans pork and beans
3 tablespoons prepared yellow mustard
¼ cup maple syrup
¼ cup light brown sugar
4 tablespoons ketchup
1 tablespoon lemon juice
½ pound bacon strips, cut into ½-inch pieces
Preparation:
In a Dutch oven, mix the onion, pork and beans, mustard, maple syrup, light brown sugar, ketchup and lemon juice. Top with the bacon pieces. Bake, covered, for 45-60 minutes.
In the picture above, the Dutch oven was replaced by a glass baking dish. And, "topping" with bacon can be an art form. You can give  the dish a apple-pie-style basket weave. In that case, bring the beans to the table for all to see.
Sources: Paula Deen