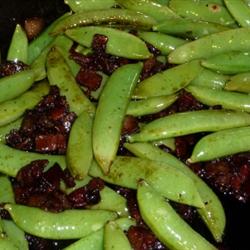 Have you ever had a bad vegetable week? I almost did. But, thanks to Yummly.com, all is well.
You probably know about the recipe website Epicurious.com. It's fantastic. Owned by publisher Conde Nast, it features recipes from both Bon Appetit and the sadly shuttered Gourmet. Now in marriage, monogamy is the standard. For recipe websites, you are allowed to date. And Yummly.com is a site I heartily suggest. You'll search on Yummly and often get directed to another website with the actual recipe, like Allrecipes.com.
This Yummly search engine provides thousands upon thousands of recipes and is fast. I needed speed.
My problem began yesterday. When Suzen has an event at Cooking by the Book, after the guests are served, the staff hangs in the kitchen for the staff meal. On Friday, I sampled the mashed potatoes, the gravy, the chicken.
"You forgot the green beans," one of Suzen's Culinary Advisors, Charmaine, said to me. Charmaine smiled when she said it, but she knew she has Suzen's authority to monitor my plate. They all monitor my plate and how much dessert I try to sneak off with.
"Uh, not enough room on my plate," I said as I fled to my office beyond the kitchen. I caught Suzen's eye as I passed. Yeah, there was plenty of room on the plate. I just did not want more green vegetables.
So, today, Saturday, in the store Suzen held up a bag of sugar snap peas. "Will you eat these?" she asked with a hint of exasperation.
I really, really wanted to say no. It's green. It's a vegetable. Hasn't my wife ever seen Invasion of the Body Snatchers? That's how it all begins, you know. Some pod-like things look innocent, maybe even tasty, and then the whole world is consumed. I'm not trying to dodge vegetables here. I'm just trying to save the planet.
After the green bean incident, I knew the ice was thin. "Can we compromise?" I asked.
"How?"
"I'll find a recipe. Something a little exotic. Tasty."
"Healthy."
"Maybe. Well, hell, it's going to be based on sugar snaps. How bad could it be?"
This recipe is not too bad, and I love it and there is peace and harmony in my life. And so far, no pod monsters have devoured my soul.
Bacon and Balsamic Glazed Sugar Snap Peas
Yield: Serves 2
Ingredients:
·

        

¼ pound bacon (minced)

·

        

1 ½ cups sugar snap pea (fresh)

·

        

2 tablespoons balsamic vinegar

·

        

1 tablespoon turbinado sugar (raw)

·

        

Salt

·

        

Pepper
Preparation:
Cook the minced bacon in a large skillet over medium-high heat until the fat has rendered out and the bacon has begun to crisp, about 5 minutes. Remove with a slotted spoon and set aside, leave the bacon fat in the skillet.
Add the sugar snap peas, and toss to coat with the fat. Cook and stir until just cooked through, about 5 minutes. Pour in the balsamic vinegar, sugar, and cooked bacon. Continue cooking until the balsamic has reduced, and the sugar has dissolved, about 2 minutes.
Season to taste with salt and pepper and serve immediately.
Source: Yummly.com and Allrecipes.com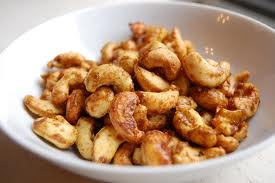 This recipe is for anyone who loves cashews, bacon, and sugar. Okay, it's not a kosher recipe, but in that case you can see how to quickly modify this for use in Israel, Muslim lands, or places where bacon is not loved.
This is a brilliant way to serve up cashews in a different format. You keep the nut taste, but the augmentation of bacon and sweetness is very wonderful. You may not have ever had cashews cooked in sugar syrup before. It's an experience and the flavor does intensity besides sweetening.
The recipe calls for a 4 cups of nuts, which seems like a lot, but really isn't. This will be the top dog appetizer at a party, or for a small friends and family gathering watching a weekend ballgame. There are, believe it or not, alternatives to salsa and chips.
Candied Bacon Cashews
Yield: 5 cups
Ingredients: 
1/4 pound slab bacon, cut into 1/4-inch dice
1/2 cup sugar
4 cups raw cashews (about 1 1/4 pounds)
1 tablespoon unsalted butter
Smoked sea salt (see Note)
Preparation:
In a small skillet, cook the bacon until browned, about 7 minutes. Using a slotted spoon,transfer the bacon to a paper towel-lined plate. Measure out 1 tablespoon of the rendered bacon fat and reserve.
In a medium saucepan, combine the sugar with 1/2  cup of water and bring to a boil. Add the cashews and cook over high heat, stirring constantly, until golden, about 8 minutes. Stir in the butter and the reserved 1 tablespoon of bacon fat and cook over low heat, stirring, for 2 minutes. Stir in the diced bacon and season with smoked salt. Let cool completely, then serve.
NOTE: Smoked sea salt is available at specialty food stores  from surlatable.com.
Source: Food and Wine Cocktails 2012