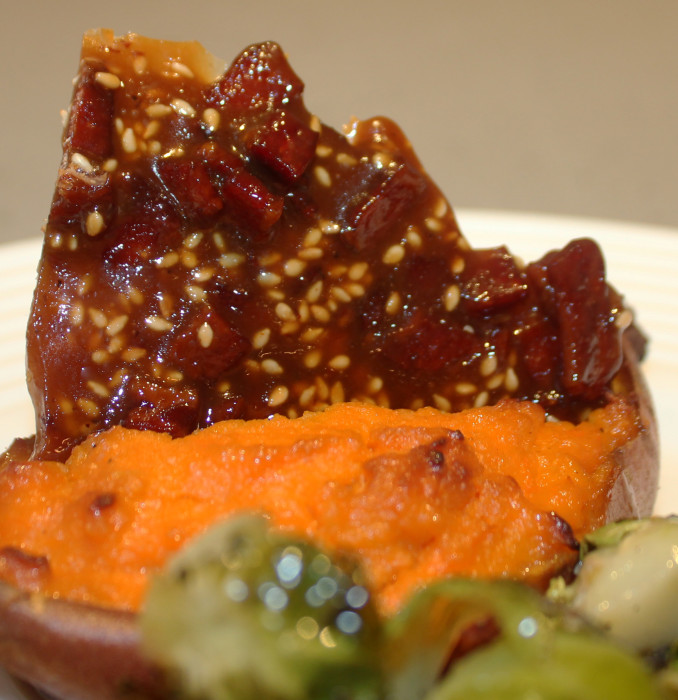 "You realize the blog has become unbalanced," Suzen said.
"No." I answered. I once had a girlfriend who told me to "admit nothing." I still ended up divorced.
"It's booze and chocolate and brownies and milk chocolate, Brian," she rebutted. "There are these things called vegetables. Science, and you are a scientist, has proven they are necessary for life."
"Can you make them taste good?" I asked.
"Yes. Yes, I can."
And by God did she ever. That picture shows, out of focus, roasted Brussels sprouts, which I have grown to love for their nutty taste. I am instinctively a baked potato with butter-and-sour- cream-and-chives kind of guy. I've not been fond of sweet potatoes. Until now. These twice-baked sweet potatoes are magnificently delicious. I devoured my slice and did not seek out butter or sour cream or even maple syrup.
I suppose this accomplishment might be due, in small part, to the bacon brittle that adorns the sweet potato. Suzen makes our bacon in the oven with a dusting of brown sugar, because even she has to admit that caramelized sugar is impossible not to enjoy.
Here, the bacon and sugar are combined into a solid mass on the baking tray that is then broken apart. The resulting shards are gleaming wonders. You debate whether to just look or taste. Then you taste and taste and all that is left is a visual memory that is matched with a rich sense of satisfaction on your mouth.
I suppose that I could just eat the bacon brittle and not bother with the sweet potato part. No, on second thought, I appear to have achieved a compromise position with my wife that should not be jeopardized.
She's hidden the left over bacon brittle. I'm going out to buy more sweet potatoes. Maybe, maybe.
Twice-Baked Sweet Potatoes with Bacon Brittle
Yield: 8 servings
Ingredients:
4 slices of bacon, cut into ½-inch wide pieces
⅓ cup sugar
1 tablespoon sesame seeds
6 medium sweet potatoes (6-8 ounces each)
2 large eggs
3 tablespoons unsalted butter, room temperature
2 tablespoons white miso (fermented soybean paste)
1 ⅔ piece ginger, peeled, finely grated (about 2 teaspoons)
2 pieces scallion 1 inch piece (dark-green parts only), thinly sliced lengthwise
Preparation:
For the Brittle:
Line a rimmed baking sheet with a silicone baking mat or parchment paper. Cook bacon in a medium nonstick skillet over medium heat until most of the fat is rendered and bacon is starting to crisp.
Transfer bacon to a sieve set over a small bowl; reserve dripping's.  Return bacon, 1 Tbsp. drippings, sugar, and sesame seeds to same skillet. Cook over medium heat, stirring frequently, until sugar turns the color of milk chocolate, about 5 minutes. Transfer mixture to prepared baking sheet and use a spatula to spread out evenly; let cool. Break brittle into shards.
For the Sweet Potatoes:
Preheat oven to 400°F.
Place sweet potatoes on a foil-lined baking sheet. Roast until tender, 45-55 minutes. Let sit until cool enough to handle.
Slice potatoes in half lengthwise. Working over a large bowl, scoop out flesh from 8 halves, leaving a ½‑inch thick layer inside skins. Place potato halves on same foil-lined baking sheet. Scoop flesh from remaining 4 halves; discard skins. Mash flesh with a whisk; add eggs, butter, white miso, and ginger and stir until mixture is smooth.
Spoon or pipe filling into reserved skins.
Bake potatoes until the tops are lightly puffed and golden brown, 30-35 minutes (potatoes will take longer if they've been chilled). Top potatoes with bacon-sesame brittle and scallions.
Source: Bon Appetite, March 2012
Photo Information: Canon T2i, EFS 18-55MM lens shot at F/4.0, 1/60th second, ISO 400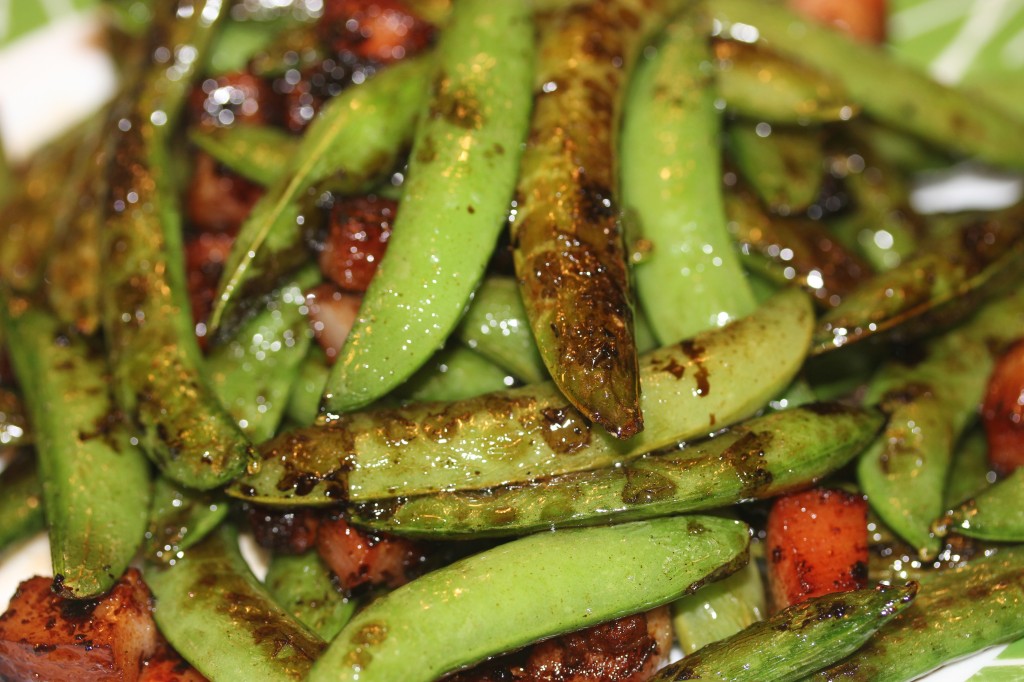 Have you ever had a bad vegetable week? I almost did. But, thanks to Yummly.com, all is well.
You probably know about the recipe website Epicurious.com. It's fantastic. Owned by publisher Conde Nast, it features recipes from both Bon Appetit and the now, sadly, lost Gourmet. Now in marriage, monogamy is the standard. For recipe websites, you are allowed to date. And Yummly.com is a site I heartily suggest. You'll search on Yummly and often get directed to another website with the actual recipe, like Allrecipes.com.
This Yummly search engine provides thousands upon thousands of recipes and is fast. I needed speed.
My problem began last Friday. When Suzen has an event at Cooking by the Book, after the guests are served, the staff hangs in the kitchen for the staff meal. On Friday, I sampled the mashed potatoes, the gravy, the chicken.
"You forgot the green beans," one of Suzen's Culinary Advisors, Charmaine, said to me. Charmaine smiled when she said it, but she knew she has Suzen's authority to monitor my plate. They all monitor my plate and how much dessert I try to sneak off with.
"Uh, not enough room on my plate," I said as I fled to my office beyond the kitchen. I caught Suzen's eye as I passed. Yeah, there was plenty of room on the plate. I just did not want more green vegetables.
So on Saturday, in the store Suzen held up a bag of sugar snap peas. "Will you eat these?" she asked with a hint of exasperation.
I really, really wanted to say no. It's green. It's a vegetable. Hasn't my wife ever seen Invasion of the Body Snatchers? That's how it all begins, you know. Some pod-like thing look innocent, maybe even tasty, and then the whole world is consumed. I'm not trying to dodge vegetables here. I'm just trying to save the planet.
After the green bean incident, I knew the ice was thin. "Can we compromise?" I asked.
"How?"
"I'll find a recipe. Something a little exotic. Tasty."
"Healthy."
"Maybe. Well, hell, it's going to be based on sugar snaps. How bad could it be?"
This recipe is not  bad at all, not at all. I actually love it and there is peace and harmony in my life. And so far, no pod monsters have devoured my soul.
Bacon and Balsamic Glazed Sugar Snap Peas
Yield: serves 4
Ingredients:
¼ pound bacon, minced
1 ½ cups fresh sugar snap peas
2 tablespoons balsamic vinegar
1 tablespoon Turbinado sugar
Salt and pepper to taste
Preparation:
Cook the minced bacon in a large skillet over medium-high heat until the fat has rendered and the bacon has begun to crisp, about 5 minutes. Remove with a slotted spoon and set aside. Leave the bacon fat in the skillet.
Add the sugar snap peas, and toss the coat with the fat. Cook and stir until just cooked through, about 5 minutes. Pour in the balsamic vinegar, sugar, and cooked bacon. Continue cooking until the balsamic has reduced and the sugar has dissolved, about 2 minutes. Season to taste with salt and pepper and serve immediately.
Source: yummly.com