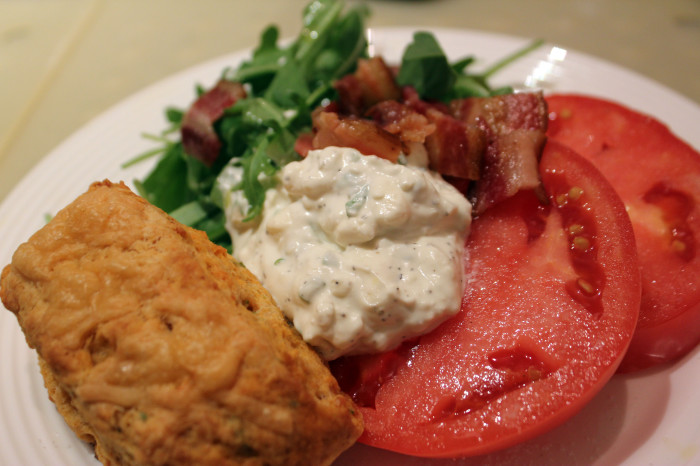 How are those tomato plants in your garden? Ready to harvest yet?
Don't fret. There are these things called greenhouses, and the "hydro" something way of growing, and those states far, far to the south of New York. From those sources, via trucks burning carbon, you can have summer-prime tomatoes on your table. This weekend. Tonight.
[Ignore the carbon guilt. They have already been picked and shipped. It would be a crime to waste them.]
This salad can be a serious starting course. It can be the main course. Our tomatoes here were nearly as big as pork chops. We did not cut them quite that thick, but these were truly meaty giants that gave chewy satisfaction with the firmness of their resistance to each bite.
The combination of tomato, blue cheese and bacon is one that is common. I never tire of it, though, perhaps because I limit myself to just one or two dabbles each month. But then last night when I had this, I wondered why I don't eat it every single day.
You can enhance flavor, and add that variety to prevent any boredom, by using one of the many gourmet salts available. A deep smoky salt, for example, is going to resonate with that blue cheese. A heavy hand with pepper will intensify the flavors and promote additional tingle your tongue.
Temperature is important here, too. The bacon crumbles should be room temperature so the flavor is not subdued, but everything else should be refrigerator cold. There is a surprise awaiting you as the cold from the tomatoes and dressing competes with the inherent "cheese heat" that blue provides.
Do look for firm, meaty tomatoes. They are out there, ready, waiting, and simply delectable.
In the picture, the biscuit is chili and cheese. Recipe to come soon!
Heirloom Tomato Stacks with Blue Cheese Dressing and Bacon Crumbles
Yield: serves 4
Ingredients:
½ cup sour cream
¼ cup mayonnaise
1 tablespoon fruity extra-virgin olive oil
2 teaspoons white wine vinegar
½ teaspoon freshly ground black pepper
¼ teaspoon kosher salt
¼ teaspoon Worcestershire sauce
⅓-½ cup crumbled Clemson Blue cheese
1 tablespoon thinly sliced chives or scallion greens
1 bunch arugula or watercress, rinsed and spun dry
5-6 large heirloom tomatoes, such as Cherokee Purple, Delicious, Striped German, Brandywine(2 ½ pounds), cored and cut crosswise into ½-inch thick slices
4 thick bacon slices, cooked until crisp and crumbled
Salt and fresh black pepper to taste
Preparation:
Mix the sour cream, mayonnaise, olive oil, vinegar, pepper, salt, and Worcestershire sauce in a small bowl with a whisk or fork.
Stir in blue cheese and chives or scallions.
Divide the arugula or watercress between 4 plates. Stack the tomatoes slices on the greens, leaning a little, and sprinkle lightly with a little more salt and pepper. Spoon the dressing on top and crumble the bacon over the tomatoes. Serve.
Source: Tomatoes by Miriam Rubin
Photo Information: Canon T2i, EFS 60 mm Macro Lens, F/4.5 for 1/40th second at ISO-640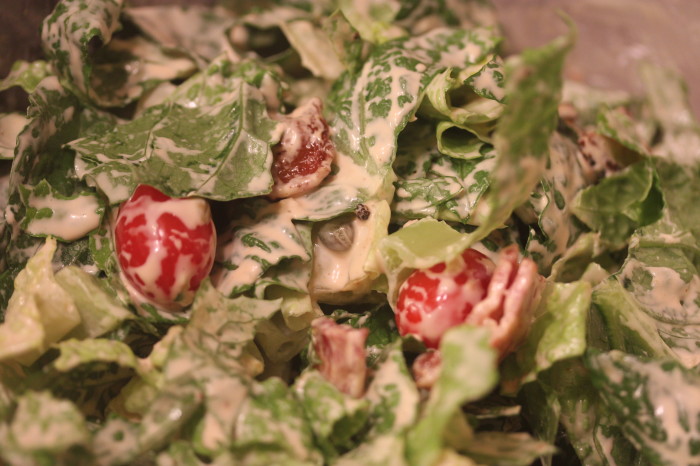 The picture above is Suzen's interpretation of this recipe.
"It's raining," she said. "I'm not grilling."
And so, we did not grill the romaine lettuce but simple served it tossed with bacon, tomatoes and dressing. Either way, this salad is treat, familiar yet dramatically different. This dish easily forms a full meal. Miss the bread of your traditional BLT? How about a warm dinner roll with butter.
Particularly if you do not grill the lettuce, you can create this meal in minutes.
Chilled white wine. You probably want that along with the rolls.
This recipe comes from 365 Comfort Foods from Better Homes and Gardens. Just as that BLT sandwich is something many of us crave [I can do it daily], this is a salad you'd enjoy on a regular basis.
Finally, when baking the bacon, consider topping it with brown sugar or maple syrup. The sweetened bacon will contrast with the buttermilk dressing and give your dish an added lift.
BLT Salad with Buttermilk Dressing
Yield: serves 4
Ingredients:
4 slices bacon
2 tablespoons crème fraiche or sour cream
2 tablespoons mayonnaise or salad dressing
1 tablespoon snipped fresh dill
1 tablespoon cider vinegar
1 clove garlic
¼ cup buttermilk
Freshly ground black pepper
2 head romaine lettuce
 Olive oil
1 cup cherry tomatoes, halved
½ cup shaved Parmesan cheese
Preparation:
Preheat the oven to 375°F. Arrange the bacon in a shallow baking pan. Bake about 15 minutes or until crisp. Remove the bacon and drain on paper towels. Rumble the bacon and set aside.
Meanwhile, for the dressing, in a small bowl whisk together the crème fraiche, mayonnaise, dill, vinegar, and garlic. Whisk in the buttermilk. Seaton to taste with salt and pepper.
Cut each head of the lettuce in half lengthwise. Brush lettuce with oil and sprinkle with additional salt and pepper. For a charcoal or gas grill, place the lettuce on the rack of a covered grill directly over medium heat. Grill about 2 minutes or until lightly charred, turning one halfway through grilling. For a grill pan, preheat the pan, add the lettuce and cook as above.
Place the lettuce on 4 plates. Sprinkle over the bacon and tomatoes. Pour over the dressing and sprinkle with the Parmesan.
Source: 365 Comfort Foods from Better Homes and Gardens
Photo Information: Canon T2i, 18-55MM Macro lens, F/2.8, 100th second, ISO 1000