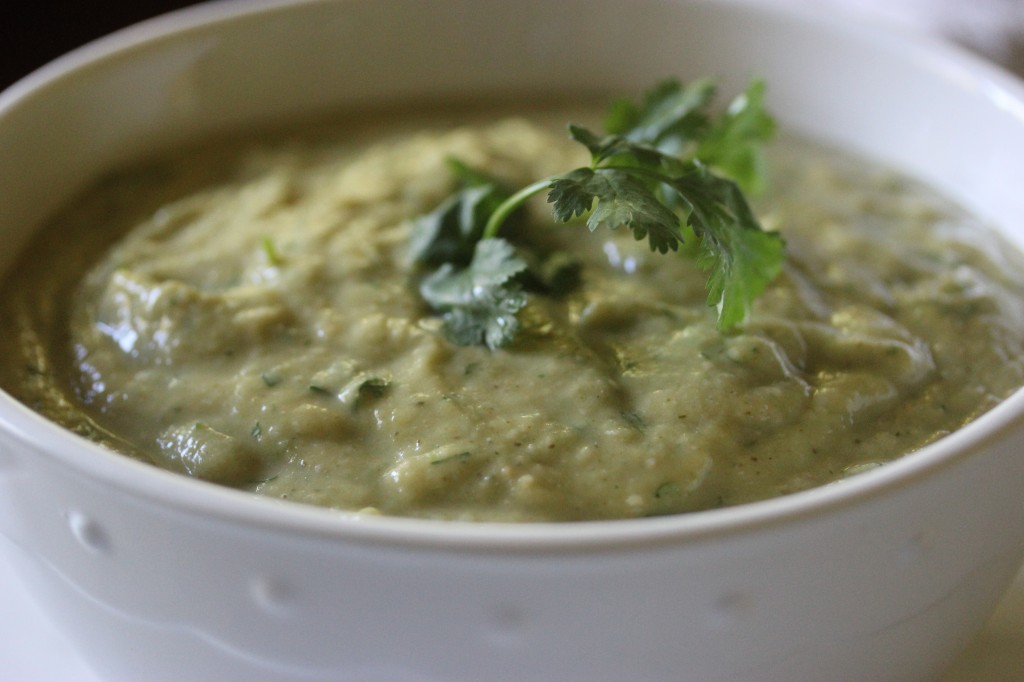 There are times when I just crave the tartness of a green salsa. And many of those times, I'm impatient. I want it NOW. I could seek counseling for my inability to deal with  need and want. Or I can pick up a can of tomatillos.
I choose the can. Although you can make salsa from raw tomatillos, I prefer them cooked in some manner before going into the salsa. You can boil or roast them. Either way, with fresh tomatillos you have to peel them, then halve them if you are roasting, and there's the mess and … There's that can solution again: already with the leaves off, and already cooked.
All I have to do is not mess up with can opener and spill juice on the counter or floor. My lovely wife Suzen is fastidious about a kitchen free of mess, wet spots and sticky spots. She keeps finding them. I don't know who puts them there.
This recipe produces a salsa that is tart but not overly so. The avocado adds to the green but of course contributes essential smoothness. This recipe calls for some heat, one serrano chile. Open up your vegetable bin and use what you have, just adjusting the amount depending on the actual type of chiles you have around.
What did I use? One poblano unroasted but washed, quartered and tossed into the blender. I was hotly happy with the results and very happy at my preparation time. I know the recipe says to refrigerate for up to two hours or until ready to use. I was ready then, and the next day the leftovers were even better. [Yes, the tomatillos had contributed some pectin so the next day required just a touch of stirring to loosen it up. That's your chance to add some additional lemon or lime juice to brighten the flavor if you desire.]
This recipe comes from Fresh Mexico, a delightful book with 100 very authentic, very quick and very, very delicious recipes.
Easy Tomatillo Avocado Salsa
Yield: about two cups
Ingredients:
8 ounces tomatillos from the can
1 avocado, halved, pitted and peeled
½ cup [packed] fresh cilantro leaves
1 serrano chile
1 tablespoon fresh lemon juice
Salt and freshly ground black pepper
Preparation:
Combine the tomatillos, avocado, cilantro, serrano chile, and lemon juice in a blender and puree until smooth. Season the salsa to taste with salt and pepper.
Refrigerate for up to 2 hours or until ready to use.
Source: Fresh Mexico by Marcela Valladolid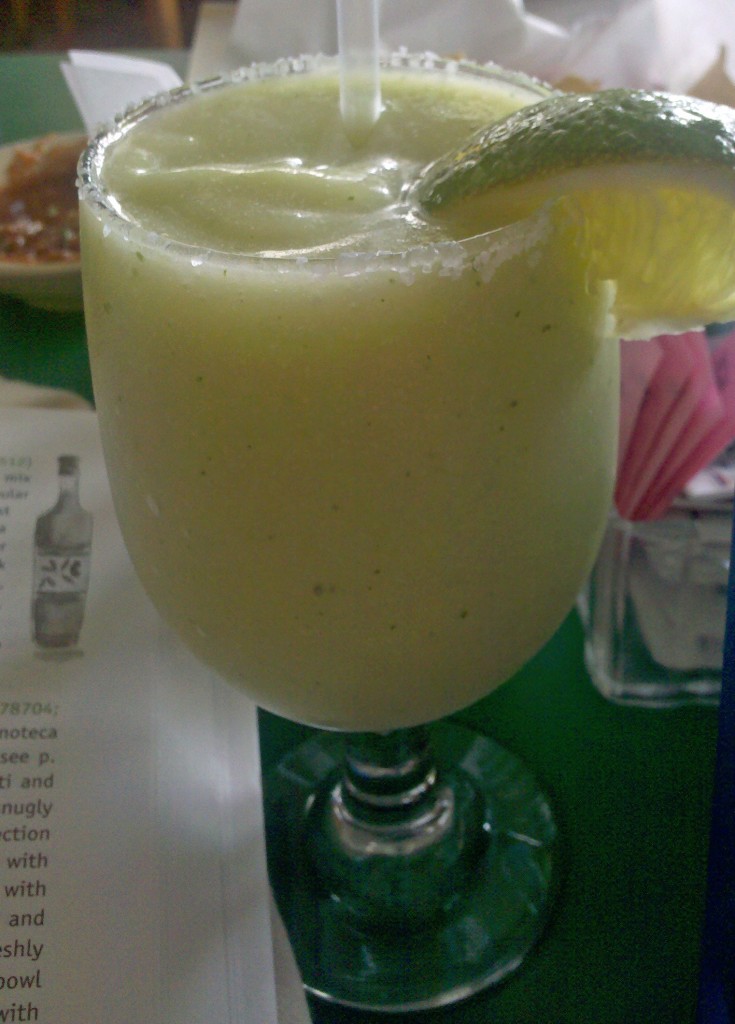 Curra's Grill in South Austin is famous for its wonderful Tex-Mex food, all day long. They open at 7AM and go to 10PM. This "local" place makes the Texas Monthly "Best 50" list for Tex-Mex food, quite an accomplishment. And a deserved one.
My son, daughter-in-law, and I just had a great breakfast, which they happened to serve all day. My son was driving, it was too early for my daughter-in-law, but I absolutely could not pass up their signature dish: an avocado margarita. That's a picture of it at top, with all the glory that smart phone camera can afford.
They keep their recipe secret, but The Austin Chronicle has researched for the two best replicas they could find. Here they are. On the web, I searched for other recipes, and I think these two recipes span the range of complexity you'll find suggested for this beverage.
Yes, it may sound strange. No, it tastes wonderful. The avocado certainly adds that mellow color and just a subtle dose of smoothness that is a grand mate for salsa and chips.
I like breakfast in Texas.
Horny Toad's Avocado Margarita
www.hornytoad.com/community/fun-hunting/avocado-margarita-recipe—ole.565.html
Ah, it's that time of year again; the avocado is being celebrated in all of its green glory at the Avocado Festival in Carpinteria, Calif. – a town near the Horny Toad headquarters. In honor of this fruit of the gods, we thought we'd post a beverage recipe … enjoy!
Yield: 1 cocktail
Ingredients:
1 ripe and delicious avocado
¼ cup fresh lemon or lime juice
2 cups crushed ice
½ cup tequila
¼ cup triple sec
Preparation:
Put in a blender and turn it on. It's so simple; that's why we love it. Then, rub the rim of the glass with lime and dip in a coarse sea salt and chili pepper mix. Sit back with some friends and enjoy the smooth goodness.
Aldaco's Avocado Margarita
www.restmex.com/recipes/0702drinks.shtml
Yield: 2 cocktails
Ingredients:
3 cups cubed ice
4 ounces Cuervo Gold Tequila
4 ounces Cointreau Orange Liqueur
2 ounces fresh lime juice
6 ounces of sweet and sour
To complete the margarita:
1 large Hass avocado
2 ounce sweet and sour
Chile-lime salt (optional)
1 avocado for garnish (optional)
Preparation:
Pour Frozen Margarita ingredients into a blender; blend until smooth. Cut open one avocado and remove pit. With a spoon, remove, in small increments, the meat of the avocado and place in blender. (Use one-half avocado for each margarita.)
Add 2 more ounces sweet and sour to frozen batch, and blend about 20 seconds. Rim martini glass with chile-lime salt, pour margarita into glass, and serve.
To garnish: Roll outer side of avocado slice in Kosher or chile-lime salt. Gently press slice onto the rim of glass.