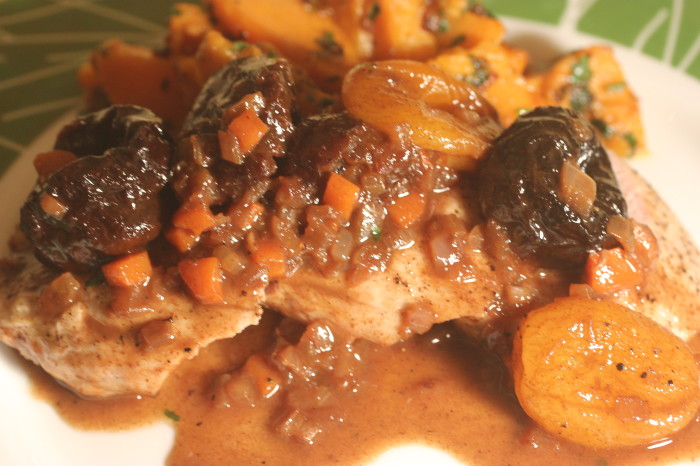 I heard a splash. I turned. Something wrapped in aluminum foil was resting in a dish of cold water.
"I took out a pork loin. Find a recipe," Suzen announced. She likes to test me.
She was testing the wrong man. I had to walk just five steps, pull Rotis from its treasured spot, and quickly hunted my porcine prey. I found a recipe with prunes and apricots to mate with her defrosting pork loin. And it all needed brown ale. This was no contest.
I walked to her, turned the book around, and showed her the recipe.
"We're doing this. Get the ale," she commanded. My wife like to give orders. I don't mind as long as I am well fed and can have other side benefits.
The temperature outside us is single digits. It's going to stay that way for days or weeks. What we needed last Sunday was a great warm meal. What you need for this Sunday and the next, I expect, is a great warm meal. This is it.
It's quite impossible to describe how perfect this dish presents and tastes. It is beautiful to behold, the scents announce it with elegance, and each bite begs for more. This dish is ideal for an evening of wine, for it can pair with an astounding variety of grapes and flavors. There is dark roast pork here, an intense sauce, and fruity notes from the prunes and apricots, plus the grainy undertones from the ale-based sauce.
This recipe is from Rotis, an amazing book by Stephane Reynaud, a Parisian-based chef and author. His previous book, Pork and Sons, is an whole hog encyclopedia. In Rotis, he presents his French meat heritage: a different style of roast for each day of the week. Thursday is pig night in Rotis, but we cheated and did make this on Sunday. It's a quick recipe, ideal for a busy weeknight. Or a Sunday so cold you just want a warm kitchen and a perfect meal.
Roast Pork Loin in Brown Ale with Prunes and Apricots
Yield: serves 6
Ingredients:
2 pound 12 ounce [1.25 kilogram] rolled pork loin
3 French shallots, peeled and diced
2 carrots, peeled and diced
1 teaspoon ground cinnamon
1 teaspoon ground ginger
2 ounces olive oil
2 cups brown ale
7 ounces pitted prunes
4 ounces dried apricots
4 ounces butter
Preparation:
Preheat the oven to 315°F.
Combine the shallots, carrot, cinnamon, and ginger and mix well.
Heat the olive oil in a flameproof roasting tin. Add the pork and brown over high heat. Add the combined vegetables and spices, then roast in the oven for 30 minutes. Baste the roast regularly with the ale.
Remove the roast and add the prunes and dried apricots. Season with salt and pepper, then return to the oven for a further 30 minutes. [Take the temperature of the roast at this point; you may not need to return it to the oven, or you may return it but not for a full 30 minutes; it depends on your personal preferences for pork doneness; another 30 minutes will give you very well done meat]
Transfer the roast to a serving plate.
To make the sauce, add the butter to the roasting tin and stir well over low heat into a sauce. Pour over the pork and serve immediately.
The sauce itself is a beauty to behold in the pan. The photo below is testament.
Source: Rotis by Stephane Reynaud
Photo Information [top picture]: Canon T2i, EFS 60 mm Macro Lens, F/5.6 for 1/20th second at ISO-1000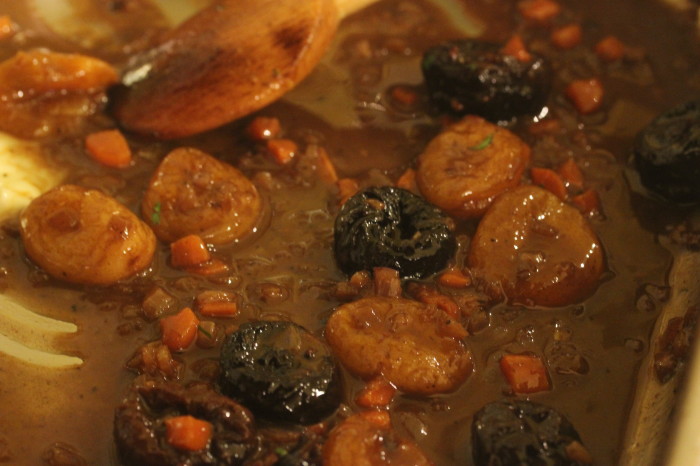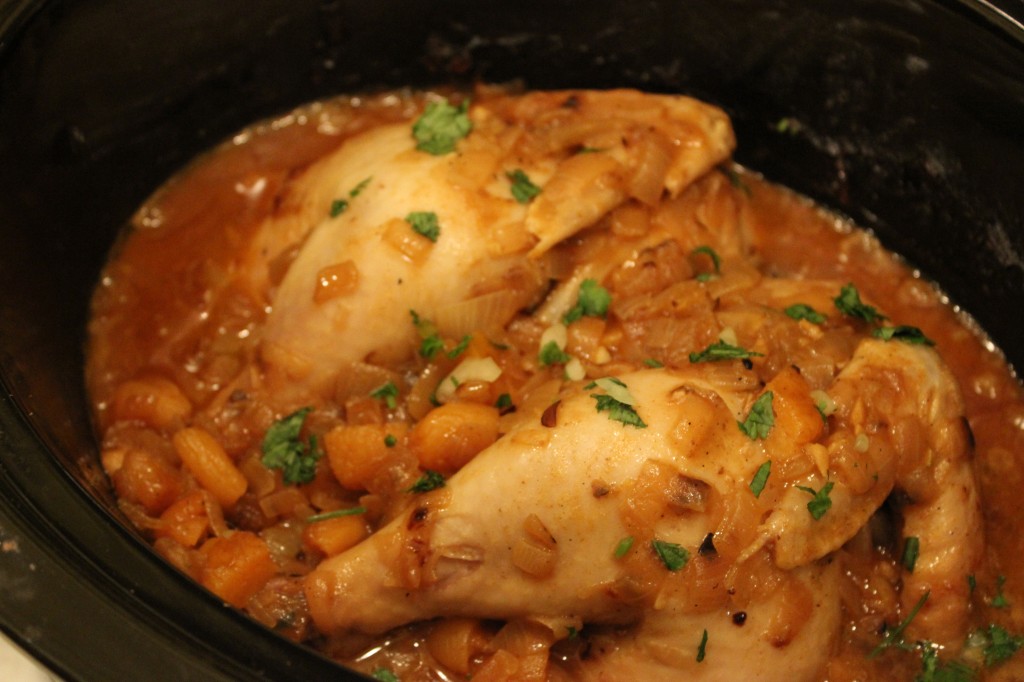 We need to clarify something. The phrase "slow cooker" does not refer to some dim-witted person in the kitchen. No, a slow cooker is one of those kitchen devices you may have ignored for some time. You may have one already, orphaned on a back shelf. Or you may walk by them in your local kitchenware store. Yes, you'll stop, look at the device, and just ignore it.
Well, it is time to dust off that creature you already have or go buy a brand new shiny one because the world of slow cooking is capturing attention everywhere. And the best advocate for slow cooking is Michele Scicolone.
Michele's The Italian Slow Cooker was a tour de force in her home court: Italian cooking. Now, she has a brilliant new success in The French Slow Cooker. Advocates of French cuisine have nothing to be worried about. Michele's multiculturalism shines on every page with French food given all the loving respect it deserves.
Michele describes her own awakening here, learning how a slow cooker is the ideal way to create a wide away of French home dishes and do it more easily and more successfully. Soufflés and quiches require careful timing when using an oven. In a slow cooker, with its low and even warmness, these "sensitive" dishes are far easier to prepare. Vegetable dishes, gratins, seafood, and even gooey desserts like crème caramel can all be easily created with your slow cooker.
Suzen's starting point for testing this new book was this Moroccan Chicken with Apricots and Almonds [I wanted the crème caramel, but …]. We have a pantry always ready with dried fruits and nuts. And each fall we stock up on the best organic chickens in the Hudson Valley, from Free Bird Farm who offer them Saturday's at the Kingston farmers market. Our freezer has a shelf full of birds ready to go — after just a little defrosting.
Yes, this recipe calls for chicken breasts but Suzi simply sliced that whole chicken in half. It looked a bit like a closeup scene from a television hospital show. In fact, Suzen has told me that my next surgery will be home-based. I think it's all a gimmick to get me to shovel the snow.
Michele Scicolone describes this dish as lightly spiced. It's exactly that. As the chicken cooks, your kitchen is not overpowered by scent. There's just this magical suggestion that a great meal is forthcoming.
Michele suggests serving this over couscous. We did rice instead. Either way, all the chicken, all fruit, and all the sauce are soon gone.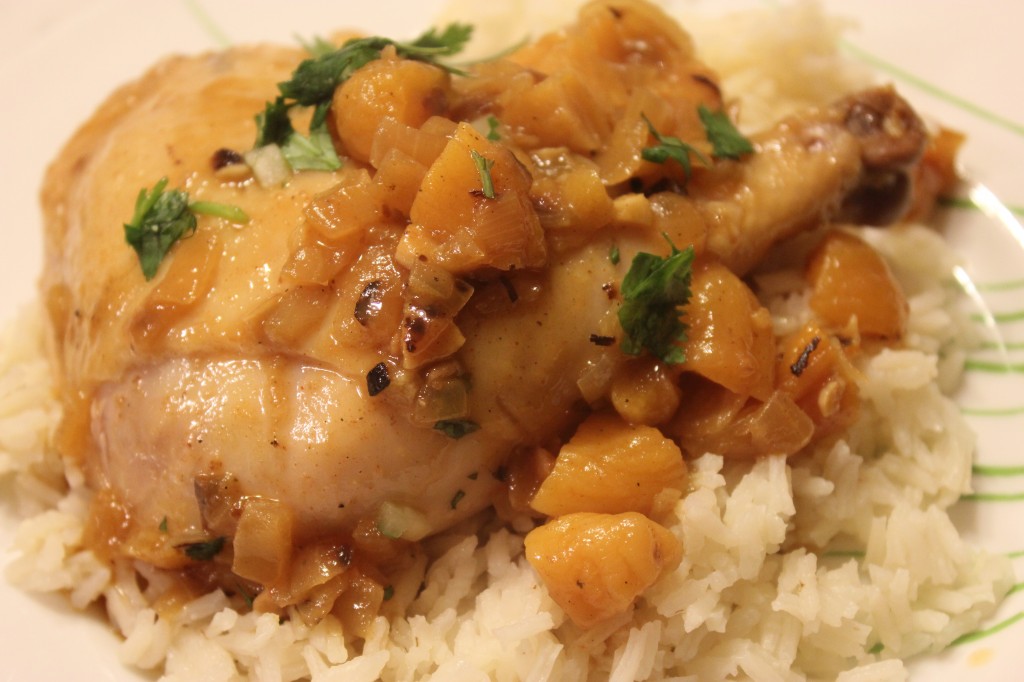 Moroccan Chicken with Apricots and Almonds
Yield: serves 4-8
Ingredients:
2 tablespoons olive oil
2 large onions, chopped
2 garlic cloves, finely chopped
2 tablespoons all-purpose flour
2 teaspoons paprika
1 teaspoon ground ginger
1 teaspoon ground cumin
2 cups chicken broth, ideally home made
2 tablespoons fresh lemon juice
2 tablespoons honey
1 cup dried apricot halves, quartered
8 skinless, boneless chicken breast halves
Salt and freshly ground pepper
2 tablespoons sliced toasted almonds
Chopped fresh cilantro.
Preparation:
In a large skillet, heat the oil over medium heat. Add the onions and garlic and cook, stirring frequently, until the onions are golden, about 10 minutes. Mix in the flour and spices and cook for 1 minute. Whisk in the broth, lemon juice, and honey. Bring to a simmer and cook until slightly thickened, about 5 minutes. Stir in the apricots.
Pour half of the sauce into a large slow cooker. Sprinkle the chicken with salt and pepper to taste. Place the chicken in the cooker, overlapping the pieces slightly. Drizzle with the remaining sauce. Cover and cook on low for 2 ½ to 3 hours, or until the chicken is cooked through.
Serve the chicken sprinkled with the almonds and cilantro.
Source: The French Slow Cooker by Michele Scicolone [Published by Houghton Mifflin Harcourt]