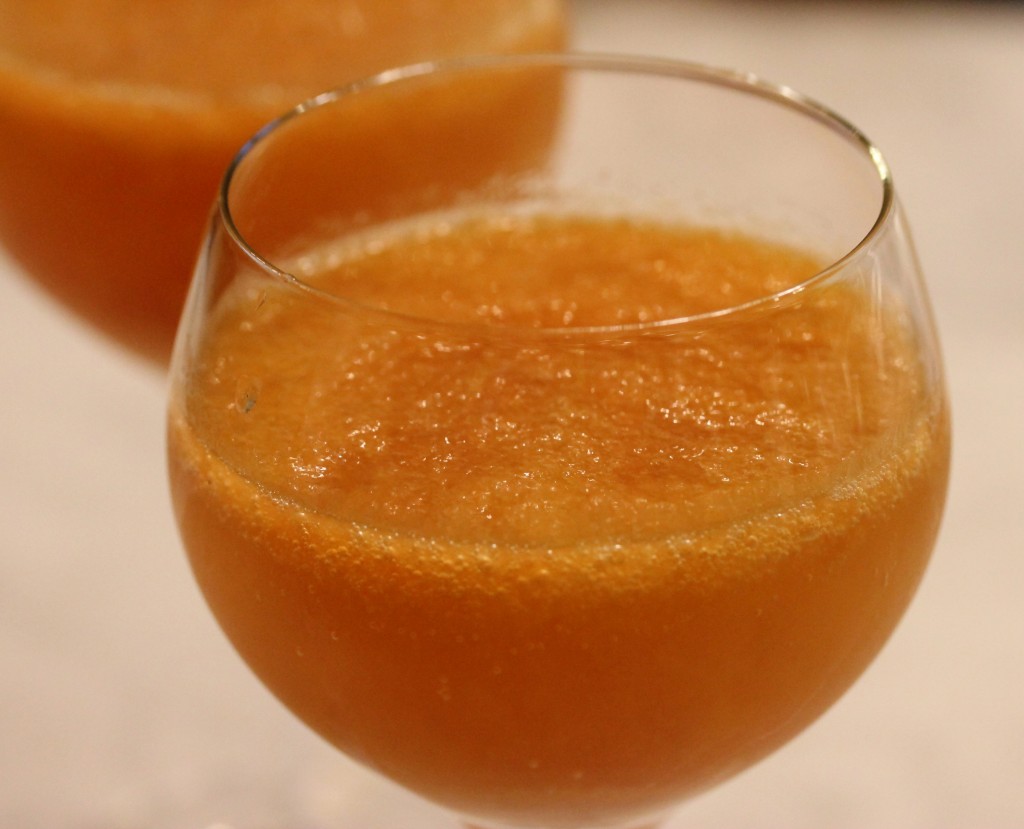 Apricots. It's been a wet and cold spring, but the first apricots have arrived. Small, yet intense in flavor, they provide the mixologist true opportunity. Instead of a peaches and Bellinis, here's a way to use those early apricots and create a wonderful cocktail.
Unlike most of my creations, this is NOT too sweet. And, I used grapefruit bitters as well, so there is a definite "sour" undertone to this drink. It's a great Sunday brunch beverage that will complement smoked salmon and capers.
Apricot Paradise
Yield: 4-6 drinks
Ingredients:
6 apricots [enough for 1 ½ cups when sliced]
¼ cup sugar syrup
Grapefruit bitters
Proseco
Preparation:
Peel and slice the apricot. Put them in a blender along with sugar syrup. Process until very smooth. Refrigerate for at least one hour before using.
In champagne flute, put 2-3 tablespoons of the apricot puree in the bottom. Add ¼ teaspoon of grapefruit bitters. Slowly top off the flute with Proseco. Enjoy and refill as needed.
Source: Brian O'Rourke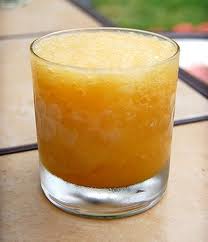 Ah, breakfast. Orange juice? Yes. Jam? Yes. What kind? Apricot. Is it Sunday by the way? No.
Actually, it's not even breakfast, but I'm thirsty and want something very interesting. Not a mimosa, but something that …
In her new guide to the best in drinking, 101 Blender Drinks, Kim Haasarud offers a whole new world of tastes. This one is Grandma's Frozen Apricot. I knew both my grandmothers. There is just no way, ever, that they would have come up with such an idea. It just means that Kim has a radically more creative gene pool.
Actually, this would be a great drink for breakfast. It has terrific fruit flavor that can stand up to bacon, smoked salmon or eggs in any form.
Or, you can do what I am. Making this and watching the nightly news. I have a glass in one hand and cashews in the other.
This drink recipe is what I consider a template. It's perfectly delicious and you can make this over and over again. But, if you want, you can extend the beverage in many directions:
·

In the first blender round, do add a splash of sparkling wine such as cava

·

Go for peach or plum jam instead of apricot

·

Add some sugar syrup if this is not sweet enough for you

·

Instead of Gran Marnier, use Mandarin Napoleon, my favorite citrus liqueur
Grandma's Frozen Apricot
Yield: 1 serving
Ingredients:
·

2 ounces apricot nectar

·

2 ounces orange juice

·

1 ounce Gran Marnier

·

2 tablespoons apricot preserves

·

Splash of fresh lemon juice

·

Freshly grated orange zest and mint sprig, for garnish, if desired
Preparation:
Combine the nectar, orange juice, liquor, preserves and lemon juice in a blender and process for 5 second — just to deal with the preserves. Add a cup of ice and blend until smooth. Pour into a cocktail glass and garnish.
Source: 101 Blender Drinks by Kim Hassarud