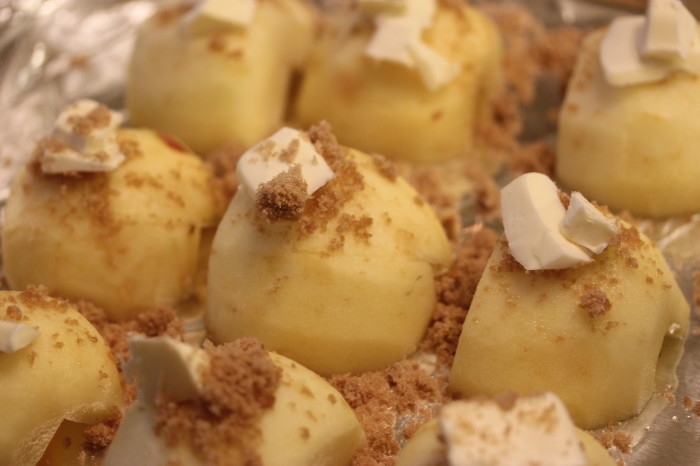 A fool is an English fruit dessert, typically berries in sweet custard [is there any other?]. Levi Roots in his new book Sweets offers a fall fool with a very different aspect. The berries are gone. The apples are in. Along with maple syrup.
Levi lives in Britain and grew up in Jamaica. He's created an all-American dish. The fool is soft, velvety and surely decadent. It does not photograph well, which is why I've shown the starting point above: the apple halves ready to be baked with butter and sugar.
You can, of course, make alterations like mad here. Add spices to the apples [cinnamon, nutmeg, …]. You add more or less booze and switch from rum to brandy or calvados or … You have idea. Now all you need are apples!
Roast Apple, Rum and Maple Fool
Yield: serves 8
Ingredients:
1 ¾ pounds cooking apples
2 ounces soft light brown sugar
1 ounce unsalted butter
9 fluid ounces whipping cream
7 ounces custard [crème anglaise]
3 tablespoons maple syrup, plus extra for drizzling
2 ½ tablespoons white or dark rum
Dried apple slices to serve
Preparation:
Preheat the oven to 400°F. Peel, core and halve the apples, then arrange them in a roasting pan lined with foil. Sprinkle over the sugar and dot with the butter. Bake for 30-40 minutes, or until the apples are completely soft.
Transfer the apples and any juice they released to a bowl and mash them using a fork.
Whip the cream to soft peaks.
Carefully fold the apple pulp, custard, maple syrup and rum into the whipped cream. Chill in the refrigerator until ready to serve.
To serve, spoon the fool into 8 serving bowl or glasses, drizzle with maple syrup and top with dried apple slices.
Source: Sweets by Levi Roots
Photo Information: Canon T2i, 18-55MM Macro Lens, F/2.8, 1/100 second, ISO 640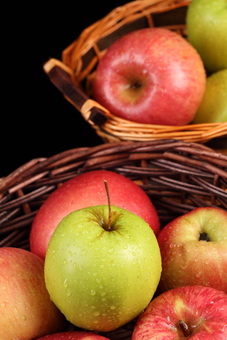 There you are, standing in front of a row of a dozen kinds of apples. At your supermarket or at a farm stand. And then it happens. Your mind goes blank. You can read the labels, but what do they mean? That McIntosh looks good, prettier than a computer, but what do you do with it. You can just eat it, but will it work in a pie. There is a stack of Cortlands right there too, and maybe those can be put in a pie. Maybe.
Here is a link to a wonderful article at Epicurious. It is a visual guide to 11 of the most popular apples. The description there tells you that McIntoshes won't do in a pie, but those Cortlands will. And, there are links on this article to cooking with apples in general and links after each apple description to recipes for that particular apple.
I'm sure you'll enjoy this guide and perhaps find it invaluable. Personally, I'm printing it out and taking it to this Saturday's farmers market. [Suzen does not need it. She has it all in her lovely head. Sometimes, sometimes there are benefits to be married to someone smarter than you. Sometimes.]
http://www.epicurious.com/articlesguides/seasonalcooking/farmtotable/visualguideapples