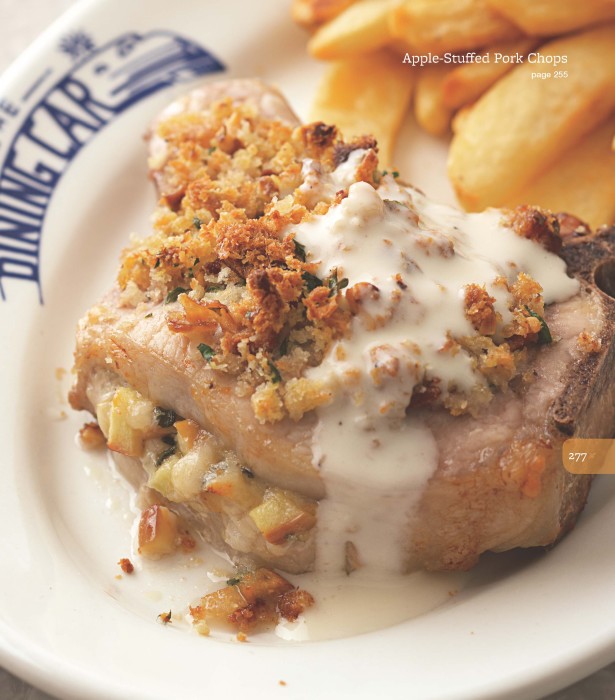 This seductive recipe comes from Better Homes and Gardens new 365 Comfort Foods. Often, a comfort food is simple: a baked potato, meat loaf, brownies, …
As you can see from the picture, this recipe has many components. The ingredients list is long. The dish will take more than 5 minutes to prepare. And all of this is worth the effort. The combination of meat, fruit, and cheese is deeply rich, incredibly satisfying. This dish can be the centerpiece of a family feast, a dinner party, or just one night's grand meal.
So, on a cold winter night, when you have some time, here is a recipe where patience will pay dividends you cannot imagine.
The new book 365 Comfort Foods provides an array of recipes for you. From the modestly complex, like this pork chop, to some dishes that are both comfort and fast. 365 Comfort Foods in on display at bookstores now. Do yourself an enormous favor, pick up and copy and salivate.
Apple Stuffed Pork Chops
Yield: serves 4
Ingredients:
1 tablespoon butter
⅔ cup chopped, peeled (if desired) cooking apple (1 medium)
⅓ cup chopped onion (1 small)
2 teaspoons snipped fresh sage or 1⁄2 teaspoon dried sage, crushed
2 tablespoons shredded white cheddar cheese
4 pork rib chops, loin chops, or boneless loin chops, cut 11⁄4 inches thick (about 3 pounds total)
Salt
Ground black pepper
1 cup coarse soft bread crumbs from crusty country bread (about 2 slices)
2 tablespoons chopped walnuts
2 tablespoons butter, melted
1 tablespoon snipped fresh
Italian (flat-leaf) parsley
2 teaspoons finely shredded lemon peel
2 tablespoons butter
2 tablespoons all-purpose flour
¼ teaspoon salt
Pinch ground black pepper
1 cup chicken broth
½ cup whipping cream
2 tablespoons Calvados or apple juice
½ cup shredded white cheddar cheese (2 ounces)
Preparation:
Preheat oven to 375°F. For stuffing, in a medium skillet heat 1 tablespoon butter over medium heat until melted. Add apple, onion, and sage; cook until tender, stirring occasionally. Remove from heat. Stir in 2 tablespoons cheese; set aside.
Trim fat from chops. Make a pocket in each chop by cutting horizontally from the fat side almost to the bone or the opposite side. Divide stuffing among pockets in chops. If necessary, secure the openings with wooden toothpicks. Sprinkle chops with salt and pepper.
In a small bowl combine bread crumbs, walnuts, 2 tablespoons melted butter, parsley, and lemon peel. Place chops on a rack in a shallow roasting pan. Top with bread crumb mixture. Bake, uncovered, for 40 to 50 minutes or until juices run clear (160°F).
For the sauce, in a medium saucepan heat 2 tablespoons butter over medium heat until melted. Stir in flour, 1⁄4 teaspoon salt, and pinch pepper. Gradually stir in broth, whipping cream, and Calvados. Cook and stir until thickened and bubbly. Cook and stir for 1 minute more. Stir in 1⁄2 cup cheese until melted. Serve chops with sauce
Source: 365 Comfort Foods from Better Homes and Gardens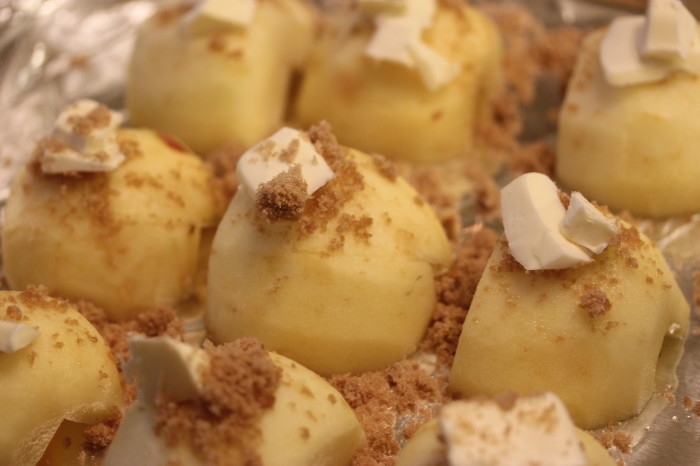 A fool is an English fruit dessert, typically berries in sweet custard [is there any other?]. Levi Roots in his new book Sweets offers a fall fool with a very different aspect. The berries are gone. The apples are in. Along with maple syrup.
Levi lives in Britain and grew up in Jamaica. He's created an all-American dish. The fool is soft, velvety and surely decadent. It does not photograph well, which is why I've shown the starting point above: the apple halves ready to be baked with butter and sugar.
You can, of course, make alterations like mad here. Add spices to the apples [cinnamon, nutmeg, …]. You add more or less booze and switch from rum to brandy or calvados or … You have idea. Now all you need are apples!
Roast Apple, Rum and Maple Fool
Yield: serves 8
Ingredients:
1 ¾ pounds cooking apples
2 ounces soft light brown sugar
1 ounce unsalted butter
9 fluid ounces whipping cream
7 ounces custard [crème anglaise]
3 tablespoons maple syrup, plus extra for drizzling
2 ½ tablespoons white or dark rum
Dried apple slices to serve
Preparation:
Preheat the oven to 400°F. Peel, core and halve the apples, then arrange them in a roasting pan lined with foil. Sprinkle over the sugar and dot with the butter. Bake for 30-40 minutes, or until the apples are completely soft.
Transfer the apples and any juice they released to a bowl and mash them using a fork.
Whip the cream to soft peaks.
Carefully fold the apple pulp, custard, maple syrup and rum into the whipped cream. Chill in the refrigerator until ready to serve.
To serve, spoon the fool into 8 serving bowl or glasses, drizzle with maple syrup and top with dried apple slices.
Source: Sweets by Levi Roots
Photo Information: Canon T2i, 18-55MM Macro Lens, F/2.8, 1/100 second, ISO 640