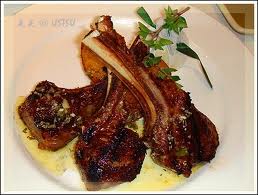 Lamb. A lovely meat, particularly when prepared the right way. My grandmother, all Scottish, would cook me lamb chops. And cook them. And keep cooking them.
Why do Scots use mint jelly with lamb? It's to lubricate your teeth so you have a fighting chance to penetrate meat that is just a tad tough.
Supermarkets have not helped the lamb image. They have offered up less than ideal meat that, when cooked, produces the "lamby" smell that makes heads turn. The wrong way.
Suzen loves lamb, too. She cannot get her clients to consider lamb for Cooking by the Events. They just won't do it.
So, we do. On weekends, when we cook for ourselves and our friends, we buy great lamb, we don't overcook it, and we relish every bite. This recipe is a perfect appetizer, one that is naturally paired with a stiff cocktail — and you'll find one of those at this blog this weekend featuring grilled peaches and bourbon.
Start with this appetizer, offer a rich risotto for the main course, and finish with a fresh fruit tart. That's a meal to treasure.
Grilled Lamb Chops with Glazed Shitake Mushrooms
Servings: 2 to 4
Preparation Time: 45 minutes
Ingredients:
½ cup Pedro Ximenez vinegar or sherry vinegar
2 tablespoons unsalted butter
2 tablespoons extra-virgin olive oil, plus more for brushing
1 pound shitake mushrooms, stems discard and caps sliced
Kosher salt and freshly ground black pepper
1 rack of lamb spareribs (about 1 pound) cut into individual ribs
Preparation:
In a .small saucepan, simmer the vinegar over moderately low heat until reduced slightly to ⅓ cup, about 5 minutes.
In a large skillet, melt the butter in the 2 tablespoons of olive oil. Add the mushrooms and cook over high heat , turning once until golden, about 5 minutes. Add 3 tablespoons of the reduced vinegar and cook over low heat until the mushrooms are nicely glazed and tender, about 3 minutes. Season with salt and pepper.
Light a grill or preheat the broiler. Brush the ribs with olive oil and season with salt and pepper. Grill the ribs over moderate heat, turning occasionally, until light charred and cooked through, about 2 minutes a side. Brush the ribs with the remaining vinegar and grill, turning until nicely glazed about 1 more minute. Transfer the ribs to a platform and serve the mushroom alongside.
The total cooking time for a chops of different thicknesses are shown in the following table, with credit to Steven Raichlen.
[ahm-wp-tabular id=8878 template=Web2]
Sources: Food and Wine Cocktails 2012 and The Barbecue Bible by Steven Raichlen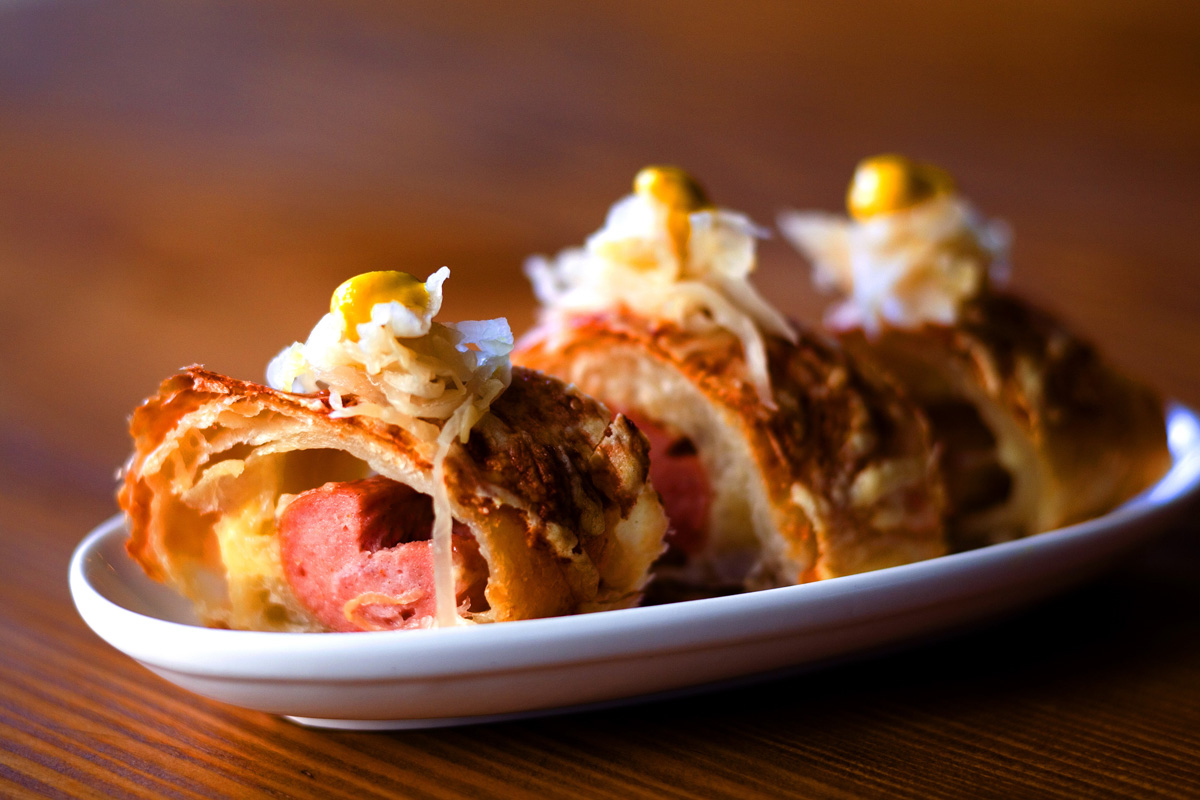 We joined Netflix this weekend. I did the deed and told Suzen who was very happy. I told her about our profile, how we like science fiction and horror films. After I do this blog, I have to update the profile. Apparently, I really like romantic comedies and Bollywood musicals. My faux pas.
In my defense, I don't like the super gory flicks. I own a chain saw and I'm very squeamish. I like my trills presented artfully. My favorite scene could have been done by Kurosawa, the great Japanese film master.
In Jurassic Park, there is that scene at dusk where the good guys are trying to escape by crossing a meadow with head high grass. The camera shows the terrorized faces of the good guys, then pulls back overhead. And there you see the just the trails in the grass of the velociraptors as they converge from all directions on their next meal. If you never saw the film, velociraptors were about six feet high, ran sprinter fast on two feet, had lots of razor teeth, and specialized in live meat.
You might think that kind of scene last occurred in 65 million years ago, just before the dinosaurs disappeared. You're wrong. It occurs hundreds, perhaps thousands, of times each night. A waiter carries a plate of pigs in a blanket hors d'oeuvres, still hot from the oven and radiating flavor. The crowd sniffs, turns, and converges. The plate hits the table and in seconds is stripped bare to the china bone. It's quick and it's definitive.
Each event at Cooking by the Book begins with appetizers. I have personally witnessed this pigs in a blanket scene. You can put foie gras next door, wings, French cheese … It doesn't matter. The pigs are gone first.
In his wonderful new book Fresh from the Market Laurent Tourondel presents a bevy of manifest recipes. Wonders like:
Grilled Montauk Tuna Stuffed with Herbs & Tapenade
Wild Mushroom Manicotti Gratinee with Fine Herbes
Country Duck Pate
And more. So you can imagine my surprise when I turned a page and found this recipe for his version of pigs in a blanket. He calls the standard pig recipe "one of the most delicious American treats I have ever had. I find it absolutely impossible to eat just one."
In tribute to this classic American dish, Laurent has added a French twist. The blanket is gone, replaced by rich puff pastry. And the inside includes grated cheese. With cheese piled on top for good measure, too.
We made these, we ate these, we enjoyed these. They are oh so rich!
In his recipe below, Laurent suggests specific types of puff pastry, wieners, cheese and mustard. Do try to find them, but you can certainly substitute other premium ingredients.
Ordinarily, you might eat pigs with a beer. Find a bottle of champagne.
Make these and bring them to the table with pride. As you approach the table, just ignore those rustling sounds approaching you from behind. It's only …
Chomp.
Oh, dear. Another faux pas. Sorry.
Pigs in a Blanket "Ritz Carlton"
Yield: Serves 6
Ingredients:
2 sheets store-bought frozen puff pastry, preferably Dufour brand, thawed
¼ cup all-purpose flour
2 large eggs
2 tablespoons whole milk
6 Shaller and Weber wieners (beef and pork)
2 cups grated Roth Kase Grand Cru Gruyere cheese
½ cup sauerkraut, drained
¼ cup Raye's yellow mustard
Preparation:
Unfold the puff pastry on a lightly floured, cool surface. Using a lightly flour rolling pin, roll out the pastry to a ¼-inch thickness and cut it into 6 rectangles are about 7 X 3 inches.
Preheat the oven to 375°F. Line a baking sheet with parchment paper. Place the flour in a shallow bowl and whisk together the eggs and milk tin another shallow bowl. Roll 1 wiener in the flour and then dip it into the egg mixture and place it on a piece of puff pastry. Repeat with the remaining wieners. Top each wiener with ¼ cup of the cheese and then wrap the puff pastry lightly around the wiener, pinching the ends to seal completely.
Place the pigs in blankets, seam side down, on the prepared baking sheet; brush them with the remaining egg mixture and evenly scatter the remaining ½ cup of cheese on top, pressing to adhere. Bake until the pastry is golden brown and completely cooked through, about 25 minutes.
Slice each pig in a blanket into 6 pieces and serve with the sauerkraut and a dollop of mustard on top.
Source: Fresh from the Market by Laurent Tourondel