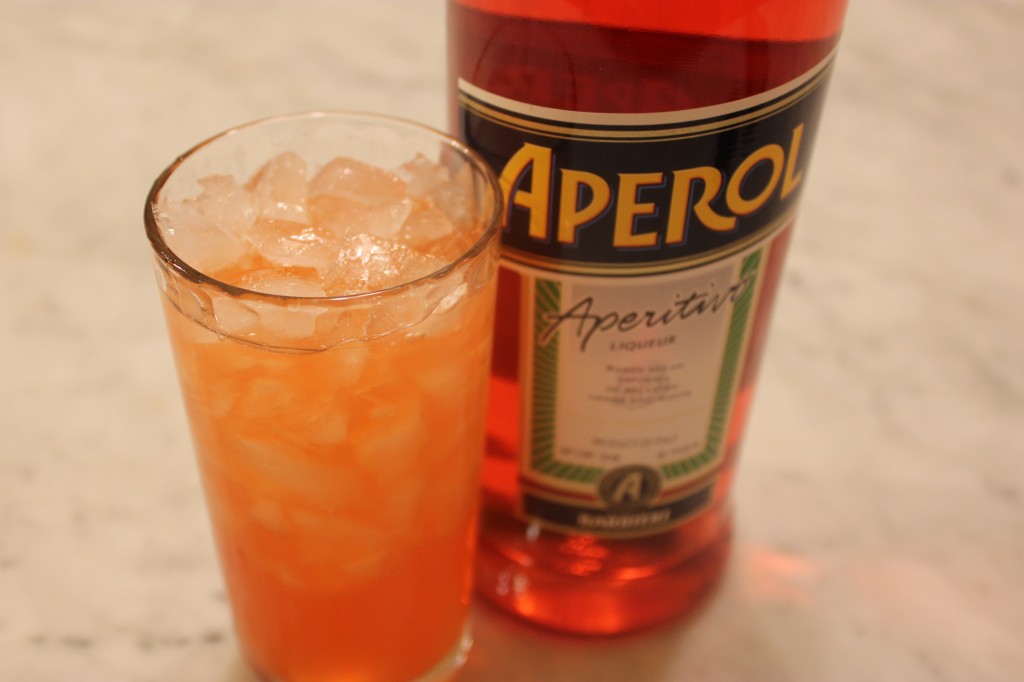 This weekend will find many of us giving or attending parties. Long parties. That Super Bowl stretches for four hours. During that time, we will all munch and we will all imbibe.
A responsible host knows that if guests are drinking over that extended period of time, there are some risks. It is quite possible that someone could get more than a little tipsy and you don't want them behind the wheel. What is a host or hostess to do?
First, you can arrange to not serve standard cocktails during the whole event. May one at the start, and then encourage people to lighter fare: wine, punch, lemonade, … There are many choices, not all of them alcoholic, and in fact the next few posts here will provide you with some liquid options that no one will complain about.
Here is the first option for you: a cocktail tingling in flavor but low in alcohol. It's made with my new favorite, Aperol, which just happens to be only 11% alcohol. Mixed with citrus juices and a little sugar syrup, you have a lively drink that people can sip, enjoy, and comingle with that food spread you have provided.
Aperol Sweet and Sour
Yield: 1 serving
Ingredients:
Shaved ice and ice cubes
2 ounces Aperol
1 ounce of simple sugar syrup
Juice of 1 lemon
Juice of 1 lime
Optionally, slices of lemon or lime for garnish
Preparation:
Fill a small cocktail glass with shaved ice. If you wish, the glass can be rimmed with sugar.
Put several ice cubes into a cocktail shaker. Add the Aperol, sugar syrup, and juices. Shake vigorously for at least 20 seconds. Pour into the cocktail glass and enjoy.
Source: Brian O'Rourke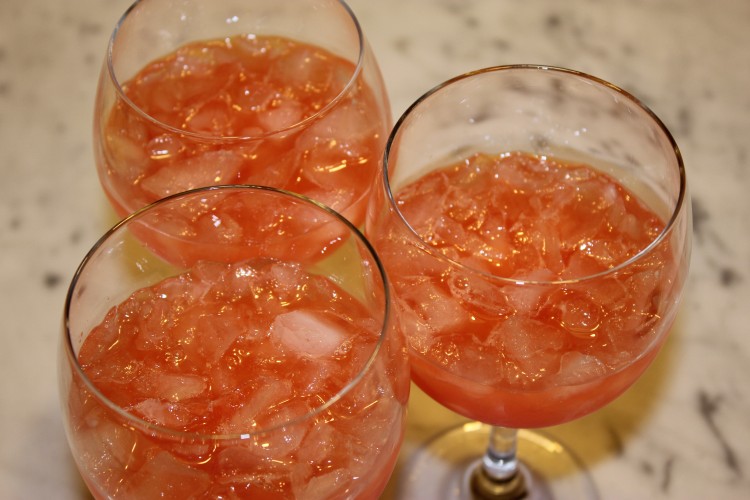 My sweet tooth makes me shy away from bitter liqueurs. I know the world loves Campari and I've tried but just one sip and my mouth always puckers so tightly my tongue has to move out of the way.
Very fortunately, an Italian friend has introduced me to Aperol. This is another bitter Italian liqueur, but on so different. Created by a family spirits company — the Barbieri — in 1919, Aperol is now produced by the same company that does that Campari stuff.
Aperol has half the alcohol of Campari, only 11% [15% in Germany because of local laws that help explain why the Euro will fail!]. It is the Aperol flavorings that make it less bitter and, I believe, far more versatile. These flavorings include some things familiar and some a tad obscure:
Bitter orange
Gentian, an alpine flowering plant [many species are used in a variety of European liqueurs]
Rhubarb
Cinchona: a family of medicinal plants from the Andes forests
Of course, there are other ingredients and a secret recipe, which is all fodder for you to guess about as you sip and keep asking yourself what could be in this liquid extravaganza. And how did some Italians near Padua in 1919 get their hands on plants from the Andes?
Aperol has a rich orange-red color and is a most versatile component for making wonderful cocktails. Here is an Aperol Sour recipe from Neue Cuisine by Kurt Gutenbrunner, a marvelous new cookbook toasting the elegant tastes of Vienna. There will more posts from Neue Cuisine in the coming days, but this is the appropriate aperitif to get us started.
This recipe for an Aperol Sour is a tad different from the one at the Aperol web site [www.aperol.com/cocktails]. The web site suggests using sugar syrup, which is one of my standard ingredients, but Neue Cuisine said to try confectioners' sugar. I was worried it might yield a cloudy cocktail, but as you can see from the picture above, it's all a sparkling gem
You can certainly play with the relative proportions of Aperol, lemon juice and sugar to drive from the sweet to the sour. And, I'm going to be trying lime juice, too. It is this flexible versatility of Aperol that will make you smile, and not pucker at all.
Aperol Sour
Yield: 1 serving
Ingredients:
Ice cubes
2 ounces Aperol
2 tablespoons fresh lemon juice
1 tablespoon confectioners' sugar
1 thin slice of lemon
1 small tarragon sprig (optional0
Preparation:
Fill a rocks glass with ice. In a cocktail shaker, combine the Aperol with the lemon juice and sugar. Shake well and strain into the glass. Garnish with the lemon slice and tarragon sprig, if using, and serve.
Source: Neue Cuisine by Kurt Gutenbrunner