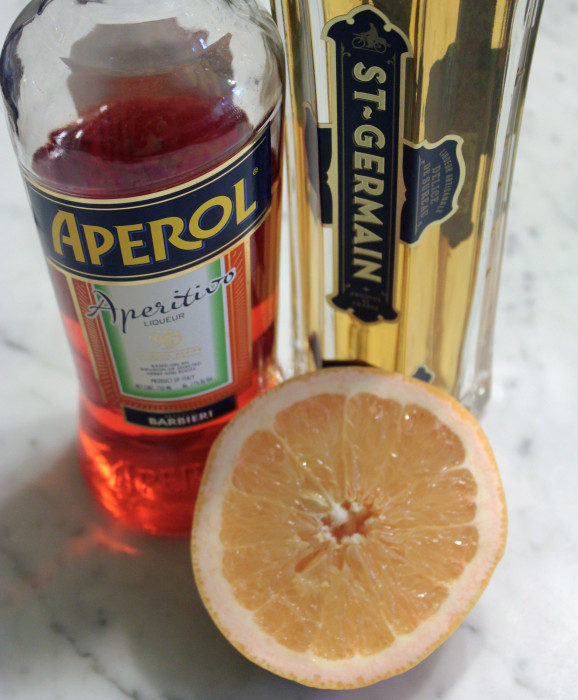 Having brunch? Want something far, far beyond a mimosa? Read on.
In the West Village on 11th Street, just past Hudson, there is The Spotted Pig, the extraordinary restaurant from April Bloomfield. If you can dine there, it is a must. If you cannot, then pick up a copy of A Girl and Her Pig [you can't miss it, picture of April standing proudly with a pig draped over her shoulders, has to be the only thing like it in the bookstore]. A Girl is filled with lovely, no, exceptional recipes. The Pig is a favorite restaurant for Suzen and me in a city rich in good establishments.
Actually, The Pig became a favorite for me before I ate a bite. Suzen had ordered cocktails. "You will like this surprise," she assured me. I waited for the waiter.
I took a sip and Suzen saw it in my eyes. "May I?" she extended her hand. I let her sip and saw, I suppose, in her eyes what was in mine.
"Grapefruit?" I suggested.
"Has to be," she agreed.
Hence the picture, for back home I took down my Aperol and St-Germain, and I split my grapefruit. It was all about the proportions. I kept trying to duplicate The Harlow. I got close, then distant, then closer. But I never got it right.
So yesterday, I went to The Spotted Pig, sat down at the bar, and asked for a deep favor. She smiled, mentioned with pride the drink is her concoction, and let me watch, guiding me through every step.
"There's no grapefruit?" I asked. It looked like lemon juice she was pouring.
"No," she laughed. "There are knockoffs all over the city and they all think it is grapefruit but the secret is fresh, really fresh, lemon juice."
Here is the recipe, straight from The Pig, The Spotted Pig. You've seen Aperol drinks aplenty recently and many cocktails using that grand St-Germain. But The Harlow is the one drink that combines them both, and does so powerfully. I cannot describe how refreshing The Harlow is. I can only encourage you to make it yourself and relish every sip.
No grapefruit. Fresh, really fresh, lemon juice.
---
The Harlow

Yield: 1 cocktail

Ingredients:

1.5 ounces Aperol
.75 ounces St-Germain
.75 ounces fresh, really fresh, lemon juice
About 2.5 ounces Cava
About 1 ounce club soda
Preparation:

Select a tall cocktail glass and chill it briefly.
Fill the glass with cracked ice. Pour in the Aperol and St-Germain. Add the lemon juice and stir with a long, slender cocktail spoon.
Add the Cava, slipping down the side of the glass so it does not bubble outrageously. Top off the glass with club soda, to be true to the original recipe. Or, top it off with more Cava, if you desire little less subtlety.
Source: Brian O'Rourke adapted from Biscuits by Belinda Ellis

Photo Information: Canon T2i, EFS 60mm Macro Lens, F/4.5 for1/60th second at ISO‑1000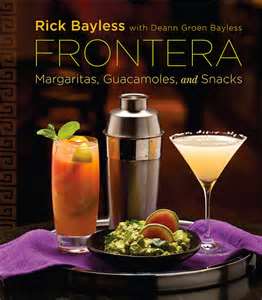 Mexican food maven, Rick Bayless, has a wonderful new book. Frontera: Margaritas, Guacamoles and Snacks offers sensational ideas from his famed Frontera Grill restaurant.
Here's a beverage idea, a duo idea, that is not a margarita but does employ the ever-versatile tequila. It's a sweet agua fresca that can be converted into a delightful cocktail.
The agua fresca is watermelon with lime juice and sugar. By itself, it's very satisfying on a warm day. [Oh, come on, spring will come. Summer will follow. Have some faith. Wait a moment here, I have to close my window. So damn cold …]
And for the cocktail, some tequila and that wonderful liquor Aperol transform agua fresca into something with deeper meaning. Well, deeper flavor.
Watermelon Lime Agua Fresca
Yield: 4 cups
Ingredients:
A 3-pound chunk of ripe, seedless watermelon
½ cup fresh lime juice
½ cup sugar
Water
Preparation:
Cut the rind off the watermelon, then cut the fruit into rough 1-inch chunks. You need about a generous 4 cups [1 ½ pounds] cleaned cubes.
Put the cubes into a blender — or better a Vitamix — then add the lime juice and the sugar. Blend until smooth.
Now, look at the measure scale on the side of your blender and add enough water to make 4 cups. Blend to mix. Strain to remove any seeds [that's the good part about using a Vitamix: typically no seeds survive and you get all the nutrients].
Pour into a storage container, cover and refrigerate. This agua fresca is best used the day it is made.
Watermelon Lime Cocktail
Yield: 8 cocktails
Ingredients:
One batch of watermelon lime agua fresca [recipe above]
1 ½ cups blue agave blanco tequila
¾ cup Aperol
8 cups ice cubes
Preparation:
In a large pitcher, combine the tequila, Aperol and watermelon lime agua fresca. Stir to combine, then cover and refrigerate until chilled, about 2 hours.
When ready to serve, pour about ¾ cup of the cocktail mixture into each of eight 12-ounce highball glasses. Add about a cup of ice to each one and serve immediately.
Source: Frontera: Margaritas, Guacamoles, and Snacks by Rick Bayless