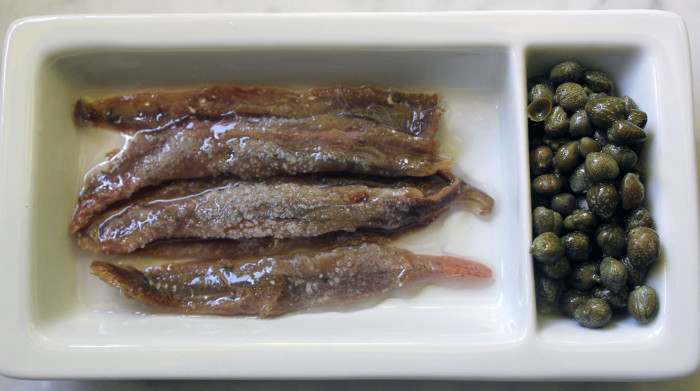 This post is appearing at the demand of my wife, Suzen Mines-O'Rourke.
Things were going fine until she read this morning's first post.
"Butterscotch sauce? You just did malted milk chocolate sauce yesterday? What is wrong with you? People want a balance of recipes on this blog. You are unbalanced. Totally unbalanced."
"Nothing is wrong," I said. My voice was a little shaky. It can be hard to defend a sugar addiction. "But," I began to mount a defense, "Friday will be the 4th of July and there will be all that ice cream. I'm just being patriotic."
"Find something healthy. Post it. Now." Suzen issued a command.
And so I obey. Happily obey, because it is about to be a holiday weekend with parties, beverages, appetizers, and an urgent need for delicious, easy dips.
From The French Kitchen Cookbook comes the very simplest recipe ever from Patricia Wells. Anchovy Cream is a staple in Provence with each home cook and restaurant chef offering their own interesting combination of tangy flavors. This version is strikingly simple: just capers, anchovies and cream. Take them for a spin in a food processor and you are ready to go.
Use this cream for an appetizer dip or as a sandwich spread. Put it on a baked potato or use it on green beans. There are endless ways to enjoy this potent combination of anchovies and capers. Proof once again that small can still be powerful.
Anchovy Cream
Yield: ½ cup
Ingredients:
• 1 2.82 ounce [80 grams] jar of Italian anchovy fillets in olive oil, about 20 small fillets
• 1 tablespoon capers in vinegar, drained
• ¼ cup light cream or half-and-half
Preparation:
Combine the ingredients in the bowl of the food processor and process to a chunky consistency.
Store in an airtight container in the refrigerator for up to 3 days.
Source: The French Kitchen Cookbook by Patricia Wells
Photo Information: Canon T2i, EFS 60 mm Macro Lens, F/5 for 1/50th second at ISO-320
British food once possessed a bad reputation. It still does in some circles. Outside of London, "overdone" may still be the appropriate adjective for the meat at the local fare. But surely in London there is culinary grandeur. London is huge, rich, culturally diverse and offers an urban population on the move for new and better things.
One of the new bright spots in London is Pitt Cue Co, a British riff on American barbecue. But the boys at Pitt have not forgotten their origins. They weave in British standards on their menu — like barbecued roast beef — and in their cookbook. Here we have a powerful salad dressing, Anchovy Salad Cream, that is their version of the Heinz salad cream that you find in every store.
Heinz has a huge presence in the United Kingdom: vinegar, of course, and salad dressing and baked beans and more. Fish and chips? You'll find bottles of Heinz on every table.
I have a theory that the "sourness" that is so characteristic of "basic" British food fare stems from geography. England is about as far away from the old spice trade routes as possible. And Olde England was not a particularly rich realm. Rich or not, food needs to preserved and tasty. If you cannot afford spices, then vinegar is a serious substitute.
Heinz salad cream gets its dominant sour flavor from anchovies. The recipe below calls for 5 ½ ounces of anchovy. I only used 3 ounces. I cannot imagine what it would taste like with 5 ½ in the blender. I think my mouth would pucker permanently shut.
That intense anchovy flavor, which some folks love and others run from, comes from the preserving process. Fresh anchovies are mild and are best enjoyed on an Italian beach. It takes preserving chemistry to produce the pucker. While we think of anchovies as small things, there are 140+ species with some up to 16 inches in length. Often we associate anchovies with European cuisine, and they certainly are integral to Mediterranean cuisines. But who catches the most anchovies each year? Peru. 70% of the world's total catch. That's a lot of Caesar salads.
Anchovy Salad Dressing
Yield: 3 cups
Ingredients:
1/2 cup cider vinegar
4 tablespoons Dijon mustard
1 tablespoon superfine sugar
2 teaspoons Maldon sea salt
¼ teaspoon freshly ground black pepper
5 ½ ounces Cantabrian anchovy fillets [or less if you are like me]
3 garlic cloves
1 teaspoon freshly chopped thyme leaves
1 ¾ cups heavy cream
Preparation:
Put all the ingredients, except the cream into a blender and blitz for about 30 seconds. Slowly add the cream, blitzing until just incorporated.
Source: House Rub from Pitt Cue Co.: The Cookbook
Photo Information: Canon T2i, EFS 60 mm Macro Lens, F/4.5 for 1/40th second at ISO-3200