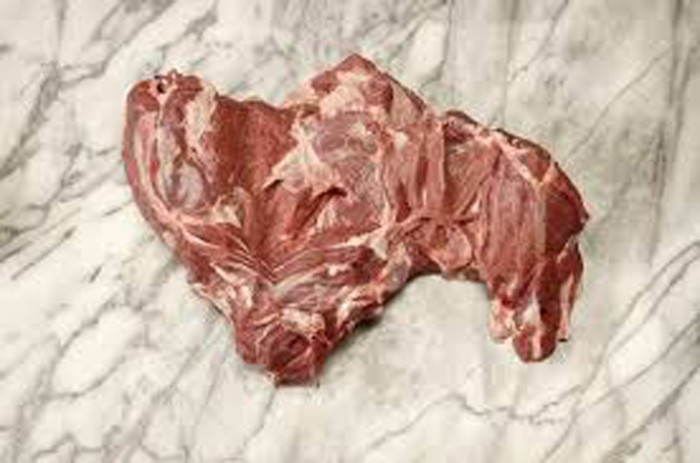 That picture above there? It's not good. I had to get a stock photo and play with Photoshop. Why didn't I already have a picture of a boneless leg of lamb? Well, the simple fact it, Suzen and I don't eat lamb that much. We like it, we do cook lamb — by the leg and by the rack. But not that often. We are Americans.
Long ago, Suzi stopped suggesting lamb to her Cooking by the Book clients. They go for chicken and beef and salmon. God forbid we suggest Bambi, or Thumper, or some tender little baby lamby thingy.
Our British cousins have a different viewpoint. They lamb-up or man-up. Lamb is readily eaten and enjoyed. Which brings us to the name of this recipe: Midweek Lamb. Americans think of lamb as a serious undertaking, one to be considered for holidays or weekends alone. Lamb is complicated. Lamb takes time. Lamb …
It's all nonsense. This recipe is from LEON: Family and Friends, a book devoted to recipes that are casual, quick, and wonderful. The preparation time for this lamb is a mere 15 minutes and the suggested cooking time is 40 minutes. In about one hour, you can have a lamb treasure on you table. Suzi and I love the combination here of lamb and anchovies plus chilies. There is a rainbow of flavors here that will make your midweek seem like a Sunday evening.
There are options to this recipe. After you have finished cooking, you can deglaze the roasting pan with 1 cup of wine, stock, or water to make a terrific gravy. I vote for a serious red wine.
If anchovies are not your thing — I so hope that is not true but people, like recipes, come in all flavors — then you can substitute black olives. Say 18 or so.
If you want a more complete but still one-dish meal, then before you put the lamb in the roasting pan, put down a layer of vegetables. The LEON authors suggest red bell peppers and a bulb or two of fennel. Of course, you could do onions, carrots, or diced/sliced potatoes. It's your choice and your pleasure.
Midweek Lamb
Yield: serves 4
Ingredients:
A small bunch of fresh rosemary
1 boned leg of lamb, about 2 ¾ pounds in weight
6 anchovies — about 1 ounce
2 large cloves of garlic, peeled
Zest of ½ lemon
2 dried chilies
1 tablespoon of olive oil
Salt and freshly ground black pepper
Preparation:
Preheat the oven to 425⁰ F.
Strip the leaves off the rosemary and set aside. Sprinkle the twigs in a roasting pan. Open out the lamb, pat dry, and lay it on top of the rosemary twigs.
Put all the remaining ingredients into a food processor with the rosemary leaves and process to a paste. Spread the paste over the lamb.
Roast in the oven for 40 minutes or until the lam is still nicely pink inside. Set it aside to rest for at least 15 minutes before serving.
Source: LEON: Family & Friends by Kay Plunkett-Hogge & John Vincent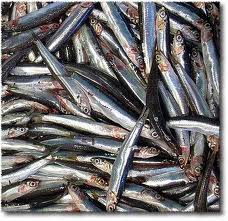 There are memories that seem to linger in your memory for decades, as clear as the moment you first experienced them. For Suzen and me, a trip to the fish market in Venice is one of those symbolic times. We were there one gray morning, the air cold and smelling of salt and fish, as we wandered among tables and bins filled with the wonders of the seas and rivers surrounding Venice.
Some of the food there was dead, fresh but dead. Some alive and kicking. The technique for dealing with a live eel is something that I will not put on this blog.
We saw enough fish and learned enough recipes on that trip to last us a long, long time. We've eaten anchovies in both the North, Venice, and the South, Bari. Grilled, stuffed, and combined with the classic complements like capers, anchovies are a wonder.
This sauce, from Classic Food of Northern Italy, is offered to top off poached skate. But it's a sauce that has many, many uses. You can this sauce apply to any fish — salmon, trout, … It's an excellent match for other poached dishes, like chicken or turkey breast. And that baked potato you like to goop up with butter and sour cream, well, here's a healthy alternative that will put a zing in your mouth.
Anchovies may be small, but pound for pound [or ounce for ounce], they are flavor powerhouses.
This recipe was originally written to accompany the poached skate and called for using 5 ounces of the poaching liquid. If you have some on hand, use that. Otherwise, I've modified the recipe to use 5 ounces of dry white wine. The sauce will be different using wine, but still excellent.
Anchovy Sauce
Yield: ½ cup
Ingredients:
1 ounce [2 tablespoons] unsalted butter
2 tablespoons olive oil
1 garlic clove, bruised
1 layer of sweet onion
2 ounces canned, anchovy fillets, drained and chopped
5 fluid ounces of dry white wine
2 teaspoons flour
3 tablespoons capers
2 tablespoons chopped fresh flat-leaf parsley
1 tablespoons lemon juice
Freshly ground black pepper
Preparation:
Choose a medium sauté pan, large enough to hold all these ingredients.
Heat the butter and the oil and throw in the garlic and the onion layer. When you begin to smell the aroma of the garlic and onion, fish them out and discard them. Turn the heat down and add the anchovies. Press them against the bottom of the pan to reduce them to a mash.
Mix in the flour and then add 5 fluid ounces of dry white wine. Cook over gentle heat for about 5 minutes, stirring constantly and adding, if necessary, a little more wine until you get a fluid sauce, similar in consistency to light cream.
Rinse the capers and add to the pan together with the parsley, lemon juice and plenty of pepper. Taste and season to taste
Source: Classic Food of Northern Italy by Anna Del Conte [published 1996]