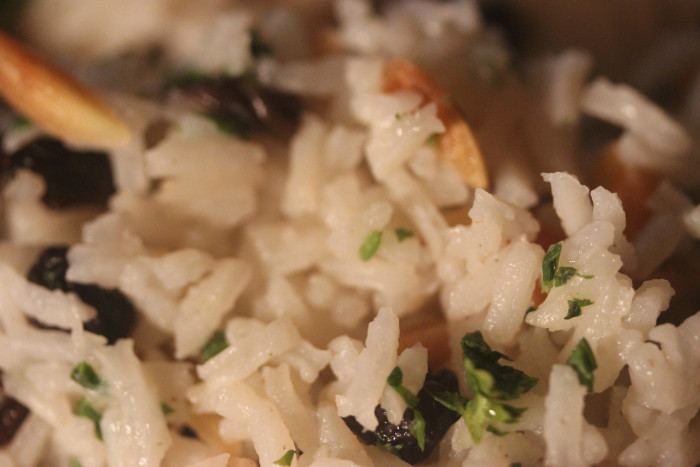 Have you ever done something that seemed strange, maybe wrong, but you did not know why and you just did it anyway?
I really never thought about it growing up. My grandmother did it, taught me, and always seemed naturally comfortable doing it. It was one of my earliest food memories.
I knew, of course, that my grandmother was a tad off. Born in Edinburgh, she grew up on the island of St. Helena [yes, the place Napoleon was exiled, too], eventually taught piano to the Czar's family in St. Petersburg, and ended up marrying a railroad engineer in Montana. I never got the story in detail, and now there is no one to get it from. All I have are those disjointed snippets of a life.
Those images and her method for eating white rice. The first time I sat down to dinner with Suzen and we had rice, I began to follow my grandmother's habit. I put butter on my rice, which drew Suzen's attention. Then I reached into a sugar bowl and took out a teaspoon of sugar.
"WHAT ARE YOU DOING?" Suzen screamed. Yes, she can scream.
I held the teaspoon above my rice, my hand quivering slightly. Yeah, I had always thought it was a little strange — white rice with butter and sugar — but it went well with pork chops.
I explained it all to Suzen. "People don't eat rice like that, Brian," she said.
"My grandmother did."
"Gene pool," she mumbled.
I've never done it again. I think if I tried she'd put a fork in my hand. But, in compensation, I have learned how to get rice with flavor and with sweetness. From Mexico, here is a side dish that pairs yummily with just about anything. Suzen served this with pork in adobo sauce. Chicken or fish are equally fine partners.
The rice has almonds for crunch, raisins for sweetness, and cilantro for the herby tones that rice always seems to beg for. It's the perfect side dish.
I think my grandmother would have like it.
Cilantro, Raisin and Almond Rice
Yield: 6 servings
Ingredients:
2 cups hot steamed white rice
½ cup raisins
½ cup slivered almonds
½ cup snipped fresh cilantro
1 tablespoon butter
Preparation:
In a bowl, stir together all ingredients. Taste and, if desired, add salt or pepper. Serve alongside the entry or in a separate bowl. Garnish, if desired, with a cilantro sprig.
Source: Better Homes and Gardens Special Interest Publication: Mexican, 2013
Photo Information: Canon T2i, EFS 18-55MM Macro lens shot at F/2.8 1/60th second, ISO 3200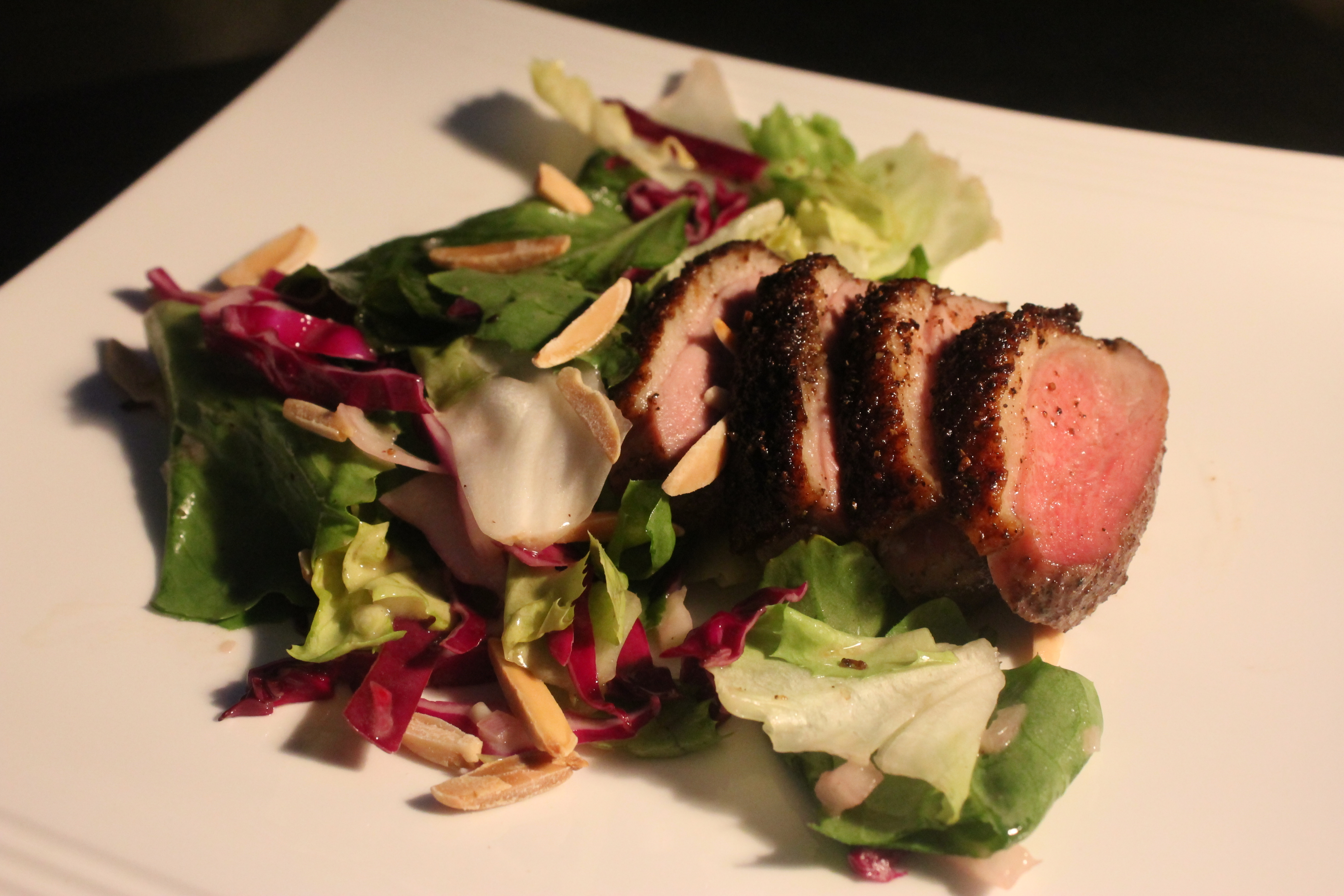 I have this thing about cole slaw. Most of it is really not very good, particularly the deli styles that seem to have been processed through a lawn mower. You disagree? Take a deeper smell.
And, Suzen and I can never agree if we try to make it for ourselves. I like mine dripping with sauce while Suzen prefers it on the dry side. How could we ever find a compromise? Well, James Peterson has supplied it.
This salad is positively wonderful. Yes, it's cabbage and it's sort of like cole slaw but oh so much better. Great oil and great vinegar combine in a brilliantly bright dressing that makes cabbage sound like something absolutely "gourmet."
As the picture shows, we served this with sliced duck breast on top, transforming this from a great salad to a perfect entree dish. You can see the previous post here for James Peterson's insights on cooking duck breast to perfection.
If there were ever incentive for you to take a peek at Peterson's Glorious French Food. Published in 2002, the book is proving, for endless reasons, to be a classic.
Red Cabbage Salad with Almonds
Yield: serves 6 as a side-dish or first course
Background from James Peterson:
I always feel a trifle guilty when I throw out those little cups of coleslaw that come with the take-out pastrami sandwiches that have become an all-too-important part of my everyday lunch diet. But I've never been fond of coleslaw, the closest American equivalent to red cabbage salad, partly because I'm not a fan of bottled mayonnaise and partly because the cabbage is either too tough and chewy, or limp and mushy.
This salad solves both problems. The mayonnaise is replaced with vinegar and oil, and the shredded cabbage is rubbed with salt, which softens it while still leaving some texture. Almonds or pistachios or pecans provide a delightful contrasting crunch. Since the flavor of nuts goes well with cabbage, I usually use walnut, hazelnut, or pistachio oil from my favorite producer, Le Blanc who roasts the nuts, enhancing their flavor and shelf life, before pressing out the oil. Extra-virgin olive oil will do in a pinch, but if you're making an assortment of crudités, don't use it on everything or the salads will taste too much alike.
Sherry vinegar is my favorite vinegar for this salad because its own nutty flavor underlines the character of the oil. While I usually serve this salad as part of an erudite plate, it also makes an excellent side dish for grilled foods, sandwiches, or anything that might normally be served with coleslaw.
Ingredients:
1 small red cabbage (½ pounds loose or wilted outer leaves pulled off and discarded)
1 tablespoon coarse salt
⅓ cup champagne vinegar or other flavorful wine vinegar, such as balsamic
½ cup almond oil made from roasted nuts, or extra-virgin olive oil
1 cup almonds, husked pistachios, whole pecans, or walnut halves, toasted for 10 to 15 minutes in a 350°F oven until fragrant, then allowed to cool; walnut halves chopped coarse
Freshly ground pepper
Preparation:
Cut the cabbage in four pieces through the bottom core. Slice the wedge of white core out of each quarter. Shred each quarter as finely as you can. This is easiest if you have a plastic vegetable slicer or a mandolin but if you don't have one, place each quarter on a cutting board and slice it as fine as you can with a very sharp chef's knife.
Put the cabbage in a mixing bowl with the salt, and rub it between your fingers for about 2 minutes until the salt dissolves and you can't feel any more salt. Transfer the cabbage to a colander, set the colander over the mixing bowl, and let drain for about 30 minutes. Squeeze the cabbage in your hands, in little balls, to extract as much liquid and salt as you can—you'll be amazed how much liquid comes out—and put the squeezed cabbage in a clean mixing or salad bowl (if you're serving or passing it at the table). Use a fork to toss the cabbage with the vinegar and oil. Stir in the nuts just before serving so they don't get soggy. season to taste with pepper.
Source: Glorious French Food by James Peterson