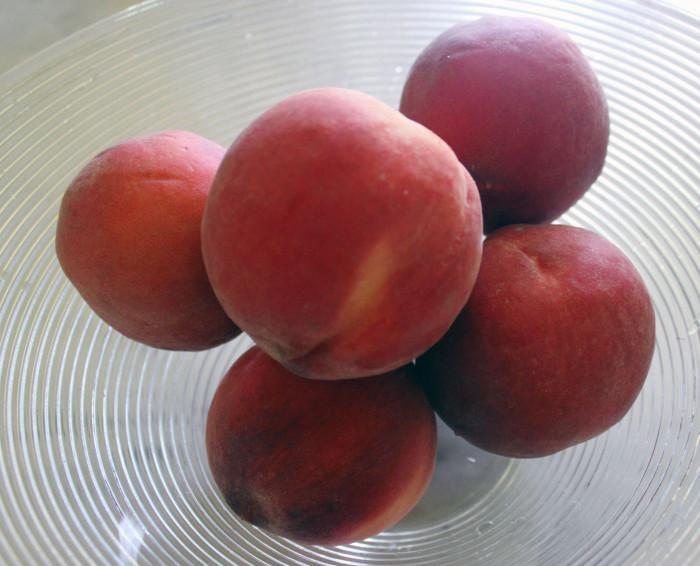 How can you drink a peach?
This is the latest agua fresca recipe in this summer's agua fresca marathon. And it's a delight. From The Perfect Peach, the key to this successful recipe is the first ingredient: 2 gushy peaches. The authors of The Perfect Peach, the clever Masumoto family, describe peaches in a spectrum of usabilites: hard, firm, with a little give, soft, gushy, bruised and mealy [which is a complicated word for not usable, just toss it].
Peaches with a little give or soft are the ideal ones for most recipes. But gushy, those over ripe ones that may have slight bruising, the ones that you have to eat over the sink, well, the gushy ones are what you want for an agua fresca. They are peach flavor bombs and should never go to waste.
The original recipe, shown below, calls for 4 to 6 cups of water. If you read this blog, then you know I love intensity of flavor. So, when I made this, I used only 2 cups of water. And, it was way too intense, even for me. I compromised, I added a cup of water, and I found 3 cups of water was just peachy. [I'm sorry, but if you think I was not going to use that terrible pun, well, then you don't know how immature I can be.]
In each instance when you make this, the amount of water actually depends on the gushiness of the peaches and their sheer physical size. So, I would suggest making this agua fresca light on the water side and diluting it as needed with additional water, just as I did.
---
Peach Agua Fresca

Yield: 4 to 6 servings

Ingredients:

2 gushy peaches, peeled, pitted, and quartered
¼ to 1/3 cup turbinado sugar
4 to 6 cups water
Squeeze of fresh lime juice
Ice cubes, for serving
Mint sprigs for garnish
Preparation:
Place the peaches, sugar, and water in a blender and process until the sugar has dissolved and the peaches are liquefied. Add the lime juice and process briefly to mix. Serve in tall glasses over ice. Garnish, if you wish, with mint sprigs.
Source: The Perfect Peach by Marcy, Nikiko and David Mas Masumoto

Photo Information Canon T2i, EFS 60 mm Macro Lens, F/3.5 for 1/30th second at ISO‑2500


On my summer crusade for a new agua fresca each week [or so], I looked for a grapefruit agua fresca. And I looked. And I could not find one. The combination that keeps coming up is Watermelon Grapefruit Agua Fresca. This recipe is distinguished in that you do not have water as an ingredient: all the basic liquid comes from the watermelon. You get a flavor intensity and viscosity that really can only come from creating a fine puree and then filtering out the "bigger" stuff. And, you get this color, this dramatic vampire-red color.
What about the grapefruit? Why not just add grapefruit juice to water? I think it would be too temperamental. Of all the citrus juices, grapefruit is the most variable. It can be sweet, it can be bitter. You just never know what to expect. By using the watermelon juice, you have a very stable base, one that provides natural sweetness. Now the grapefruit juice is merely an amendment, one that renders the final beverage less sensitive to the particular features of your current grapefruit.
I tasted this without adding sugar, and then I added sugar. The difference was an intensification of flavor that I believe is both delicious and necessary. Follow my lead and make the core beverage, then sweeten to satisfy your palate.
The taste here is substantial and very refreshing. The liquid can certainly be the base for cocktail experiments. Some vodka, a little rum, and you'll be recognized as an up-and-coming mixologist.
Watermelon Grapefruit Agua Fresca
Yield: 1 pitcher full Ingredients:
1 ripe watermelon, 10 pounds
1 cup freshly squeezed grapefruit juice
½ cup sugar
Preparation:
Get the meat out of the watermelon. Cut the watermelon in half, cut the halves in half, then halve the quarters. Using a sharp knife carefully glide along the skin of the watermelon and liberate the meat. Cut the meat into modest chucks and put into your blender. You'll have enough for two or three rounds of pureeing. Process each batch for a least one minute. Then pour the mixture through a sieve into a bowl. Press the contents of the sieve with a spatula to extract much of the juice.
For a 10 pound watermelon, you will have a cup or more of residue in the sieve that goes into the sink, not the pitcher. If you love "texture" then pulp away and put it in the pitcher, but agua frescas achieve part of their refreshment value from the sheer smoothness of the liquid.
Add the grapefruit juice, stir to mix, and taste test. Add sugar as needed or preferred. The surface of the liquid will have some scum on it. Use a slotted spoon to remove as much as you can — some bubbles will keep forming as you can see in the picture. Pour the mixture into a pitcher and chill.
Sources: Brian O'Rourke
Photo Information: Canon T2i, EFS 60 mm Macro Lens, F/2.8 for 1/100th second at ISO-3200