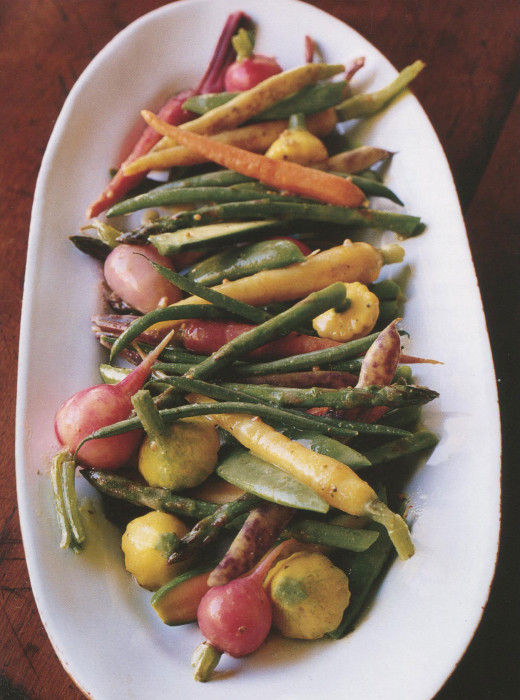 From just last year, here's a mandatory spring recipe. Well, not "that mandatory" but still "you pretty well want to do this mandatory."
"Those are wild ramps," Suzen observed. We were on a hike in Dutchess Country at Madava Farms where you can buy Crown Maple products and take a walk through their maple forest. We actually got lost on the trails, but thanks to the magic of Google Maps, we made it back to our car. We were good hikers and did not pick a stash of wild ramps to take home. We just picked one leaf, smelled it, and realized that wild and fresh is wonderful.
It's spring and, whether farmed or fresh, there are wonderful spring vegetables out there to enjoy. Here's a great, quick, simple idea from Casual Cooking by Sara Foster. Just take an assortment of spring vegetables and do a slow pickling process – at least a few hours and ideally overnight. Then serve them with a simple vinaigrette. Sara suggests a mustard based vinaigrette but let's leave the choice up to you.
Here is Sara's recipe for pickling the actual veggies with ideas for the types and quantities you can use for an impressive platter.
---
Pickled Spring Vegetables
Yield: serves 10 to 12
Ingredients:
½ cup white wine vinegar
¼ cup sugar
1 tablespoon yellow mustard seeds
2 fresh thyme sprigs
2 bay leaves
1 bunch of pencil-thin asparagus (about 8 ounces), ends
8 ounces baby summer squash, such as patty pan, trimmed
1 bunch of baby carrots, trimmed and scrubbed
1 bunch of radishes, trimmed and scrubbed
6 ounces beans, such as tongue of fire, green beans, or pole beans, stem ends removed
6 ounces haricots verts, stem ends removed ounces
6 sugar snap peas or snow peas, stem ends and strings removed
Sea salt and freshly ground black pepper
Preparation:
Combine the vinegar, sugar, mustard seeds, thyme, bay leaves, and 1 cup of water in a medium saucepan and bring to a boil over high heat.
Put the vegetables in a large heatproof bowl and pour the boiling pickling liquid over them. Cover and set aside for about 5 minutes, stirring once.
Meanwhile, fill a large bowl with ice water. Scoop the vegetables out of the pickling liquid and transfer them to the ice bath, reserving the pickling liquid. Let the vegetables sit in the ice bath until they're completely cooled and let the pickling liquid cool to room temperature.
Drain the vegetables and transfer them to a large bowl. Pour the cooled pickling liquid over them, season to taste with salt and pepper, cover the bowl, and refrigerate for several hours or overnight before serving. To serve, pull the vegetables out of the pickling liquid, toss them with the vinaigrette of your choice and arrange them on a platter.
---
Source: Casual Cooking by Sara Foster [Clarkson Potter, 2007]