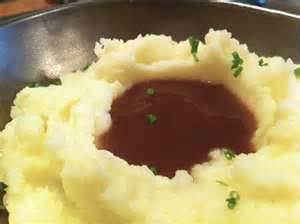 To make life easy for you, here's a head start on the best mashed potatoes you could possibly have. Why not try them this week, just as a pre-Thanksgiving test. This recipe is one of the most "googled" on earth. Probably on Mars, too.
These are rich enough to eat on their own. You can dot with butter, of course. And, then, there's gravy. But, that's another blog post.
Joel Robuchon's Mashed Potatoes
Yield: Makes 8 servings
Ingredients:
500 grams Ratte potatoes (fingerlings or Yukon's can also be used)
250 grams chilled unsalted high quality French butter– chilled and cut into small pieces
Hot Milk, as needed 1/2 -3/4 cup
Salt to taste
Preparation:
Scrub the potatoes, but do not peel the potatoes. Cook them in their skins covered by at least 1 inch of water. For each liter of water add 10 grams of salt. Simmer uncovered over moderate heat for 20-30 minutes or until a knife can easily be inserted and removed. As soon as the potatoes are done remove and drain. Do not allow them to sit in the water.
Meanwhile, bring the milk just to a boil in a medium sized saucepan and set aside
Once potatoes are cool enough to handle (but still hot), peel them and cut into manageable pieces. You can discard the skin or use them in another dish. Then pass the potatoes through the grid of a food mill (or use a potato ricer)passing them into a large heavy bottomed saucepan.
Discard the skin after it has been peeled away. Place the pan over low heat and using a wooden spatula stir the potatoes to dry them out (approximately 4-5 minutes).
Begin adding 3/4 of the butter, little by little vigorously stirring until the butter is incorporated. This should be done in a similar manner as one prepares any butter emulsion (starting off with a very small amount of butter to start the emulsion).
Slowly add the milk in a thin stream (a little at a time) till the desired consistency is reached. You may only need a very small amount of the milk, depending on the potatoes used, amount of butter used, and personal taste. Stir vigorously till all the milk is incorporated.
Then stir the puree with a whisk to incorporate air and make the puree fluffy.
Pass the puree through a fine drum sieve to further lighten and smooth the dish. This can be repeated 2 or 3 times for to make the puree silky smooth.
Taste for seasoning. If not using immediately, place in the top of a double boiler over simmering water. Whisk occasionally to keep smooth. The puree can be further adjusted with hot milk or butter before serving
If you don't serve the potatoes immediately you can keep them warm for an hour using a double boiler.
Remember because they are so rich you only need a small amount per person.
Source: Joel Robuchon and the website: http://webcache.googleusercontent.com/search?q=cache:http://greenmarketrecipes.com/vegetables/robuchons_mashed_pototoes.htm&hl=en&strip=1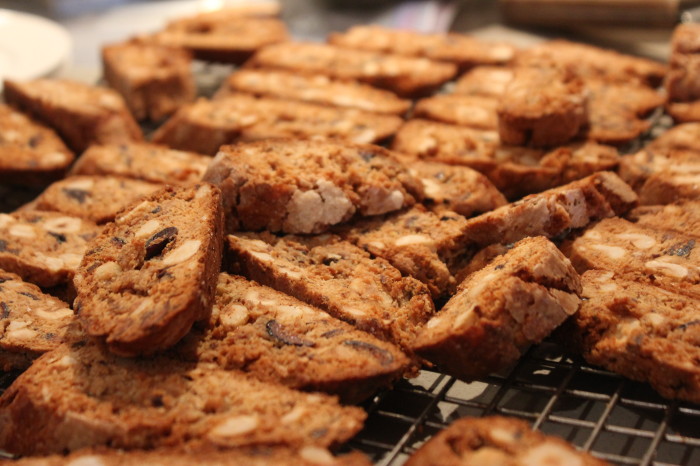 Biscotti come in various forms. Some are so hard you could use them to pave a freeway. And some are just perfect.
These are delightfully perfect. And, they have a double life. This recipe calls for all-purpose flour. If you have family or friends with Celiac disease, then you can substitute gluten-free flour here and obtain a wonderful, and just ever so slightly different, treat. The figs will look a bit like chocolate chips, but they aren't and when you bite into them you get that wonderful fruit flavor. Of course, there's nothing to keep you from adding in some chips just for fun.
Suzen works with the Celiac Disease Center at Columbia University, offering monthly events where Celiac patients and families come to learn to cook together. The wonderful thing we have learned is that a Celiac-friendly meal can be absolutely wonderful. From appetizers through dessert. At this week's event, everyone left with biscotti on their palette and the recipe in their hands.
Buttery Hazelnut-Fig Biscotti
Yield: 6 dozen biscotti
Ingredients:
2 ½ cups hazelnuts [10 ounces]
14 ounces dried Calimyrna figs
1 stick cold unsalted butter, cubed
1/3 cups sugar
3 large eggs
3 ½ cups all-purpose flour
1 tablespoon baking powder
1 ½ teaspoons salt
Preparation:
Preheat oven to 325°F. Position racks in the upper and lower thirds of the oven. Spread the hazelnuts on a baking sheet and toast for 12 to 14 minutes, until the skins blister. Let cool, then transfer the nuts to a kitchen towel and rub off as much of the skins as possible. Transfer the nuts to a cutting board and coarsely chop.
Meanwhile, in a microwave-safe bowl, cover the figs with water and microwave at high power for 1 minute, just until the figs are plump. Drain well. Trim off the stem ends and slice the figs ⅛ inch thick.
In the bowl of a standing electric mixer fitted with the paddle, beat the butter with the sugar at medium speed until smooth. Beat in the eggs. In a small bowl, whisk the flour with the baking powder and salt. Add the dry ingredients to the butter mixture and beat at low speed until combined. Add the nuts and figs and beat until combined.
Line 2 large baking sheets with parchment paper. Transfer the dough to a work surface and roll into six 10-by-1 ½-inch logs. Arrange the logs on the baking sheets and bake for 30 minutes, or until golden and firm. Let the logs cool for 15 minutes.
On a work surface, using a serrated knife, slice the logs on the diagonal ⅔ inch thick. Arrange the biscotti cut sides up on the baking sheets and bake for about 18 minutes, until lightly browned. Let the biscotti cool, then serve or store.
Source: Vergennes, VT: A Bakery's Perfect Tarts and Desserts described in foodandwine.com
Photo Information: Canon T2i, EFS 18-55MM lens shot at F/5.0, 1/60th second, ISO 2000