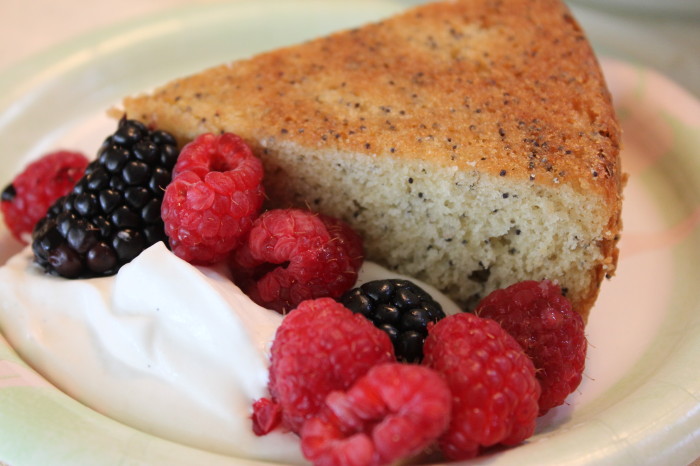 [To view this post in a pretty PDF format that is easily printed, please click on this the link below. I'm still working on the mechanics here. When you click on this link,  you'll get a new window that says click on a link. You'll then  have a  new min window with the ability to actually save or print the PDF. Do either and you can see the recipe in full scale.
"I'm going to make this poppy seed cake," Suzen announced. She flashed a picture before me. At least it had berries.
"What if I have to take a drug test?" I protested.
"Just tell them you are in a Twelve Step Program," she uttered, unwilling to engage me.
"I only eat poppy seeds on top of challah!" I yelled after her.
"You're getting cake!" She yelled back. "And you are eating it, too."
I ate the cake, with relish. It is so good, with tangy crème fraîche fresh contrasting with those sweet berries. This is a perfect dessert.
Of course, I knew it would be great before it was out of the oven. I tasted the batter. No, I was not being a child, here. Tasting batter — cake batter or cookie dough — is like being a culinary detective. Is the batter rich and satisfying, like this one? Is it too thin, is there some tang that seems strange? You can tell a lot about how the final product will taste by sampling that batter. Don't consider it an affectation. It's your culinary responsibility.
I actually said that to Suzen when she caught me with a finger in the mixing bowl. She glared. I told her it was simply my responsibility thing. All I got back was a grunt. I tell my therapist that I don't think my wife understands me. My therapist just writes something down but never says anything. Of course, I can change therapists, but I can't change wives.
Berries have arrived in the stores. Please make this cake. You will be very, very happy. The batter and the cake reflect a bounty of ingredients: lots of sugar, egg and buttermilk. The resulting cake is soft, delicate and studded with hints of poppy seed flavor.
This lovely recipe is from A Passion for Desserts by Emily Luchetti. In her recipe, presented below, the cake is four layers high. You have options here. The picture above shows the cake served in just one layer [unsliced] with the berries on the side. Or you can do just two layers [by slicing one of the baked layers]; the second pan of cake can be baked, frozen and used on another night. Emily's recipe also calls for cooking  blueberries in sugar as a filling/topping for the layers. If you wish, if you are in a hurry, then simply sprinkling the berries with a hint of sugar and using them whole is fine. And, instead of blueberries, you can use blackberries as we did. Think of this lovely cake as a berry platform.
With poppy seeds.
Berry Crème Fraîche Cake
Yield: 8 to 10 servings
Ingredients:
For the cake:
2 ½ cups all-purpose flour1 teaspoon baking soda
½ teaspoon salt
1 teaspoon baking powder
8 ounces unsalted butter, softened
2 cups sugar
4 large eggs
1 cup buttermilk
2 teaspoons vanilla extract
¼ cup poppy seeds
For the crème fraîche berry filling:
1 pint blueberries¼ cup plus 2 tablespoons sugar
2 cups crème fraîche
⅔ cup whipping cream
1 pint raspberries [or strawberries]
Preparation:
Preheat the oven to 350⁰F. Grease the bottom and sides of two 9-inch cake pans. Line the bottoms with parchment paper.
To make the cake: In a medium bowl, sift together the flour, baking soda, salt and baking powder.
Beat the butter with the sugar until light, 1 minute on medium-high speed with a stand mixer or 3 minutes with a handheld mixer. On a medium speed, add the eggs, one at a time, beating for 30 seconds with a stand mixer or 1 minute with a handheld mixer after each addition. Periodically scrape down the sides of the bowl.
Stir together the buttermilk and the vanilla. On low speed, add half of the buttermilk. Mix until incorporated and the scrape down the sides of the bowl. Add half of the dry ingredients. Mix until combined and scrape down the sides of the bowl. Add the remaining buttermilk and the dry ingredients in the same manner. Stir in the poppy seeds.
Divide the batter between the two pans. Evenly spread it in the pans. Bake the cakes on the middle oven rack until a skewer inserted in the middle comes out clean, 15 to 20 minutes.
Cool the cakes in their pans for 10 minutes. Unmold the cakes by running a small knife around the inside edges of the pans. Place a plate or wire rack on top of each cake and invert the cake and plate. Remove the pans and let the cakes cool completely. Carefully peel off the parchment paper.
Using a serrated knife, cut each cake in half horizontally, making a total of 4 layers.
To make the filling: Cook the blueberries and ¼ cup of the sugar in a small saucepan over medium-low heat, stirring often, until the sugar has dissolved and the berries have popped open and become juicy, about 5 minutes. Let cool to room temperature.
Whip together the crème fraîche, cream, and remaining two tablespoons sugar until stiff enough to hold its shape but is still smooth.
To assemble the cake: Place a cake layer on a serving platter. Spread one quarter of the crème fraîche filling top of the cake. Top with one quarter of the blueberry sauce and then one quarter of the raspberries. Place a second cake layer on top and repeat with crème fraîche, blueberries, and raspberries on top as you did with first cake layer. Repeat with the third and fourth layers, ending with the berries on top of the cake.
If not serving within an hour, refrigerate the cake. Once removed from the refrigerator, let it sit at room temperature for 15 minutes before serving for optimal flavor.
Planning ahead: The cake layers can be made up to 2 days in advance, wrap well in plastic wrap and store at room temperature. The blueberries can be cooked 2 days in advance and kept refrigerated. The crème fraîche and cram should be whipped just before assembling. The cake should be assembled the day it is going to be eaten.
On buttermilk: if don't want to buy buttermilk, then you can make one faux cup of buttermilk by adding one teaspoon of lemon juice to one cup of whole milk. Stir and let sit for 5 minutes.
.
Source: A Passion for Desserts by Emily Luchetti
Photo Credits: Canon T2i, 18-55mm lens at F/5.0, 1/60 second at ISO 1250 [no flash]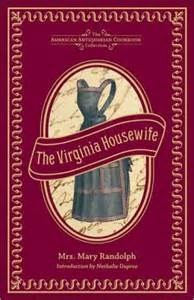 This post will look a bit different than the typical one. And the format surely is. And some spellings. I'll explain why later. What you do get here is a complete meal:
Chicken Pudding
Scallop Tomatas
Peach Cream
[No, that spelling is correct. Just be patient, please.]
Here we go.
Chicken Pudding
Beat ten eggs very light, add to them a quart of rich milk, with a quarter of a pound of butter melted and some pepper and salt, stir in as much flour, as will make a thin good batter; take four young chickens, and after cleaning them nicely, cut off the legs, wings, &c. put them all in a sauce pan, with some salt and water and a bundle of thyme and parsley, boil them 'till nearly done, then take the chicken from the water and put it in a the batter, pour it in a deep dish and bake it; send nice white gravy in a boat
Scallop Tomatas
Peel off the skin from large full, rip tomatas — put a layer in the bottom of a deep dish, cover it well with bread grated fine; sprinkle on pepper and salt, and some bit of butter over them — put another layer of each, 'tlll the dish is full — let the top be covered with crumbs and butter — bake it a nice brown.
Peach Cream
Get fine soft peaches perfectly ripe, peel them, take out the stones, and put them in a China bowl; sprinkle some sugar on and chop them very small with a silver spoon; if the peaches be sufficiently ripe, they will become a smooth pulp; add as much cream or rich milk as you have peaches; put more sugar and freeze it.
These are real recipes. From Virginia. From 1828. Hence the spelling and the style. And, did you note this, the absence of quantities. A quart of milk, rich milk, yes. But otherwise, you are just adding salt, pepper, bread crumbs and butter. Oh, you need to use that silver spoon, too. You know, I had a grandmother who did exactly that, though I never knew why. Somewhere, there is a chemist who knows.
Andrews McMeel Publishing is collaborating with the American Antiquarian Society to preserve the foundations of American culinary history. The Antiquarian Society has 1,100 cookbooks in its preservation shelves. Andrews McMeel has a project to publish 100 of these books, some in paper and some as e-books. The recipes above do come from the 1828 edition of The Virginia Housewife by Mrs. Mary Randolph. The book portrays a culinary world that is very, very different from the one we have now. This is all way before Whole Foods.
No, Suzen and I have not prepared any of these recipes, but we are going to attempt them. And others. We won't do the calf's feet fricassee, but there are plenty of things to try.
If you are a foodie, if you think things haven't changed all that much over time, well, you need to get this charming book. It was not just a different time in 1828. It was a different world. The Virginia Housewife is a time machine, showing you how much has changed and offering some gems that just still may please you, your family, and your friends.