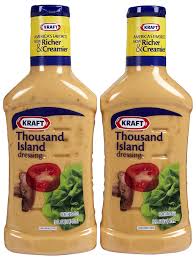 No, that's not my usual high definition picture. I don't happen to have a bottle of Kraft dressing around, actually. Suzen and I live on a make-from-scratch basis. So, the next time we want Thousand Island Dressing, we'll use the recipe below from Virgil's Barbecue in Time Square. The Virgil's team scoured the South for the best recipes in barbecue, sides and condiments.
Funny, I always imagined Thousand Island Dressing being born, not in the South, but somewhere in Polynesia, the ingredients and the techniques ancient and exotic. Like many of you, I grew up with Thousand Island as a staple: on salads, on sandwiches. My goodness, left over roast beef on French bread with Thousand Island? [Or Russian? More on that to come.]
Actually, Thousand Island is not from the South or Polynesia. It's from the 1000 Island district of the St. Lawrence River between the United States and Canada. Invented by local housewife, it drew attention and publicity in the early 1900's. It has a base of mayonnaise spiked with chili sauce. As you can see from the recipe, there's a herd of ingredients that you would not necessarily expect to be pooled together: celery, pimento-stuffed green olives, pickle relish, a hardboiled egg. Just stuff from a farmhouse pantry. Yet when combined, they yield something we can all recognize. The dressing is wonderfully generous in flavor. Just a sniff and you salivate.
It's true, that some of us confuse Thousand Island with Russian Dressing. Russian Dressing, of course, was created by a chef to the tsars who spent a decade mastering the nuances to …
No, that's not true. Russian Dressing was invented in Nashua, New Hampshire by James Colburn in the early 1900's. He'd probably had Thousand Island with its base of mayo and chili sauce. What did Colburn do? He mixed mayo and ketchup. He kept the pimentos and added horseradish.
Important parts of our culinary heritage are thanks to people who just loved to tinker. So, if you are feeling inventive, grab a jar of mayo and then see what is red-colored and on your shelves. I would suggest that you keep the pimento.
---
Virgil's Thousand Island Dressing

Yield: 2+ cups

Ingredients:

1 2/3 cups mayonnaise
1/4 cup chopped celery
3 tablespoons chili sauce
1 tablespoon chopped pimento-stuffed green olives
1 tablespoon chopped bread and butter pickles
1 teaspoon sweet pickle relish
1 teaspoon chopped fresh parsley
1 hard-boiled egg, chopped
Pinch of kosher salt
Pinch of cracked black pepper
Preparation:

Combine all the ingredients in a large mixing bowl and mix until completely incorporated. Refrigerate for at least 1 hour prior to serving.
Sources: Virgil's Road Trip Barbecue Cookbook by Neal Corman with information from Wikipedia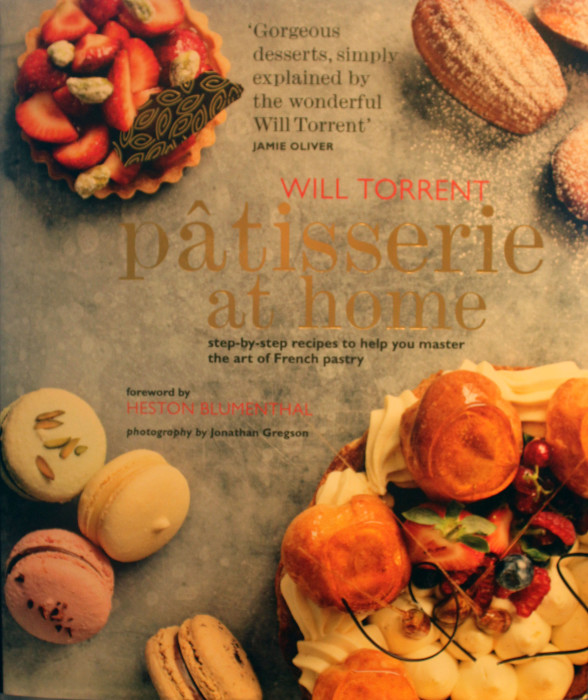 Pâtisserie at Home by Will Torrent is a friendly, photo-dense learning expedition. Will Torrent was born into food, with relatives running pâtisseries in France, heading restaurants and hotel kitchens in the UK and with every generation sharing their bulging portfolios of classic home recipes. He grew up on a kitchen rich in dessert lore and expertise.
Will began cooking in professional kitchens by 16 and a decade later has won a bevy of awards, been on television incessantly to share his ideas, and now has his first book ready for you. About the only thing he does not yet have is pastry cream in his veins, but there is a second book on the way, so we can be hopeful.
Pâtisserie at Home is dedicated to achieving that very goal: enabling you in your home kitchen to create those treats in the windows of French shops, the treats that stop you in your tracks, draw you inside and have you wondering how it is all done.
The secret, Will says, is "technique, precision, and elegance." There are 80 recipes in this book, ranging from the simple — croissant — to the delectable — Framboisiers, Chocolate and Caramelized Banana Gateau, …
A first chapter is devoted to those basics, to the doughs and crèmes any apprentice must master. And mastering a Pâte Sablée or Pâte Sucrée is essential in Will's program for you. If you have these classics pieces down, and there are just 14 recipes here to study, then you have the components needed for the more complicated creations that follow.
There are another 70 recipes in the book, beginning with those very Framboisiers, which are almond cake, split and filled with raspberries folded into a Crème Diplomate [his thinnish version of a Crème Pâtisserie that is needed for something as delicate as this fruit gem].
Page after page continues both classics and Will's new pâtisserie concepts:
Operas
Apple and Calvados Crumble Choux Buns
Paris-Brest
Mango and Passion Fruit Mini Éclairs
Salted Caramel and Chocolate Tartlets
Prune and Armagnac Tartlets
Coffee and Chocolate Madeleines
Palmiers
Sesame Tuiles
Gâteau Saint Honoré
Raspberry and Pistachio Financiers
After the Techniques chapter, these ideas are spun in chapters for Pâtisserie, Tarts, Petits Fours, Gateaux and Desserts, and Bakery and Viennoiserie. There is a scale of "complexity" here with the first chapters presenting delicious ideas, ones that are your first learning steps. By the time you reach the last two chapters — home of the Gateau Saint Honoré and the Raspberry and Pistachio Financiers — your skills should be honed and your confidence elevated.
That's the Gateau in the picture of the book cover, right there in the lower right hand corner. Here puff pastry, choux, pistachio, caramel, fruit, and Crème Diplomate are assembled into what can only be described as decadent elegance.
Pâtisserie at Home is extensively photographed. For the Saint Honoré, there are ten pictures to lead you step by step in that assembly process, literally showing you what goes where, how to position dollops of Crème Diplomate inside a ring of baked choux filled with Crème and sitting on their own ring of Crème, and where to nestle the fruit and caramelized pistachios. This dessert is an excellent example of how to elevate your dessert complexity and presentation: layers of both texture and flavor are created both vertically and horizontally. The result is striking. The flavor exceptional.
And, thanks to Will Torrent, you can make this, yourself, in your home kitchen.
With his chapter on techniques and basic recipes, Will does prepare you for each excursion in this dessert journey. The writing is direct and clear. There's not "too much" to read. You won't be overwhelmed with how to make these luscious recipes. The ingredients and the equipment are all ones you'll find in a "normal" foodie's kitchen — in your kitchen.
So, your kitchen is really ready for this. Your dessert appetite is always there. All you need is your very own instruction guide, Pâtisserie at Home. Pâtisserie is another publication by Ryland Peters and Small, a British house with an outstanding porfolio of culinary book. Take a gander at www.rylandpeters.com.