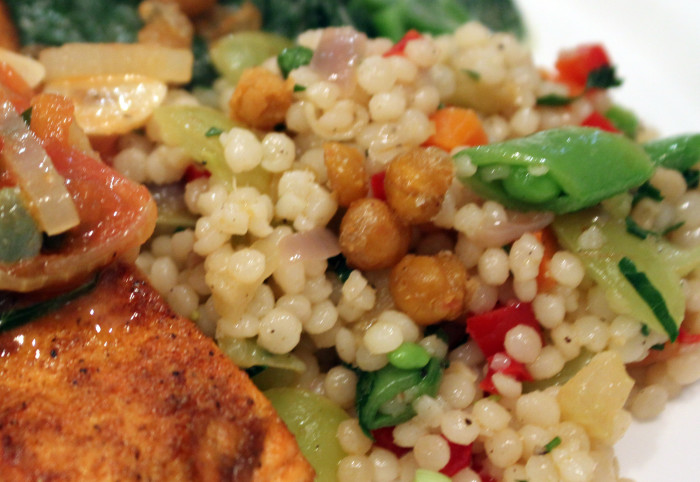 I don't remember when I first had couscous, but I remember the emotion: that sad regret that so much time had already passed and now, only now, was I enjoying this incredible food. For me, there is something very sensuous in sampling the little roundish nuggets, soft yet offering a bit of resistance as you bite. And there is the swarm of other flavors in your mouth coming from the herbs or spices, the vegetable pieces, other add in components, and equally important the distinctive quality of whatever broth you have selected.
Couscous is hard to make exactly the same twice in a row. That variation, from ingredients and your evolving technique, make it a just a bit of a mystery treat. Those things called "side dishes" are often treated dismissively. Not so couscous. It will boldly sit on your plate and occupy your attention just as much as the protein, usual fish or chicken, that is nestled against it.
I grew up on baked potatoes 5-7 days a week. Too bad it took a few decades to learn there is life and variety far beyond the potato fields of Oregon and Idaho.
---
Israeli Couscous with Herbs and Veggies

Yield: serves 4

Ingredients:

2 tablespoons olive oil
2 cups Israeli couscous (or barley or orzo)
4 cups low-sodium vegetable broth
¼ cup chopped fresh flat-leaf parsley
1 ½ tablespoons chopped fresh rosemary leaves
1 teaspoon chopped fresh thyme leaves
1 medium green apple, diced
1 cup dried cranberries or raisins
½ cup slivered almonds, toasted, see Cook's Note below
½ to 1 cup of adornments: green beans, chickpeas, peas, carrot chunks, … [optional]
Preparation:

For the couscous, in a medium saucepan, heat the olive oil on medium-high heat. Add the couscous and cook, stirring occasionally until slightly browned and aromatic, about 3 to 5 minutes. Add the vegetable broth and bring to a boil. Simmer for 10 to 12 minutes or until the liquid has evaporated. Transfer the cooked couscous to a large bowl and set aside to cool. Add the parsley, rosemary, thyme, dried cranberries/raisins, and almonds.
Add the optional adornments if desired.
Cook's Note: To toast the almonds, preheat the oven to 350⁰ F. Arrange the almonds in a single layer on a baking sheet. Bake for 8 to 10 minutes or until golden brown. Cool completely before using.
Source: Giada De Laurentis

Photo Information Canon T2i, EFS 60 mm Macro Lens, F/5 for 1/50th second at ISO‑1250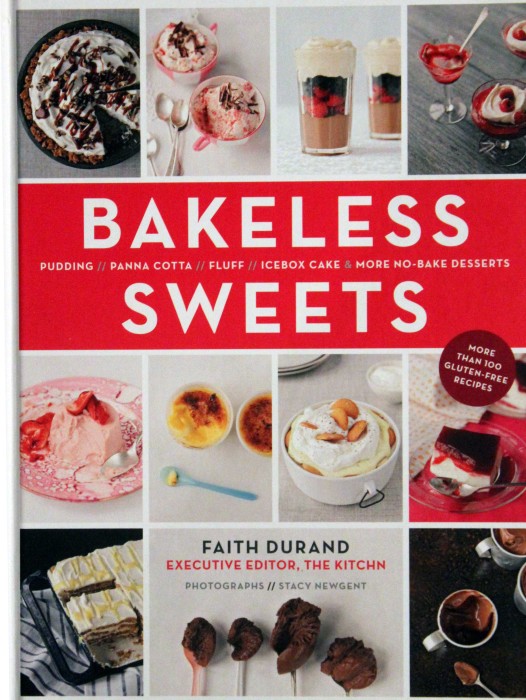 Faith Durand is an author, blogger and food enthusiast from Ohio. And Ohio is the dessert capital of the United States. It's Midwestern, yet eastern, with an almost-Southern border and a rich culinary history with many ethnic byways.
Why a book called Bakeless Sweets? It's simple. As says in her introduction, "I love puddings." And, she points out there is dearth of pudding books on the cookbook shelves. When it comes to puddings, there is a bit of a cloud of "you need to eat healthy": puddings have milk and cream and maybe whipped cream on top. Faith's reply? Eat it, just eat a little less of it.
There's also that Jell-O issue. We all ate it as kids, and when we left childhood behind, we left our Jell-O boxes in our wake. Remember that blue blanket you had as a kid, the one that was taken away? Well, Jell-O's in that same category. And some of us ate so much of it, that opening up a box of Jell-O pudding would now might be a hard task.
Faith agrees. And you don't want the powder in the Jell-O box. You want your own mixtures: new, fresh, and flavored the way you want. Faith shows you how and so much more. This book is about pudding, and its cousins, all built from scratch and all supplying a new meaning to that "pudding" word.
Besides being a forgotten word, Faith thinks that pudding and other no-bake desserts deserve consideration because:
Speed: these desserts are just quicker and easier to make
Convenience: these delights can be made days ahead, say on Sunday for Wednesday or Thursday during the busy week [Just a side comment here: I seriously doubt that any icebox cake made on Sunday is going to see sunset on Monday but Faith may have a different perspective]
Whole Grains: the idea here is employ these healthy foods in natural puddings without "stressing" to make them fit into a conventional white-flour recipe
Less Sugar: conventional baked goods — cakes and cookies — have a chemistry that is not resilient if you attempt to decrease sweetness; with puddings, you won't destroy the recipe and you may not notice the difference
Nostalgic Pleasure: a spoonful of dark chocolate pudding with white whipped cream is sure to trigger memories, hopefully very happy ones
The books has seven chapters:
Stirred Puddings & Custards
Rice, Tapioca & Whole-Grain Puddings
Panna Cotta and Other Gelled Puddings
Mousse and Blender Puddings
Real Fruit Jellies
Whipped cream Desserts & Fluffs
Icebox Cakes, Pies, Trifles & Cookies
Faith gives very concrete explanations at the start of each chapter. You'll learn the role of key ingredients and techniques. Here are some ideas and recipe titles from these chapters.
Conventional Stirred Puddings use milk for its fat which translates to richness and luxury. Cornstarch and eggs are employed to achieve the thickness we all notice when our spoon first enters our awaiting cup. Faith has a wealth of information here:
Using a cornstarch slurry to avoid lumpiness
How to avoid your eggs curdling and what to do when it happens
Using more egg yolks than whites to balance the delicacy of the egg flavor
Never had a Rice Pudding? They are the original puddings, thousands of years old, and were eaten in Rome and Asia long before those dairy creatures evolved. The rice pudding recipe here was, in part, inspired by Dorie Greenspan [of Around My French Table fame] who notes this is more common in France than crème brulée. If you still need convincing, you should look at the recipe for Gingered Brown Rice Pudding with Plum Conserve.
The Panna Cotta chapter presents alternatives to those cornstarch puddings. "Panna cotta" literally means cooked cream. These recipes are lighter, colder and simpler to make. The recipes here use gelatin and set much more quickly. Gelatin? Do you buy the package or do you search for sheets or leaves? There are two pages here explaining the differences and the techniques to employ for success.
How to make the gelatin set as quickly as possible
What to do when certain ingredients — fruits with enzymes or acids — might interfere with the setting process.
Here you'll find wonderful plain old vanilla panna cotta but also versions with Meyer lemon, earl grey, banana, coffee, milk chocolate, grapefruit and vanilla bean, peach and buttermilk, and goat cheese with cranberry-port glaze. No matter you mood, no matter how short the time is, a panna cotta can be a dessert life preserver.
The Mousse chapter begins with a key definition: mousse means "foam" in French. So here it's all about making an egg yolk custard, whipping the whites, folding together and, oh yes, using some gelatin in the right amount at the right time. Master the technique, and you're off to the races: chocolate of course but also chocolate-coconut, peach, white chocolate, cardamom-yogurt, melon-honey and more. If you seek a delicate end to your meal, then this chapter has your answer.
The Real Fruit Jellies chapter is pure simplicity: fruit juice and gelatin are combined and then served with fruit. There are many delicious combinations here. My favorite is papaya filled with a jelly made from mango and coconut cream. It's gorgeous and sure to draw raves from everyone at the table. Even if it's just you at the table.
Whipped Cream Desserts & Fluffs begins with a lesson how to make whipped cream. Don't laugh. There really is a best technique and — it pains me to say this but — less sugar is better than more here. You need to taste the cream. And once you have whipped cream, what should you do with it? How about a Strawberry-Rhubarb Fool?
Icebox Cakes are very distant memories. I think they first evolved with the original electric refrigerators when mothers could do new and crazy things. They were showpieces and still are. How about a Triple Chocolate Cream Icebox Cake: whipped cream mixed with cocoa and melted chocolate, then sandwiched between chocolate graham crackers, and the whole creature encased in chocolate frosting. The recipe says it serves 8 to 10. I suspect that even 4 people could, with true intent, devour the entire thing. Oh, a few pages on there is an Oreo Icebox Pie that Suzen and I will be testing. [Which of these two we make first will be one of those marital discussions you may have experienced in your life.]
In summary, and it is not easy to do here, this book is important for two reasons. First, the recipes have tantalizing appeal. Suzen is a dear wife but she is not addicted to dessert the way I am. Still, I have my ways. She's now seen a couple of photos from this book and she is sufficiently teased. I expect this weekend to be filled with romance and pudding. Sometimes you just get lucky.
Ah, the second reason this book is important. It's been researched by a woman who does love desserts. And she's both tested each recipe herself and enlisted the help of friends. The book has a high educational value: whether it is pudding or panna cotta or "simple" whipped cream, you are guided here about what to do and why and how to recover if there is a slight mishap.
Both the recipes and the lovely photos will arouse your imagination. The information here will make you quite confident that richness is just a few short steps away.
No ovens need here. Just a saucepan, some dairy, some eggs, and your enthusiasm. Bakeless Sweets will give you a new avenue of wonderful, swift, and oh-so-decadent desserts.