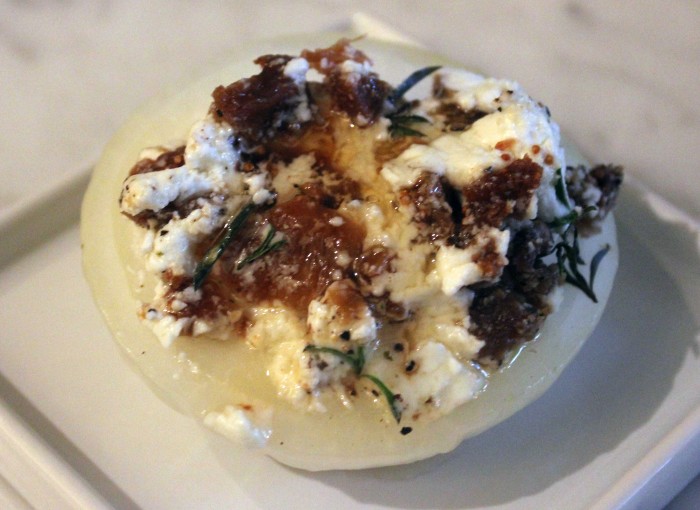 Here's a menu for a summer meal that is satisfyingly complete. Begin with a beverage, a Pina Colada, but not just the regular one. You need Brian's Faux Colada: more flavor and less alcohol. Then a barbecued steak complete with not some overpowering steak sauce, but instead with an intense, smooth blue cheese sauce. Pair that steak with a barbecued onion topped with goat cheese, fig, and honey. Then finish with ice cream adorned with Malted Milk Chocolate Sauce or Fudge Topping. Your choice.
And the recipes? You can find the Malted Milk Chocolate Sauce and the Fudge Topping right here on this blog,already posted on July 2 and July 8.
The drink is being posted today, July 9. Tomorrow comes the blue cheese steak sauce, and the spectacular onion dish is the very next day, Friday the 11th. If goat cheese, fig and honey are not your style, then on Saturday the 12th you'll see a post for the best baked beans ever — from Vigil's in New York City.
So, please keep posted. I promise you all the elements you need for a memorable feast.
And if ice cream is not your dessert desire, then look for tomorrow's post: Diablo Food Cake, wonderful riff on the class Devil's Food Cake.
I am having a nightmare problem formatting these blogs. In the past months, I had created a format with different styles and sizes of fonts that people liked. I did this using my blogging engine: the very popular WordPress.
Unfortunately, WordPress just issued an "upgrade" version [3.9.1] which can only be described as a Titanic disaster. It does not work. The built-in editor I normally use to format no longer works, at all. Little "add ins" I use to make the blog better no longer work. It's the worst software mess I have ever seen.
Disaster. I know that many people face the same problems as I do. I expect that the nice people at WordPress, an open source product, now realize that the latest version is a tragedy. I look forward to Version 3.9.2 when, I hope, these issues are resolved.
In the meantime, if you see crummy paragraph separation and bad bolding and weird font sizes and wonder what the heck has happened as ugliness prevails — well, you and I are in the same leaky boat.
I'm working on establishing a formatting style in this "brave new world" but the behavior of WordPress changes each day. So I'm always chasing a moving target. And rainbows. I look for rainbows, too.
Regards,
Brian