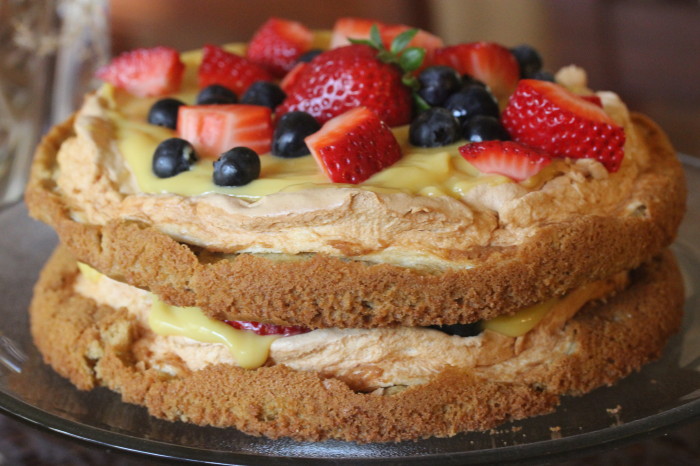 When Suzen and I lie in bed, we have discussions. Like, what are making for dessert to take to our friends' dinner party the next night.
Thanks to Vintage Cakes by Julie Richardson this discussion was lengthy and productive. In tomorrow's post, I'm going to review Vintage Cakes in detail to give you and overview of the entire book. And why you should definitely go out, but it, and start baking away.
But today, I thought I would give you a specific example of why this cookbook should be on your shelves. No, it should be open on your countertop.
This cake give you an education in baking techniques. I was about to say "new" techniques but this book is Vintage Cakes. This dish is actually called a Blitz Torte and reflects a sturdy history of torte development and baking.
There are two reasons to bake this cake. First, each layer has "two" parts: a bottom of regular cake batter topped with a lovely meringue. Those two layers are "glued" together with an incredible honey custard. The whole wonder is topped with fresh berries. And, we had some leftover custard so we put it on the top layer as base for berries there.
The cake itself is a tender brown sugar treat. The meringue is baked until it is firm, but not crunchy dry. The honey custard is a miracle. It's lovely here. But I can imagine making it separately and using in a multitude of ways. This custard would be a perfect on pound cake or with strawberry shortcake. It hurts to say this, but whipped cream can be replaced. This custard is the replacement.
We made this cake for that dinner party. We got the "oooh" and "aaah" response we expected. I expected to have left overs to take home the next day for breakfast. I was completely disappointed in that hope. Silly me. Never, never underestimate the power of honey
Berry Crème Fraîche Cake
Yield: 8 to 10 servings
Ingredients:
For the honey custard:
¾ cup whole milk
2egg yolks
⅓ cup ( 4 ounces) honey
¼ teaspoon fine sea salt
1 ½ tablespoons cornstarch
2 tablespoons (1 ounce) unsalted
For the cake:
1 cup (4 ounces) sifted cake flour
1 teaspoon baking powder
½ teaspoon ground cinnamon
¼ teaspoon fine sea salt
½ ( 4 ounces) unsalted butter, at room temperature
½ cup (3 ¾ ounces) firmly packed brown sugar
4egg yolks
1 teaspoon pure vanilla extract
3 tablespoons whole milk
For the meringue topping:
¼ teaspoon fine sea salt
4 egg whites
¾ cup granulated sugar
1 teaspoon vanilla extract
¼ cup toasted and coarsely chopped hazelnuts
2 teaspoons Turbinado sugar
Preparation:
First, make the honey custard. Heat the milk over low heat in a small saucepan until hot but not boiling. Meanwhile, thoroughly whisk together in a small bowl the egg yolks, honey, and salt, and then whisk in the cornstarch. Slowly whisk one third of the hot milk into the yolk mixture. Pour this mixture back into the saucepan with the hot milk and gently cook over medium-low heat, whisking steadily, until the mixture begins to thicken and has been bubbling for roughly 1 minute. You will need to stop whisking for a moment to check if it is bubbling. Strain the mixture through a fine mesh sieve into a clean bowl and whisk in the butter until melted.
Place a piece of plastic wrap directly onto the surface of the custard and refrigerate at least until cool, about 1 hour, or keep in an airtight container in the refrigerator for up to 5 days.
To make the cake, center an oven rack and preheat the oven to 350⁰F.
In a small bowl, sift together the flour, baking powder, cinnamon, and salt and then whisk the ingredients by hand to ensure they are well mixed.
Using a stand mixer fitted with the paddle attachment, combine the butter and brown sugar together on medium speed until smooth. Add the egg yolks two at time. blending well between additions. Combine the milk and the vanilla in a separate cup. On low speed, stir in the flour mixture in three additions, alternating with the milk in two additions, beginning and ending with the flour mixture. After each addition, mix until just barely blended and stop and scrape the bowl.
Divide the thick batter between the prepared pans (there will be approximately 7+ ounces per pan) and spread it evenly out to the edges of the pans. The batter will just barely cover the bottom of each pan. Set the pans aside while you prepare the meringue topping.
To make the meringue topping, put the egg whites and salt into the clean bowl of a stand mixer fitted with the whisk attachment. Whip on low speed until frothy. Gradually increase the speed to medium-high, whipping until the whites forms soft peaks. With the mixer on low speed, slowly add the granulated sugar in a steady stream. Raise the mixer speed again to medium-high peaks. Fold in the vanilla. Spread even amounts of the meringue on top of the cake batter (approximately 5 ounces per pan) and sprinkle with the hazelnuts and Turbinado sugar.
Place the cakes in the middle of the oven and bake until the tops are lightly browned and the cakes have shrunk just slightly away from the sides of the pan, 30 to 35 minutes. Removed the cakes to cool on a wire rack for 20 minutes before removing them from the pans.
To assemble the cake, place one of the cake layers, meringue side up, onto a cake plate. Don't be nervous about the peaks and valleys of the meringue; this is part of the allure of the cake. Spread the honey cream onto the cake. Place the second layer on top, meringue side up. Serve promptly or refrigerate until ready to serve. This cake is great served with fresh berries either on the side, in the middle, on the top, or all of the above.
If you choose to sandwich this cake with jam [instead of the honey custard] it can be kept in an airtight container at room temperature. If filled with the honey cream, it needs to be kept in an airtight refrigerated container. Either way, the cake is best the day it is made but keeps for up to 2 days.
Source: Vintage Cakes by Julie Richardson
Photo Credits: Canon T2i, 18-55mm lens at F/5.0, 1/60 second at ISO 1250 [no flash]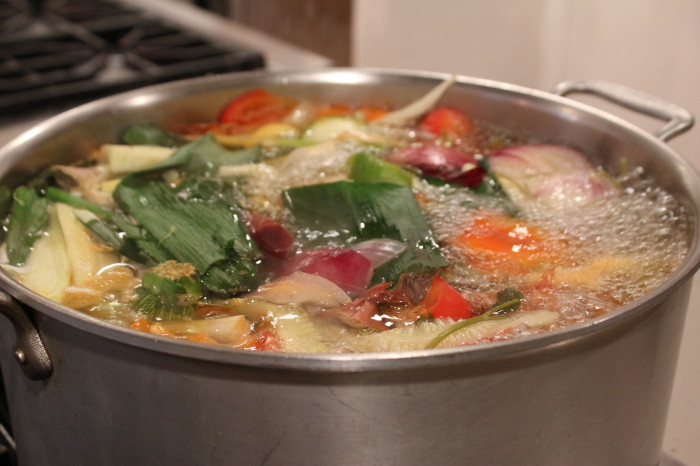 Today is Monday. Time to prepare for Friday.
Friday is stock day at Cooking by the Book. During the week, our cooking events, where guests participate in a fully hands-on cooking program, produce meals for 100-200 people. While I believe in all-dessert meals, Suzen is for balance. She does offer dessert, but also soup or salad and side dishes featuring vegetables. Throughout the week, vegetables come and go under the knife here.
What to do with the scraps? Like most Manhantanites, we do not compost our scarps. And we don't do it upstate either. As weekenders there, it's too hard to manage compost on a part time basis. Plus, the bears, the  possums, and the raccoons are not compost friendly.
So, we save the scraps during the week. Left over celery, onions, carrots and other vegetable discards are carefully stashed. On Friday, a large stockpot is filled  with water — cold water — and a few pounds of vegetable scraps are added. How much water? Enough to just cover any bones if we are using them. Enough to float all the vegetables. The mixture is simmered for a few hours, then carefully strained, cooled and frozen.
Are we making stock or broth? Technically, a stock has some animal bone components while a broth is made purely from vegetables alone. These days, people tend to slur the difference and then just refer to it all as a stock. There's a major difference, because stock with animal bone components has collagen from those bones. During the cooking process, the collagen breaks down and becomes gelatin. That gelatin generates a wonderful mouth feel.
If there is enough gelatin, then in the cooling process the liquid can actually gel. That's why the cans of "stock" you get at the grocery store are much more like broths, because they are still liquid there on the shelf. If they contained the amount of gel you produce at home, the can would be filled with a solid, not a liquid. In our picture above, we have a heavy simmer and, yes, there are bubbles, but not a boil.
If there are bones available, from chicken or beef, then we do add them to the pot to form a real stock, not just a broth. The cooking time should vary with the contents: two hours for pure vegetables, three hours or more for chicken bones, and six hours or more for larger bones.
To keep the stock as clear as possible, just let it simmer. Don't let it boil because then "pieces" are going to circulate through the liquid and make it cloudy. If you don't stir, the pieces either float on top and can be skimmed off or they settle to the bottom where they can stay as you carefully remove the liquid after cooking..
What do we do with all this stuff — I'm talking several quarts a week.
First and foremost, there is risotto. Suzen and I have become risotto fans and learned a key lesson: nothing contributes more to great risotto than great stock. Yes, you can buy better rice. But you can only buy good stock. Great stock? That comes from doing some homework. The stock is a base for gravy or for soups. Defrost some homemade turkey stock, add noodles and you have heaven.
Making stock requires time, not precise culinary talent. So, if you are a beginner, then this is the place to start. Your immediate success will be a confidence builder.
Photo Information: Canon T2i with 18-55mm lens, shot at F/5.0 for 1/50 second with ISO 1250.