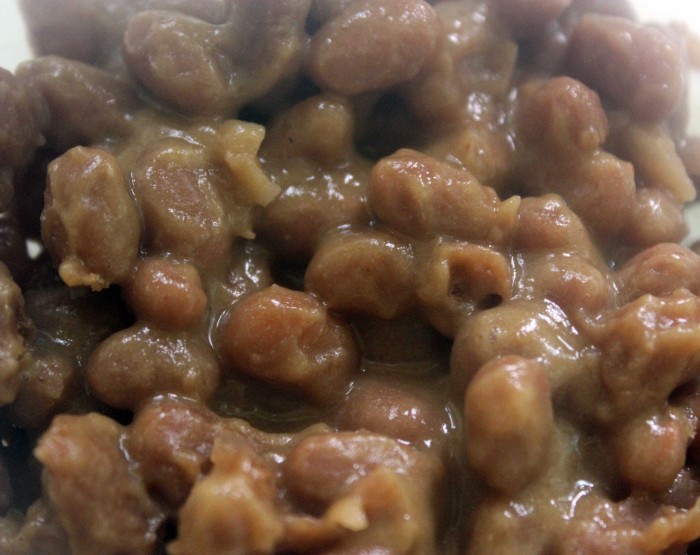 July is National Baked Beans Month. And you thought Congress never did anything.
Virgil's is the landmark barbecue joint in Times Square in New York City. First authentic Southern barbecue in the city. Founded in 1994, the firm has just published its first cookbook. And the first recipe I went to is this one for baked beans. I've consumed pork, beef, and chicken at Virgil's for two decades, but every time I had the beans.
Do you have a dish that you just have to have at some restaurant? A dish that you can nearly almost taste in your mouth right now?
That's me and Virgils's beans.
I met Executive Chef and author Neal Corman and asked him about the beans. He said there is a double secret to why they are so exceptionally good. First, they are prepared with a sizable chunk of smoked meat. Second, when they are cooked at Virgil's they are taken out of the pot, spread out on a sheet and put into their smoker — the same one doing 1000 pounds of meat a day — to just pick up some more smoke overtones for a little while.
The recipe below calls for 6 cups of baked beans. There are two ways to do this. The first is to start with navy beans, soak them overnight, and then cook them next day. The easier way is to use canned baked beans. Yes, canned baked beans. Plain is fine, mesquite or other flavors are your option. Is one path better than another here? With what happens using Virgil's ingredients and techniques, I don't think it matters a hill of beans. Using the canned beans is easier for sure and saves time. You cannot be spontaneous if you have to soak overnight.
Depending how you do your beans, what canned beans you use, what barbecue sauce you employ — all those factors will make your beans a tad different from someone else's. You can be sure, though, that you'll want to make this dish over and over again, enjoying the differences that arise. It's heresy, I know, but you can think of each batch of beans as your own private vintage.
The difference here is you get to swallow, not spit.
---
Virgil's Hickory Pit Baked Beans

Yield: serves 8 people

Ingredients:

¾ cup beef broth
½ cup mild barbecue sauce of your choosing
¼ cup molasses
2 tablespoons yellow mustard [or mustard of your choice, another pathway]
¼ cup dark brown sugar
1 tablespoon barbecue dry rub [see Virgil's book for an example]
¾ teaspoon liquid smoke
⅓ pound smoked beef brisket [with as much bark as possible]
4 tablespoons finely diced yellow onions
2 tablespoons finely diced green bell peppers
6 cups baked beans
Preparation:

Combine all the ingredients in a large saucepot. Stir until thoroughly blended.
Bring to a boil, then reduce to a simmer. Simmer for 45 minutes. Serve piping hot.
If you have a smoker working away, do try Virgil's technique and give the beans a tour of the inside of your smoker for a few minutes.

Source: Virgil's Barbecue Road Trip Cookbook by Neal Corman with Chris Peterson

Photo Information Canon T2i, EFS 60 mm Macro Lens, F/5.6 for 1/100th second at ISO‑2000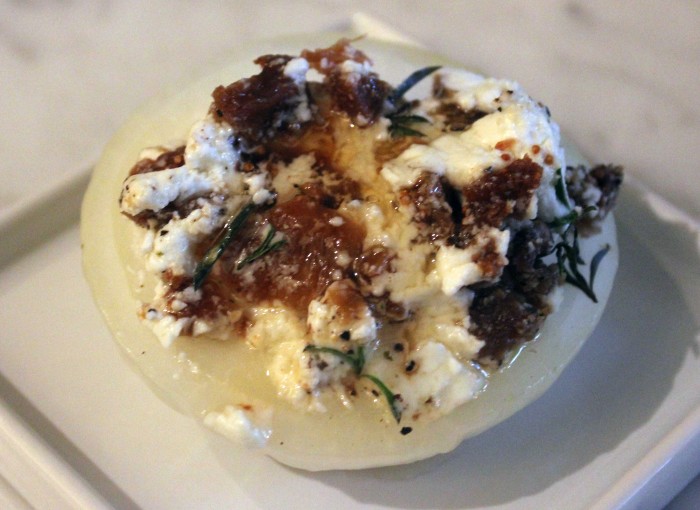 Here's a menu for a summer meal that is satisfyingly complete. Begin with a beverage, a Pina Colada, but not just the regular one. You need Brian's Faux Colada: more flavor and less alcohol. Then a barbecued steak complete with not some overpowering steak sauce, but instead with an intense, smooth blue cheese sauce. Pair that steak with a barbecued onion topped with goat cheese, fig, and honey. Then finish with ice cream adorned with Malted Milk Chocolate Sauce or Fudge Topping. Your choice.
And the recipes? You can find the Malted Milk Chocolate Sauce and the Fudge Topping right here on this blog,already posted on July 2 and July 8.
The drink is being posted today, July 9. Tomorrow comes the blue cheese steak sauce, and the spectacular onion dish is the very next day, Friday the 11th. If goat cheese, fig and honey are not your style, then on Saturday the 12th you'll see a post for the best baked beans ever — from Vigil's in New York City.
So, please keep posted. I promise you all the elements you need for a memorable feast.
And if ice cream is not your dessert desire, then look for tomorrow's post: Diablo Food Cake, wonderful riff on the class Devil's Food Cake.