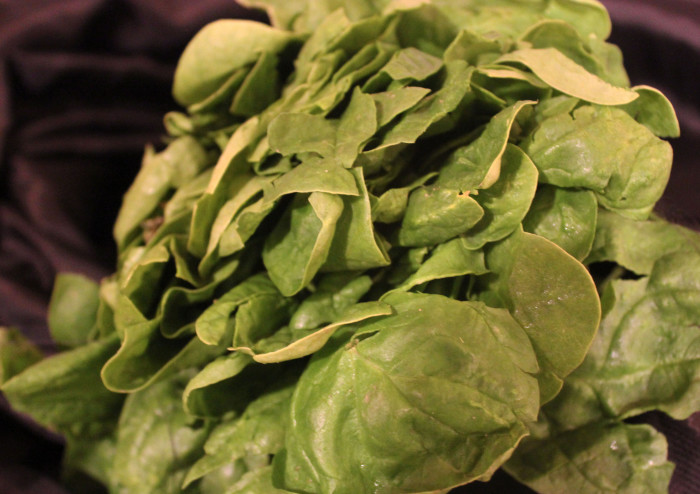 That's a head of spinach in the photo. Fresh off the delivery truck. Like any greens that you "buy" this head is perfectly edible but truthfully is showing signs of its last few days: tossed into a crate, refrigerated, trucked a few hundred miles, …
What to do with spinach? Fresh from the garden, it's great for a salad, perhaps with that hot bacon dressing most of us love. With a head like this, some cooking is in order to extract flavor by refreshing the molecules. That's figuratively, not literally. This head has been plucked and "freshness" is something that is gone. The trick is to capture the remaining flavor.
From Emeril Lagasse comes one of his prototype recipes: spinach cooked in butter with spice and onions and cream. Emeril knows that fats are the conveyor belt for taste. Fats provide flavor themselves and extend the flavor of the foods they are in. You don't want a pure red steak, because pure red meat lacks flavor. It's the fat that has the flavor.
Now, natural spinach has almost no fat. It's praised as a healthy food, rich in vitamins A and C and K, magnesium, manganese, folate, and iron. Just a small serving can provide an enormous amount of the daily percentage of these nutrients. So, Emeril rides that "healthy" foundation by adding just enough butter and cream to transfer the spinach from bitter to yummy. Here, 2 pounds of spinach provides enough servings for 10 people. You won't be overdosing on the dairy fat, but you will be getting a heavy dose of nutrients you do need. And, it tastes marvelous.
Looking for a creative way to serve creamed spinach instead of just placed on the side? Bake a large potato, and serve it stuffed with the creamed spinach.
As a side note on its history and usage, spinach originated in Persia, and was carried by traders first to India and then China. It took until the 9th century for spinach to appear in Sicily, introduced by the Saracens. Today spinach is grown and enjoyed worldwide. The United States is the world's second largest producer. And the largest? China, of course. They grow over 40 times as much spinach as we do. At your next tour of a Chinese restaurant, look closely at what is in your soup, spring roll, fried rice, and just about every other dish. And you can order what they love:stir fried in oil with some garlic. Not quite the same as Emeril with his butter and cream.
---
Creamed Spinach

Yield: 10 servings

Ingredients:

2 pounds fresh spinach, washed and tough stems removed
2 tablespoons unsalted butter
½ cup finely chopped shallots
1 teaspoon minced garlic
¾ teaspoon salt
½ teaspoon freshly ground black pepper
¼ teaspoon nutmeg
½ cup heavy cream
Preparation:

Bring a pot of salted water to a boil over high heat. Add the spinach and cook for 2 minutes. Drain in a fine mesh strainer, pressing with a large spoon to release as much water as possible. Or squeeze small portions by hand. Finely chop and set aside.
Melt the butter in medium sauté pan over medium-high heat. Add the shallots and garlic and cook, stirring until soft and fragrant, about 2 minutes. Add the spinach and cook, stirring, just until the liquid is released. Add the cream, salt, pepper, and nutmeg, and cook until the cream is reduce by half, about 4 minutes. Remove from the heat and serve immediately.
Source: Emeril Lagasse and the Foodnetwork.com with some facts from Wikipedia

Photo Information: Canon T2i, EFS 60mm Macro Lens, F/4.5 for1/6th second at ISO‑3200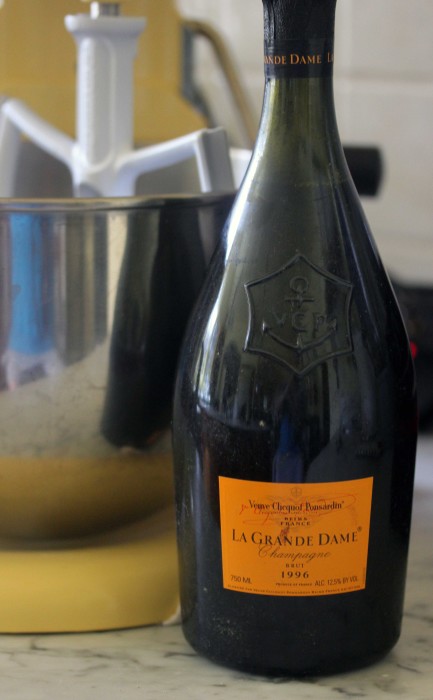 Frostings by Courtney Dial Whitmore and Courtney Whitmore is a slim treasure of a book dedicated to decadence. Frostings in all forms and flavors appear here. I'm fond of buttercreams and prefer them very lightly flavored. I want my frosting subtle, with hinted flavor and with the ability to let me taste the richness of that underlying butter.
This recipe is just my style. This Champagne Buttercream offers the promise of bubbly now suitably encased in butter and sugar. Use the best quality butter you can. Champagne is fine, but Prosecco or Cava or other sparkling wines will give you alternative, but equally rich, experiences.
This Champagne Buttercream atop a classic white layer cake will dominate any summer brunch on your horizon.
---
Champagne Buttercream

Yield: 4+ cups

Ingredients:

1 cup unsalted butter at room temperature
4 cups [1 pound] powdered sugar
1 teaspoon vanilla extract
3 tablespoons champagne
Preparation:

In the bowl of an electric mixer fitted with the paddle attachment, beat the butter for 2 minutes on medium speed. Adjust the speed to low and add the powdered sugar to the butter 1 cup at a time until well incorporated.
Add the vanilla extract and the Champagne. Beat on medium speed for 3 minutes. Add ore powdered sugar to thicken the frosting or some milk to loosen.
Source: Frostings by Courtney Dial Whitmore and Courtney Whitmore

Photo Information: Canon T2i, EFS 60 mm Macro Lens, F/2.8 for 1/100th second at ISO‑1000