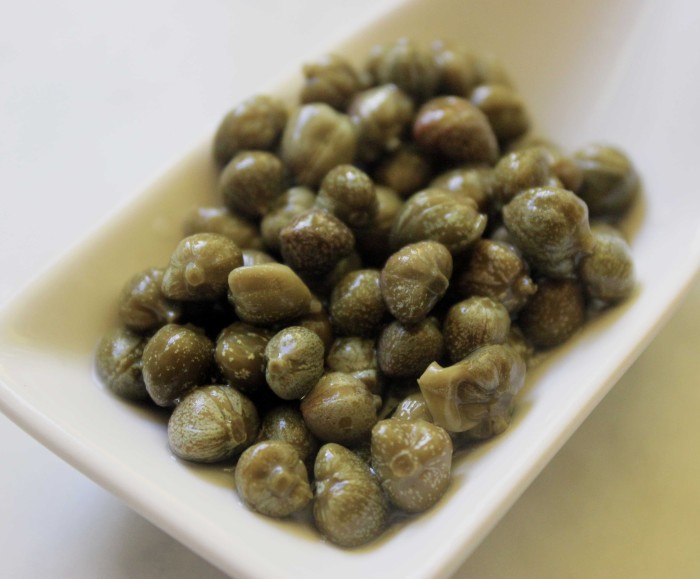 It's a Friday in July. The odds are that today or tomorrow or Sunday, you'll buy summer corn, sweetening with each week of additional sun. And then you'll grill or boil or broil or microwave those ears for one or more weekend meals.
Salt and butter will be consumed with that corn. Here's a way to get both butter and salty flavor, combined, with a tangy benefit: make Caper Butter to spread on your corn. Capers are the pickled berries of a bush that grows wild around the perimeter of the Mediterranean, actually down into the Sahara and as far East as Iran. Capers are a staple, employed extensively and quite differently in the different Mediterranean cuisines.
Capers can, actually, be used wonderfully on their own. In many Mediterranean dishes though, you'll often find capers used alongside chopped fresh oregano or other herbs, spices of all kinds, onion aplenty, citrus juices of all varieties, pepper and chiles of all shapes and sizes. When making this butter, then, you really have unlimited options. I've indicated a good, basic combination that Suzen and I have used, one that that will make your corn even more sumptuous.
Feel free to chop up your favorite additional flavors and add into the butter mixture.
---
Caper Butter for Your Weekend Corn

Yield: ½ cup

Ingredients:

1 stick [½ cup] butter, softened
2-4 tablespoons capers, depending on your pucker factor
1 tablespoon lemon juice, optional
Pinch of freshly chopped oregano, optional
Preparation:

In a metal bowl, add all the ingredients and gradually mix with a wooden spoon.
When thoroughly mixed, roll the butter into a log wrapped with plastic wrap. Refrigerate until firm. Use within a week.
Source: Brian O'Rourke

Photo Information Canon T2i, EFS 60 mm Macro Lens, F/5.6for 1/60th second at ISO‑1250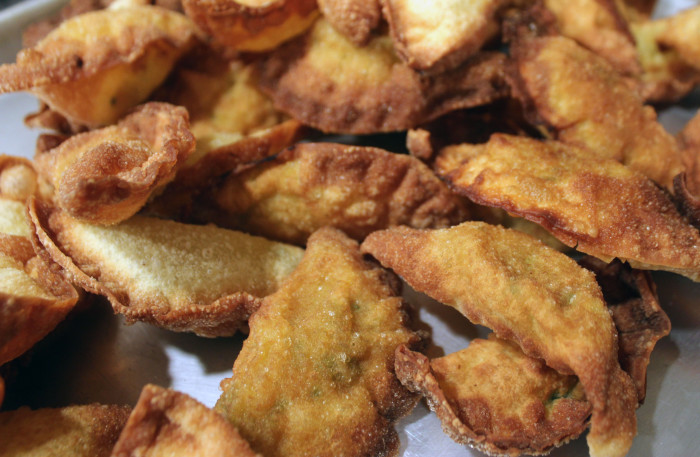 Sometimes you have to fry. I know, it can create a mess and the aroma lingers and no one wants to clean up that mess. Still, there are dishes where there is no option but boiling oil. If the payoff, the taste, is good enough, then all that effort will be forgotten. These samosas are worth every drop of effort and oil
For a party with 30 people, Suzen made four batches of these samosas. We had plenty, or so we thought. But 30 people can, easily, devour 160+ samosas if they are very good. And these dainty packets were voted best by a food-wise crowd here at Cooking by the Book.
The filling is curried butternut squash which surprises on the first bite and remains seductive as you consume every last bit. As with almost all recipes like this one, we "cheat" a bit. We use commercial wonton wrappers rather than make our own dough, one samosa at a time. Especially with the volumes of samosas you need for a party, those packages of wonton wrappers make this dish "doable" for a crowd.
If you party is planned to begin in the kitchen, perhaps with cocktails and appetizers around the island, this dish is wonderful pathway to a culinary evening. You can even have the ingredients at hand and enlist some of your guests to enjoy some hands-on participation. Truthfully, these samosas are best hot out of the oil, so you should search for culinary volunteers. Or just lay down the law and conduct your own version of the draft. In end, everyone will be glad they served.
Curried Butternut Squash Samosas with Tamarind Chutney

Yield: 40 samosas serves 8+, 1 cup of chutney

Ingredients:

For the samosas:

1 butternut squash – about 1 ½ pounds
3 tablespoons olive oil
2 tablespoons white onion, chopped
2 cloves garlic chopped
1 tablespoon madras curry powder
1 teaspoon sea salt,
1 teaspoon sugar,
1 large egg
1 package (1 pound) square wonton wrappers
Canola or rice bran oil for deep-frying
For the tamarind chutney:

½ teaspoon ground cumin
½ teaspoon garam masala
½ teaspoon ground ginger
¼ cup seedless tamarind paste
Sea salt [to your taste]
Sugar [to your taste]
Preparation:

For the samosas:

Preheat the oven to 400°F.
Cut the squash in half lengthwise and scoop out and discard the seeds. Place the halves, cut sides up, on a rimmed baking sheet and drizzle with 1 tablespoon of the olive oil. Bake the squash until tender when pierced with a knife, about 40 minutes. Let cool until easy to handle. Scoop the cooled squash flesh into a bowl and discard the shells.
In a saucepan over medium-low heat, warm the remaining 2 tablespoons olive oil. Add the onion and garlic and sauté until the onion is soft, about 5 minutes. Remove from the heat and stir in the curry powder. Add the squash flesh and mash with a potato masher until almost smooth. Stir in the salt and sugar, then taste and adjust the seasonings.
In a small bowl, beat the egg with a fork until blended. Lay about 5 wonton wrappers on a work surface; keep the remaining wrappers covered with a slightly damp kitchen towel. Spoon a scant tablespoon of the squash filling in the center of each wrapper and flatten with the bottom of the spoon. Brush the edges of the wrapper with the egg. Fold each wrapper in half on the diagonal, forming a triangle, and then press the edges together to seal the filling inside; set aside. Repeat with the remaining wrappers and filling.
Preheat the oven to 200°F. Line a large baking sheet with paper towels and place a wire rack on top. Pour canola oil into a heavy, high-sided skillet to a depth of 3 inches and warm over medium-high heat until very hot. Working in batches, add the samosas to the oil and fry, turning once, until golden brown on both sides, about 2 minutes on each side. Using a slotted spoon, transfer the samosas to the rack to drain and keep warm in the oven. Cook the remaining samosas in the same way, adding oil to the pan as needed.
Arrange the samosas on a warmed platter and set the chutney alongside for dipping. Serve right away.
For the tamarind chutney:

In a small, dry saucepan over medium heat, toast the cumin, garam masala, and ginger, shaking the pan occasionally, until fragrant, about 1 minute. Remove from the heat and let cool for about 2 minutes.
Break up the tamarind paste with your fingers and remove any extraneous seeds. Add the tamarind and 2 cups water to the pan and return to medium heat.
Simmer the mixture, stirring and mashing the tamarind constantly, until reduced by one-half, about 15 minutes. Taste and adjust the seasonings with salt and sugar. Pour the chutney into a small bowl, let cool, cover and set aside at room temperature.
Source: Williams-Sonoma New Flavors for Appetizers

Photo Information Canon T2i, EFS 60 mm Macro Lens, F/3.5 for 1/30th second at ISO‑640