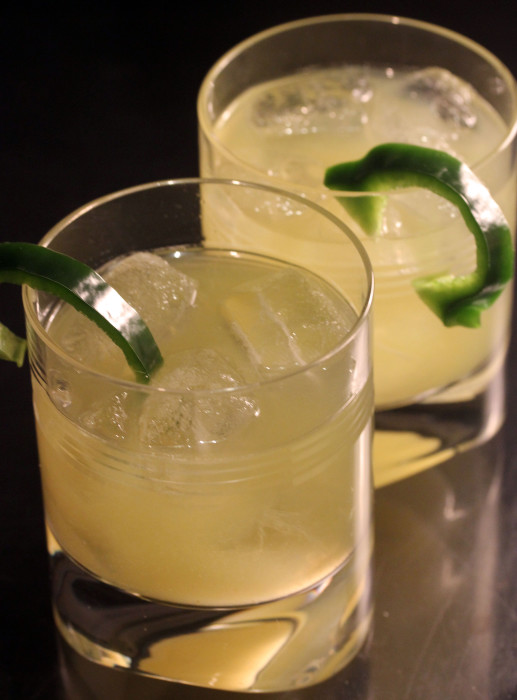 Bars can be expensive. Not that hotel bar you eye occasionally, the one with the $15 drinks. No, I'm talking about your home bar.
If you love cocktails and cocktails books — which I do — then it is possible to have stack of "gotta make" recipes. Taken together, all those recipes can demand that your home bar be extensively stocked. And there's the rub.
I collect the Food and Wine Cocktails books, one published each year. The 2013 edition is easily the best, flush with wonderful beverage ideas. I recommend the ideas and the book.
One idea called for both tequila and mescal. Tequila I have in abundance. Of Mescal, not a drop. I know enough to know that all tequilas are a subset of mescal so, I assumed, the larger collection of mescals had to include some bottles with modest price tags. My first nearby liquor store want $54. I passed, heading for my corner store which always has a good selection at modest prices. $120 and $80. I now began my mantra of "Curse you, Red Baron."
Back home I examined the recipe. It wanted agave, which I believe, based on the prices in Whole Foods, is as outrageously priced as certain liquors that are based on plants related to asparagus. [Oh, you thought agave used to be considered a cactus but is really a lily. There's been a little update and it has been reclassified again as a cousin to asparagus. That should give tequila drinkers both pause and smug satisfaction: it is, too, healthy.]
I felt confused and cheap. I rethought the whole concept for this cocktail and I revised it. A lot. It's now my concoction.
What had caught my eye initially was the heat. This drink begins by muddling poblanos, along with jalapenos the most popular of hot peppers. I imagined a meal of stuffed poblanos consumed with a fork accompanied by muddled poblanos consumed sip by sip.
To fight the poblano heat, the muddling includes fresh pineapple chunks. Then tequila, and lemon juice and that backbone ingredient of most cocktails: a simple sugar syrup. All that resonates in my brain like a mariachi band.
Once made, the drink is pretty to look at that I waited, perhaps, a full three seconds before imbibing. Frankly, my dear, I don't think mescal would have made a damn difference.
As a hint of things to come, I have been experimenting with hot sugar syrups, spicy hot. In place of the simple syrup, you could use a habanero sugar syrup here for a refined blast of fire.  More about that as spring evolves.
Muddled Heat and Sweet
Yield: 1 cocktail
Ingredients:
4 ¼ inch thick rings of poblano + 1 more for garnish
4 1-inch cubes of fresh pineapple
2 ounces of silver tequila
1 ounce of freshly squeezed lemon juice
1 ounce simple syrup
Preparation:
In a cocktail shaker, muddle 4 of the poblano chile rings with the pineapple. Add the tequila, lemon juice and simple syrup. Fill the shaker with ice, and shake vigorously. Pour into a chilled cocktail class filled with crush ice. Garnish, if you wish, with a poblano ring or a citrus round.
Source: Brian O'Rourke with inspiration from Food and Wine Cocktails 2013 [the Pablo Escabar]
Photo Information: Canon T2i, EFS 60MM Macro Lens, F/5.6, 1/100th second, ISO-1600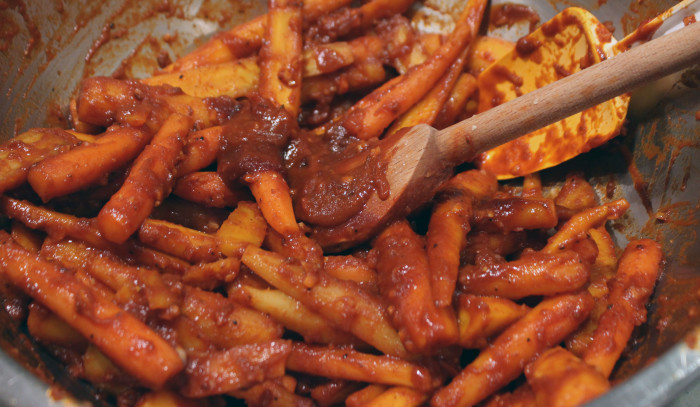 We were at DeGustibus, the cooking school at Macy's, listeing to Rawia Bishara discuss her new book Olives, Lemon, and Za'atar. She went to the core philosophy of cooking, her book, and her immensely satisfying Brooklyn restaurant Tanoreen. "Use what you have. Fresh. Today fresh," she repeated throughout her demo.
She used harissa in the demo for a Turkish salad. We took her word and followed it. When we had an event for celiac patients and their families, we treated them to harissa and carrots. Earlier in the day, our produce vendor had mentioned he had carrots, lovely spring carrots with perfect tenderness. It was natural to follow Raiwa's admonition. The carrots were gently poached, then mixed with harissa.
Your version of this will depend on the potency of the chile paste you use. It will be an adventure, unpredictable and exciting. If the results are too hot for you, you can try to dilute with a little more oil or lemon juice. Don't add the cumin until you've done a taste test.
This hot sauce is, well, a hot sauce. It has universal application. In the Middle East, a primary use is with fish or, interestingly, in lentil soups. Or chicken, or on potatoes, or … I said universal and that is true.
With this recipe, you can make the real deal: authentic in ingredients and preparation, as real as the chile peppers that are its genesis.
Harissa
Yield: 2+ cups
Ingredients:
6 tablespoons extra-virgin olive oil
6 cloves garlic, finely chopped
2 cups chile paste
1 teaspoon ground cumin
½ teaspoon ground caraway seeds (optional)
½ teaspoon ground dill seeds (optional)
½ teaspoon freshly ground black pepper
⅔  cup fresh lemon juice
Sea salt
Preparation:
Heat the oil in a saucepan over medium heat until hot. Add the garlic and cook until golden brown, 2 to 3 minutes. Sprinkle in the chile paste, cumin, caraway and dill seeds, if using, and pepper and cook, stirring, for 2 minutes. Pour in the lemon juice and ⅓ to ⅔ cup water, depending on desired consistency, and bring to a boil for 2 to 3 minutes.
Remove from the heat, let cool and season with salt. Transfer to a jar with a tight-fitting lid. The hot sauce will keep, refrigerated, for up to 1 month.
Source: Olives, Lemons, and Za'atar by Rawia Bishara
Photo Information: Canon T2i, EFS 60MM Macro Lens, F/5.6, 1/20th second, ISO-2500