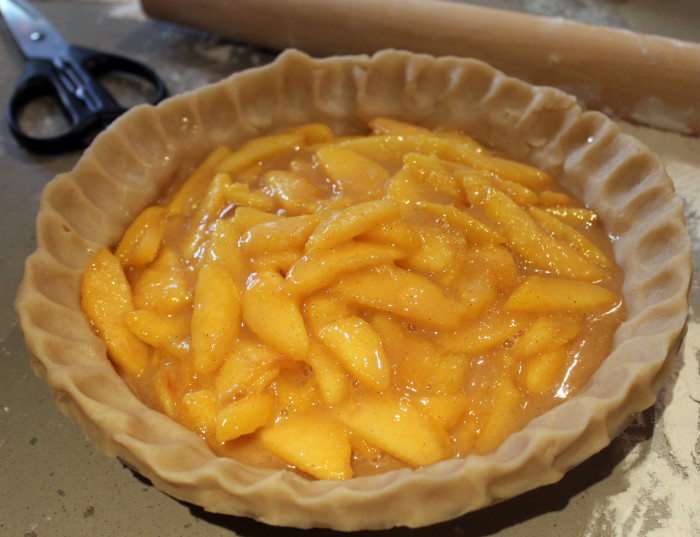 For years I have struggled making peach pie. Suzen was totally scared off. We could not get the right flavor balance: too sweet or too spicy. And there was the issue of sogginess.
Big, sloppy, the-first-piece-out-of-the-pie-is-a-disaster problems haunted us. I would look at peaches, pause, and sigh. I had no solution.
Until I got The Perfect Peach. Here is their perfect pie filling. Just a hint of cinnamon. Not too much sugar and enough flour to produce a filling that sets and that can be cut without a need for a sponge.
And the taste. The taste is peach, lovely, fresh, wonderful fresh peach. You can use this filling in a pie that has crust on the top and bottom or just the bottom with streusel on top. The little dollops of butter add a trace of richness that is subtle but certain to be appreciate.
---
Perfect Peach Pie Filling

Yield: 1 pie

Ingredients:

6 cups peeled and sliced fresh peaches
2 tablespoons freshly squeezed lemon juice
¾ cup granulate sugar
3-4 tablespoons all-purpose flour, instant tapioca or tapioca flour
¼ teaspoon ground cinnamon
Pinch of salt
2 tablespoons cold salted butter, cut into ¼ inch cubes
Preparation:

Place the peaches in a large bowl. Drizzle them with the lemon juice and stir gently to coat evenly.
If your peaches are especially juicy, drain off the excess juice and reserve for drinking later, or even while are making this pie. Use the extra tablespoon of flour for extra juicy peaches. In a small bowl, stir together the granulated sugar, flour, cinnamon, and salt. Sprinkle the sugar mixture over the fruit and toss gently to coat the peaches evenly. Set the peaches aside.
When ready, pour the peaches into a prepared pie pan. Distribute the cubes of butter evenly over the filling.
Top your pie with crust or streusel and bake away.
Source: The Perfect Peach by Marcy, Nikiko, and David Mas Masumoto

Photo Information: Canon T2i, EFS 60 mm Macro Lens, F/4.5 for 1/40th second at ISO‑250

Although the season is winding down, you can still find cherries here and there at some farmers markets and certainly in your supermarket. Suzen is always picking up a bag and sampling on the drive home. Last week, I was in Yellowstone National Park and my daughter gave me one she had brought from Washington State.
I ate it, enjoyed it, and spit the seed out. My daughter, her boyfriend, and my wife surrounded me. How dare I contaminate a national park? I do feel ashamed. I do. I'm sorry. I was just thinking of the poor chipmunks and the snow that was coming. In September.
But if thirty years from now, you are in Yellowstone and find a cherry tree in the wild, please enjoy the fruit and remember me fondly. Somebody has to.
In the meantime, if you should buy some cherries, here's something to do besides eat them raw or make cherry pie. You can poach the cherries and then use them at will: over ice cream, with pound cake, or even atop brownies. Poached in wine with sugar and spices, these cherries are deep red treat.
---
Poached Cherries

Yield: 6+ cups

Ingredients:

4 cups red wine [any kind]
½ cup granulated sugar
Peel of 2 oranges, white pith removed
1 whole clove
½ stick cinnamon
4 cups cherries, pitted, but kept whole
Preparation:

In a medium saucepan, bring the red wine to a boil over medium-high heat. Add the sugar and continue to boil until the liquid has reduced to about one-third of its original volume. Add the orange and lemon peels, clove and cinnamon stick and bring to a boil. Boil for 2 minutes more. Remove from the heat.
Please the cherries in a large sauce pan and strain the red wine mixture over them. Bring to a boil over high heat, then removed from the heat and set aside to cool.
Refrigerate and use in 2-3 days.
Source: Payard Desserts by Francois Payard
Photo Information: Canon T2i, EFS 60 mm Macro Lens, F/4.5 for 1/40th second at ISO‑250