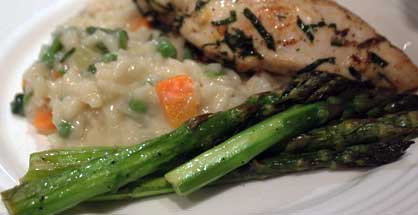 I know. It is not asparagus season any more. It's not spring any more.
Now, get a globe and look at the equator and all that land below the equator. It's nearly fall for us and it's nearly spring for them down south. Jet cargo planes will soon be ferrying in loads of asparagus. Well, not tons of it. But you can find it and, if you are addicted to that unique flavor, you can get an asparagus fix.
One of the great benefits of asparagus is the payoff to price ratio. Not the purchase price. The labor and complexity price. All it takes is some oil, lemon juice and salt and pepper. A little time in the oven, and you have a lively treasure.
What do you match asparagus with? Just about anything. The asparagus taste is so intense that you can pair it with any protein: spring lamb [when it is spring!], steak, salmon, and chicken as pictured here. A lovely way to serve roasted asparagus is to offer a separate side of risotto laden with other vegetables: peas, bean, carrots, or zucchini.
If you can, try to expand your "asparagus footprint." Look for it as fall progresses and keep enjoying that magnificent flavor.
Asparagus originated in the Mediterranean area and appears in Egyptian art from 3000 BC. Today, it's a heavily Asian crop with China — who else — leading world production. They grow 7 million tons a year in China. Second place goes to Peru with less than half a million tons a year. [The US is the fifth largest producer but we import lots of it because demand exceeds our rather limited production relative to our population.] That Chinese production dominance impacts their culinary repertoire and is the reason for those green shards showing up in soup, fried rice, and just about every other treat you sample in Chinatown.
---
Roasted Asparagus

Yield: 4 servings

Ingredients:

1 pound asparagus spears (medium to thick are best for roasting or grilling)
1 tablespoon olive oil
2 cloves garlic, minced
Kosher salt and freshly ground pepper to taste
Fresh lemon juice to taste
2 Lemon juice
Preparation:

Lay the asparagus spears out in a single layer in a baking dish or a foil-covered roasting pan. Drizzle olive oil over the spear, roll the asparagus back and forth until they're all cover with a thin layer of olive oil. Sprinkle with the mince garlic, salt, and pepper. Rub over the asparagus so that they are evenly distributed.
Place pan in oven and cook for approximately 8 to 10 minutes, depending on how thick your asparagus spears are, until lightly browned and tender when pierced with a fork. Drizzle with a little fresh lemon juice before serving.
Source: The staff at Cooking by the Book with history from Wikipedia

Photo Information: Canon T2i, EFS 60 mm Macro Lens, F/4.5 for 1/50th second at ISO‑640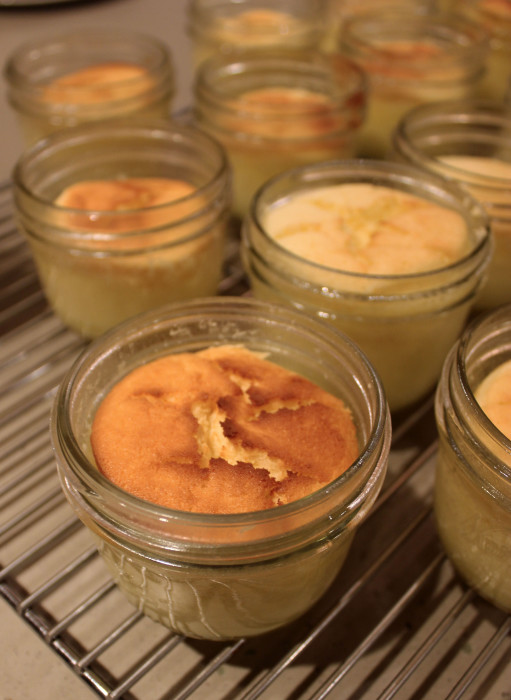 Pudding is something we rarely encounter as adults. We have fond memories of Jell-O boxes and multiple servings of chocolate pudding topped with whipped cream. But pudding now? When Suzen suggests that teams coming for an event at Cooking by the Book finish their hands-on experience with pudding, well pudding cake, there is often some reluctance.
While she cannot twist someone's arm over the phone, Suzen can be enthusiastic. She's a believer in this delicate dessert and in the past few months I've gotten to eat it once or twice a week as her clients succumb to her enthusiasm. This dessert is perpetually enjoyable. Lemon is a popular flavor, right there after vanilla and chocolate. And the pudding cake has this surprising texture of creamy softness with full mouth feel. It's not the pudding of Jell-O boxes. And it's not solid cake. It's pudding cake and it satisfies everyone who tastes it.
Lemon desserts often pair well with whipped cream and berries. You see in the picture above that we've done just that. The berries add a flavor punctuation mark that adds dimension.
---
Lemon Pudding Cakes

Yield: Eight 6-ounce ramekins

Ingredients:

Softened butter for the ramekins
2 ounces (1/4 cup) unsalted butter, melted and cooled slightly
1 cup granulated sugar
3 large eggs, separated, at room temperature
1-⅛ ounces (1/4 cup) unbleached all-purpose flour
¼ plus ⅛ teaspoon table salt
1-¼ cups whole milk, at room temperature
⅓ cup fresh lemon juice, at room temperature
1 tablespoon finely grated lemon zest
Lightly sweetened whipped cream and berries for serving (optional)
Preparation:

Position a rack in the center of the oven and heat the oven to 350°F. Butter eight 6-ounce ceramic oven-proof ramekins or Pyrex custard cups, or even better as picture: mason jars. Arrange them in a baking dish or roasting pan (a 10×15-inch or two 8×8-inch Pyrex dishes work well).
In a large bowl, whisk the melted butter with ⅔ cup of the sugar and the egg yolks until smooth and light, about 1 minute. Add the flour and salt and pour in just enough milk to whisk the flour smoothly into the egg yolk mixture. Then whisk in the remaining milk and the lemon juice until smooth. The mixture will be very fluid.
Put the egg whites in a large bowl. Beat with an electric mixer (a hand-held or a stand mixer fitted with the whisk attachment) on medium speed until the whites begin to foam, 30 to 60 seconds. Increase the speed to high and beat just until the whites hold soft peaks when the beater is pulled away, another 1 to 2 minutes.
Reduce the mixer speed to medium. With the mixer running, very slowly sprinkle in the remaining ⅓ cup sugar; this should take about a minute. Stop the mixer and scrape the bowl. Beat on high speed until the whites hold medium-firm peaks when the beater is pulled away, about another 30 seconds.
Scrape one-third of the egg whites into the egg yolk mixture, sprinkle the lemon zest on top, and whisk until combined. Gently incorporate the remaining whites into the batter, using the whisk in a folding/stirring motion. The batter will still be thin.
Portion the mixture evenly among the ramekins; the cakes don't rise much, so you can fill the ramekins to within ⅛ inch of the top. Pull out the oven rack and put the baking dish full of ramekins on the rack. Pour warm water into the dish to reach halfway up the sides of the ramekins. Bake until the tops of the cakes are light golden and slightly puffed, and when touched with a finger, they should feel spongy and spring back a bit but hold a shallow indentation, 25 to 30 minutes. Using tongs, carefully transfer the ramekins to a rack. Let cool to room temperature and then refrigerate for at least 2 hours and up to 24 hours before serving, with whipped cream if you like.
Source: Nicole Reese in Fine Cooking Issue 70

Photo Information: Canon T2i, EFS 60 mm Macro Lens, F/3.5 for 1/30th second at ISO‑400