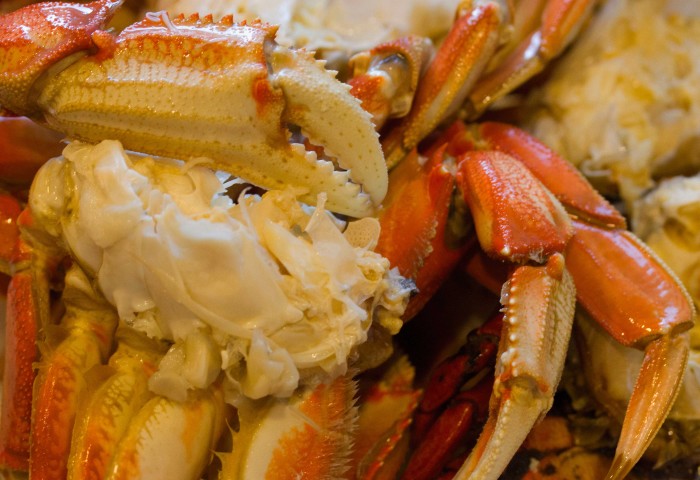 While half of all marriages end in divorce, no marriage of corn and crab ever has. Be it in a salad, a dip, a soup — or some other creation — the two flavors seem to automatically merge into one overpowering burst of pleasure. This dip is rich, so it can serve as the centerpiece for you cocktail party appetizers. This dip is rich, so you really don't want to "make a meal" of it.
Although, some of us …
Everything in moderation. I've adapted the recipe from the one in Comfort Foods by Better Homes and Gardens. Here I suggest fresh corn and fresh crab. Try to get your crab from one of those pictured crab legs, meaty and moist. Canned crab simply does not have the vitality of freshly cooked.
This recipe calls for Monterey Jack with jalapeno, but you can easily use another cheese of your preference and, again if you wish, add some heat with sliced jalapeno or other hot peppers. Adjust the amount of onion, if you desire, and the color as well: red or white instead of green. For some non-jalapeno zip, a single diced clove of garlic can be substituted. A dash or two of hot sauce will simple seal the deal between crab and corn.
If you were to use an abundance of cheese — 2 cups instead of 1, so the bubbly mass at the end is rather fluid, then you have an excellent adornment for baked potatoes.
---
Roasted Corn and Crab Dip

Yield: 10 servings

Ingredients:

1 cup corn kernels, off the cob
1 cup chopped red sweet pepper [1 large]
2 tablespoons olive oil
1 cup cooked crabmeat, cartilage removed
1 cup shredded Monterey Jack cheese with jalapeno peppers [or similar "hot" cheese], about 4 ounces
⅓ cup mayonnaise
¼ cup sour cream
¼ cup sliced green onion
¼ teaspoon ground black pepper
Broken tostada shells, toasted baguette-style French bread slices, and/or crackers
Preparation:

Preheat an oven to 375°F. Coat a 1-quart quiche disk or shallow baking dish with cooking spray and set aside.
Heat a small cast iron skillet on medium-high and add two tablespoons of olive oil. Add the corn and red pepper. Cook stirring constantly until the pepper has softened and the corn kernels are still al dente. You goal is to have pepper pieces and corn kernels just past the first point of being comfortably eaten.
In a medium bowl stir together crabmeat, cheese, mayonnaise, sour cream, green onions, and black pepper. Stir in the cook pepper and corn. Transfer the mixture to the prepared quiche dish.
Bake, uncovered, about 20 minutes or until bubbly around the edges.
Served with the broken tostada shells, toasted bread, or cracker.
Source: modified from Comfort Food by Better Homes and Gardens

Photo Information Canon T2i, EFS 60 mm Macro Lens, F/4 for 1/25th second at ISO‑1600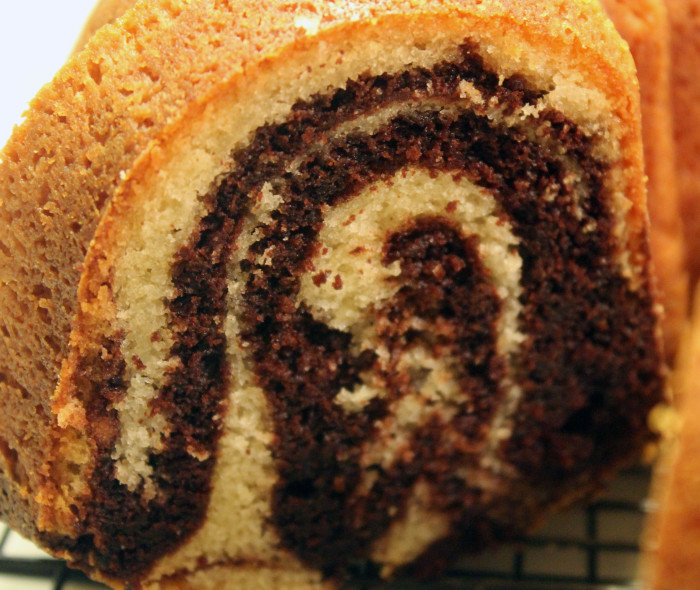 Grandsons often possess special powers. For example, if I want a marble cake, and I ask for it, Suzen is going to reply, "You have to watch your sugar intake! How many times …."
On the other hand, our grandson Reid was visiting from Austin. "Can I have a marble cake?" he asked.
"Brian, find the best possible recipe," Susan commanded me.
"Okay," I acknowledged and backed away. I bowed slightly so Suzen could not see the smile on my face. Reid was stone-faced, not showing one hint of conspiracy. I want the kid to be a lawyer, with his acting skills, but maybe with such skills he should just be an actor. Well, not just an actor. He's bound to get an Oscar, Emmy, Tony or probably all three. He convinced me at that moment of his angelic innocence.
I waited a reasonable amount of time, then reentered the kitchen with the recipe Reid and I had found the night before. Like I said: conspiracy.
In such a situation, where you may have only one shot before discovery, you make the shot count. There is a marvelous book, Cooking with Chocolate edited by Frédéric Bau, the Director of the École du Grand Chocolate Valrhona. This book was released in English in 2011. If you are a chocolate lover and have not yet discovered Cooking with Chocolate, it is time for an Amazon visit. I'll post a full review in a few days. But, in the meantime, …
The book, of course, is impeccable. You know that every recipe has run the gauntlet from a battery of the world's best chefs. There is a small picture on the recipe page for this cake, just a simple little snapshot of a slice of cake. Dark chocolate waves are embedded in a dough so richly yellow you just have to pause. What would this taste like?
Really good, actually. Moist with distinct chocolate and vanilla layers. The vanilla batter has 8 egg yolks [just like a good ice cream base!], so every bite is the definition of satisfaction. Extravagant satisfaction.
For something this good, the recipe is simple with a preparation time of just 20 minutes. It takes 50 minutes to an hour to bake and is dense, so after about 45 minutes you need to start checking for doneness with a long toothpick or, better, a skewer.
Quite honestly, this cake does not require frosting, sauce, whipped cream, ice cream or even just powdered sugar. It doesn't. But, in the interest of continuing the conspiracy, I will supply a few ideas for accompaniment over the next few days. Decadence, like conspiracy, is not a sin. Well, not if it's for a good cause. At least that's what I told my grandson.
For this coming weekend, here is a family-pleasing dessert. If you have young children, giving them a spoon or fork with order to "make the marblilng" is a moment they will always remember.
---
Chocolate-Vanilla Marble Loaf
Yield: serves 8

Ingredients:

For the vanilla batter:

8 egg yolks
1 cup plus 2 tablespoons granulated sugar
½ cup whipping cream
1 vanilla bean
1 ¾ cups cake flour
¾ teaspoon baking powder
4 ½ tablespoons butter, melted and cooled
For the chocolate batter:

2 ½ ounces bittersweet chocolate, 70 percent cocoa
4 egg yolks
⅔ cup sugar
⅓ cup whipping cream
1 cup [2 ¾ ounces or 80 grams] cake flour
2 teaspoons unsweetened cocoa powder
½ teaspoon baking powder
1 tablespoon plus 1 teaspoon grape-seed oil
A little melted butter to dip the spatula [optional]
Preparation:

Prepare the vanilla batter.

In a mixing bowl, combine the egg yolks with the sugar. Add the cream. Slit the vanilla bean lengthways and scrape out the seeds into the mixture. Sift in the flour and baking powder and incorporate them into the batter, then stir in the melted butter. Set aside.
Prepare the chocolate batter.

Chop the chocolate and melt it slowly in a bain-marie or in the microwave oven.
In a mixing bowl, combine the egg yolks with the sugar, then stir in the cream. Sift the flour, cocoa powder, and baking powder together into the mixture and stir in. Then stir in the melted chocolate and grape-seed oil until just blended.
Preheat the oven to 300°F (150°C). Line the loaf pan with parchment paper. For a really attractive marbled pattern (see p. 132), pipe out one-third of the vanilla batter over the bottom of the pan. Then pipe out half of the chocolate batter lengthways through the center. Cover this with one-third of the vanilla batter and pipe out the remaining half of the chocolate batter lengthways through the center. Cover it with the remaining vanilla batter. Dip a spatula into a little melted butter and run it lengthways along the batter, making an incision about ½ inch deep so that the cake rises nicely.
Bake for 50 minutes to 1 hour, until the tip of a knife or cake tester comes out clean.
Turn the cake out onto a cake rack and leave it for about 10 minutes on its sides so that it retains its shape.
Source: Cooking with Chocolate edited by Frédéric Bau

Photo Information Canon T2i, EFS 60 mm Macro Lens, F/5.6 for 1/15th second at ISO‑3200

---