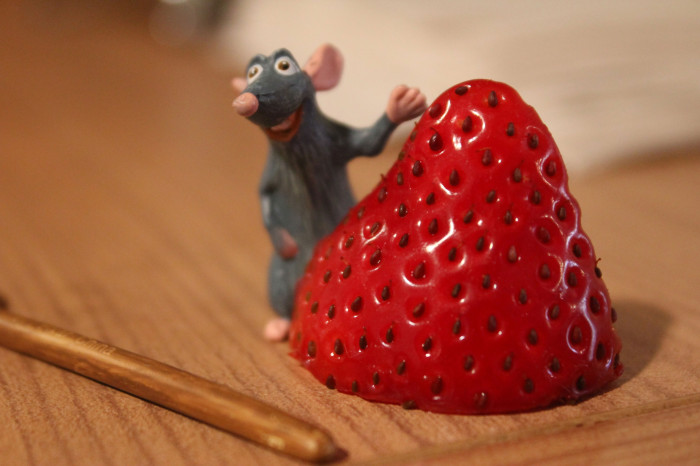 Suzie and I love our blog and the ability to share with your our culinary journeys. We've learned, from your responses and from what is happening on other food sites, that the opening picture is often worth far more than just 1000 words. If you compare our photos from a couple of years ago, you'll see we are making photographic progress. One step, no one shot, at a time.
I love this picture and so do the others who have seen it. The thing is, this photo is one you could do. There is nothing "special" technologically about this shot. It was taken with a Canon T2i using the standard 18-55MM lens that comes with the camera. That's a modest investment of a few hundred dollars, not thousands.
I did use a camera setting called AV where I could limit the depth of field, so the strawberry is in focus along with the rat's nose, but the rest of the rat is intentionally fuzzy.
I did not use Photoshop or any other tool here. This is  just straight out of the camera.
What does it take to get a fun shot with these kinds of highlights and shadows? Patience. Just think a bit about the lighting and where those shadows fall. And it takes quantity. These are digital cameras, for pete's sake, so just shoot. Take 20 shots, moving around with different angles and different focal points.
Experiment. And enjoy it! You want a good shot. Don't try for perfection, although I kinda think this photo is pretty high on the scale. Just learn and get good. Some of your shots are going to be golden nuggets in no time.
Take shots when you are cooking, first of the ingredients on the table and then on the stove or in the pot or pan. After cooking as your serve, take your first plate and make it a showpiece to shoot. Wipe away those little imperfections: a trail of gravy or sauce, a crumb too many, a leaf out of place. You were taught as a child not to play with your food. You are now an empowered adult. Play away.
Ah, the rat. We had a visiting chef who tours the country. She may not want her name in the same sentence as rat so I will just say she is famous and wonderful and works in Colorado. She's quite sane but I guess a bit superstitious. So she brings her plastic rat mascot — you knew it was fake, right? — and she asks people to put it somewhere while she cooks. She happened to have brought the most perfect strawberries — the rat is plastic but that berry is real and perfect. The rat looked hungry so I "fed" it. I had no plan on taking a photo, but how could I not come in close and personal.
The berries were great. The rat is home in Colorado.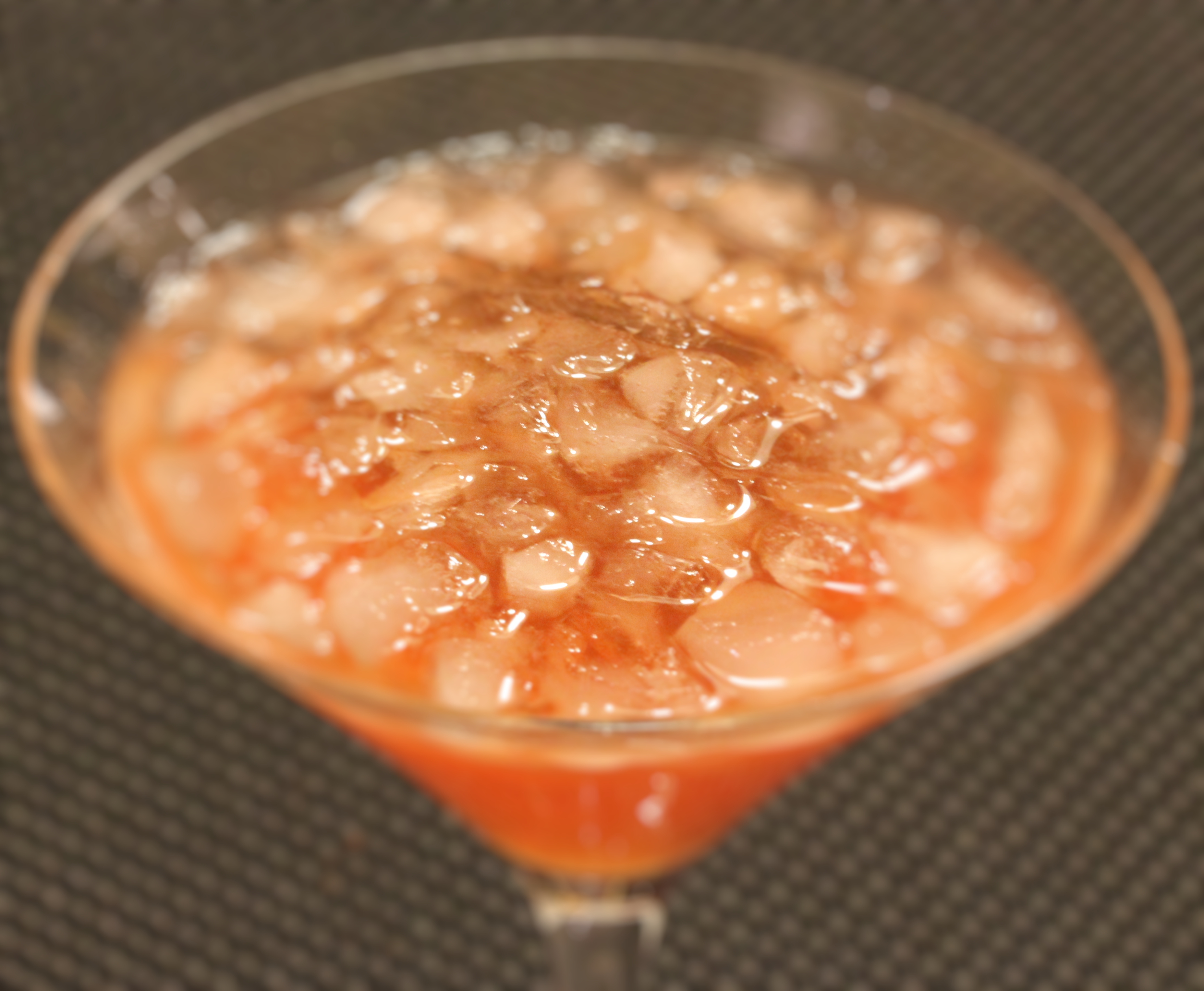 Food blogging — and cookbook writing and recipe sharing and … Those are things that many of us do but it's now no longer just a "writing" activity. To be noticed, to have impact with competition, and to convey the power of your food or recipe message, you need that perfect picture married to your words.
Like that beverage at the top. What is it? Well, it's a vodka drink from a wonderful new book called Vodka Distilled by Tony Abou-Garmin. The recipe for this delicacy will appear in the very next post. I promise.
This post is about the picture. How did I get that great and oh-so-tight depth of field? How is it arranged so delightfully?
It could be done two ways.
First, I could have gone to my camera store and bought a terrific lens for my Canon T2i. I may do that someday. Of course, there are lots of lens choices there and you want to try them all and if you really, really purchased them all, your bank account would be very low. We are talking hundreds to thousands of dollars. And, how often will you actually use one or more of these special lenses?
Second, you can do it with the brilliant — and I mean this — software program called FocalPoint 2, part of the Perfect Photo Suite 7 from onOne Software. onOne specializes in software for digital photography. You think everything you want is in Photoshop? No, digital photography has infinite dimension and the onOne Perfect Photo Suite takes you down some wonderful paths. Perfect Photo Suite has high end tools for black-and-white, portraits, special effects and masking, resizing [too often a maddening task], and then FocalPoint 2.
FocalPoint 2 offers powerful tools to craft artistic blurring and to control depth of field for that critical "fuzziness" that we all crave now if food shots. With FocalPoint 2, you have the ability to take your digital image and process it as if you had used a very expensive high end lens. In this case, the photo of the drink has been edited as if I had used a very fast lens with very wide aperture. And a depth of field just about one ice cube wide.
The effect here is clearly dramatic and I believe successful. It catches your eye and your attention. You stop to look. And in our world that is the goal: getting people to stop, look, and perhaps read on.
You can download a trial of Perfect Photo Suite 7 and play with all the components and features. It is play, I know. The piece I have used here, Focal Point 2, is very fast. It could be complicated with many features, but the onOne team has built a "Photoshop" like user interface that will familiar to use if you have used other photography programs, like Photoshop or Photoshop Elements. The interface is clean and intuitive. And certainly inviting. There was a long list of simulated lenses for me to play with in FocalPoint. Using all those alternative lenses, and the blurring features, is amazingly fast and easy. By the time I was done with playing, the only difficulty was deciding which picture to use here.
What is not hard is to recommend this software for foodies. If you want to get the message across, and you want that message to have both power and beauty, then the products from onOne software are due your consideration.