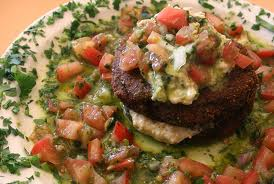 "We need to do it," I said.
"Leave Manhattan?" Suzen was concerned.
"Yes," I said and waved the car keys.
Like many New Yorkers, we tend to stay far too close to our local neighborhood and miss the treasures in other parts of the city. We live, work, and stay in Lower Manhattan. Yesterday we ventured to Brooklyn for three reasons.
First, we visited Ann Nurse, a culinary deity who has mentored and mothered Suzen for years. Ann is lovely at slightly beyond 65, and loves to talk about food, people, and places. She treated us to a copy of James Peterson's new book, Kitchen Simple, which we'll blog soon.
Second, Suzen needed olive oil. Gallons and gallons of good oil. A mile from Ann is D. Coluccio and Sons, an Italian market and importer of exceptional quality. It's worth the visit to the Sunset Park store just to walk in and smell the cheese. If you close your eyes, you'll be convinced that you have flown to Rome. It's a wonderful store with shelves overflowing with pasta, sauces, condiments, and treats that can be on so hard to find.
Ah, they carry olive oils. With our ten, yes ten, gallons of oil packed in our car, we asked Louie Coluccio where to go to eat. We expected directions to one of the hidden Italian eateries scattered across the borough. We were surprised. Our directions were to a Middle Eastern restaurant we had certainly heard about but never explored: Tanoreen located in Bay Ridge, as lovely a community as you could hope to find. There are side streets filled with lovely homes and apartment buildings solidly standing with brick and stone walls. And there is 3rd Avenue with an awesome array of eating establishments that stand toe-to-toe with Manhattan.
On 75th Street and 3rd is the new version of Tanoreen. Owner Rawai Bishara has expanded to a beautiful new space filled with color, wonderful scents, and a hungry crowd ready to taste Middle Eastern cuisine raised to a superior level. There is a simple way to describe the food here: classy. The names may be the ones you know from local "food stands" — for example falafel. But here at Tanoreen, only the name is the same. The care, the execution, the quality of ingredients, and the perfect cooking give new dimensions to all the dishes. Oh, and the presentation. That picture above shows a typical Tandoreen plate and is a metaphor for the food experience. That circle of parsley is the gateway to dishes that are abundant in flavors, scents, and textures.
The nightly list of specials is almost as long as the regular menu. I had pea-sized handmade pasta balls paired with chicken, onions and pearl cous cous in a broth you wanted to swim in. The pasta and chicken had been cooked to the perfect minute, then plated and rushed to my table with steam still rising. Suzen had shredded lamb mixed with yogurt and vegetables. It was tangy, yet subtle, the kind of comfort food you could not stop eating. Fortunately, the servings are gargantuan. We left with two bags of leftovers to enjoy for today's lunch. It's 11:20 as I write this. Lunch will be at 11:25.
The staff at Tandoreen is intelligent, helpful and gracious. If it is your first experience with Middle Eastern food, they will carefully guide you to a delicious start. If you are an experienced foodie, there is always more to learn and experience. At Tandoreen, they can take you for an extended, exceptional  journey.
"You are just negative about everything." Suzen was vehement and her hands were on her hips, a bad sign.
"I am not, Suzen," I responded. "I simply report on the world as it is."
"And for you it always half empty."
'Not true," I kept my demeanor, "I accept that the glass if half full. But," I gestured, "that water in there is probably contaminated. Although to find out the truth you'd have to trust the water testing lab and we know how problematic that is." Now, that is a fact.
"Thank you for proving my point." She did not smirk exactly, but I was not happy with how this exchange ended.
I am not a negative guy. And I try to make the posts here positive and funny. But sometimes, sometimes an experience is not just bad, it is silly bad. And then, to spare you a bad experience, I have to comment.
In the press recently, a new Village bakery was noted: Mille-feuille, a French patisserie at Laguardia and 3rd. I put the name and address into my "When You Have Time" spreadsheet in Excel, and I decided that today would be the day. Roughly translated, mille-feuille means a thousand layers. It's a Napoleon, wonderful layer upon layer of delicate pasty with decadent pastry cream topped with a hard sugar glaze. I like Napoleons.
Well, my day began at 3:45. I won't give you the details, but my shrink says not to lie and bed and just think about what is bothering me. Get up, do something, and hopefully collapse before dawn. I did not collapse. At 8:45, after five hours of very productive work, I left for Mille-feuille which opens at 7AM.
I went in expectation of coffee, sugar, and pastry. A well balanced breakfast that would power me through the day.
"One mille-feuille," I requested.
"Oh, we never have them until after 10 or 11," came the response.
I guess the name of the shop had been shortened. The original name must have been "Eventually We'll Have The Napoleons." I settled for a cappuccino and two macaroons. The coffee was fine, one macaroons was okay and one was not. Oh, they were making lunch. I watched them split some kind of roll and adorn it with a minute slice of cheese and one slice of ham so thin it seemed engineered by NASA.
If you are in that neighborhood early in the morning and need a balanced breakfast, then walk for ten minutes. At Spring and Broadway you will find Balthazar. Superior coffee. No better doughnuts in the city.