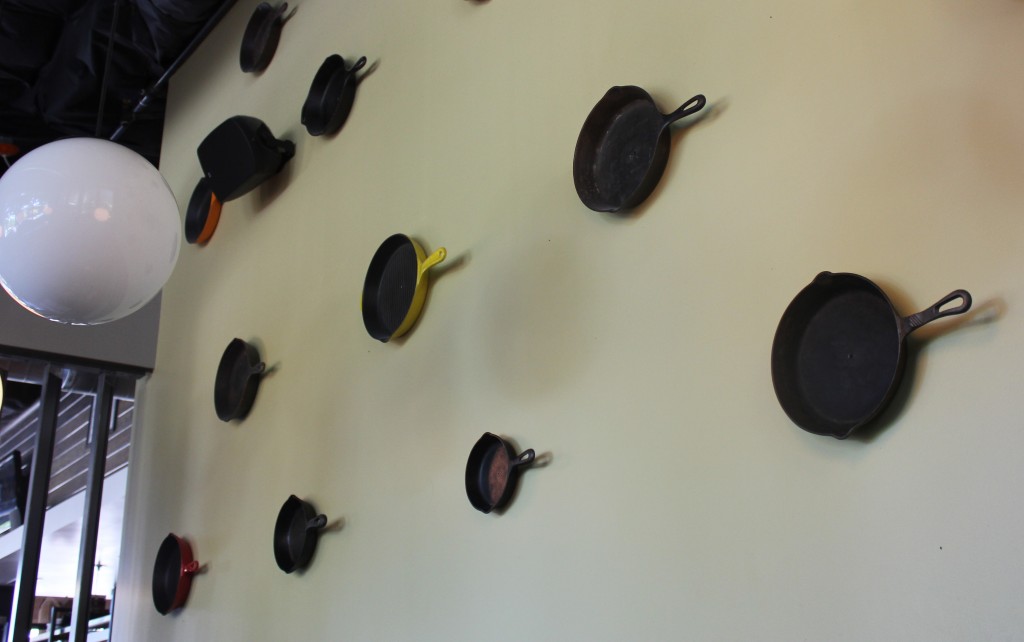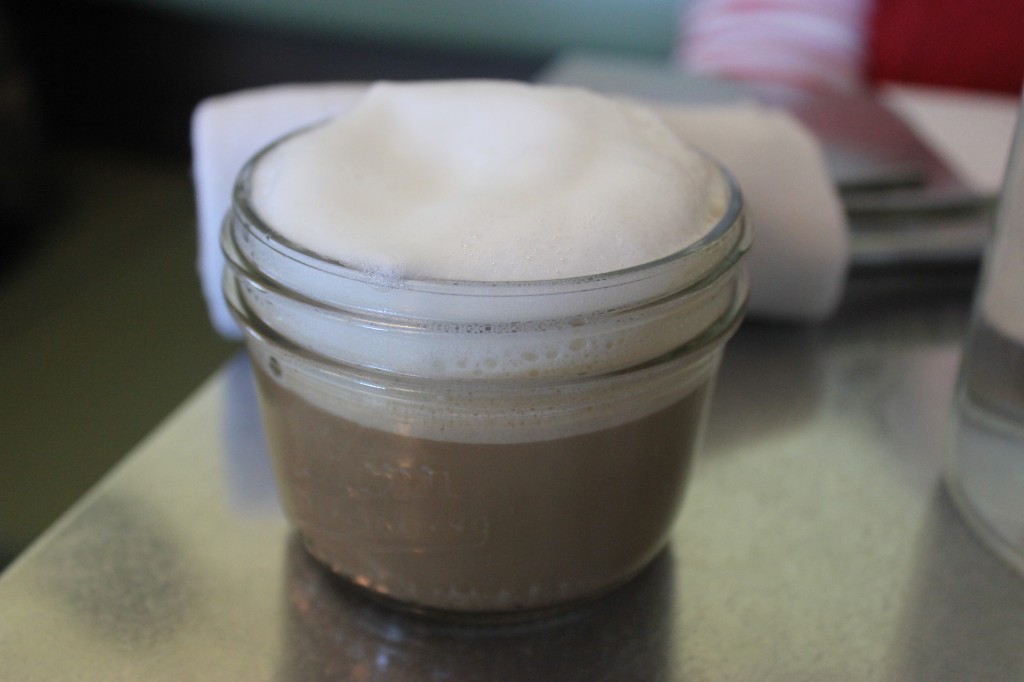 Those two pictures are from the Skillet Cafe and Bar in Seattle. If you are opening a new brick and mortar restaurant these days, your budget is probably on your mind. So at Skillet, they've done a couple of rather clever things.
First, for wall treatment, they've used skillets. Just hung up on the wall. It's a nice effect and if you look closely you'll see they are really, really secured to the wall. No need to worry about something crashing down on your eggs benedict.
Second, the china. They serve a great cappacino in a lovely glass jar. It's homey, pretty, and very cost effective.  For your home, it's an example of how you might customize a party spread. Using jars for beverages is not new, but have you ever done it? It's not that a fine wine glass is pretentious. But, it can set a certain asmosphere. Here, a jar of coffee is ideal for a homemade pie or cake dessert. Or, that jar can be filled with lemonade or topped off from a punch bowl that is moderately alcoholic.
Look for distinctive ideas in your basement or garage. Those old skillets you never use. Put them on the wall. Make a statement. And create atmosphere.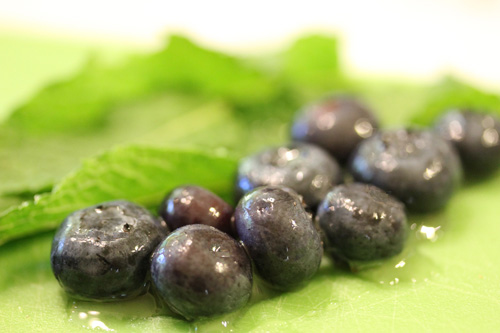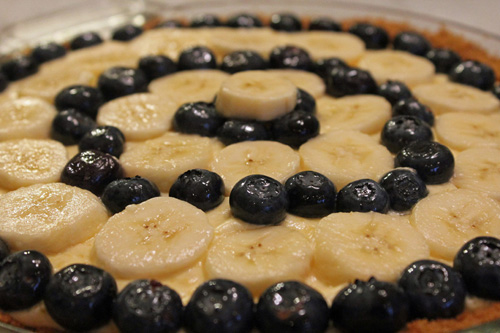 I love blueberries. They are not sweet enough but that can be remedied. And, as a side benefit, they can be made to look oh so beautiful. And, as a side side benefit, you can make double use of the flavors.
There is one issue with blueberries that can cause pause. It's how they look. See that pie above, and those sparkling blueberries? Well, they don't come out of the box like that. The raw blueberry can have a flat dry look that is a bit unappealing. You want them to twinkle. And you may want them sweeter, too.
How to do that? Soak them in a sugar syrup! For a pint of berries, put one cup of sugar and one half cup of water in a saucepan. On low heat, stir to dissolve the sugar, then raise the heat to medium-high and bring to a boil. Turn off the heat, and let the syrup cool slightly. You want it very warm, but not uncomfortable to your finger.
Now, add the berries, and stir them to ensure they are all covered. Let sit for an hour. Then remove the berries with a slotted spoon, allowing the syrup to drain back into the saucepan. You want to save that syrup!
Put the berries on a piece of parchment paper or foil, and allow the syrup to set up. Depending on humidity and temperature, that can take a bit of time. Alternatively, you can put the berries into the freezer, than remove them when ready to use. That's how those berries sitting on mint leaves were treated in the other picture.
And they syrup? Well, you now have berry flavored syrup. Find your blender. Add one banana, a pint of blackberries, a healthy dose of your blueberry syrup, and a handful of ice. Blend until smooth. Drink, enjoy and consider how to use your new sparkling blueberries.