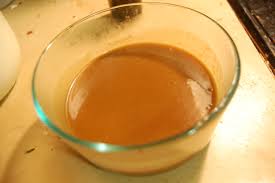 Last year, for the 4th, I suggested a Butterscotch Roll-up Cake. The cake was rolled in a combination of whipped cream and rich butterscotch sauce that had been folded into one diabetic dream. Butterscotch is a variant of caramel and, when well made, is outrageously satisfying. Just a tad can make all the difference to a dessert.
This year, I project we go more healthy. Here's the recipe just for the sauce which is lovely on ice cream. Look for a deeply rich French vanilla that can mate with the butterscotch and not be overwhelmed.
I have always presumed that butterscotch had to an ancient treat devised by Scottish clans to deal with those nasty winters or invaders from England. Not true. Perhaps because it uses what would have been pricey ingredients — butter and brown sugar — it is recent, first appearing in the literature only in 1848. And then it was described as "Doncaster Butterscotch" from the town of Doncaster right smack in the middle of England. The "scotch" part may come from an old verb "to cut or to score." Nothing to do with geography. Here the recipe is designed, not for cutting, but for pouring.
Although, I am told that a desperate man, with a full set of lungs, can use a straw and not a spoon.
Butterscotch Sauce
Yield: ~2 cups
Ingredients:
1/3 cup [3 ounces] salted butter
1 cup firmly packed dark brown sugar
1 cup heavy cream
1 tablespoon whisky
1 ½ teaspoons pure vanilla extract
½ teaspoon fine sea salt
Preparation:
Melt the butter over medium heat in a large heavy-bottomed sauce pan. Dump in the brown sugar all at once and stir with a wooden spoon to combine. Cook, stirring frequently, until the mixture begins to simmer and changes from a wet sand consistency to a liquid that fives off a lovely molasses smell and looks like taffy, approximately 3 minutes from the time it comes to a simmer. Drizzle ¼ cup of the cream into the mixture and vigorously blend the cram into the sugar and whisk in the remaining cream. Turn the heat up to medium-high and allow the sauce to boil, whisking occasionally, until it has darkened, about 8 minutes. Remove the pot from the heat and allow the sauce to cool for a few minutes before adding the whisky, vanilla, and salt. Refrigerate until cold.
Source: Vintage Cakes by Julie Richardson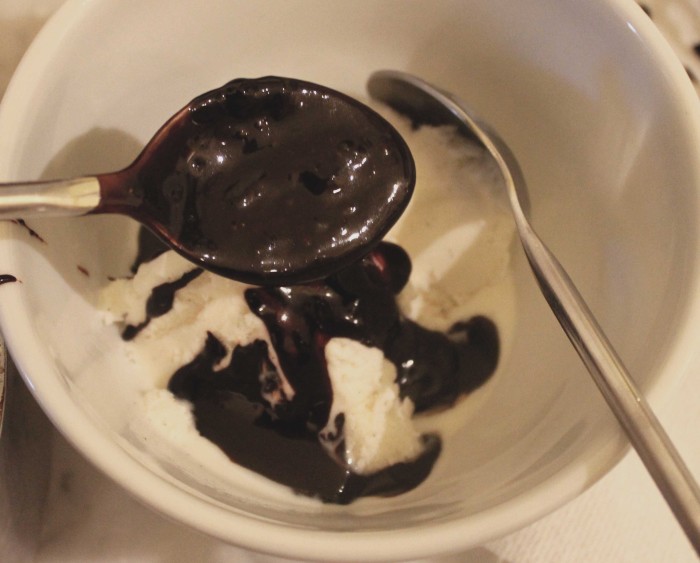 "It tastes funny." That was my grandson Daniel commenting on last week's Malted Milk Chocolate Sauce.
Being a grandfather, when the grandson is thirteen and as tall as I am, requires care. Better not to try to bluff it out, I concluded.
"It has malt, Daniel. Do you know what malt is?"
"Yes, it's something that tastes funny."
"I think the flavor is delicious, Daniel. Try more."
"No."
It's pretty hard to convince the kid. He's stubborn. And, as I mentioned, he's tall.
So, more discretion. Another recipe. This one, for Fudge Topping, has chocolate and cocoa powder. No malt. There is, by the way, some concern about malt having traces of gluten, so if you need a gluten free topping, this is the one to make.
This sauce is easy to make: five minutes plus some cooling time. That can be tricky with thirteen-year olds. The taste is immediately chocolate with lots of those husky overtones that rich cocoa engenders. There is plenty of cocoa in this recipe so the color is as deep as the flavor.
In the picture above, yes, I have some little imperfectly melted chocolate chips. My mistake and when I reheat this batch they will disappear. The recipe calls for 3 ounces of bittersweet chocolate, coarsely chopped. Thing is, you are adding both that chocolate — chips in my case — and cocoa powder to a liquid that was boiling but is now off the heat. The temperature drops very quickly and, as in my case, melting can be imperfect.
I pointed out the lingering chip fragments to my grandson.
"Tastes fine to me, Gramps," he said.
Lovely child.
---
Fudge Topping

Yield: serves 8 people

Ingredients:

¾ cup granulated sugar
½ cup water
⅓ cup light corn syrup
¾ cup unsweetened cocoa powder
3 ounces bittersweet chocolate, coarsely chopped
1 teaspoon vanilla
Preparation:
In a medium saucepan, combine the sugar, water, and corn syrup and bring to a boil over medium heat. Boil for 1 minute, then removed from the heat and stir in the cocoa powder, chocolate, and vanilla. Cover and let stand until the chocolate has melted. Serve warm.
Source: The Beekman 1802 Heirloom Dessert Cookbook by Brent Ridge and Josh Kilmer-Purcell
Photo Information Canon T2i, EFS 60 mm Macro Lens, F/4 for 1/40th second at ISO‑2500