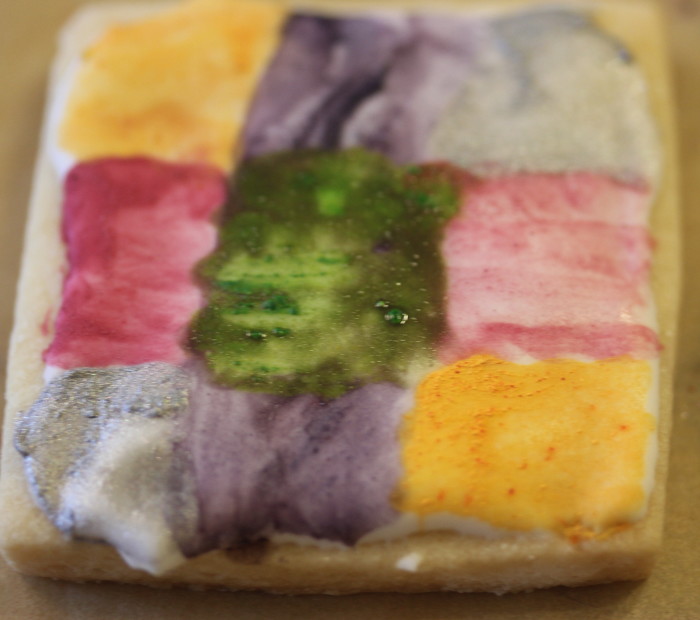 The December issue of Bon Appetit has a holiday cookie idea that you must try. Even if your father is the Grinch, even if you have never had a tree, one look and these cookies are surely in your future.
The colors here come from Luster Dust, a product available from several manufacturers and in many, many colors. Just google and you'll see.
There are three steps to these cookies:
[1]   Make a batch of sugar cookies
[2]   Frost with royal icing
[3]   Paint away with joy
For step one, the sugar cookies need to come from your own personal, favorite recipe.
Here's the Royal Icing:
Royal Icing
Yield: 2 cups
Ingredients:
3 ½ cups powdered sugar
2 egg whites
Water
Preparation:
Place the sugar and egg whites in mixer bowl. Beat on medium-high speed until white, thickened and roughly tripled in volume, about 5 minute. Now, if necessary, add water by the tablespoonful until the icing no longer holds a peak.
To decorate the cookies, follow these steps. Using a pastry bag with a small plain tip, pipe a thin border of royal icing just inside each cookie's edge. Fill in with royal icing, using an offset spatula. Actually, Suzen and I found the piping hard to do and just put a dollop of royal icing in the middle of each cookie. Then we gently worked from that center, gradually extending the royal icing out to the edge. Allow the icing to completely dry. We chose to let the cookies sit overnight.
Follow the directions on your Luster Dust package: typically a little dust mixed with a few drops of lemon extract. You may, to avoid the lemon flavor affecting your cookie, use color free vanilla. Mix several dishes of multiple color. Now, do whatever you want. Absolutely whatever.
Because these gems are sure to be consumed, take pictures. You'll never see the same cookie twice.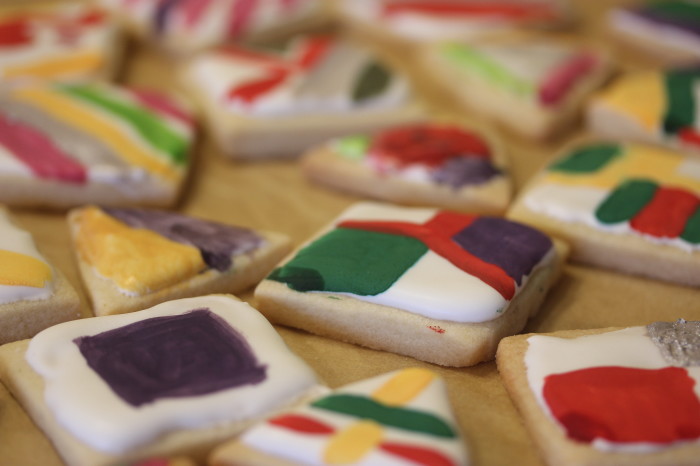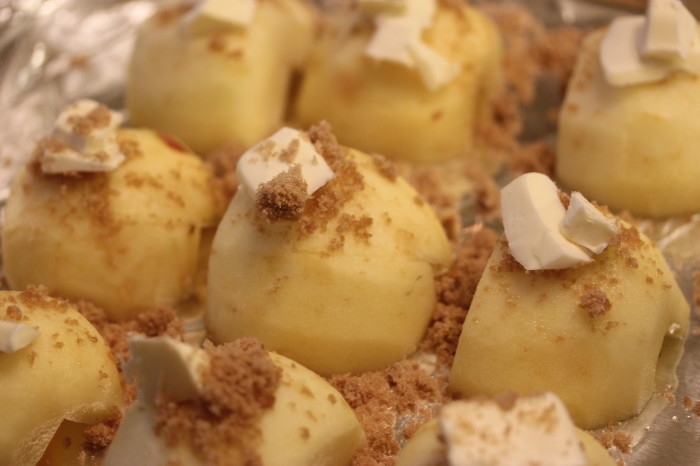 A fool is an English fruit dessert, typically berries in sweet custard [is there any other?]. Levi Roots in his new book Sweets offers a fall fool with a very different aspect. The berries are gone. The apples are in. Along with maple syrup.
Levi lives in Britain and grew up in Jamaica. He's created an all-American dish. The fool is soft, velvety and surely decadent. It does not photograph well, which is why I've shown the starting point above: the apple halves ready to be baked with butter and sugar.
You can, of course, make alterations like mad here. Add spices to the apples [cinnamon, nutmeg, …]. You add more or less booze and switch from rum to brandy or calvados or … You have idea. Now all you need are apples!
Roast Apple, Rum and Maple Fool
Yield: serves 8
Ingredients:
1 ¾ pounds cooking apples
2 ounces soft light brown sugar
1 ounce unsalted butter
9 fluid ounces whipping cream
7 ounces custard [crème anglaise]
3 tablespoons maple syrup, plus extra for drizzling
2 ½ tablespoons white or dark rum
Dried apple slices to serve
Preparation:
Preheat the oven to 400°F. Peel, core and halve the apples, then arrange them in a roasting pan lined with foil. Sprinkle over the sugar and dot with the butter. Bake for 30-40 minutes, or until the apples are completely soft.
Transfer the apples and any juice they released to a bowl and mash them using a fork.
Whip the cream to soft peaks.
Carefully fold the apple pulp, custard, maple syrup and rum into the whipped cream. Chill in the refrigerator until ready to serve.
To serve, spoon the fool into 8 serving bowl or glasses, drizzle with maple syrup and top with dried apple slices.
Source: Sweets by Levi Roots
Photo Information: Canon T2i, 18-55MM Macro Lens, F/2.8, 1/100 second, ISO 640