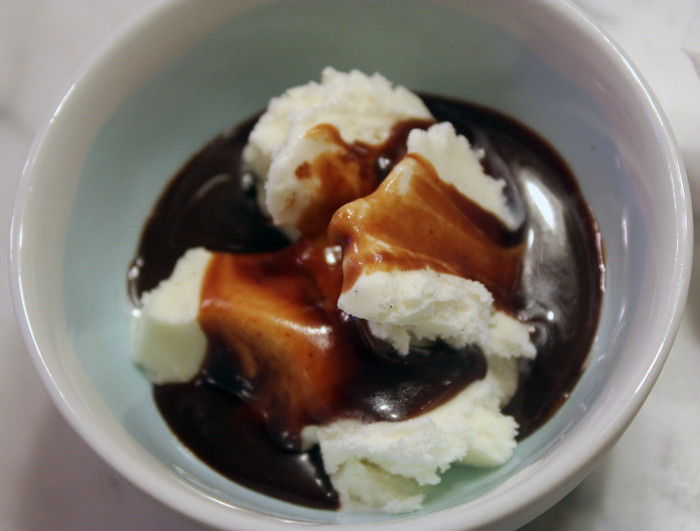 Early in the 1900s, in Switzerland some people made a product from egg [Latin ovum] and malt. They called it Ovomaltine and you mixed it with milk and drank it. When the product was exported in 1909 to Great Britain, someone made a spelling mistake on the trademark registration. Thus was born Ovaltine.
The beverage quickly spread to the United States and was heavily marketed to kids before and just after World War II. The US children's radio series Little Orphan Annie (1931–1940) and Captain Midnight (1938–1949), and the subsequent Captain Midnight TV series (1954–1956), were sponsored by Ovaltine. Every kitchen had a container of one of the Ovaltine products [some with cocoa and malt, some only with malt, some only with cocoa]. The popularity spawned great factories for manufacturing the product. Today, some of those factories survive and are still in production, some are legacy buildings beloved for their architecture and converted into apartment buildings, some demolished for super highways.
While it's popularity is past its peak, Ovaltine is still on store shelves and still well enjoyed. Chefs and cookbook authors, in search of old-fashioned malt flavor, are now incorporating Ovaltine into all sorts of recipes. With the 4th of July holiday approaching, with the chance you'll have a cake or ice cream on the table, here's an old fashioned malted milk chocolate sauce that you can put to multiple use.
From the cookbook and Brooklyn milestone Bakery Baked, this is a riff on the classic thick hot fudge sauce you may have grown up on. The folks at Baked have added that very chocolate malt to achieve an old-fashioned toasty flavor and increased richness over "normal fudge sauce." [Is there such a thing?]. The sauce is ideal, of course, for ice cream but you can top pies or pound cakes with it. Yes, pecan pie with chocolate sauce is fervently allowed on holidays. Or, or, add a tablespoon of the sauce to a glass of Coke or Pepsi for a "chocolate coke" that will be memorable. [Not to be done after 10 PM, please; we are not responsible for any induced insomnia].
Lastly, some malted things taste like malt, which would be a bad thing with ice cream. This sauce tastes like chocolate with just some background tones that you would have to be a tasting expert to identify. The sauce has body and flows richly in your mouth.
In short, you'll like this.
Malted Milk Chocolate Sauce

Yield: 2 cups

Ingredients:

2/3 cups heavy cream
½ cup light corn syrup
¼ cup chocolate malt Ovaltine
¼ cup firmly packed light brown sugar
¼ teaspoon salt
6 ounces good-quality milk chocolate, coarsely chopped
2 tablespoons unsalted butter
1 teaspoon pure vanilla extract
Preparation:

In a large saucepan, bring the cream, corn syrup, Ovaltine, brown sugar, salt, and 4 ounces of the chocolate to a boil over medium heat. Stir until smooth and the chocolate has melted. Reduce the heat to maintain a simmer and, stirring very slowly, cook for 5 minutes.
Removed from the heat and stir in the butter, vanilla, and the remaining 2 ounces chocolate. Let sauce cool for 5 to 10 minutes before serving.
To store, cool the sauce completely and refrigerate in an airtight container for up to 5 days. Reheat in a microwave or over low heat on the stovetop.
Source: Baked [New Frontiers in Baking] by Matt Lewis and Renato Poliafito and Wikipedia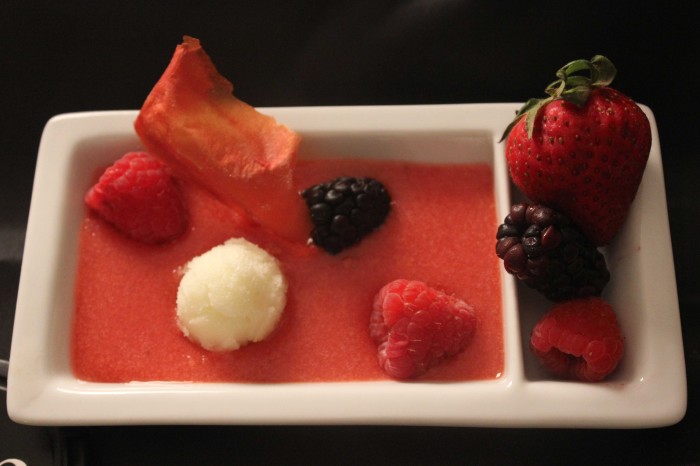 This is Suzen's and my first attempt at making a plated dessert from Payard Desserts by Francois Payard with Tish Boyle.
It's a sweet success, visually and to the palate. What is a plated dessert? It's one of those complicated, multi-part desserts that you get at a restaurant but could never make for yourself at home. Except now you can thanks to Payard Desserts.
Three parts are used to compose the complete dessert:
· Yellow Tomato Sorbet
· Red Berry and Tomato Gazpacho
· Tomato Chips
The tomato chip was blogged a couple of days ago, but the recipe is repeated here for your convenience.
The base for this dish is the gazpacho, which has a deep berry flavor. This is a dessert, supposedly, but you can confidently serve this dish as a first course. The Yellow Tomato Sorbet is an addition for color and contrast: the sorbet is sour despite some sugar content, while the berry-laden gazpacho is sweet. The berry flavors do dominate the tomatoes, although the balance is sure to shift every time you make this dish depending on the relative sweetness of the berries and tomatoes. And those tomato chips are for visual amusement, not really for taste.
Here are the recipes for the three parts of this dish, and the final instructions for assembly.
Oh, technically, tomatoes are a fruit, not a veggie. So, a salad with tomato is really a dessert which is why, I suspect, the French often finish a meal with salad/dessert.
Yellow Tomato Sorbet

Yield: 6 cups

Ingredients:

1 cup plus 1 tablespoon granulated sugar
1 teaspoon sorbet stabilizer [or substitute corn syrup]

1 ¾ cups water

4 cups yellow tomato puree [4 cups of small yellow tomatoes processed in a blender or Vitamix is fine]

2 ta

blespoons plus 1 teaspoon simple syrup
Preparation:

In a small bowl, combine ½ cup of the sugar with the stabilizer or corn syrup. In a small saucepan, combine the remaining ½ cup plus 1 tablespoon sugar with the water and place over medium-high heat. Gradually whisk in the sugar and corn syrup mixture and bring to a boil. Remove from the heat the let cool.
In a medium bowl, combine the saucepan contents, the tomato puree and the simple syrup. Cover and refrigerate for at least 4 hours.
Process the base in an ice cream machine according to the manufacturer's instructions. Transfer the sorbet to an airtight container and freeze until ready to serve.
Tomato Chips



Yield: lots, depending on how you skin the tomatoes

Ingredients:

6 medium ripe tomatoes
Confectioners' sugar for dusting
Preparation:

Preheat the oven to 175°F. Line a half-sheet pan with a silicone baking mat [parchment paper does NOT work well]. Fill a bowl halfway with ice water.
Using a paring knife, make a small X at the bottom end of each tomato. Bring a large pot half full of water to a rolling boil over high heat and immerse the tomatoes in the boiling water for about 30 seconds. Remove them with a slotted spoon and immediately plunge the tomatoes into the ice water. The skins should start to come off the tomatoes.
Remove the skins with your fingers [try to remove them in one piece]. Pat the skins dry with paper towels. Reserve the skinned tomatoes for other use [as in gazpacho].
Arrange the skins on the prepared sheet pan and dust them with confectioners' sugar. Bake for 1 to 2 hours, until dry. The skins will crisp up they cool. Store in an airtight container until ready to serve.
Red Berry and Tomato Gazpacho



Yield: ~ six cups, enough for 9+ people as a dessert, perhaps 9 as a first course

Ingredients:

6 skinned tomatoes [reserved from the Tomato Chips above]
2 ¼ cups fresh strawberries
2 ¼ cups fresh raspberries
¼ cup plus 1 tablespoon granulated sugar
Juice of 1 lemon
Splash of Tabasco sauce [or hot sauce of your choice]
Preparation:

Cut the tomatoes into quarters and, using your fingers, remove and discard the seeds. Process the berries and tomatoes together in a food processor, working in batches, if necessary. Pass the mixture through a fine-mesh sieve into a medium bowl and stir in the sugar, lemon juice, and Tabasco. Cover and refrigerate until ready to serve.
Final Dish Assembly

Spoon the gazpacho mixture into the serving dish of your choice. Garnish as you desire with berries, either whole or sliced. Place a small scoop of the Yellow Tomato Sorbet into the gazpacho. Station a Tomato Chip at some visually important spot.
Source: Payard Desserts by Francois Payard with Tish Boyle

Photo Information Canon T2i, EFS 60 mm Macro Lens, F/5.6 for 1/50th second at ISO‑2500