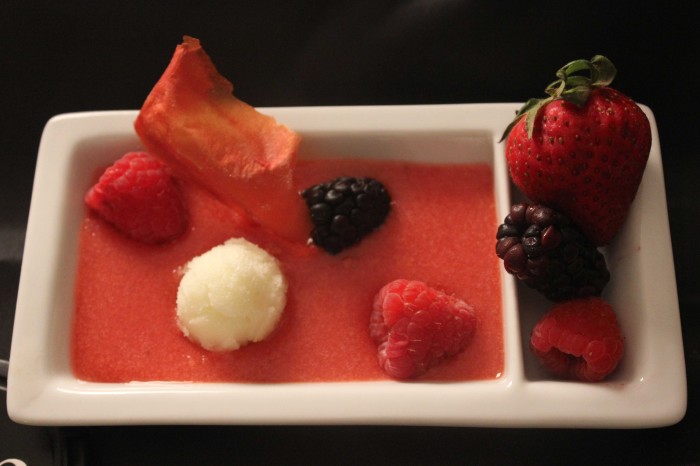 This is Suzen's and my first attempt at making a plated dessert from Payard Desserts by Francois Payard with Tish Boyle.
It's a sweet success, visually and to the palate. What is a plated dessert? It's one of those complicated, multi-part desserts that you get at a restaurant but could never make for yourself at home. Except now you can thanks to Payard Desserts.
Three parts are used to compose the complete dessert:
· Yellow Tomato Sorbet
· Red Berry and Tomato Gazpacho
· Tomato Chips
The tomato chip was blogged a couple of days ago, but the recipe is repeated here for your convenience.
The base for this dish is the gazpacho, which has a deep berry flavor. This is a dessert, supposedly, but you can confidently serve this dish as a first course. The Yellow Tomato Sorbet is an addition for color and contrast: the sorbet is sour despite some sugar content, while the berry-laden gazpacho is sweet. The berry flavors do dominate the tomatoes, although the balance is sure to shift every time you make this dish depending on the relative sweetness of the berries and tomatoes. And those tomato chips are for visual amusement, not really for taste.
Here are the recipes for the three parts of this dish, and the final instructions for assembly.
Oh, technically, tomatoes are a fruit, not a veggie. So, a salad with tomato is really a dessert which is why, I suspect, the French often finish a meal with salad/dessert.
Yellow Tomato Sorbet

Yield: 6 cups

Ingredients:

1 cup plus 1 tablespoon granulated sugar
1 teaspoon sorbet stabilizer [or substitute corn syrup]

1 ¾ cups water

4 cups yellow tomato puree [4 cups of small yellow tomatoes processed in a blender or Vitamix is fine]

2 ta

blespoons plus 1 teaspoon simple syrup
Preparation:

In a small bowl, combine ½ cup of the sugar with the stabilizer or corn syrup. In a small saucepan, combine the remaining ½ cup plus 1 tablespoon sugar with the water and place over medium-high heat. Gradually whisk in the sugar and corn syrup mixture and bring to a boil. Remove from the heat the let cool.
In a medium bowl, combine the saucepan contents, the tomato puree and the simple syrup. Cover and refrigerate for at least 4 hours.
Process the base in an ice cream machine according to the manufacturer's instructions. Transfer the sorbet to an airtight container and freeze until ready to serve.
Tomato Chips



Yield: lots, depending on how you skin the tomatoes

Ingredients:

6 medium ripe tomatoes
Confectioners' sugar for dusting
Preparation:

Preheat the oven to 175°F. Line a half-sheet pan with a silicone baking mat [parchment paper does NOT work well]. Fill a bowl halfway with ice water.
Using a paring knife, make a small X at the bottom end of each tomato. Bring a large pot half full of water to a rolling boil over high heat and immerse the tomatoes in the boiling water for about 30 seconds. Remove them with a slotted spoon and immediately plunge the tomatoes into the ice water. The skins should start to come off the tomatoes.
Remove the skins with your fingers [try to remove them in one piece]. Pat the skins dry with paper towels. Reserve the skinned tomatoes for other use [as in gazpacho].
Arrange the skins on the prepared sheet pan and dust them with confectioners' sugar. Bake for 1 to 2 hours, until dry. The skins will crisp up they cool. Store in an airtight container until ready to serve.
Red Berry and Tomato Gazpacho



Yield: ~ six cups, enough for 9+ people as a dessert, perhaps 9 as a first course

Ingredients:

6 skinned tomatoes [reserved from the Tomato Chips above]
2 ¼ cups fresh strawberries
2 ¼ cups fresh raspberries
¼ cup plus 1 tablespoon granulated sugar
Juice of 1 lemon
Splash of Tabasco sauce [or hot sauce of your choice]
Preparation:

Cut the tomatoes into quarters and, using your fingers, remove and discard the seeds. Process the berries and tomatoes together in a food processor, working in batches, if necessary. Pass the mixture through a fine-mesh sieve into a medium bowl and stir in the sugar, lemon juice, and Tabasco. Cover and refrigerate until ready to serve.
Final Dish Assembly

Spoon the gazpacho mixture into the serving dish of your choice. Garnish as you desire with berries, either whole or sliced. Place a small scoop of the Yellow Tomato Sorbet into the gazpacho. Station a Tomato Chip at some visually important spot.
Source: Payard Desserts by Francois Payard with Tish Boyle

Photo Information Canon T2i, EFS 60 mm Macro Lens, F/5.6 for 1/50th second at ISO‑2500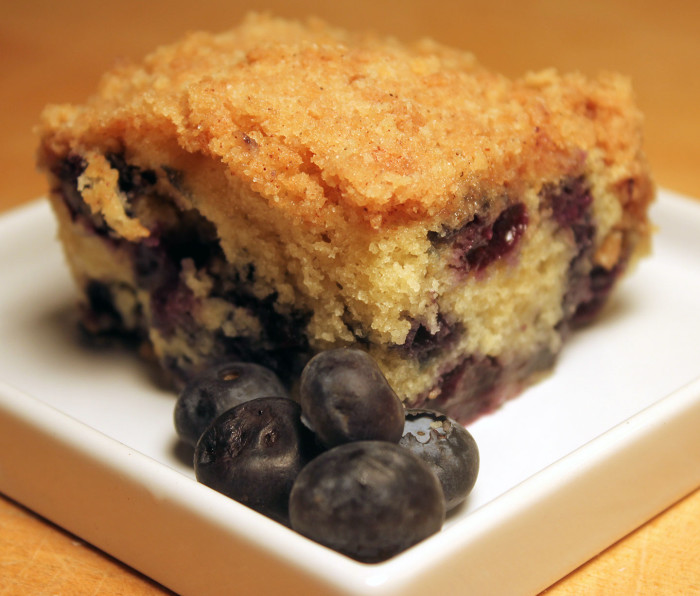 "What was that?" I asked Suzen.
My wife's head popped up. I ate a blueberry and added "I thought I saw something over there." I nodded towards the far end of the blueberry field, which ends in hills and forest. Home to bears.
"Don't go there," Suzen said. She claims I tease her too much. I just think I am toughening her up for real life encounters. Bears run at 30 MPH. It is not the claws or teeth that kill you. It's the impact. You have to, like a Boy Scout, be prepared.
"Probably nothing," I commented. I don't believe in explicit torture of my wife.
Suzen said something to me but this is a family blog. Let's just say it was terse and involved verbs and something I physically am incapable of undertaking.
As with many things.
We did return home with an abundance of blueberries and no bears or even official bear sightings [I did see a branch move out there so …]. Our berries were as fresh as possible and ready to use. I'd found this recipe for Blue Berry Crumb Cake in Michele Stuart's Perfect Pies and More. I admit my first instinct is just to make a pie when I open Michele's books. But the "… and More" book has an avalanche of dessert ideas that are non-pie.
This soft, rich cake with a dense crumb topping is one of those non-pie ideas sure to grab your attention. While designed around berries, Michele suggests you can bake away without any berries at all or, better, substitute your fresh fruit de jour. The operative word is "fresh." If you have ever tasted one of Michele's splendid baked goods, then you have seen the proof that nothing can surpass fresh ingredients.
This recipe is unusual in that it calls for salted butter. We used unsalted. And, when I tried to pour out the milk, it really proved to be past its prime. We substituted buttermilk, remembering to add ½ teaspoon of baking soda, a necessity when buttermilk is in the mix.
Our changes may have had modest changes in the texture of the cake, but our version was lovely. And we'll revisit this recipe during the summer, trying other fruits and having real, fresh milk on hand.
Blueberry Crumb Cake
Yield: enough for 12 pieces
Ingredients:
1 cup of Cinnamon Sugar Crumb Topping [see yesterday's post]
3 cups unbleached all-purpose flour
2 cups granulated sugar
1 teaspoon baking powder
½ pound [2 sticks] salted butter
2 eggs
¾ cup whole milk
1 teaspoon pure vanilla extract
3 cups blueberries, fresh or frozen [fresh is better!]
¼ cup confectioners' sugar, whipped cream or ice cream for topping [optional]
Preparation:
Preheat the oven to 350°F. Grease and flour a 9 X 13-inch baking dish and set aside.
To prepare the batter, in a medium bowl, combine the flour, granulated sugar, and baking powder. Use a pastry blender to blend the butter into the flour mixture until it forms pea-sized pieces. Remove 1 ½ cups of the flour mixture and add it to the cinnamon sugar crumb topping and toss well to fully combine.
Transfer the remaining flour mixture to the bowl of an electric mixer set on medium speed and add the eggs, milk, and vanilla. Mix until combined. Fold the blueberries into the cake batter. Spoon the cake batter into the prepared baking dish. Sprinkle the crumb topping over the batter.
To bake, place the baking dish on a baking sheet and place the sheet on the middle rack of the oven. Bake the cake for 45 to 50 minutes, or until a wooden toothpick inserted in the center of the cake comes out clean. Remove the baking dish from the oven and allow the cake to cool for at least 1 hour before serving.
To serve, dust the top of the cake with sifted confectioners' sugar. Or no sugar. Or whipped cream or ice cream.
The cake can be stored at room temperature for up to 2 days when tightly wrapped with plastic wrap.
Sources: Perfect Pies and More by Michele Stuart
Photo Information: Canon T2i, EFS 60 mm Macro Lens, F/5.6 for 1/60th second at ISO-200