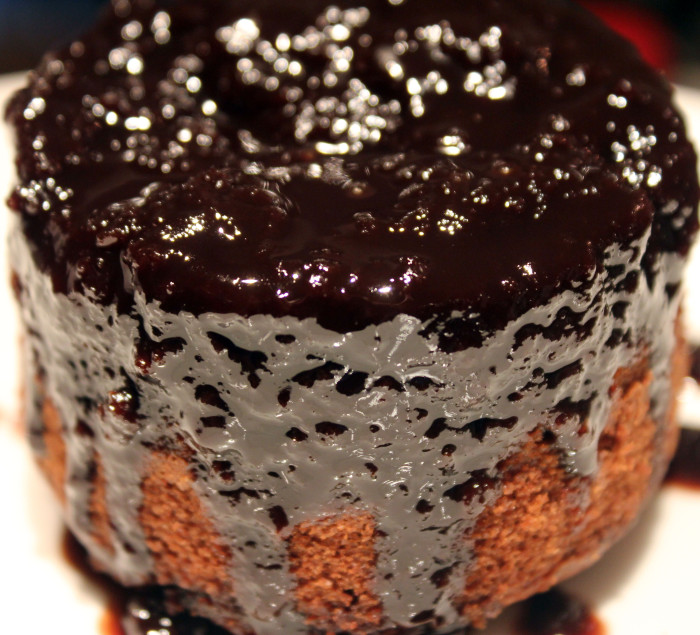 How many times have you have Chocolate Molten Cake? A lot? Too much? Over it?
Lie down on couch. Take your shoes off. Fold your hands. Shut your eyes. Go back, far in time, to a simpler time and space.
Take your best memories of chocolate cake and chocolate pudding and let them flow and merge and …
Time to wake up. Time to cook. Shoes on, please. Go directly to the kitchen. Search for the cocoa powder and everything else you need. I know, I sound bossy here. I know, too, that later you will thank me.
This is better than those molten exotics: rich, dense and satisfying as only chocolate — actually cocoa — can be. Suzen has served dozens and dozens of these desserts this summer at Cooking by the Book. I never ever tire of getting my own private little dessert at the end of the meal. It may be small, only the size of one ramekin, but it's mine, all mine.
Make yours. Then find a couch, lie down. Kick those shoes off. Again. Close your eyes. Again. Take one deep spoonful.
Okay, it may not be a life changing event. But's a great treat.
---
Warm Chocolate Pudding Cake

Yield: serves 4
Ingredients:
For the chocolate sauce:

1 cup boiling water
¼ cup unsweetened cocoa powder
2 ½ cups soft brown sugar
For the chocolate pudding cake:

1 cup all-purpose flour
A pinch of salt
2 teaspoons baking powder
⅓ cup unsweetened cocoa powder
1 cup whole milk
5 tablespoons unsalted butter, melted
½ cup plus 1 tablespoon sugar
2 large eggs
1 tsp real vanilla extract
For serving: Crème fraiche, mascarpone cheese, or vanilla ice cream
Preparation:

Preheat the oven to 350°F. Grease four 5-oz. ramekins.
First make the chocolate sauce. Pour a scant cup boiling water into a small saucepan, add the cocoa powder and brown sugar, and lightly whisk over a low heat making sure that there are no lumps and the sugar has dissolved. Transfer the batter to a jug.
To make the puddings, sift the flour with the salt, baking powder, and cocoa powder into a large bowl. Whisk in the milk, melted butter, sugar, eggs, and vanilla extract until a thick, smooth batter forms. Transfer the batter to a jug, then pour it into the ramekins so that the mixture comes halfway up the sides. Place the ramekins on a baking sheet.
Pour the chocolate sauce mixture carefully over the prepared puddings and bake in the preheated oven for 15- 20 minutes: they should still be wobbly in the center when they are ready.
If desired, top each pudding with a dollop of crème fraîche, mascarpone cheese, or a scoop of vanilla ice cream.
Source: No Fuss Dinners by Caroline Marson

Photo Information: Canon T2i, EFS 60mm Macro Lens, F/5 for1/60th second at ISO‑1000