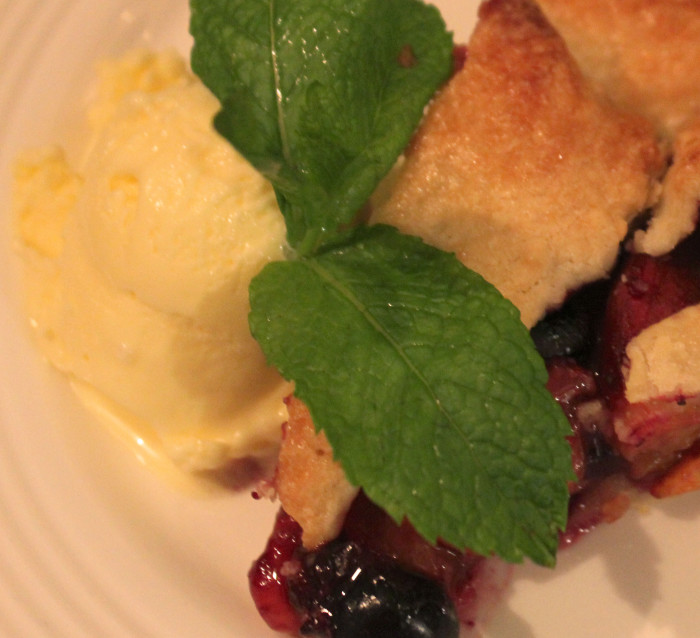 Yesterday's post for a Fresh Fruit Galette suggesting pairing your galette slice with ice cream. Buttermilk ice cream. Yes, that yellow object in the left of the picture is a very-hard-to-photograph portion of very-very-yellow buttermilk ice cream. Actually, you could call this Egg Yolk Ice Cream for the yellow color comes more from 8 egg yolks than a cup of buttermilk.
Thick and intense with a slightly sour flavor, this ice cream is the ideal foil to a sweet fruit dessert like galette. The ice cream base here is a classic custard in composition and flavor. If you want a little less tang, then you can modestly increase the amount of sugar — up to another ¼ cup. Or, when you are ready to use your ice cream machine on the chilled custard, you can provide some flavoring: vanilla, rum, … A little addition here goes a long way so you need to be a conservative bartender at this point. You are eating, not imbibing.
If you like this buttermilk flavor, then consider a buttermilk sundae. Add some sliced bananas, or even better, some bananas cooked in brown sugar, butter and rum. Top with caramel or a milk chocolate sauce.
---
Buttermilk Ice Cream

Yield: serves 6 to 8

Ingredients:

1 ½ cups whipping cream
8 large egg yolks
½ cup sugar
1 cup cold buttermilk
Preparation:

Bring whipping cream to a simmer in heavy medium saucepan. Whisk egg yolks and sugar in a medium bowl to blend. Gradually whisk hot cream into egg yolk mixture. Return mixture to the saucepan and stir over medium heat until custard thickens slightly, about 6 minutes (do not boil). Strain into a bowl. Stir in 1 cup cold buttermilk.
Refrigerate custard or place in an ice bath, stirring frequently, until cold. Process in the ice cream maker according to the manufacturer's instructions.
Source: Adapted from Bon Appetit Magazine, 2002

Photo Information: Canon T2i, EFS 60mm Macro Lens, F/4.5 for1/15th second at ISO‑3200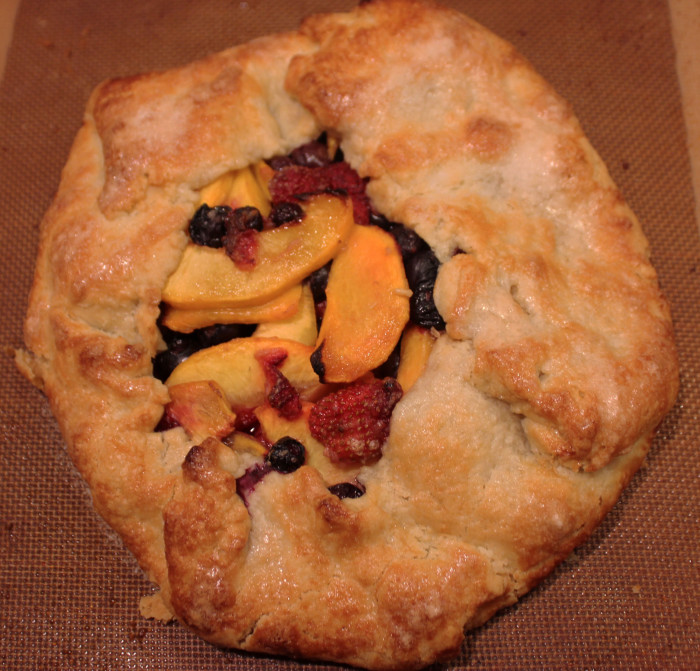 Galettes are one of the happiest recipes you can imagine. They are bursting with flavor, flavor that is obvious from that open face. Ah, the open face. So much, much easier to make a galette than a "perfect pie" crust. There is nothing wrong with being rustic, and there are in fact some benefits. You just cannot screw up a galette.
The ease of making the galette is now compounded with the advantages of a food processor. Galette dough can literally be spun up in just a few minutes.
And, there is the flexibility of galette ingredients. This recipe simply calls for two pounds of fruit. You are able to use the fruits de jour at your supermarket or, better, farmers market. You can mix and match, as the photo above shows, to create both visual appeal and flavor complexity.
Serving a galette can be as easy as slicing it up with a knife. Or, you can adorn that galette with whipped cream, crème fraiche, or ice cream. That whipped cream or crème fraiche can be amended to expand the flavor: try just a hint of calvados or rum. The ice cream flavor you use can be wonderful, standard vanilla. But walnut caramel or bourbon pecan would be intriguing. How about buttermilk ice cream? Look for a recipe in tomorrow's post!
Galettes can be consumed on their own, paired with espresso, or mated with a wine to extend the fruit flavors of your dessert.
The best thing about galettes? Never the same twice. Impossible to be bored.
---
Fresh Fruit Galette

Yield: serves 8

Ingredients:

2 cups plus 3 tablespoons all-purpose flour
4 tablespoons sugar
1 teaspoon salt
11 tablespoons (1 stick plus 3 tablespoons) cold unsalted butter, cut into ¼-inch pieces
¼ cup solid vegetable shortening
2 pounds Seasonal fruit cut into ½-inch-thick wedges
1 egg yolk beaten with 1 tablespoon milk
1 tablespoon coarse baker's sugar, or 1 tsp granulated sugar
Confectioners' sugar, optional
Preparation:
Place ¼ cup water in a measuring cup and add an ice cube; set aside. Combine the 2 cups flour, 2 tablespoons of the sugar, and the salt in the bowl of a food processor; pulse to blend. Gradually add the butter, pulsing to blend. Add the shortening and pulse just until the butter and shortening have formed fine crumbs and are evenly distributed. With the motor running, drizzle the iced water, 1 tablespoon at a time, through the feed tube, pulsing until the mixture is dampened and comes together easily. (You might not need all of the water.)
Turn the pastry out onto a piece of aluminum foil, and with floured hands gather it into a ball. Flatten it to form a disc shape, wrap it in foil, and refrigerate for 1 hour.
When you are ready to bake the galette, preheat the oven to 400°F. Lightly butter a large cookie sheet.
Combine the 3 tablespoons flour and the remaining 2 tablespoons sugar in a large bowl; stir to blend. Add the figs; toss lightly to coat them with the flour mixture.
Roll the chilled pastry out on a lightly floured pastry cloth, using a rolling pin covered with a lightly floured stocking, to form a round about 14 inches in diameter. Using the pastry cloth, carefully invert the pastry onto the cookie sheet.
Spoon the fig filling onto the center of the pastry, spreading it to 3 inches from the edges. Fold the edges of the pastry in and over the filling, leaving a portion of exposed fruit in the center. Lightly brush the pastry with the egg mixture, and sprinkle it lightly with the baker's sugar.
Bake for 15 minutes. Reduce the oven temperature to 350°F and bake until the crust is golden and the filling is hot and bubbly, 30 to 35 minutes. Place the cookie sheet on a wire rack and allow to cool for 20 minutes. Then slide the galette off the cookie sheet onto the wire rack to finish cooling.
If you did not use the baker's sugar, sprinkle sieved confectioners' sugar lightly over the galette just before serving.
Source: Fig Heaven by Marie Simmons

Photo Information: Canon T2i, EFS 60mm Macro Lens, F/3.5 for1/40th second at ISO‑250