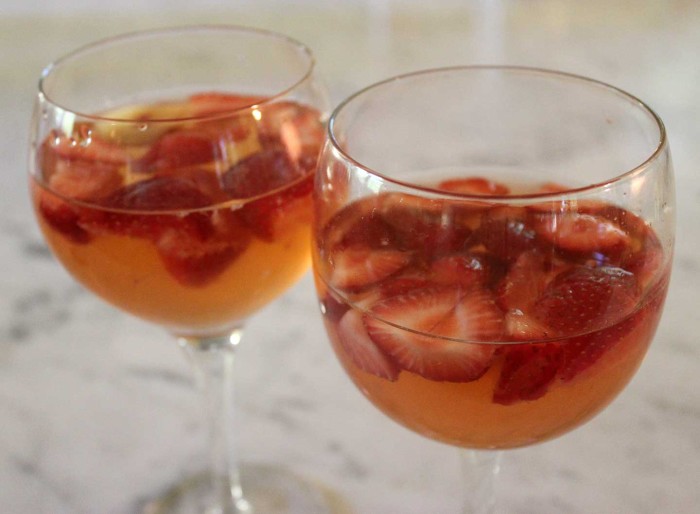 Officially, sangria is a common beverage from Spain and Portugal. The standard recipe consists of wine, chopped fruit, a sweetener, and brandy. The sweetener is most often a shot of sugar, although honey and orange juice can be employed. The brandy is traditional but in this new of age of extravagant liqueurs, just about anything goes. St-Germain elderflower liqueur is, for example, an interesting brandy substitute.
Thanks to the European Union, the term "sangria" can now appear on labels only for products made in either Spain or Portugal.
I do not intend to mass produce and label my Strawberry and Plum Sangria, so I think I am free from potential prosecution. And I'm assuming those little black things floating near the kitchen ceiling are just early mosquitos and not mini-drones sent in by the EU to check me out.
I remember seeing the movie 1984 and being scared out of my mind about the world to come. In retrospect, 1984 was a cakewalk. I think I can use that word. I don't think the EU has restricted its use yet but I probably should check. Check on everything.
This sangria is made with white wine, not red. Sangria fruits tend to be either citrus or berry or apple/melon/pear. I think that berries, particularly, strawberries are the easiest and fastest way to infuse flavor into sangria. Apple can take an eternity. Strawberries do have a strong single note of flavor. That is why I have added plums here. Plums have a more subtle flavor, almost an undertone that just mellows the high peaks of strawberry sensation.
Brian's Strawberry and Plum Sangria
Yield: serves 4
Ingredients:
1 pint of fresh strawberries
6 very ripe plums
½ cup sugar
½ cup brandy
1 750ml bottle of dry white wine [Spanish Rioja]
Preparation:
Wash and dry the fruit. Cut the tops off the strawberries, then slice them into three or four separate pieces. You want to get surface area here to provide the most contact between the berries and the wine.
Slice the plums making sure the pit is discarded.
Add the fruit to a large glass pitcher. Add the sugar and brandy, stir to mix. Slowly pour in the wine. Chill for at least 2 hours before serving.
Source: Brian O'Rourke
Photo Information Canon T2i, EFS 60 mm Macro Lens, F/5.6 for 1/50th second at ISO‑2500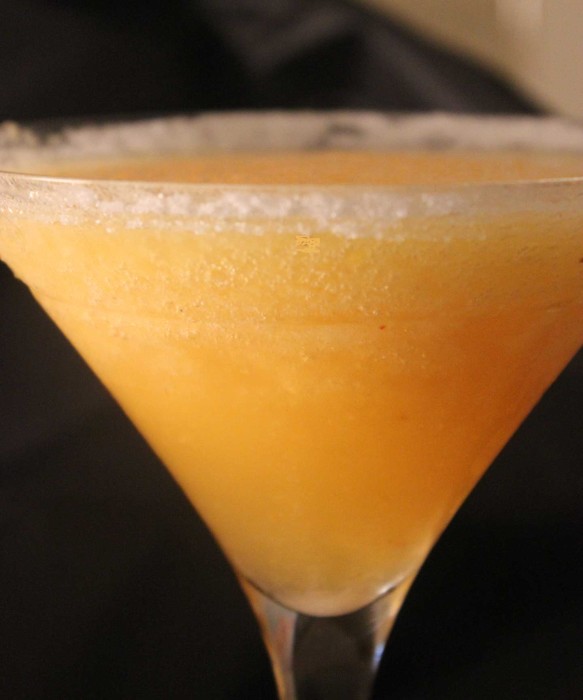 My love-hate relationship with peaches continues. I bought some rock hard peaches two days ago. I happened to walk by today, touched, and my finger discovered definite softness. These peaches did not have 12 hours left, let alone 24. If I had 24 hours and if Kiefer Sutherland was available, then …
No, no heroes were nearby. I could only find my solution in drink. Here's a great way to use your own almost-gone peaches: Peach Margaritas. In fact, the closer to their end, the sweeter the peaches will be and that's just dandy.
This is the epitome of a frozen fruit drink. Definite fruit flavor, but not overpowering. Certainly not sour, but not sweet enough to cause cavities. And cold, very, very cold.
This drink scales easily so you can prepare it in abundance for family or friends. If you are floating in your pool with a plastic container, you should have a peachy afternoon.
Note: I was not sure how to spell "Kiefer Sutherland" so webbed it and got information. The spelling. And the fact that he was born in London, England. My God, the hero of the TV series 24 is a Brit. It's a Brit who kills everybody, not an American. I am so relieved that I'm going to have another glass.
Brian's Peach Margarita
Yield: 2 large cocktails
Ingredients:
3 ounces tequila, silver is fine
2 ounces Mandarin Napoleon orange liquor [my orange liquor preference]
3 ounces freshly squeezed lemon juice [lemon, not lime]
4 ounces simple syrup
3 fresh peaches, peeled, pitted and sliced [the sweeter the better]
3 cups ice cubes
Preparation:
Put all ingredients in your blender and process until flowing but viscous. Add more ice if necessary to get that "frozen drink texture" that lets you enjoy the beverage over a significant period of time.
Source: Brian O'Rourke inspired by The Great Margarita Book by Al Lucero
Photo Information Canon T2i, EFS 60 mm Macro Lens, F/5.6 for 1/40th second at ISO‑3200