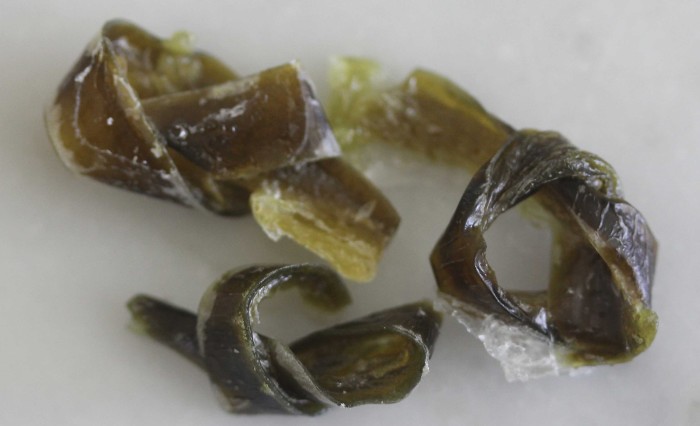 Not that I would ever want to be one, but it is now clear to me that I could not be a heart surgeon. I cannot do knots. I can't tie my shoes. Heck, I can barely tie candied jalapeno strips.
From Cocktails for the Four Seasons, by Jenny Park and Teri Lyn Fisher, there comes this wonderfully clever idea [actually two ideas, but that become evident below]. To dress up a cocktail, add a tiny candied jalapeno knot. These are barely a half inch across, but I think they have multiple uses. You could dot a cocktail cheese plate with these, top off some gazpacho, … The possibilities are quite diverse.
Tomorrow, you'll see a cocktail picture with one knot hard at work. Today, it's all about how to prepare the knots.
There is a side benefit to making the candied strips. You have left over simply syrup in which the jalapeno strips have cooked for an hour. SAVE THE SYRUP. It goes in tomorrow's drink. It goes in Margaritas [where I was using sugar syrup anyway but now …].
The jalapeno knots have, what else, sweet heat. They are fun. The jalapeno syrup is stronger, hearty, smoky and not to be treated lightly. Any stronger and I suspect you could use it to blast open a safe. But, that's another post.
Candied Jalapeno Knots
Yield: around 20
Ingredients:
2 large jalapeno peppers [the longer the better]
1 cup of water
1 ½ cups granulated sugar
Preparation:
Cut off the ends of the jalapenos, then open them up and removed the ribs and seeds. Thinly slice the strips as best you can. You do want them thin because, ultimately, you are going to have to tie each one in a knot.
Use a shallow pan and pour in the water and sugar. Place over medium heat and stir until the sugar is dissolved.
Lower the heat to medium-low and add the jalapeno strips. Cook for 1 hour.
Preheat an oven to 200°F. Line a baking sheet with aluminum foil.
Remove the strips from the pan with a slotted spoon, allowing to drip dry. Immediately tie each one into a knot. [Note, I found this to be difficult. The strips are hot and sticky, and mine were not terribly long. Do the best you can. I compromised by "folding" instead of actually knotting in many cases.]
Place the knots on the aluminum foil and put them in the oven. All the knots to dry out with oven door slightly ajar for 4 to 6 hours. When dry, really dry, they are not sticky to the touch. And, yes, they will have whitish sugar crystals attached.
Source: Cocktails for the Four Seasons, by Jenny Park and Teri Lyn Fisher
Photo Information [top]: Canon T2i, EFS 60mm Macro Lens, F/2.8, 1/100th second, ISO-800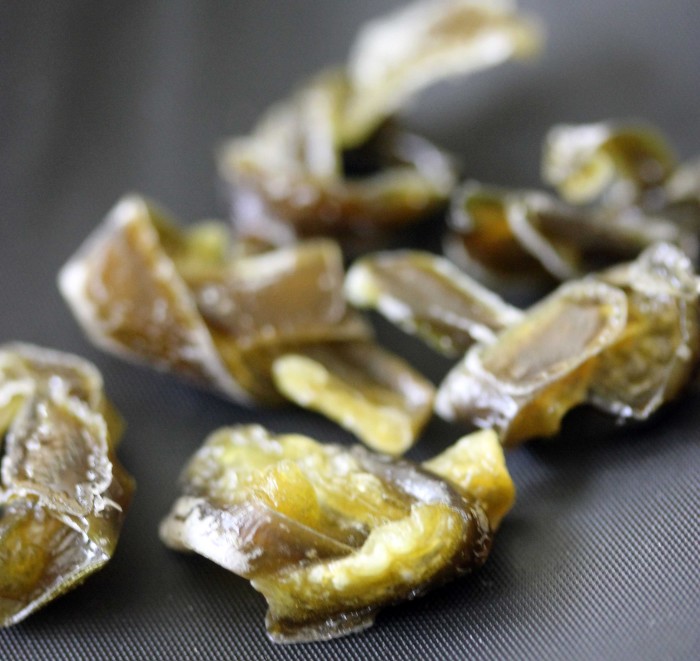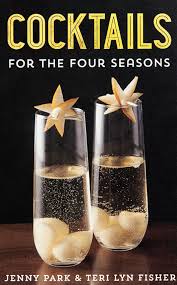 Peter Pauper Press is a remarkable success story. Founded in 1928, it remains a family owned business publishing an array of books and offering sweet gift ideas.
They have a new book which also happens to be a perfect gift. Authors Jenny Park and Teri Lyn Fisher have written Cocktails for Four Seasons. The book is a mini one, small enough just to cover your hand. But there are 158 pages and dozens of drink recipes organized by the season of the year.
There are old drink recipes here, the classics like Pimm's Cup. But mostly there are new ideas, topical, brilliant and enchanting.
I was first attracted by a Spiked Shirley Temple. Think over the past decades how many times a parent or grandparent has made their child proud by requesting they be offered a Shirley Temple. You've had one, and you remember how you sat up extra straight as you were served and as you sipped away. You felt grown up. Unfortunately, I cannot recommend the Spiked Shirley Temple for your child. It's strictly, really strictly only for adults.
There's a wonderful drink, to be blogged tomorrow, a Roasted Strawberry and Jalapeno Freezer, made with jalapeno simple syrup and adorned with a candied jalapeno knot. Oh, the strawberries are roasted in champagne vinegar and olive oil. Look for it tomorrow. It will, I assure you, become a standard in your bar repertoire.
That jalapeno syrup is one of the keys to why this book is so darn good. There are recipes for simple syrups using dill, basil, lavender, lemongrass, tamarind, and thyme. Naturally there are devilishly grand drinks to go with them. For example, a Rose-Dill spritzer with the dill syrup and a Lavender Limoncello with the lavender syrup.
If syrup is not to your taste, you have many other choices. Like the Raspberry Mojito or the Honeydew, Cucumber and Mint Agua Fresca Punch.
If you are cocktail lover, then this slim volume is a necessity. I wouldn't get rid of all my other cocktail volumes necessarily, but this book really could get you through a stint on a dessert island.