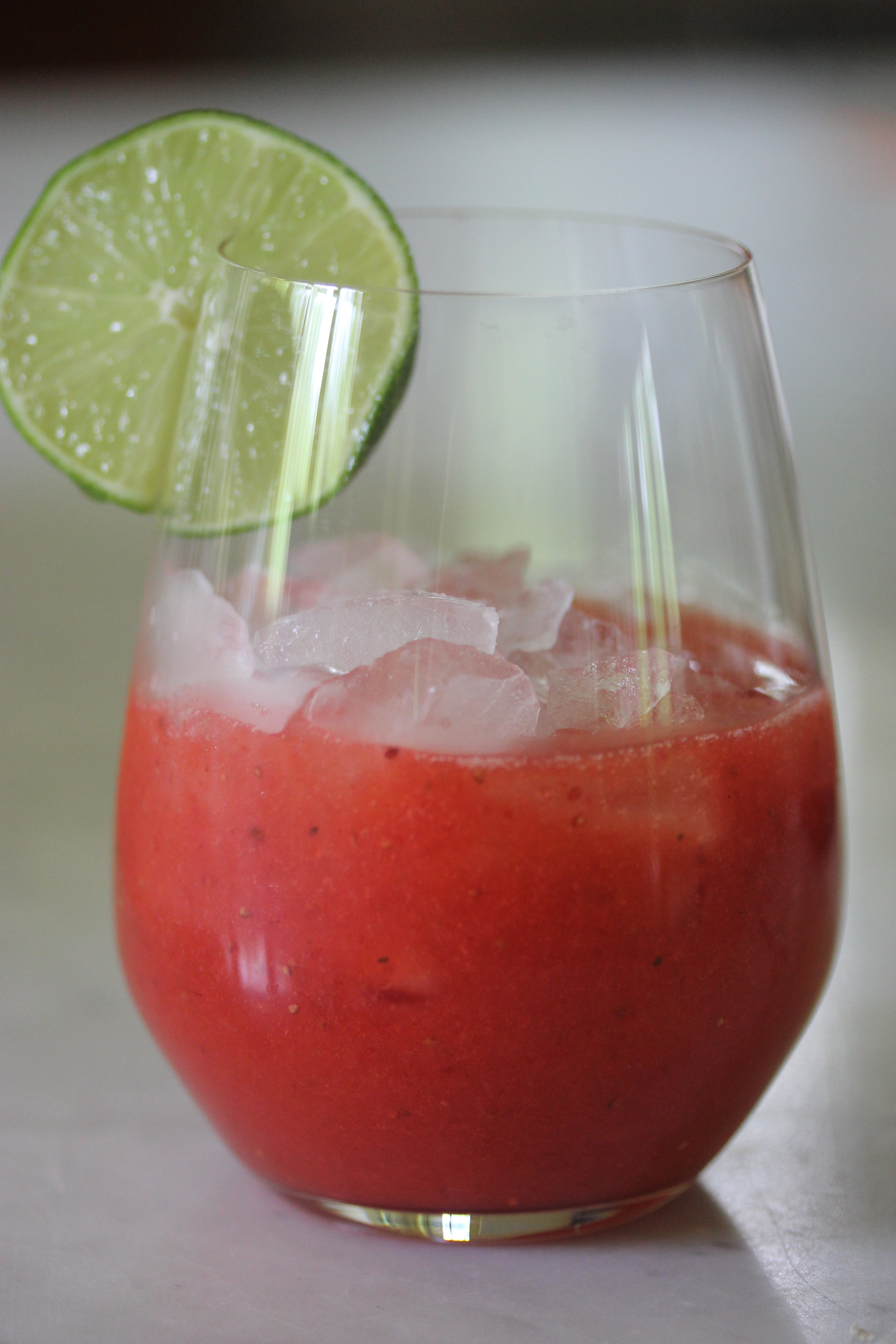 Tomorrow is the Fourth of July. Red, white, and blue day. Red is for strawberries, to be consumed in cake, pie, and beverages aplenty.
This post is really about two things: the lemonade pictured above and puree, which has multiple uses over and above mere lemonade. Once the puree is prepared, then you options are diverse:
Strawberry lemonade: 1 part puree to 3 part lemonade [canned is okay but see other blog posts here for outrageous lemonade ideas using lemons from scratch
Strawberry Agua Fresca: 1 part puree to 3 parts cold water
Strawberry Fritzer: 1 part puree to 3 parts cold club soda or seltzer water
Strawberry Margarita: see the recipe below
My 1-to-3 proportions are simply my personal preference. Depending on the flavor power of your strawberries and the ache in your sweet tooth and the acidity of your lemonade, you'll want to adjust the proportions. Do a side experiment with chilled liquids before making a major decision.
Strawberry Puree
Yield: 2+ cups
Ingredients:
4 cups of perfectly ripe strawberry halves [that's a four cup measure randomly filled with halves, not packed]
¾ cup of granulated sugar
Juice of one small lemon
Preparation:
Before you halve the berries, wash and dry them. Make sure you snip off the end and any sore spots.
Put the berries in a blender, or, better, a VitaMix. Blend for two minutes until liquefied. Add the sugar and lemon juice. Blend another minute or two. If using a blender, you may want to sieve the liquid. If you are using a Vitamix, the machine is so powerful that sieving is really not necessary.
Store in an airtight container in the refrigerator. The puree is best used on Day 1.
Source: Brian O'Rourke
Photo Information: Canon T2i, 30MM, F/4.5 for 1/50 second with ISO 800
Strawberry Margarita from Rick Bayless Frontera Grill
Yield: 4 drinks
Ingredients:
1/2 cup fresh lime juice (2 to 3 limes)
1/4 cup plus 1 teaspoon sugar
Lime wedges
Coarse salt
3/4 cup  Tres Generaciones Blanco Tequila
3/4 cup  pureed strawberries
1/4 cup  cucumber juice  (peel and cube fresh cucumber and puree in a blender)
About 1 cup coarsely broken ice cubes
Preparation:
Make limonada (limeade).  Combine lime juice, sugar and a scant 2/3 cup of water in a glass or plastic pitcher.  Cover and refrigerate for at least 2 hours (but no longer than 24 hours).
Finishing and serving the margaritas.  Rub the rims of 4 martini glasses with a lime wedge, then dip them in a dish of coarse salt.  In a shaker, combine the limeade, tequila, strawberry puree and cucumber juice.  Add ice and shake 10 to 15 seconds, then pour into the prepared glasses.
Tags: puree, strawberries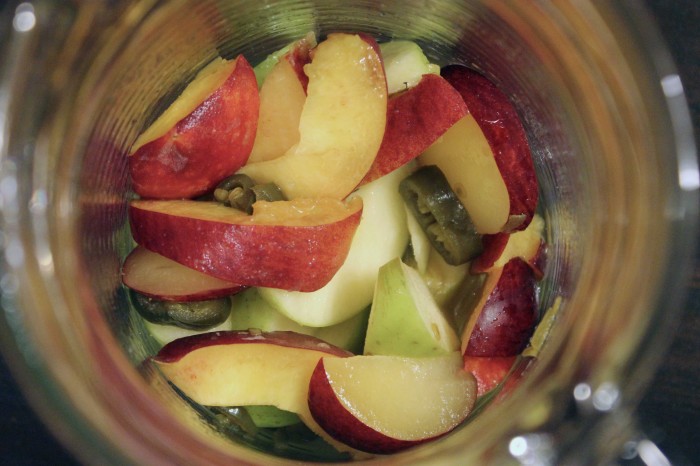 The planet is experiencing rapid growth: population, pollution, and mixologists.
Oh, don't get me wrong, I do not have bad associations with that mixologist word. In fact, when I retire, I am going to open up a B&B: Bar and Bakery.
But as the number of mixologists grow, as they each get their 15 minutes of fame while flashing out some cocktail de jour, I like to rely on the unsurpassed professionals, like Mittie Hellmich. Go to Amazon, type in her name, and you will find a battery of beverage books. Pick one to start, any one, and you are on your way to mixology heaven.
From her Sangria book, I tried this Sangria Caliente. Definitely caliente. You can see the jalapeno slices in that top-down picture. You don't see the tequila. Not too much. This is not a "boozy" sangria, but you get some tequila heat to marry with the jalapeno. And both those ingredients bounce off the fruit tones. Apple, peach, plum and apricot are all there to provide a coordinated sweetness. See, as you sip, if you detect each of the flavors.
This is a lovely sangria, definitely a first choice for a hot day. Brunch, lunch, or dinner, this is a vibrant sangria to pair with appetizers or the main meal.
Sangria Caliente
Yield: serves 4 to 6
Ingredients:
1 Granny Smith apple, peeled, cored and sliced
1 peach, peeled, pitted, and sliced
1 plum, peeled, pitted, and sliced
1 apricot, pitted and sliced
3 thin slices fresh or pickled jalapeno pepper, or to taste
2 ounces tequila
2 tablespoon sugar
750 ml bottle dry white wine, chilled
12 ounces club soda, chilled
3 cups ice cubes
Preparation:
In a large [at least 2-quart] glass pitcher, combine the fruit and jalapeno slices, tequila, and sugar, and stir until the sugar has dissolved. Slowly pour in the wine, stirring gently. Refrigerate for at least 2 hours or as long as overnight.
When ready to serve, add the club soda and stir gently with a long-handled wooden spoon. Fill the highballs, wineglasses, or other decorative glass with ice cubes and slowly pour the sangria over the ice, allowing fruit pieces [but never pepper slices!] to fall into the glasses.
Source: Sangria by Mittie Hellmich
Photo Information Canon T2i, EFS 60 mm Macro Lens, F/5.6 for 1/50th second at ISO‑3200