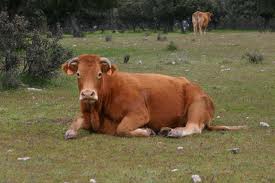 This post is not about hamburger. Or roast beef. Or ribs. Or milk.
Let me explain explain.
What's in a name? Once upon a time, a "Brown Cow" was vanilla ice cream, chocolate syrup and Coca-Cola. Quickly, the Pepsi people responded. And then there were Brown Cows made with both Coke and root beer. The marketing people in beverages are aggressive and creative.
From the folks at the milestone bakery Baked in Brooklyn, here is an adult version of the Brown Cow. Gone is the soda, any soda. In is Kahlua. The chocolate syrup is replaced by a rich mixture of real time hot cream and chocolate. It's rich and it's real.
We advise you to not drink this after 10PM. We do not wish to encourage insomnia.
Baked Brown Cow
Yield: 2 servings
Ingredients:
 3 ounces dark chocolate [60% to 72%], coarsely chopped
¼ cup plus 1 tablespoon heavy cream
2 huge scoops [about 2 cups] premium vanilla ice cream
2 shots coffee-flavored liqueur [such as Kahlua]
Freshly grated nutmeg
Preparation:
Put the chocolate in a small heat proof bowl. In a small pot, bring the cream just to a boil. Immediately pour it over the chocolate. Let the mixture stand for 1 minutes, then stir until smooth. Spoon about 2 tablespoons of the chocolate mixture into the bottom of an old fashioned glass. Using the back of the spoon, spread the sauce evenly in the bottom and slightly up the sides of the glass.
Dividing the ice cream between the glasses and let stand for about 5 minutes to melt slightly. Pour one shot of Kahlua over each serving and garnish with a dusting of nutmeg. Serve immediately with large spoons. Consume at your own pace.
Source: Baked [New Frontiers in Baking] by Matt Lewis and Renato Poliafito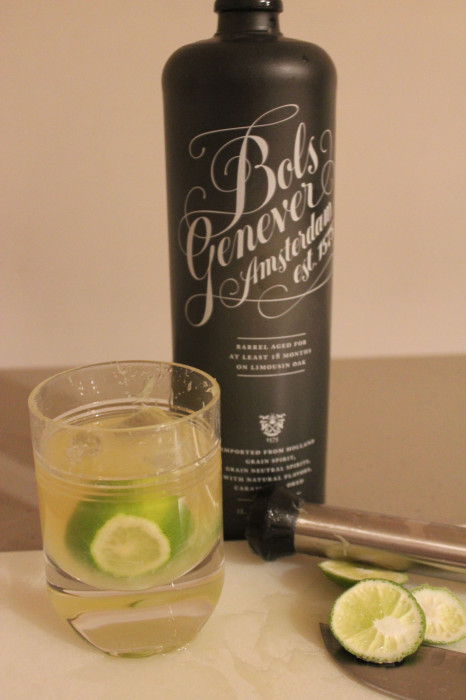 Many of us drink gin and we are in a gin paradise: there is a generation of new gins being created in Europe and across this country. In Brooklyn, for example, there are little micro spots coming up with diverse and grand flavors, for example, Greenhook Ginsmiths who can go glass for glass with anything from London town.
Gin was the basis in the 19th century for the rise of the cocktail in American society, or so the myth goes. Actually, this beverage revolution was not inspired by gin but by genever.
Genever is the national spirit of the The Netherlands. The famed firm Bols began distilling genevers in 1664. Over time, Bols tried many recipes. Then, in 1820, Bols introduced a revolutionary new genever recipe with a more subtle taste, as a result of a better balance of malt wine, neutral grain alcohol and botanicals. This new recipe is the authentic flavor of genever: complex from layers of ingredients, powerful and not subtle, and delectable. Not too sweet, either. No single herb clobbers your nose here.
In addition to being a lively spirit for drinking neat, it is the perfect, powerful vehicle for mixed beverages of all sorts.
Here's a sample cocktail using Bols Genevers. Visit bolscocktails.com and you'll find many others.
Yes, you can even do an Enever and Tonic!
Copacabana Sidecar
Yield: 1 large cocktail
Ingredients:
2 ounces Bols Genever
2 ounces Cachaca
2 ounces freshly squeeze lime juice
Preparation:
Put the ingredients in a cocktail shaker filled with ice. Shake vigorously and strain into a cocktail glass. Garnish, if you wish, with a wedge of lime, lemon or orange.
Source: bolscocktails.com
Photo Information [top picture]: Canon T2i, EFS 60 mm Macro Lens, F/4.5 for 1/20th second at ISO-3200