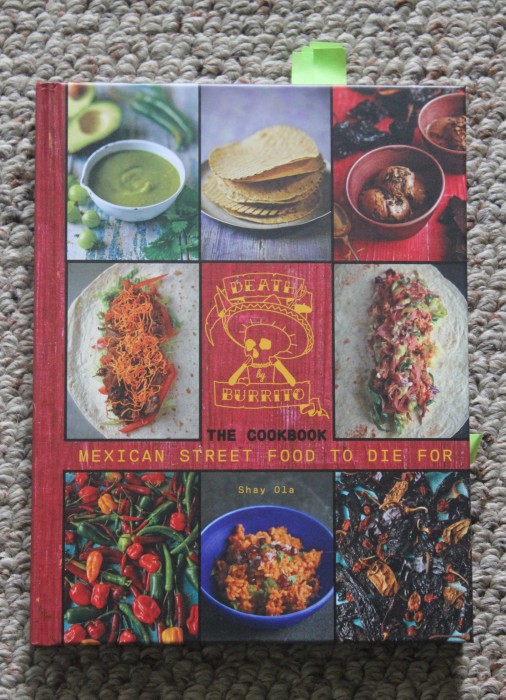 You've heard this story before. Man in Britain loves food. Not a professional. Cooks for friends, dabbles in cooking parties. Then a cooking stall at a fair – hardest work of his life. Then a real place, brick and mortar. And a cookbook: Death by Burrito. And then still another brick and mortar place.
It's been a fast journey for Shay Ola, the founder off the creative food event company The Rebel Dining Society. His two restaurants, in East and Central London, provide grills fashioning wonderful Mexican-style foods and bars specializing in tequila.
Ola studied Mexican street food to understand the basics and to form the foundation for his street food riffs, all fast and fabulous dishes. There are tacos and burritos here, but not in the combinations you have seen:
Confit Duck and Mango Tacos
Lobster Tacos
Quinoa, Pumpkin and Mushroom Burritos
Braised Turkey with Celeriac and Apple Slaw Burritos
How authentic are the recipes? Let us call them inspired. The ingredients are real: chiles, pumpkin seeds, pork, lard, plantains. The preparations are deliciously free form. I did take a second look at his Salsa Verde recipe because it uses gooseberries. Gooseberries. But, if you research, gooseberries are in the same genus and tomatillos. And gooseberries are grown in Yucatan. So inspired the salsa is.
There is the most complicated recipe I have ever seen for Chipotle Chicken Wings and, from the photo, seemingly the most beautiful. Suzen and I will be testing shortly. The wings are brined then dipped in heavily seasoned flour before getting a rolled oats crumb covering and then they finally meet the hot oil. Oh, the brining is authentic, right out of Yucatan with some orange. And right out of Great Britain, too, with some tea.
Ola says he is authentic to the spirit of Mexican food but prefers not to be confined to traditional recipes. I think he has succeeded. You should look for a copy of Death by Burrito: Mexican Street Food to Die For. Death is not necessary. Enjoyment is a guarantee.
Famous for his cocktail innovations, Ola claims his Toreador is better than a margarita when you need a brilliantly fresh sweet and sour beverage. As a treat to end this cookbook review, here's the recipe.
Toreador

Yield: 1 cocktail

Ingredients:

1 ¾ ounces tequila
1 ounce apricot brandy
1 ½ tablespoons lime juice
2 teaspoons agave nectar
Lime slice for garnish
Preparation:

Place a handful of ice in a blender and add the tequila, apricot brandy, lime juice, and gave nectar. Blend together and serve in an old-fashioned glass with a slice of lime.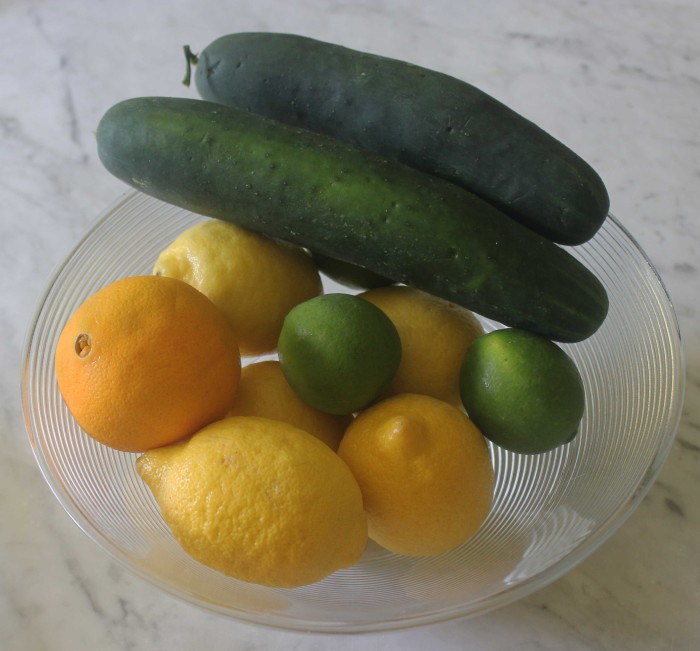 This is supposed to be a blog for Brian's Cucumber Lemonade #2, following yesterday's #1.
I got a little side tracked. I was looked for 6 lemons and found only 3, but I had a lime and 2 oranges. So, this drink is not "lemonady" at all. It's citrus and, modestly, brilliantly refreshing. The beverage is made with only cucumber juice, citrus juice and some simple syrup. No water. It's a tad viscous and definitely forceful.
How does it taste? The cucumber coolness hits first, followed by this cascade of citrus notes: lemon, then orange. The lime is barely susceptible in my version here, but I suspect that every time you make this drink, you'll find a different kaleidoscope of flavors to enjoy. And, you can adjust the mix of citrus juice here; you are looking for about ⅔ cup of juice. Remember, if you change the ratio of lemons/limes to oranges, you'll be affecting the sweetness level. And, more oranges will give you more juice.
I'll go to the store, get more lemons, and work on #2. In the meantime, this #1.5 is very satisfactory.
---
Brian's Cucumber Citrus Cascade #1.5

Yield: 2 cups

Ingredients:

1 English cucumber, about 12 ounces
3 lemons
1 lime
2 oranges
½ cup simple syrup
Preparation:

Peel, slice and seed the cucumber. Cut into chunks and put them in a blender [a Vitamix is better for this, much better]. Process until completely pulverized: a minute or more. Strain through a fine mesh sieve into a bowl. You want about ⅔ cup of cucumber juice.
Rinse the blender and return the cucumber water to it. Add the juice of the lemons, lime, and oranges. Add the sugar syrup. Process until well blended.
Chill before serving and then serve with ice.
Source: Brian O'Rourke, inspired from food.com

Photo Information Canon T2i, EFS 60 mm Macro Lens, F/4 for 1/40th second at ISO‑2500