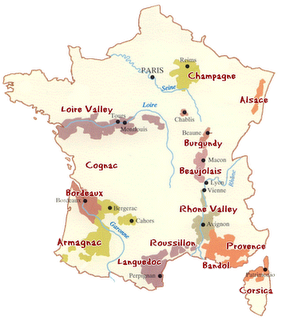 The words wine and France are synonymous. French wines are outstanding for both their quality and diversity. Many wine experts suggest that there is no single "French wine" but really a vast collection of outstanding wine regions that contribute to the French reputation.
So, join us to take a tour, a Wine Tour De France, to explore those regions and their outstanding flavors. On Friday, October 12th at 6:30PM, Cooking by the Book will host a Tour de France guided by wine expert David Hamburger.
The New World has always imitated French food and beverage superiority. Being challenged on all sides by the New World, the French wine industry is redefining herself and continuing to set the global standard. Our tour will demonstrate the absolute vastness of flavors and styles in France. the delightful country wines of Southwest France, the hauntingly aromatic wines of Alsace and the Loire Valley, and of course the classic wines of Bordeaux, Burgundy and the Rhône. The diversity and quality of wines is tremendous, to say the least.
We hope you can join us for this fascinating Tour de France in a celebration of its greatness. You can get more information and register at the link below. Information about our excellent wine expert, the 11 wines you will be tasting, and the matching foods are just below. Class cost is only $75.
Friday, October 12, 2012, 6:30pm – 8:30pm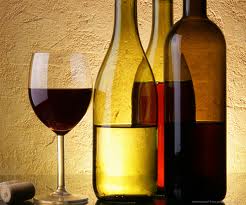 Our Wine Expert David Hamburger:
Our expert instructor is David Hamburger, Director of Special Events at Acker Merrell the oldest wine shop in America, founded in 1820.  David will guide our wine platelet tour through France, and explore the vibrant wine tastes of the country to find the differences of regions, the grapes, and provide you will an understanding of how these wines partner with foods, and how wonderful they are on their own.
David is also the director of the Wine Workshop, America's leading series of fine and rare wine tastings and dinners and hosts at least fifty wine events a year for corporate and private clients. David has done guest sommelier spots at Bouley, Le Bernardin, Daniel and Per Se and has developed tasting events for many great winemakers such as: Christian Moueix, Jean-Guillaume Prats, Paul Pontallier, Sebastiano Rosa, Leonardo Raspini, Olivier Krug, Michel Chapoutier, Jacques Lardière, Veronique Drouhin and Erwan Faiveley
Our Wines Menu:
Doyard Cuvee Vendemiaire Brut Champagne
Crochet Sancerre Croix Roy Loire Valley 2010
Joseph Drouhin Saint-Veran Burgundy 2010
Mittnacht Freres "Gyotaku" Alsace 2010
Roilette Fleurie Beaujolais Burgundy 2011
Gros Frere et Soeur Hautes-Cotes-de-Nuits Burgundy 2009
Clos Magne Figeac Saint Emilion Right Bank Bordeaux 2008
Moulin de Tricot Haut-Medoc Left Bank Bordeaux2008
Mas Champart St Chinian Languedoc Roussillon 2008
Gour de Chaule Gigondas Southern Rhone 2007
Benoit Roseau Syrah de Rosette Northern Rhone 2011
Our Food Menu:
Chicken Liver & Pancette Crostini
Shrimp Salade with Champagne Beurre Blanc
Grilled Salmon with Cherry Tomato BBQ Sauce
Classic French Chocolate Cake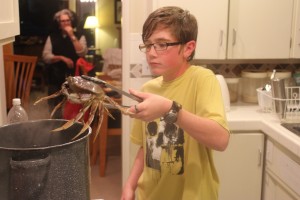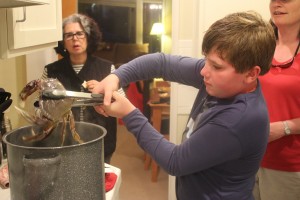 Suzen and I are bouncing between Portland and Seattle and many points in between. We spent today in Westport, Washington, a maritime village located on the southern tip of the entrance to Grays Harbor. Fortunately, the "Harbor" houses only fishing boats and never became a center of commerce, like Seattle, that houses today's huge cargo ships. Grays Harbor is filled with fishing boats. And, of course, fish and seals and sea lions and pelicans and …
And crabs.
Today the family went crabbing off the docks at Westport. In five hours, we got 16 "keepers" or crabs legally big enough to take home. My daughter Kelly has the most patient boyfriend in the world. Mark makes his living doing two things: offering custom fly fishing experiences on the Yakima River in eastern Washington and selling the most lovely fishing flies you can imagine.
There will be more about Mark later in the week. Today, we followed him to Westport. Our catch ended up tonight in pots back in Seattle. At the top, there are pictures of my grandsons Reid and Daniel completing their day's work. They were about to boil the crabs they'd caught themselves earlier in the day. Big crabs. Legally sized crabs. Mark was a stickler for only taking Dungeness that met the standard of his ruler.
At first, tossing back a 5 ½ inch crab upset the boys. When would they ever get a 6-inch keeper? "Patience," Marked announced. And patience paid off. That and moving the crab pots up and down the docks to find the "hot spots" and the tide first came in and then went out.
Making sure the crabs are legal is just the beginning. You have to get them home alive. You can't put them on ice. You can't cook them if they have died. You have to keep them oxygenated for that three hour drive home. Mark's expertise got us home with two big buckets fill with Dungeness and Red Rocks.
Even if you are not eating the crab that night, you need to cook them. Then put them on ice for the next day.
How to cook them? It's pretty basic. Buy a can of Old Bay seasoning and follow the directions. No, you don't need the Old Bay, but that flavor combination of spices is one you've become accustomed to. Cooking crabs is easy: you boil water, add salt and spices, dump in the crabs and wait fifteen minutes.
I love my crab. Yes, I hope to die more peacefully myself, but hours spent watching The Discovery Channel and National Geographic have desensitized me. I eat them now with a special gratitude. They are strong, frisky creatures, as you discover lifting one out of the crab pot. And fighters, as one of my fingers can attest.
The pictures below show some of the crabbing steps, from baiting the crab rings, to watching them every 10 minutes, to removing the critters you have enticed into your net. Crabbing is a family experience that will linger long in everyone's memory. It a few hours of getting wet, screaming, laughing, measuring once, measuring twice, and dodging those wondrous claws.