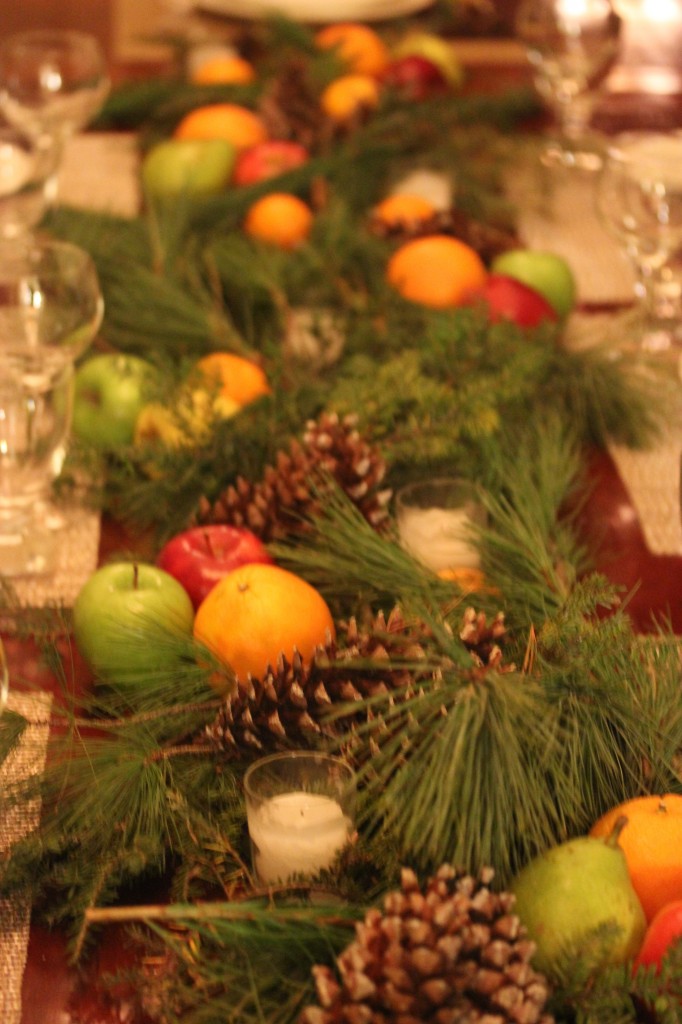 People often bring things to a holiday party. For post-Thanksgiving party, Cynthia Beckman brought the centerpiece. It would be an vast understatement to say Cynthia is a decorating genius. It help, of course, that she simply loves making anything she is around beautiful.
Cynthia's centerpiece concept here is elegant, rich, and simply. First, get some plastic wrap. Yes, plastic wrap. The evergreen branches you lie down can scratch a surface or leave residue that will drive you nuts. So, here's the centerpiece plan:
Line the center strip of the table with plastic wrap
Top the plastic wrap with overlapping evergreen branches, ideally freshly cut and fragrant
Dot the branches with fruit for color contrast: apples, oranges, pomegranates, pears, …
Add pine cones, of course
If you wish, add some candles but be careful of placement and fire concerns with those branches
It all works. And, it's portable. This dining room array for our Olive house went home the next day to New York City where it sits on a side buffet. Yes, we need to refresh the branches now and then but this easy yet stunning decoration will carry us through the holidays.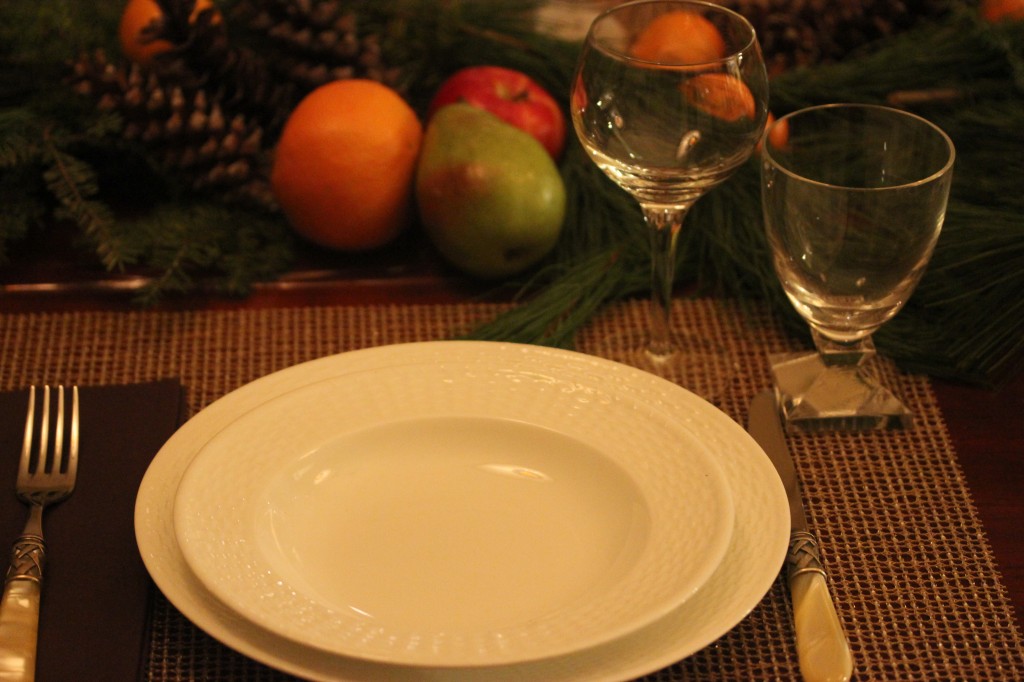 The wine versus beer debate can be conducted from many perspectives.
This Friday at Cooking by the Book, we will have our own Beer versus Wine debate featuring Sommeliers Samuel Merritt (beer) and Harriet Lembeck (wine) as they bring their expert perspectives t  a key question: beverage preferences by sex. Men do seem to prefer beer, while women are more inclined to wine.
On Friday, we'll supply appropriate bites of delicious food to go with the words you hear in an intense, yet friendly discussion. And, of course, some tastes of both beer and wine to let our experts try to sway you to their side. Some debates are not enjoyable. This one will be.
We hope you can join us this Friday at 6:30 PM. Here's a link to register for the class, just $75 for beer, wine, food and spirited debate:
Of course, there are many ways to compare beer and wine. Volumes consumed, how healthy they are, …
Oh, health? Yes, health. Alcohol, from some source is recommended by the American Heart Association, for example. The AHA recommends two drinks a day for men and one for women where "drink" is 12 ounces of beer, 4 ounces of wine, 1.5 ounces of 80-proof hard liquor or 1.0 ounces of 100-proof liquor. So, six packs are not recommended on a daily basis.
Research has shown some wonderful aspects about wine:
Wine drinkers live long
Wine drinkers have lower cancer rates
Wine drinkers eat better [more fruits and vegies, less chips, cold cuts and sausages
Why do we drink more beer than wine? Better marketing and cheaper prices. And beer was made for salty food. However, research has shown these positive things about beer:
Beer is more nutritious than wine, with almost all B-vitamins, plus significant amounts of trace metals and minerals
Beer reduces heart disease
Now some of this research was conduct in Europe, in Germany, Denmark, and the Czech Republic so there may be some caveats to be applied..
What to do here? Grab a beverage, put your feet up, and relax. Yes, you can meditate with a glass in your hand. And, please join us this Friday if you can.
Data Source: Focused-On-Fitness.com