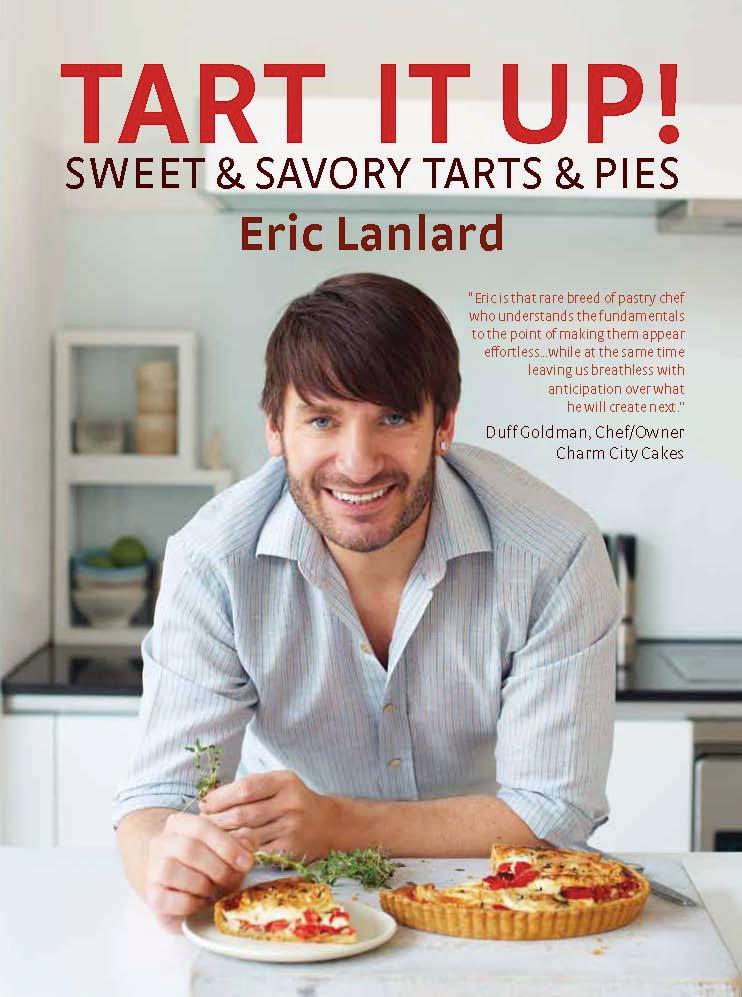 Americans talk about pie. Deep dish pie, filled with fruit. See, you have visions of apples dancing in your head, don't you?
And in Europe, the word is tart. Elegant, refined, and not too deep. Europeans love tarts and, unlike us, have equally admiration for both sweet and savory versions.
This Wednesday, Cooking by the Book is proud to present Chef Eric Lanlard demonstrating the exceptional recipes from TART IT UP!: Sweet and Savory Tarts and Pies. The class, beginning at 6:30PM, will feature both sweet and savory treats and Eric himself will be demonstrating his tart skills in our lovely kitchen.
Eric's home base is London but this beautiful book is devoted to both sides of the Atlantic. He says "pie" in the subtitle and he means it. There's this recipe for Old-Fashioned Apple Pie that has lots of crust, lemon zest and juice, brown sugar and cinnamon. That combination will sound homily familiar to you. But along with tradition, in the book you will find new treasures like:
Thai Crab Mini Pies
Artichoke and Black Olive Tart
Endive and Prosciutto Tart
West Indies Chocolate Tart
Peanut Butter and Chocolate Pie
Raspberry and Cheesecake Pie
We hope you can attend the class. Class cost is $75 and includes a copy of this great book. Of course we'll have samples on hand. Which ones? Honest to God, we are still debating which ones to do. So, please come. You'll get the book and you'll be both surprised and delighted by the flavor choices on Wednesday.
To register for the class, please use this link:


The wine versus beer debate can be conducted from many perspectives.
This Friday at Cooking by the Book, we will have our own Beer versus Wine debate featuring Sommeliers Samuel Merritt (beer) and Harriet Lembeck (wine) as they bring their expert perspectives t  a key question: beverage preferences by sex. Men do seem to prefer beer, while women are more inclined to wine.
On Friday, we'll supply appropriate bites of delicious food to go with the words you hear in an intense, yet friendly discussion. And, of course, some tastes of both beer and wine to let our experts try to sway you to their side. Some debates are not enjoyable. This one will be.
We hope you can join us this Friday at 6:30 PM. Here's a link to register for the class, just $75 for beer, wine, food and spirited debate:
Of course, there are many ways to compare beer and wine. Volumes consumed, how healthy they are, …
Oh, health? Yes, health. Alcohol, from some source is recommended by the American Heart Association, for example. The AHA recommends two drinks a day for men and one for women where "drink" is 12 ounces of beer, 4 ounces of wine, 1.5 ounces of 80-proof hard liquor or 1.0 ounces of 100-proof liquor. So, six packs are not recommended on a daily basis.
Research has shown some wonderful aspects about wine:
Wine drinkers live long
Wine drinkers have lower cancer rates
Wine drinkers eat better [more fruits and vegies, less chips, cold cuts and sausages
Why do we drink more beer than wine? Better marketing and cheaper prices. And beer was made for salty food. However, research has shown these positive things about beer:
Beer is more nutritious than wine, with almost all B-vitamins, plus significant amounts of trace metals and minerals
Beer reduces heart disease
Now some of this research was conduct in Europe, in Germany, Denmark, and the Czech Republic so there may be some caveats to be applied..
What to do here? Grab a beverage, put your feet up, and relax. Yes, you can meditate with a glass in your hand. And, please join us this Friday if you can.
Data Source: Focused-On-Fitness.com