Posted by: Brian on | Leave a comment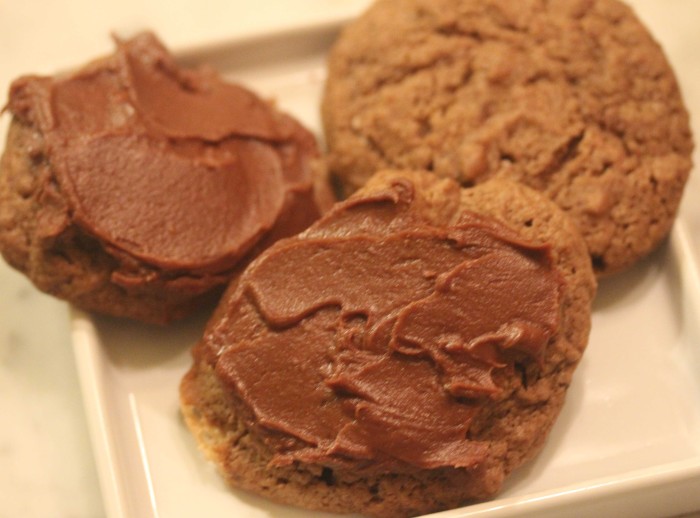 Sour cream and chocolate are intimately compatible. The overlay of flavors in your mouth is rewardingly confusing.
Here are two recipes from Mable Hoffman's Chocolate Cookery, a paperback gem from 1978. The cookie is puffy, but not soft. It bakes to the point of being firm, and the nuts inside provide a crunch. There is some chocolate here, but not the ounces and ounces you see in many recipes. It's just chocolate. NOT CHOCOLATE!
The subtle cookie is given sparkle with a sour cream chocolate frosting that has more direct sour cream tang. Now, with the frosting, the cookies begin to approach decadence.
If you prefer your caffeine without frosting or through coffee, the unfrosted cookies are beautiful to behold and just fine on your tongue.
Sour Cream Cookies
Yield: 40-48 cookies
Ingredients:
2 ounces unsweetened chocolate
⅔ cup butter [that 150 grams]
1 ½ cups sugar
1 teaspoon vanilla extract
1 egg
½ cup sour cream
1 ¾ cups flour
½ teaspoon baking powder
½ teaspoon baking soda
½ teaspoon salt
½ cup chopped nuts
Preparation:
Preheat the oven to 425°F. Melt the chocolate and set aside. Allow to cool to tepid so that it is not "hot" to your finger before using.
Line two half-sheet cookie sheets with parchment paper.
In a large bowl, cream the butter. Gradually beat in the sugar, one tablespoon at a time. Cream well. Add the vanilla and cream for another minute. Add the egg and beat until fluffy.
Stir in the melted chocolate, then sour cream.
In a large bowl, whisk together the flour, baking powder, baking soda and salt. Then add the flour mixture to the creamed mixture. Stir in the nuts. Do not over stir.
Drop by heaping teaspoonfuls onto prepared cookie sheets. Bake for about 8 minutes, until just firm to the touch. Cool slightly before placing on wire racks.
Sour Cream Frosting
Yield: enough for this batch of cookies or one 2-layer 8- or 9-inch cake
Ingredients:
6 ounces of semisweet chocolate chips
¼ cup butter
½ cup dairy sour cram
1 teaspoon vanilla extract
3 ¼ cups sifted powdered sugar
Preparation:
In a medium saucepan, melt the chocolate pieces and butter. Cool several minutes. Stir in the sour cream, vanilla and powdered sugar. Beat until smooth. Spread immediately, because it will "firm up" over time. Once firm, the cookies can be stacked on each other for storage.
Preheat Source: Chocolate Cookery by Mable Hoffman
Photo Information: Canon T2i, EFS 18-55MM Macro lens shot at F/2.8 1/60th second, ISO 3200
Posted by: Brian on | Leave a comment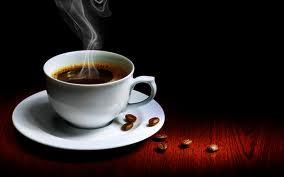 Sometimes life does get better. And easier. For example, a couple of years ago, a Starbucks opened on our block. It's around the corner, to be true, but in a short walk of 400 feet we can have our java anytime we want. There is no excuse, no matter how wet or snowy or windy, for missing out on one of life's necessary pleasures.
Before this Starbucks opened, we had to travel very far to get our fix. Four blocks, which on a snowy day does in fact make you think twice.
Hot coffee can be drunk. Or it can be eaten. Here's a sublime Mocha Frosting that calls for blending cocoa powder with hot coffee.
Mocha frosting in the morning? Sure. Dip some of those Walker's Shortbread cookies — often on the shelves at Starbucks — into this frosting for an extra morning caffeine jolt.
This frosting is delightful on cakes, cupcakes and cookies. There is nothing like a warm browning with hot mocha frosting.
Chili Mocha Frosting 
Yield: fills and frosts one 2-layer 8- or 9-inch cake
Ingredients:
¼ cup butter at room temperature
2 tablespoons unsweetened cocoa powder
¼ teaspoon salt
¼ teaspoon chili powder
2 ½ cups sifted powdered sugar [plus more if needed to get the desired consistency]
2 tablespoons unsweetened cocoa powder
2 teaspoons vanilla extract
¼ teaspoon salt
3 tablespoons hot coffee
 Preparation:
In a mixing bowl, cream the butter. Add the cocoa powder, salt and chili powder. Add the powdered sugar ¼ cup at a time. Periodically, add teaspoon portions of the vanilla and coffee as you strive for frosting consistency.
Too much liquid? Try beating the frosting on high speed. If necessary add more powdered sugar, one tablespoon at a time.When all the ingredients are in the bowl, beat until smooth.
Source: Adapted from Chocolate Cookery by Mable Hoffman
Archives
Authors of Note
Foodie Finds