Posted by: Brian on | Leave a comment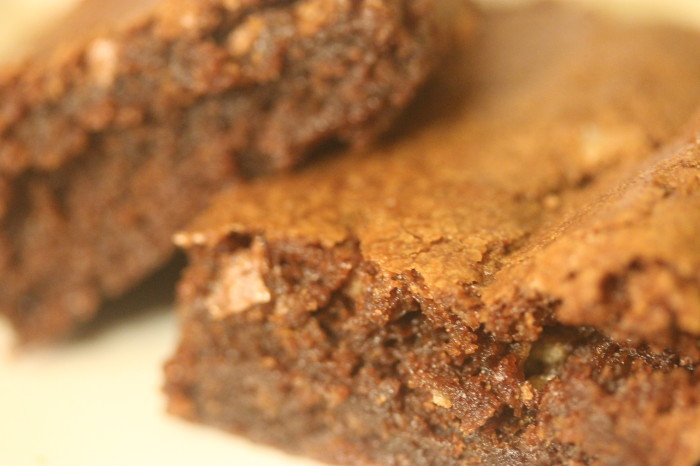 This is different kind of brownie recipe. No mix master, no stack of bowls to clean. It's all done in a single saucepan. Most importantly this recipe employs much less flour than normal — so the result is a moderately thin and very fudgy brownie. Very fudgy. I do like my cake-like brownies, soft, fluffy, and 3" high. You bite and your teeth gently ease through.
Not with this one. You bite and there is resistance, not hard but not subtle either. You are so very aware that this is goo you are about to ingest. And chocolate goo at that.
These are the perfect brownie to introduce to kids. No massive mixing, no big mess. Just one saucepan that the kids can lick clean.
Oh, you bake these for 30 minutes and you stop. Don't test with a toothpick. If you do, and it comes out dry, then you have over baked. Fudgy means fudgy.
These are easily made. Easily eaten. You can do two batches a day. Easily.
Fudgy Saucepan Brownies
Yield: 16 brownies, 2" X 2"
Ingredients:
½ cup butter [one stick]
3 ounces unsweetened chocolate, coarsely chopped
1 cup sugar
2 eggs
1 teaspoon vanilla
⅔ cup all-purpose flour
¼ teaspoon baking soda
½ cup chopped nuts
Preparation:
In a medium saucepan, heat and stir the butter and chocolate over low heat until melted and smooth. Set aside to cool.
Meanwhile preheat the oven to 350°F. Line an 8X8X2-inch baking pan with foil, extending the foil about 1 inch over edges of pan. Grease foil and set aside.
Stir the sugar into the cooled chocolate mixture. Add the eggs, one at a time, beating with a wooden spoon just until combine. Stir in vanilla.
In a small bowl stir together the flour and baking soda. Add the flour mixture to the chocolate mixture, stirring just until combined. If desired, stir in nuts. Spread the batter evenly into the prepared pan.
Bake for 30 minutes. Cool in pan on a wire rack.
Carve when cool.
Source: Better Homes and Gardens Baking
Photo Information: Canon T2i, EFS 18-55MM Macro lens shot at F/2.8 1/15th second, ISO 3200
Posted by: Brian on | Leave a comment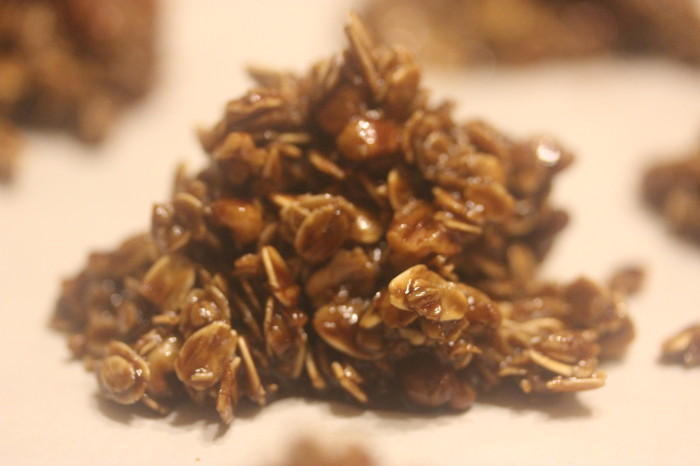 I've posted before a recipe called Nuni's No-Bake Cookies. Stashed in the middle of Cookie Time by Marilyn Miller Wasbotten, this recipe was one I remembered from childhood. I had lost the recipe but not the memories.
Once I had Cookie Time, I made and made these treats. But, I made just them. I would not deviate from the original recipe. I was tempted, but always paused and went vanilla. Well, chocolate and vanilla.
I finally summoned up the courage and played with the recipe. I credit Marilyn for inspiration but I'm going to take credit for this variation. To the original recipe, I add chopped pecans and espresso powder. The result? Well, take a look. It's richer with those coffee overtones so many of us love.
One slight caveat. When you make this and add espresso powder, there is clearly some chemical reaction. The boiling liquid that is mixed with the oats behaves differently. It takes longer for these cookies to set up. I'm going to continue experimenting, adding another 1/2 cup of oats. If these cookies seem "limpy" to you, find a cool space. Even your fridge for a few moments. Just to give the cookies a "cold shock." Once they do set up, they are smooth to the bite.  The only challenge is to stop with one, or two, or …
Brian's No-Bake Coffee Drops
Yield: about 40 cookies
Ingredients:
2 cups sugar
1/4 cup butter
1/4 cup cocoa
1/2 cup milk
2 tablespoons espresso powder
3 cups uncooked quick rolled oats
2 teaspoons vanilla extract
1 cup chopped pecans
Preparation:
Place the sugar, butter, cocoa, milk and espresso powder into a saucepan. Over medium-high heat, bring to a boil while stirring constantly. Boil for 1 minute.
In a large metal bowl, place the oats, vanilla and pecans. Pour the boiling sugar mixture over the oats. Stir to mix thoroughly. The mixture will begin but thicken as you do.
Drop by spoonfulls [a tablespoon in size] onto a cookie sheet lined with foil or parchment.
Source: Brian O'Rourke
Photo Information: Canon T2i with EFS 18-55 Maco lens at F/2.8 for 1/64th second at ISO 3200
Archives
Authors of Note
Foodie Finds