Posted by: Brian on | Leave a comment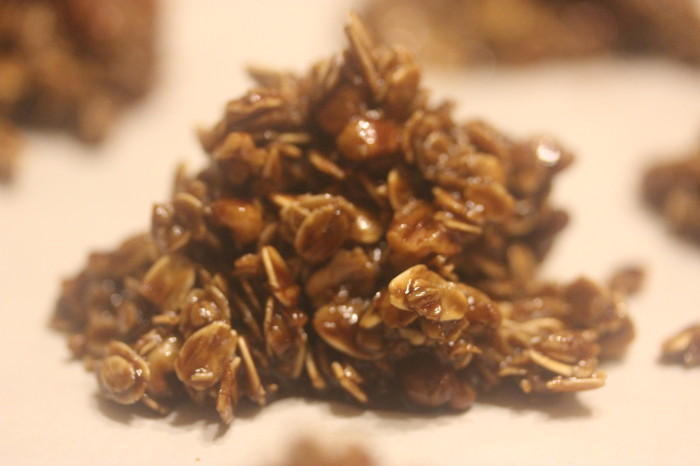 I've posted before a recipe called Nuni's No-Bake Cookies. Stashed in the middle of Cookie Time by Marilyn Miller Wasbotten, this recipe was one I remembered from childhood. I had lost the recipe but not the memories.
Once I had Cookie Time, I made and made these treats. But, I made just them. I would not deviate from the original recipe. I was tempted, but always paused and went vanilla. Well, chocolate and vanilla.
I finally summoned up the courage and played with the recipe. I credit Marilyn for inspiration but I'm going to take credit for this variation. To the original recipe, I add chopped pecans and espresso powder. The result? Well, take a look. It's richer with those coffee overtones so many of us love.
One slight caveat. When you make this and add espresso powder, there is clearly some chemical reaction. The boiling liquid that is mixed with the oats behaves differently. It takes longer for these cookies to set up. I'm going to continue experimenting, adding another 1/2 cup of oats. If these cookies seem "limpy" to you, find a cool space. Even your fridge for a few moments. Just to give the cookies a "cold shock." Once they do set up, they are smooth to the bite.  The only challenge is to stop with one, or two, or …
Brian's No-Bake Coffee Drops
Yield: about 40 cookies
Ingredients:
2 cups sugar
1/4 cup butter
1/4 cup cocoa
1/2 cup milk
2 tablespoons espresso powder
3 cups uncooked quick rolled oats
2 teaspoons vanilla extract
1 cup chopped pecans
Preparation:
Place the sugar, butter, cocoa, milk and espresso powder into a saucepan. Over medium-high heat, bring to a boil while stirring constantly. Boil for 1 minute.
In a large metal bowl, place the oats, vanilla and pecans. Pour the boiling sugar mixture over the oats. Stir to mix thoroughly. The mixture will begin but thicken as you do.
Drop by spoonfulls [a tablespoon in size] onto a cookie sheet lined with foil or parchment.
Source: Brian O'Rourke
Photo Information: Canon T2i with EFS 18-55 Maco lens at F/2.8 for 1/64th second at ISO 3200
Posted by: Brian on | Leave a comment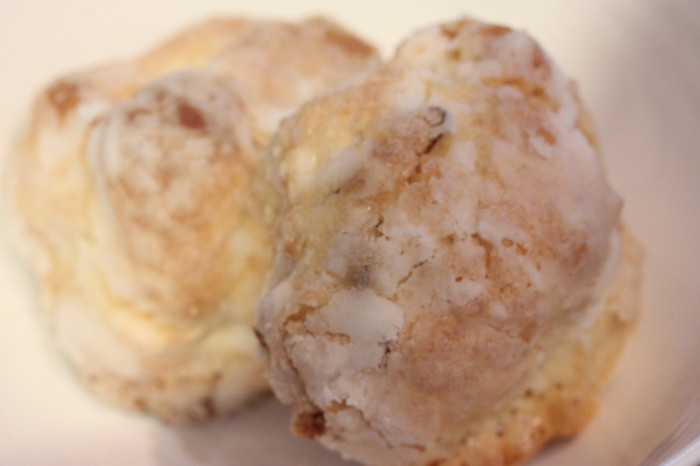 Cookies. They are among the first foods we eat and they fit into a special niche in our lives. Cookies are not dessert. They don't count for that. And they are small so basically calorie free. There is a gracious, guilt free feeling about cookies.
Uh, there should be. Once upon a time, you could go to the neighborhood bakery and find fresh cookies in abundance. All you had to do is follow your nose.
Nowadays, the bakeries are one. The bakery counter at your supermarket carry only two kinds of cookies. There are the hard ones, hard as rock, colored in different pastels, but with one common factor: they remind you of cardboard.
At the other extreme, there are the gooey ones. My local supermarket, really a lovely place in Kingston, sells brownies that are 4 inches on a side. A half inch thick with another 2 inches of frosting. Complete with embedded chips and marshmallows. Lifting one to your mouth is good for your biceps. Taking a taste is a diabetic risk. Yes, I will admit: things can be too sweet, too gooey.
What I wanted the other day was a simple cookie. One where you could taste the butter. Have a soft bite into a cookie sized for humans, not super heroes. I turned, as I often do, to Cookie Time by Marilyn Miller Wasbotten.
These Seth's Brandy Delights are soft balls of dough with a simple, clear, pure flavor. There is some brandy here, but only enough to tint the taste that you feel. It's what cookie was meant to me, used to be, and can be with just a few minutes in the kitchen.
The original recipe below calls for walnuts, but I used slivered almonds for a slightly less nutty tone. Because they remind me of Mexican wedding cake cookies, I did roll these in powdered sugar before baking. Not too sweet!
.
Seth's Brandy Delights
Yield: 24 cookies
Ingredients:
1 cup unsalted butter
½ cp confectioner's sugar
1 egg
1 teaspoon vanilla extract
2 tablespoons brandy
2 ¼ cup flour
¾ cup walnuts
Confectioner's sugar for rolling [optional] 
Preparation:
Cream the butter, sugar, egg, vanilla, and brandy. Blend in the flour and nuts. Shape the dout into 1-inch balls and place on an ungreased cookie sheet
Bake at 375⁰F for 10 to 13 minutes. The cookies will flatten a bit and be about 2 inches in diameter.
Source: Cookie Time by Marily Miller Wasbotten
Photo Credits: Canon T2i, 18-55MM Macro lens, F/8, 1/50th second, ISO 3200
Archives
Authors of Note
Foodie Finds