Posted by: Brian on | Leave a comment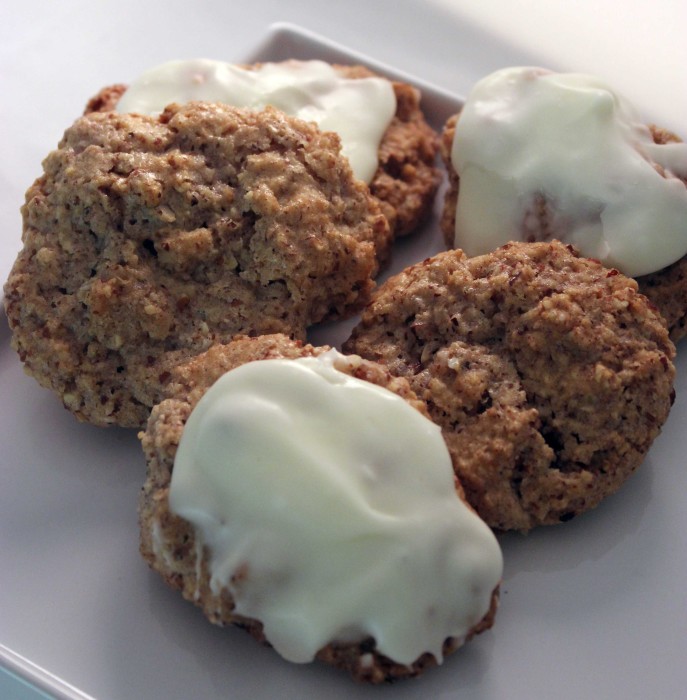 What if you could make an astonishing desserts in five minutes with just three ingredients? Too good to be true? No, not at all. This is an astonishingly good cookie.
I tested it last night on two good friends.
"What do you taste?" I asked.
"Coconut? Peanut butter? Cinnamon? …" The questions kept coming and I started to laugh.
This is the prototype Italian recipe. Simple. Swiftly created. A few ingredients, but carefully honed.
There is no coconut or peanut butter or any spices here. You simply take nuts and some sugar, put them in the food processor and blend away. Take that nutty sand, add an egg, shape, cut and bake.
It's incredibly easy. The recipe calls for walnuts, which Suzen is not the fondest of. So, I used pecans, which do have a more complex flavor. Apparently, to some people, pecans have overtones of coconut, peanut butter, various spices, …
The cookies are to bake base side up, not cut side down. I, uh, neglected to read that so my cookies are flatter here and wider than you'll achieve if you wisely follow the instructions. And these cookies to spread, so used full cookie sheet or divide the batter between two half sheets.
Author Rosetta Costantino found this cookie in the town of Maratea, the only town of Basilicata on the Tyrrhenian Sea [Southern Italy, west side, just above the boot]. It's a coastal town of beauty and culinary distinction. In the bakeries there, this cookie comes two ways: bare bones and with a thick layer of pure sugar frosting just roughly draped over the cookie as you see here. Rosetta loves the pure flavor of nuts alone. My test guinea pigs last night split: one liked bare and one loved frosted. I prefer frosted with the contrast of the cold clean frosting versus the nutty intensity of the cookie itself. Your choice.
Oh, some final notes. If you are someone you know has celiac disease, this no-flour delicacy is perfect for you. For celiac kids, its a great introduction to the kitchen. They can get their hands dirty as they make the cookies, lick their fingers and in a few minutes smile as they bite away.
If someone has a nut issue, then this dish is not for you.
Dolci di Noci
Yield: makes ~30 small cookies
Ingredients:
2 ½ cups walnut halves or large pieces
1 cup sugar
1 large egg
Preparation:
Preheat the oven to 375°F (190″C) with a rack in the upper third of the oven. Line a baking sheet with parchment paper or a silicone baking mat.
Combine the walnuts and sugar in a food processor and process to make a fine meal the texture of sand. Transfer to a bowl. Make a well in the middle and add the egg. Use a fork to briefly whisk the egg, then begin incorporating the nuts until everything is thoroughly combined, finishing the mixing with your hands. The dough will be quite moist and a little sticky.
Divide the dough into quarters. On a flat surface, shape one piece of the dough into a 6-inch log, flattening the sides to make a bar about 1inch wide by 1 inch high. Cut the bar into 3/4 inch segments to make eight pieces. Space the cookies evenly on the prepared baking sheet, standing on their base (not on a cut side) with 1 inch of space all around for spreading. Repeat with the remaining bars to make thirty­ two cookies.
Bake the cookies on the upper oven rack until they are golden all over, about 15 minutes. Let cool on the pan. Store leftover cookies in an airtight container for up to 2 weeks.
Source: Southern Italian Desserts by Rosetta Costantino
Photo Information Canon T2i, EFS 60 mm Macro Lens, F/5 for 1/60th second at ISO‑1250
Posted by: Brian on | 1 Comment
zv7qrnb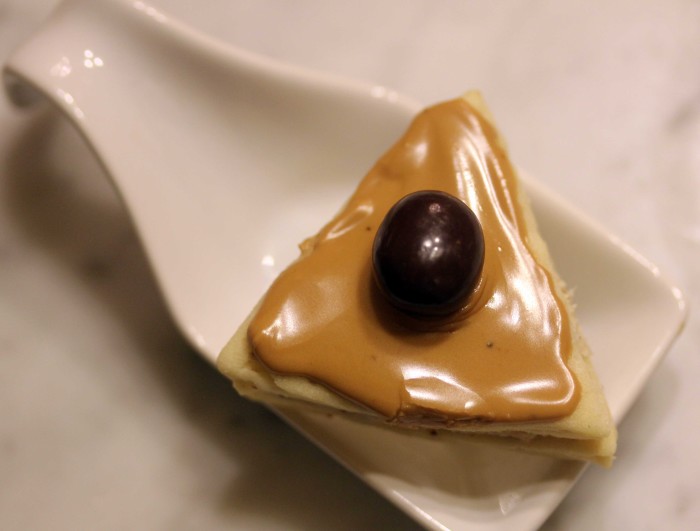 If you love cookies, if you love to bake, then Krisztina Maksai's new book, European Cookies For Every Occasion, is a must have addition to your bookshelves. It's brilliant, eye opening, and sure to transform the meaning of "cookie" for the rest of your life.
I'm serious.
The recipes are Eastern European and the cookies are elegant pastries, not the simple, dry wafers we call cookies. Your only regret will be not having sampled these wondrous treats. They are small and they are great.
In this book, no is no such thing as a simple cookie. There are layers and fillings and frostings. There are textures embedded within textures. When you eat one, you do it slowly and really rather marvel at how a "mere" cookie could be so powerful.
These Coffee Shots are an excellent example of what treats lie inside European Cookie. A Coffee Shot is a sandwich cookie, the layers made of ground almonds and flour. The cookies halves are married with a sugar-coffee paste. The cookie is adorned with a coffee frosting and then topped with a chocolate coffee or espresso bean.
Coffee Shots are not hard to make. They are not hard to eat. Addiction is, well, not my concern. And, you'll want a cup or two of espresso to enjoy along the way. This is a pathway to escape the inconvenience of sleep. If you have a big test tomorrow, start baking.
The instructions here call for switching from the usual mixer paddle to the dough hook during the mixing process. Our Kitchen Aid mixer has a bowl that is very big, and the dough hook simply would not have been able to "grab" on the bottom and mix suitably. So, Suzen said we would stick with the regular paddle but keep mixing for the times called for in the recipe: 3-5 minutes.
You will need to mix for that full amount of time. There is little "soft" or "liquid" content in this recipe. Along the way, the mixture is dry and it does take time to come together as a dough that you can roll out and cut. Have faith and patience. This is a magnificent recipe.
Coffee Shots
Yield: ~25 to 35 cookies depending on the size of your cookie cutter 
Ingredients:
Cookie Dough:
1 ¼ sticks (145 grams) unsalted butter, at room temperature
2/3 cup (70 grams) confectioners' sugar
1 medium egg yolk
½ cup (70 grams) ground almonds
1 ⅔ cups (200 grams) all-purpose flour
Filling:
1 cup (100 grams) confectioners' sugar
¾ stick (85 grams) unsalted butter, at room temperature
1 ½ teaspoons instant coffee
Decoration:
1 cup (100 grams) confectioners' sugar
1 teaspoon instant coffee
2 tablespoons cold brewed coffee
Coffee chocolate drops or chocolate-covered espresso beans
Preparation:
For the cookie, combine the butter and confectioners' sugar in the bowl of an electric mixer fitted with the paddle attachment and beat until the mixture resembles a smooth paste, 3 to 5 minutes. Add the egg yolk, ground almonds, and flour, switch the electric mixer to the dough hook attachment, and mix until the dough is smooth, 3 to 5 minutes. Form the dough into a small loaf. Wrap the loaf in plastic wrap and put it in the refrigerator for about 30 minutes.
Preheat the oven to 350°F.
Lightly flour a working surface and roll the dough to about 1/8 inch thick. Using a round cookie cutter cut the dough into 72 cookies.
Line a baking sheet with parchment paper and then transfer the cookies carefully to the sheet with a pastry spatula. Bake the cookies for 7 to 10 minutes or until the edges turn golden brown. Carefully remove them from the baking sheet with the pastry spatula and place them on a cooling rack to cool completely.
For the filling, stir the confectioners' sugar, butter, and instant coffee together in a medium bowl with a fork until it resembles a smooth paste. Using a spoon, spread a teaspoon of filling on half of each of the cookies, and then top them with the remaining cookies.
For the decoration, mix the confectioners' sugar and the instant coffee into the brewed coffee in a medium bowl until they are dissolved. Spread the mixture on top of the filled cookies with a teaspoon and decorate each cookie with a chocolate drop or espresso bean.
These cookies are good for about one week stored in an airtight container at room temperature.
Source: Savor Baking by Mary Cech
Photo Information Canon T2i, EFS 60 mm Macro Lens, F/2.8 for 1/100th second at ISO‑800
Archives
Authors of Note
Foodie Finds