Posted by: Brian on | Leave a comment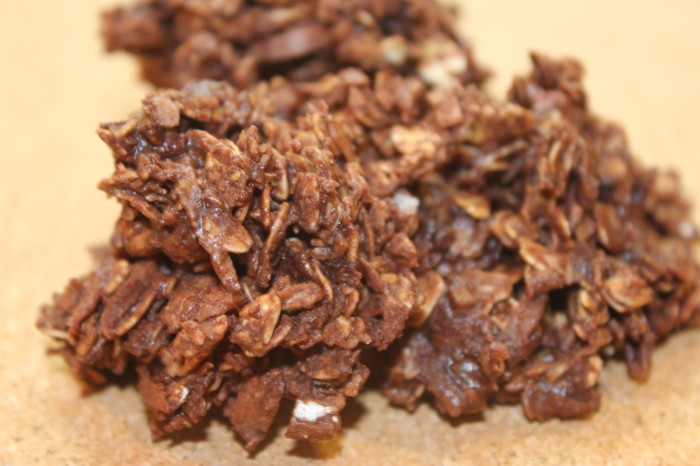 I first blogged this recipe three years ago. It's a childhood favorite that I keep returning to.  This time, though, I used one of the options: adding a cup of shredded coconut. A very good cookie was elevated to sweet perfection.
This cookie recipe has three special features. No baking. No flour. No eggs. For someone with food allergy issues, this may be just your treat. If you are "baking" with kids and want something fun and safe, there is no more delicious cookie than this one. Parents will have to boil the sugar and dairy part, but children love to stir up the oats at the end. With no baking, they just have to spoon the batter out and wait just a few minutes for the batter to dry. The batter is sticky so children will have to be instructed to periodically lick the spoon. In my experience, that is not a major problem.
I had this cookie a zillion times as a kid. I grew up, went to college, moved away, and for thirty years had this fond memory of some cookie that did not have to be baked. But I had no idea what it was. Fifteen years ago, while browsing through a bookstore, I opened up Cookie Time by Marilyn Miller Wasbotten. This fond memory was on the first page I looked at.
You should let the mixture cool just a bit if you are going to add chocolate chips if you want them whole; they will immediately melt if you have just made the syrup-oat mixture.
Nuni's No-Bake Cookies
Yield: 40 cookies
Ingredients:
2 cups sugar
¼ cup [2 ounces] butter
¼ cup cocoa
½ cup milk
3 cups uncooked quick rolled oats
½ cup peanut butter
1 teaspoon vanilla extract
Optional: 1 cup of nuts, raisins, chocolate chips or shredded coconut
Preparation:
Stir the sugar, butter, cocoa, and milk in a saucepan and cook until the mixture comes to a good boil, stirring constantly. Boil for 1 minute. Pour over the oats, peanut butter, and vanilla. Add optional ingredients. Drop by teaspoonfuls onto a cookie sheet lined with foil and let cool.
Source: Cookie Time by Marilyn Miller Wasbotten
Photo Credits: Canon T2i, EFS 18-55mm macro lens, F/5.0 for 1/20 second at ISO 400.
Posted by: Brian on | Leave a comment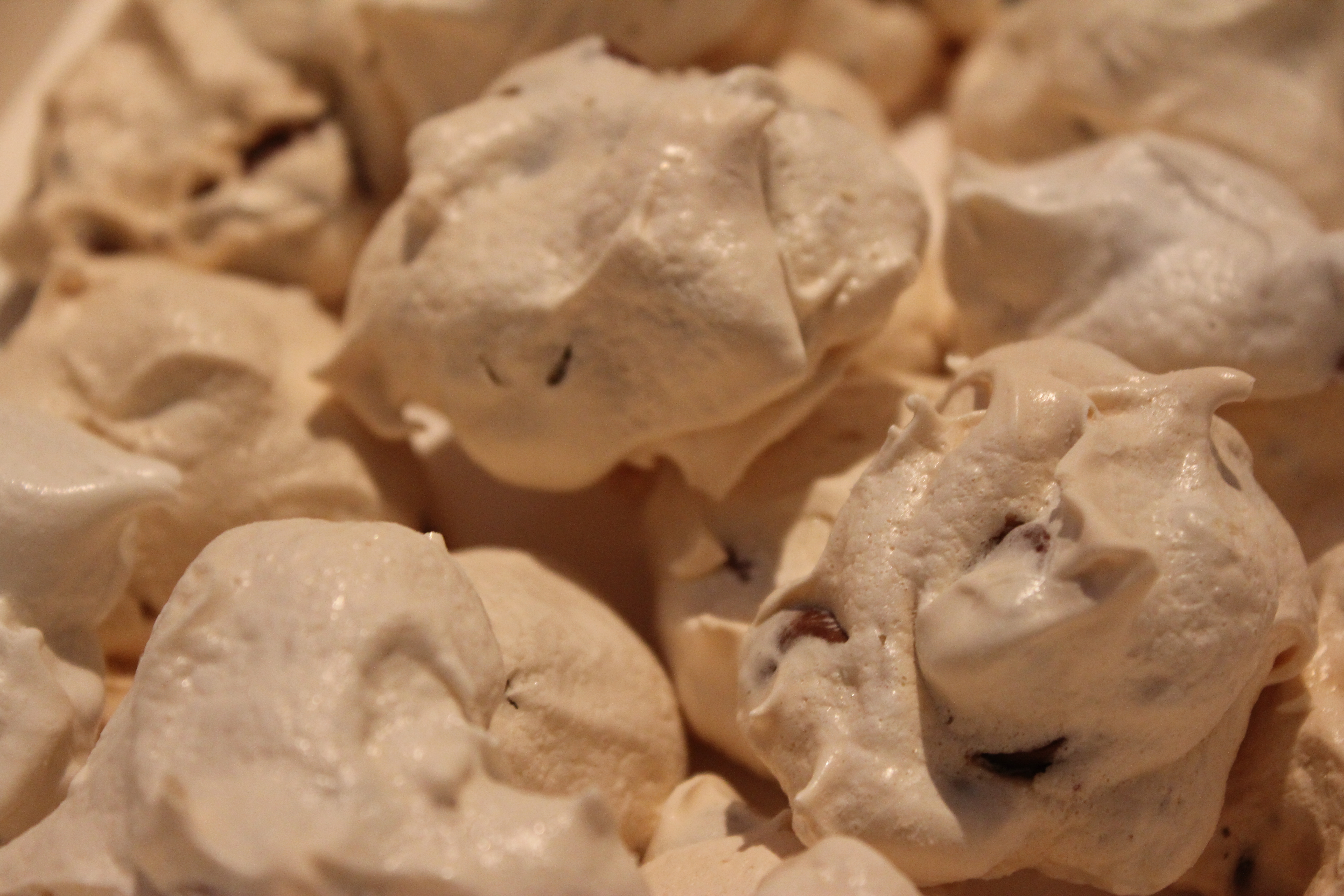 What? Another meringue cookie recipe?
You bet. Because this one is, I am confident, the definitive recipe.
Single ingredient cookbooks charm me. That's a lot of pages for one thing. Yet if that thing is vanilla, how can you be wrong. Pure Vanilla is a distinguished new cookbook by Shauna Sever, who authored that yummy Marshmallow Madness book last year.
This book is about our favorite flavor. Yes, more vanilla is consumed that chocolate. I don't think that is right or moral or ethical, but it's life. So, I have decided to be flexible. I checked out the book, I read the recipes, and I recommend Pure Vanilla to you all.
The issue with meringue cookies has been how to get them right. Not over or under cooked. Not dry to the point of being desiccated. Not still to moist so they become goo in your mouth. How to stay white?
It comes down to ingredients, baking temperature, and baking time. For the ingredients, the mix here is interesting. You used equal parts of regular granulated sugar and confectioners' sugar. Why? You need some cornstarch from the confectioners' sugar, but too much. Here the proportions are golden.
What is not golden are the cookies. By cooking at a low 200⁰ you get lovely white cookies. It's as simple as that.
I put chocolate chips in because I am a hypocrite and an addict. You don't need them, but I must say with this balance of sugars, milk chocolate chips are fine. You could add nuts, too, or just nuts and no chocolate. But that would be, in my opinion, nuts.
Vanilla Bean Meringue Kisses
Yield: 48 1 ½ inch cookies
Ingredients:
4 large egg whites, at room temperature
¼ teaspoon cream of tartar
¼ teaspoon salt
½ cup granulated sugar
½ cup confectioners' sugar
1 ½ teaspoon pure vanilla extract
Caviar of ½ vanilla bean
1-2 bags of chocolate chips [semi-sweet or milk]
Preparation:
Position the oven racks in the upper and lower thirds of the oven and preheat to 200⁰. Line two baking sheets with parchment paper.
In the bowl of a stand mixer fitted with the whisk attachment, beat together the egg whites, cream of tartar, and salt on medium-high speed, until very foamy and just barely holding shape, about 2 minutes.
Sift the sugars together into a small bowl and then gradually add the sugars to the egg-white mixture, continuing to beat until the batter hold firm peaks, about 3 minutes more. Increase mixer speed to high and beat for 1 final minute, adding vanilla extract the vanilla bean caviar.
Optionally, fold in the chocolate chips.
If not using the chips, transfer the meringue to a pastry bag fitted with a large round or star tip. If you are using chips, then you'll just put down rounded tablespoons of batter.
Pipe the meringues about 1 ½ inches in diameter on prepared baking sheets, leaving about 1 inch between them. Bake until the meringues are firm and crisp, about 1 ½ hours. Turn off the oven.
Now I simply leave the meringues in the oven overnight. I've started baking at 9PM. Author Shauna Sever says to leave the oven door now slightly open and let the meringues cool in that oven for about 1 hour. I don't think there's a great difference. I will say that leaving them in the overnight leaves them crunchy with absolutely none of that meringue softness that can suddenly turn to goo and clot up on your teeth.
Source: Pure Vanilla by Shauna Sever
Archives
Authors of Note
Foodie Finds