Posted by: Brian on | Leave a comment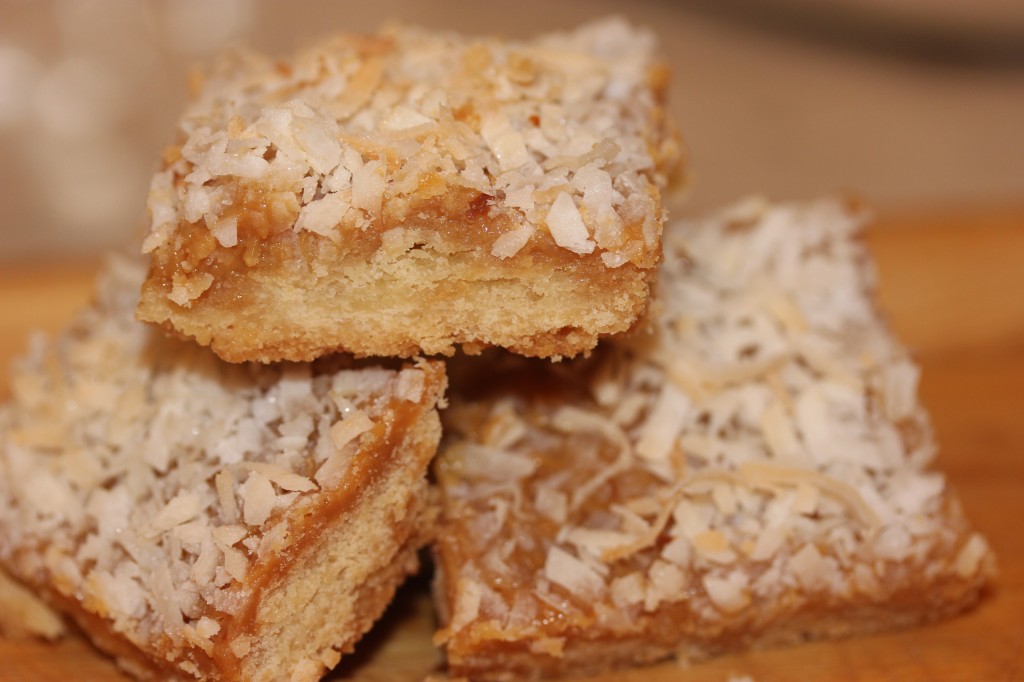 Last week I posted a recipe for dulce de leche swirl congo bars. Fantastic cookies combining the flavor of blondie cookies with chocolate chips and dulce de leche.
Here's another great idea from Simply Sensational Cookies. These are called Easiest-Ever Dulce de Leche Bars. Why "easiest?" Because amazingly, you don't use dulce de leche as an ingredient. No you make a shortbread batter, bake it off, then top it with sweetened condensed milk. Pop it back in the oven. The shortbread finishes cooking and that milk is transformed into dulce de leche. Oh, and you top it off with coconut.
It's really easy. It's decadently good. If you want to justify making this, get some children. Tell them you are going to demonstrate an important chemical reaction. In goes the shortbread base with condensed milk and out comes dulce de leche. Honestly, I think that's just the sort of lesson that can trigger a healthy interest in science or cooking.
Or eating.
Easiest-Ever Dulce De Leche Bars
Yield: 24 2" squares
Ingredients:
1 batch Simple Shortbread Bar dough [recipe follows]
2 14-ounce cans sweetened condensed milk
1 tablespoon vanilla extract
⅛ teaspoon almond extract or coconut extract
⅛ teaspoon salt
1 ½ cups shredded or flaked sweetened coconut
Preparation:
Baking Preliminaries: Position a rack in the middle of the oven; preheat to 350°F. Line a 9 by 13-inch baking pan with heavy-duty aluminum foil, letting the foil slightly overhang on the narrow sides. Lightly grease the foil or coat with nonstick spray.
If the shortbread dough has not been prepared ahead, ready it; press it evenly into the foil-lined baking pan. Bake for 20 to 25 minutes, until the shortbread is tinged with brown and just slightly darker at the edges.
Reset the oven to 325°F.
For the filling: In a medium bowl, thoroughly stir together the sweetened condensed milk, vanilla, almond extract, and salt. Evenly pour the mixture over the crust. Cover the pan tightly with foil. Bake (middle rack) for 40 to 45 minutes or until the filling is the color of caramel candies. Sprinkle the coconut evenly over the top. Bake, uncovered for 10 to 15 minutes longer, until the coconut is nicely browned and crisp.
Transfer to a wire rack; let cool completely. Using the foil as handles, lift the slab to a cutting board. Carefully peel off and discard the foil.
Cut away the overbaked edges using a large sharp knife. Cut the slab crosswise into sixths and lengthwise into quarters.
Source: Simply Sensational Cookies by Nancy Baggett
Simple Shortbread
Yield: one 9 by 13-inch pan
Ingredients:
13 tablespoons [scant 1 2/3 sticks] butter, unsalted, cool and firm, cut into chunks
½ cup granulated sugar, plus 1 to 2 tablespoons more for optional garnish
1 ½ teaspoons vanilla
2 cups unbleached all-purpose white flour
1 ½ cups dulce de leche, room temperature from a 13.4 ounce can or ajar of store-bought dulce de leche or, better, home-made and chilled
Preparation:
Baking Preliminaries: To prepare simple shortbread bars, position a rack in the middle of the oven; preheat to 350°F. Line a 9 by 13-inch baking pan with aluminum foil, allowing it to overhang on the 9-inch sides slightly. Lightly grease the foil or coat with nonstick spray. (If using the dough as a bottom crust for layered bars, after making the dough proceed as directed in the individual recipes — which is what is suggested above for this Easiest Ever cookie).
To make the dough with a mixer, let the butter warm up until just slightly soft. In a large bowl with the mixer on medium speed, beat the butter, sugar, vanilla, and salt just until evenly blended, scraping down the bowl as needed. On low speed, beat in the flour just until the mixture forms a mass. (If the mixer motor labors, stir in the last of the flour a large spoon; or gradually knead it in with your hands.)
If the dough too crumbly to hold together, gradually work in up to 4 teaspoons water until it holds together her smoothly. Press and pat the dough into the pan until evenly thick all over (Laying a sheet of wax paper over t h e surface may make it easier to smooth out t h e dough.) If planning to serve t h e shortbread as a cookie itself, garnish the t op by evenly sprinkling over a little sugar. Bake (middle rack for 23 to 28 minutes or until t h e shortbread is nicely browned all over, perhaps slightly darker at the edges, and just firm when pressed.
Transfer the pan to a wire rack to cool to firm up slightly and cool to warm.
Source: Simply Sensational Cookies by Nancy Baggett
Posted by: Brian on | Leave a comment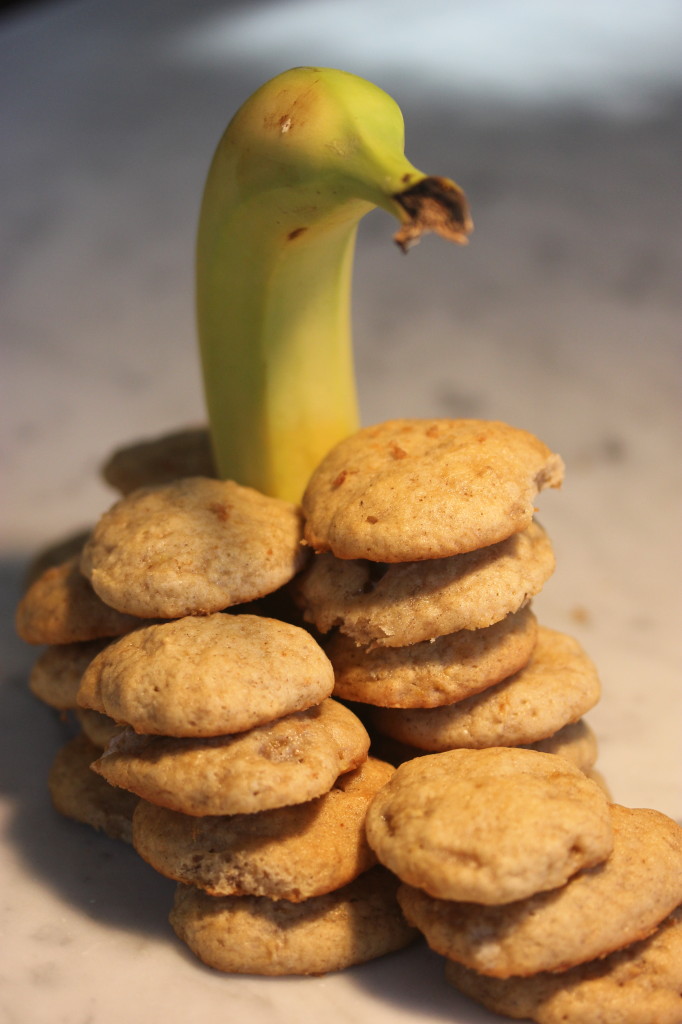 No, that is not the prow of a Viking ship. Or the head of some new species of featherless bird. It's a banana. Not quite ripe.
When it does ripen, what do you do. You know, that bunch of bananas you bought will all ripen at the same time, not one a day. So all of sudden, you are confronted with a half dozen perfectly lovely pieces of fruit. You can't eat them all. Even with rum, you can't drink them all.
So, you bake. Banana bread. Banana cake.
I have nothing against those. I love them both. But I do tire of picking poppy seeds from teeth.
And I have this memory, this very distant memory of banana cookies. I know it was long ago. Even prior to the prior marriage. I don't remember where or when. But I do remember eating a pure banana cookie, soft, mellow and filled with flavor.
I searched all our cookie books, but did not come up with what I remember. I mean all the books from all those authors: Nick, Maida, Carole, … The classic books do have some banana recipes, but always with oatmeal or chocolate chips. Even this recipe suggests nuts, which I left out. I wanted pure banana flavor.
This recipe, from simplyrecipes.com, is from a woman who inherited her grandmother's recipe box. She believes the recipe is about 70 years old and that would put in the right timeframe for a young kid in Oregon who had mouthfuls of these wonders.
You could frost them, of course, or dust them with powdered sugar. But honestly, they stand on their own. In fact, as the picture shows, they can even support a banana.
Banana Cookies
Yield: 30 Cookies
Ingredients:
• ½ cup of unsalted butter, room temperature
• 1 cup of sugar
• 1 egg, room temperature
• 1 cup of mashed bananas (about 2 ½ large bananas)
• 1 teaspoon of baking soda
• 2 cups of flour
• pinch of salt
• ½ teaspoon of ground cinnamon
• ½ teaspoon of ground mace or nutmeg
• ½ teaspoon of ground cloves
• 1 cup of pecans [optional, and you can substitute other nuts]
Preparation:
Preheat the oven to 350°F. Cream the butter and sugar together until light and fluffy. Add the egg and continue to beat until the mixture is light and fluffy.
In a bowl, mix the mashed bananas and baking soda. Let sit for 2 minutes. The baking soda will react with the acid in the bananas which in turn will give the cookies their lift and rise.
Mix the banana mixture into the butter mixture. Mix together the flour, salt, and spices and sift into the butter and banana mixture and mix until just combined.
Fold into the batter the pecans or chocolate chips if using. Drop in dollops onto parchment paper-lined baking sheet. Bake for 11-13 minutes or until nicely golden brown. Let cool on wire racks.
Source: Simplyrecipes.com
Archives
Authors of Note
Foodie Finds