Posted by: Brian on | Leave a comment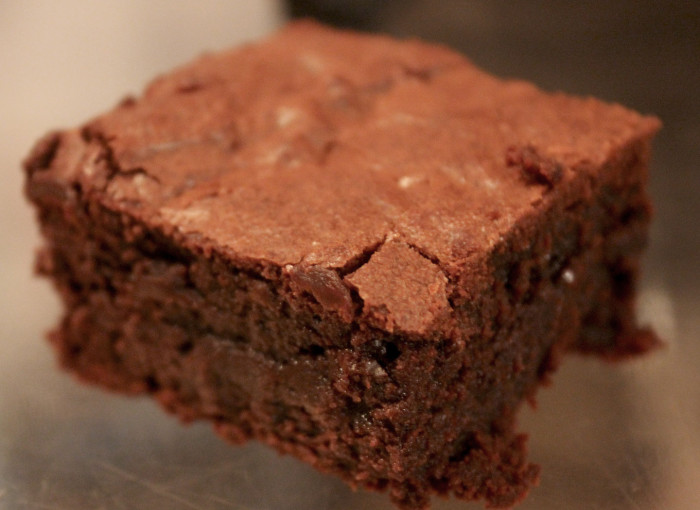 Yesterday I posted a Coffee Nutella Ice Cream to be paired with this Killer Brownie. It's dense and chocolaty. The crust, you can see from the picture, is thin and fragile. You could not frost these brownies, so ice cream is a sound way to "complete" the dish, although honestly it does not need anything in addition.
If you don't want ice cream, then some whipped cream will tone down the intensity of this dessert. Or, you can go the other way. A glass of deep and dark red wine is a complement readily enjoyed.
Unlike most people, I can truthfully claim I have eaten more brownies than Oreos. Suzen and I have a shelf devoted to brownie books. Not cookie books. Brownie books. It is an American dessert, perhaps as much "the" American dessert as apple pie. The wife of the owner of the premiere Chicago Palmer House Hotel requested that her chef create a dessert for ladies attending the World Fair in Chicago 1893. The idea was to have something small, a cross between cake and cookie.
Bertha Palmer was married to Potter Palmer. He had founded a department store and sold it off — before it evolved into Marshall Field's. He founded the Palmer House, only to lose it in the Great Chicago Fire. But he rebuilt and the Palmers were formidable and gracious members of Chicago society.
Bertha is forgotten now. But her desire, the brownie, is an institution as grand as any hotel or department store.
---
Killer Brownies

Yield: 8 really large ones

Ingredients:

6 ounces unsalted butter, at room temperature
¾ cup sugar
½ cup plus 2 tablespoons light brown sugar
3 large eggs
1 teaspoon vanilla extract
½ cup plus ⅓ cup unsweetened cocoa powder
⅔ cup cake or all-purpose flour
¼ teaspoon salt
1 cup chocolate chips
Preparation:
Preheat the oven to 350°F.
Place the butter and sugars in the bowl and melt and mix until creamed and smooth. Add the eggs, one at a time, beating well after each addition. Add the vanilla and mix to combine.
Sift the cocoa powder, flour, and salt into a bowl. Add half the cocoa mixture to the butter mixture and mix until just combined, scraping down the bowl continuously. Repeat with the remaining half.
Grease and flour an 8-inch square cake pan. Spread the batter into the prepared pan and transfer to the oven. Bake until a toothpick inserted comes out dry but with a crumb or two. The top should look dry, crater like, and crackly, about 20 to 25 minutes. Set aside to cool completely. Trim off the edges first [you can save for a great ice cream topping] and cut into even squares.
Source: Cooking by the Book Staff with info from Wikipedia

Photo Information Canon T2i, EFS 60 mm Macro Lens, F/4.5 for 1/50th second at ISO‑2500

Posted by: Brian on | Leave a comment
zv7qrnb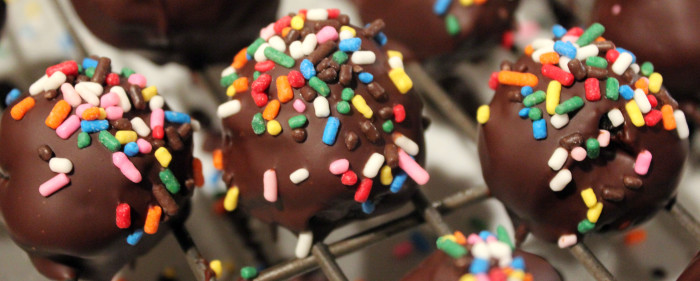 It's the weekend. A hot day. You're tired and it's still just the afternoon. The kids are demanding dessert for tonight and you have no idea even what dinner will be. Burgers on the grill would seem to be your destiny. But if you fail to supply a balanced meal — including some smashing desserts — the weekend will end with frowns or tears or stomping. And that's just you. Who knows how the kids will behave.
Here's a solution. Invoke those children with something like, "You want dessert? You get in the kitchen."
No, poor strategy. How about, "Kids, you get to help with dessert. Get the Oreos and a hammer."
Yes, that's more like it.
I tasted these Oreo Truffles for the first time last week. I was just presented with a chocolate ball. I had no idea what was about to be consumed. I took a bite. I gasped.
"Do you have the recipe," I asked one of Suzen's chef's here at Cooking by the Book. That's not an easy question. Rian is a famed baker with a portfolio of secret recipes. How would I get the details of this treat. I like Rian. I did not want to have to resort to waterboarding. But I do have my priorities.
He laughed. "It's on the web. It's famous. It's simple."
How I never knew about this delicacy, I'll never know. It's brilliantly simple. It's decadent. And it really is something that your kids can do. They can do the whole thing with you watching and they will giggle and drool to their utmost delight. Yes, they'll make a mess, but so would you if you made this, so it really doesn't matter.
Get your camera. This is a moment to embarrass the kids with twenty years from now at the wedding.
---
Oreo Truffles

Yield: 3 dozen +, depending on how big your roll the chocolate balls

Ingredients:

1 16-ounce package of Oreo cookies, divided
1 8-ounce package of Philadelphia Cream Cheese, softened
2 8-ounce packages of Baker's Semi-Sweet Baking Chocolate, melted and stirred to uniformity
Sprinkles of your choice, optional
Preparation:
Line a half cookie sheet with wax paper.
Crush 9 of the cookies to fine crumbs in a food processor; reserve for later use. Or cookies can be crushed by putting them in a Ziplock freezer bag, sealing the bag and using a rolling pin. With the pin you can beat or roll. [I was only joking about using a hammer, but you could.]
Crush the remaining 36 cookies to fine crumbs. Place the crumbs in a medium bowl. Add the cream cheese and mix until well blended. There may be little white streaks of cream cheese and the Oreo filling. Streaks are fine, globs are not.
Roll the chocolate mixture into 36-42 round balls, about 1 inch in diameter.
Dip the balls one at a time in the melted chocolate. Use two forks to dip, rotate, and remove each truffle.
Place the truffles on the wax paper covered sheet. Sprinkle with the reserved cookie crumbs or sprinkles as shown in the picture above.
Refrigerate until firm, about 1 hour. Store leftover ruffles, covered, the refrigerator. You can eat them cold or let them first warm a bit to intensify the flavor. If they get to room temperature, they taste just fine, but you will have to lick your fingers.
If kids are involved at room temperature, baths may be necessary and the whole purpose here was to avoid tears. Remember?
Source: allrecipes.com

Photo Information Canon T2i, EFS 60 mm Macro Lens, F/4.5for 1/50th second at ISO‑3200

Archives
Authors of Note
Foodie Finds