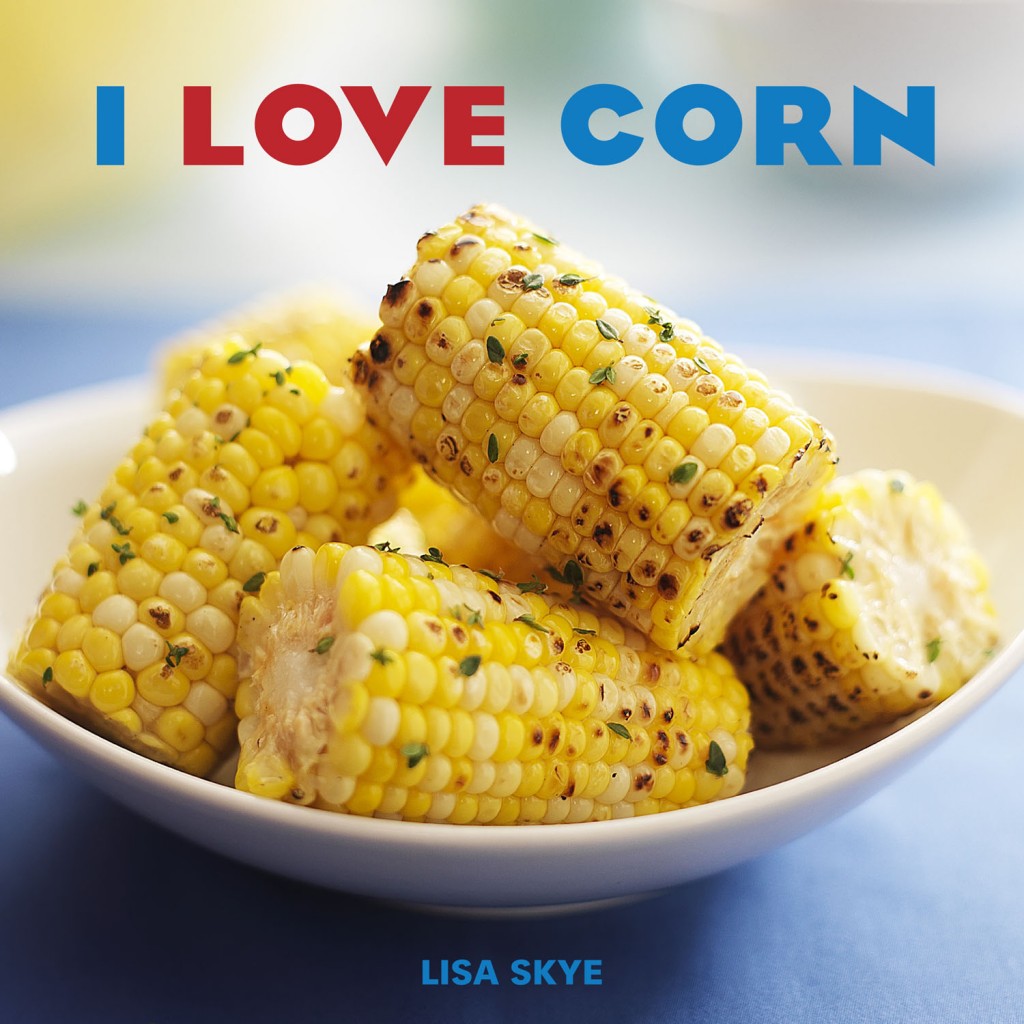 I have blogged a couple of posts here from I Love Corn by Lisa Skye. Today I just want to alert you to the book a little more and give you some idea of the striking recipes it contains.
Corn is something we love but can overlook. It's just there, like water, as a key food but not something we take with seriousness, well, not with enough seriousness. [Oh, you don't think you have corn every day? How about corn syrup? It's inescapably part of the American diet, but it is not prominent.]
I'm guilty of denying corn, too. You grill corn and then serve it with chipotle butter and you think that you have you've "done something" with corn. You have, it's true, but there are far, far more complex things to do with corn.
For example, if you have both corn and some left over rice, you can do a Roasted Corn Goat Cheese Quiche with Brown Rice Crust. No rice? Okay, skip that crust, use a conventional crust but still go for this quiche filled with corn, red peppers, scallions and goat cheese.
Do you want a sensational brunch dish, one that no one will ever forget? The do a Corn and Cherry Tomato Hash with Poached Duck Eggs and Truffle Hollandaise. I would wager that you've never had that combination.
Would you like a new comfort food recipe, one to match that meatloaf you often turn to? Then there's Corn-Poached Halibut with Tomato and Charred Jalapeno Chutney.
For an elevated side dish, you could make a decadently rich Corn Pudding with Bacon and Leeks.
And to complete a corn meal [pun intended], you could make a Blueberry Financier with Corn Bread Streusel and Corn Bread Ice Cream.
Each of these recipes is a culinary journey that will take you far from that simple corn on the cob. So, you have a couple of options. First run out and buy I love Corn by Lisa Skye. Or, and I will keep this promise, you'll see posts with these recipes [or most of them] over the next month.
Actually, you have three options. You buy the book and read the posts here for reports on how our testing of the recipes flows. From our work so far, we love I Love Corn.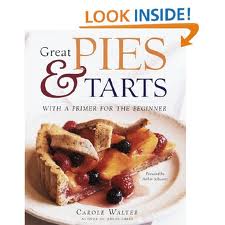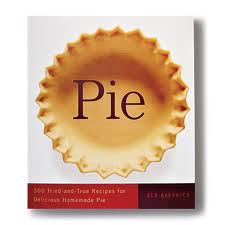 We are two thirds of the way through summer, and it is now peak season for pie makers. There are still berries to be had. Peaches abound. And soon, as fall enters, we'll have apples by the ton. In just two months, fresh pumpkin pie will tempt us.
I like pies of all kinds, but fruit is dearer to me than even chocolate. I remember my first lemon meringue pie, from the Farmers Market at 3rd and Fairfax in Los Angles. Like a first kiss, that first pie was confirmation that life could be grand.
Suzen and I have collected pie books aplenty over the years. Pie books tend to be slim, with a few dozen recipes. Slimness is not bad and those smallish books have some wonderful ideas.
But when I am in a pie mood, when I need a pie encyclopedia for something different, where do I turn? I happen to be ambidextrous and therefore I can do two page turns at once. If you love pie, then there are two very thick books that you want to consult. Great Pies and Tarts by Carole Walter is a bible at almost 500 pages. Pie by Ken Haedrich comes to us with over 600 pages. Both books are wonderful and both are indispensable. And, they complement each other.
Do you want a tangerine pie, then you need Great Pies and Tarts. Is there a watermelon afoot in your kitchen, then you need Pie. And, Great Pies and Tarts does not address watermelon while tangerine does not appear in Pie. It turns out that these wonderful books truly complement each other.
If the slim books have a few dozen recipes, these two tomes have hundreds. Does size, or quantity, matter. It does.
When you ask someone to name a pie, they are going to answer "apple." Then "cherry" and "berry" will pop up. "Peach" perhaps. "Watermelon?" Never.
Besides offering the most delicious spectrum of flavors, these two books serve a vital role. They capture and preserve a tradition of American pie recipes that might otherwise be lost. Pies from different eras and a different America. You won't find a "Deep-Dish Pluot Pie with Oatmeal-Walnut Crumb Topping" in the freezer section of your supermarket. You will in Pie. "Creamy Green Grape Pie?" Not in the store but Carole has the recipe ready and waiting for you.
Over the coming weeks, you'll see some great recipes here from these books — I've already posted Ken's Watermelon Chiffon Pie. And, recipes for crust, lots of recipes. Pie crust is something that frightens too many of us to a shelf in our store we can find one "pre-made." That's really good marketing talk for manufactured. You want your own crust, your own personal crust, and we'll have many good ideas here for you.
Along the way of this pie journey, you can visit Carole Walter at her website or join Ken Haedrich's Pie Academy for lots of serious instruction. Just click here and enjoy: