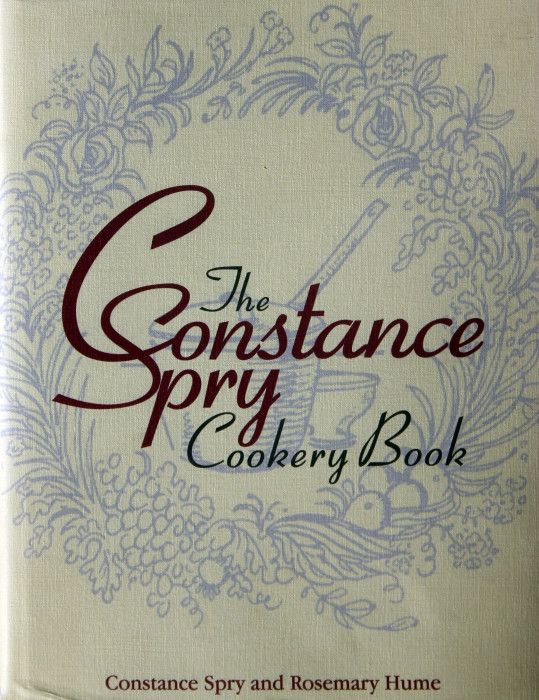 It is Throwback Thursday. Time to review an old cookbook with great contemporary value. We are going back here almost 60 years, to 1956 and the publication of The Constance Spry Cookery Book.
First things first. "Cookery" is an odd sounding word to Americans, but it is the common British term instead of just "cooking." It actually has a double nuance, officially defined as the "art of preparing food by the application of heat." It's not just cooking. It's an art. And heat, the mechanism for transformation, is right there. British cuisine is cooked, not raw. The term cookery has been part of the language since the 14th century.
Who was Constance Spry? Think of her as the English Julia Child + Ina Garten + Martha Stewart. Someone very accomplished, and very talented, and on a very grand scale. Born in 1886, she served in the Dublin Red Cross at the start of World War One, then head of the women's staff [welfare and medical treatment] at the Ministry of Aircraft Production.
After the war, something drew her to flowers and she quickly became the most famous florist for high society in London. Famed for her arrangements based on Dutch 17th and 18th century paintings, she scoured the byways of London to find unusual objects for containers and she employed unexpected garden elements including weed, grasses, and ornamental kale. By 1934, she had 70 employees.
When World War Two broke out, she expanded from gardens with flowers to gardens for food during a time of stress and conservation. She cultivated roses while working with co-author Rosemary Hume [whose Au Petit Cordon Bleu cooking school in London fell victim to World War Two shortages], to fashion new recipes, gather historic ones, and assemble this thousand page volume that is an early British version of The Joy of Cooking.
Cookery is vast, detailed, and lovely. The purpose of the book was to take the knowledge of culinary professionals and write it in a form that British housewives could understand and use. It was, and it remains, the British cookery [and cooking] bible.
There are 37 chapters, over a 1000 pages, and 100's of recipes. I can't begin to detail it all. It's far too vast. What I can do is give you some samples and encourage you to look for the book. It was reprinted 10 times after 1956, the last in 1990. Now, thanks to Grub Street Publishers in London we have a new edition [2011] that you can search for, scan, buy, use, adore, and pass on to your daughter. Or your son. It's a treasure.
It's lovingly dated in places. There is unchanged wording from the 1956 edition about parsnips mentioning that there used to be more sugar available. World War Two food rationing did not officially end until 1950 and there were cultural and economic ramifications in Britain all through the 1950s. So the Parsnip Galette recipe, using sugar, is treated here as an old friend that hopefully will come back to life when times are better. And now, they are.
There is a tradition of decrying British cuisine. Constance would battle anyone saying a disparaging syllable. If you scan this book, you'll be amazed at the ideas. She borrowed heavily from France, loving the marriage of French technique with British ingredients. British terroir is certainly not what you will find along the Loire or in Provence. France, and no other country, is the inspiration here. There is little pasta, for example, but a glorious range of soups and sauces. Desserts aplenty, soufflés, and mousses. It's not simple borrowing. It's more of an appreciative marriage, with those British ingredients — a gammon of bacon — given a fresh French buff of herbs and spice.
And there are things here that you have never seen. Suzen and I will be experimenting. For example, the Bananes Gratinees which is French [google "bananes gratinees and paprika"] but seems like some Hungarian-Italian-Swiss fantasy: bananas are first pan cooked in butter with salt and paprika, then sprinkled with bread crumbs, Parmesan and Gruyere cheeses, and baked. We are going to attempt this and offer it to dear friends, ones who are happily eager to be the testbeds for the very new or the very different.
Perhaps a little less extreme, the recipe below for Tomato Ice offers a velvety different take on how to create a shrimp or lobster cocktail. The British are seafood fanatics, and their repertoire goes far beyond mere Fish and Chips. So, this Tomato Ice may be the way you break the ice and consider looking at The Constance Spry Cookery Book. It will entertain and fascinate you.
If you are a foodie, if you love food history and "old recipes, then this is a book you simply must possess.
---
Tomato Ice

Yield: enough for 6

Ingredients:
½ cup thick mayonnaise
½ cup tomato pulp made from 1 pound of tomatoes stewed with a little garlic, bay leaf and lemon thyme or basil and then sieved
1 teaspoon tomato puree
Juice of 1 lemon
Grated rind of 1 orange
5 tablespoons partially whipped cram
Pinch of sugar
Salt and pepper to taste
Preparation:

Make the mayonnaise yourself from scratch, using lemon juice instead of vinegar to sharpen the flavor. Incorporate the ingredients in the order given. The tomato puree is added if the fresh tomatoes are poor in flavor or lacking in strength. Taste and adjust the seasonings. Pour into a container and freeze. The mixture will be thick yet creamy.
The Tomato Ice may be use either as an accompaniment to grilled sole and turbot or as the base of a prawn or shrimp cocktail. Freshly chopped herbs as well as shredded or chipped lobster may be added to the mixture together with a dash of brandy or sherry, so turning it into a lobster ice or frozen lobster cocktail.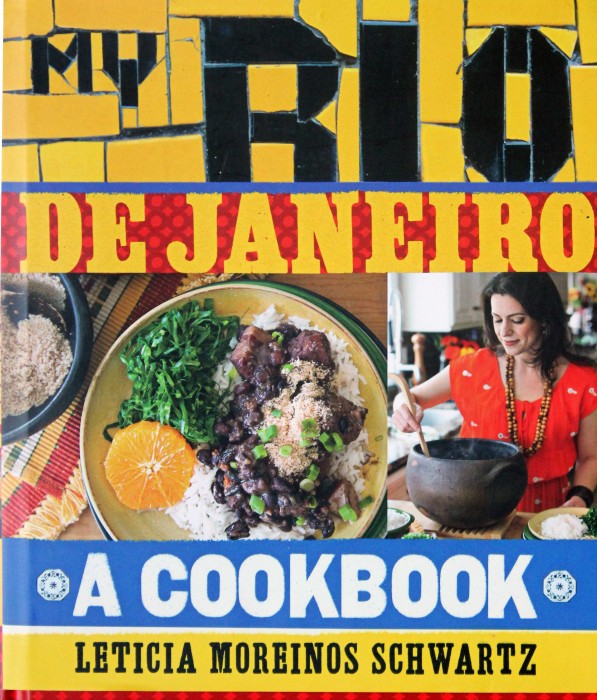 I had intended to review this book a few weeks ago. I was going to time the review to match Brazil winning the World Cup in soccer. And then there was that match with Germany. I was making cookies with my grandson. We turned off the television in one room and moved to another room to watch the bloody end. In those two minutes, Germany scored two more goals.
I put my copy of My Rio De Janeiro aside. To pause, to mourn, and certainly to forget.
It's a new day. Time to talk about this wonderful book based on the complexities that can only be found in Rio de Janeiro. Author, and cooking teacher, Leticia Moreinos Schwartz was born in Rio and now lives in Connecticut. The beaches are different.
As a tribute to her home town, in My Rio she takes you on a culinary journey through the neighborhoods that are woven into a great, world-class city. Brazil is famed for is incredibly rich blend of people and cultures. And cuisines. It's an "over-the-top" country and the food reflects that enthusiasm. Recipe titles are long, the ingredients many, and the flavors embody the full array of tropical delights so easily found in Rio markets and streets.
Beyond recipes, Leticia offers insights into the people and ingredients that are Rio. The photographs — of food, people, and places — depict the warmth of the dishes, the happy smiles, the sunny venues that make Rio a destination we all secretly crave to "someday" visit. Her My Rio tour includes a list of the best in farmers markets, still another incentive to reach for your passport.
You'll find beverages here:
The classic Caipirinha made with cachaça
Papaya and Orange Smoothie, best made with small papayas filled with Brazilian sun
Pineapple and Mint Smoothie
With all that Portuguese influence, Brazil and Rio cannot escape the temptation of tapas:
Deep-Fried Beef Empanadas
Garlic and Cilantro Soup with Poach Eggs and Croutons
A city on the sea will of course offer an abundance of seafood treats, often with European origins:
Shrimp and Cheese Turnovers
Baked Salt Cod with Potatoes, Onions, Eggs, and Olives
Shrimp and Butternut Squash Risotto
Wild Striped Bass with Caramelized Bananas and Golden Raisin Sauce
Shrimp, Mussel, and Squid Soup with Shredded White Fish and Fresh Parsley
Farfalle with Salmon and Caipirinha Sauce [you eat it as well as drink it!]
Meats, especially for a country next to Argentina and with immigrants from around the world, are not forgotten:
Steak with Fried Garlic served with Rice and Potatoes
Brazilian-Style Veal Stroganoff
Slow-Roasted Pork Ribs with Guava Sauce
Poultry comes with ideas inspired by recipes and ingredients from around the world:
Brazilian-Style Fried Chicken marinated in lime juice and beer
Duck and Yucca Shepard's Pie
Chicken and Chorizo over Jasmine Rice
Rio's neighborhoods include the rich and then the no so rich where a basic recipe can still be turned into a treasured meal:
Brazilian Black Beat Stew with ham hock, pancetta, and sausage
Creamy Cheese Spinach Pie with a crust made of Ritz crackers
Black Bean and Sausage Soup
Fresh Peas with Sunny-Side Up Eggs and Sausage
Tropical cuisines have a special knack for sweet endings. In My Rio you can encounter:
Coconut Layer Cake with Coconut Pastry Cream and Meringue Frosting
Chocolate-Covered Honey Breads with Dulce de Leche Filling
Passion Fruit Mousse
Roulade with Orange-Caramel Sauce
Brie and Apricot Crepes
Suzen and I have cooked from this book and you'll soon see some results posted here. In a phrase: homey, yummy, gotta-have-seconds. We have yet to tackle that wild bass with caramelized bananas, but it's a sure bet for a dinner party. The Brie and Apricot Crepes, well, I don't really know if they are dessert or appetizer. And I don't care. I don't have to care. Why?
Because it's Rio, lovely, extravagant Rio. And now My Rio can be yours.