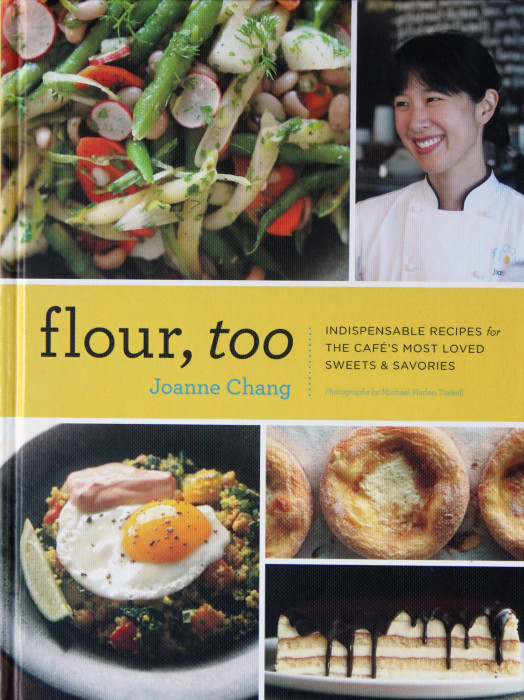 Have you ever done something incredibly stupid? Really stupid. Embarrassingly stupid. And yet, intriguing. "How could I have done that?" you ask yourself. "Have I done it somewhere else and still don't know it?" is the question that then pops up and begins to haunt you.
A year ago, I got a copy of Flour, too by Joanne Chang. Joanne's first book, Flour, was devoted to the sweet side of the dishes from her Boston café. Suzen and I love that book and we were eager to get Flour, too. This book covers all those wonderful "other" things — savory breakfast, lunch sandwiches and soups, dinner salads and main dishes, plus snacks, drinks and even more desserts.
I took my brand new copy of Flour, too and set it down. And then more books came and I put them on top of Flour, too. The stack grew, and I never, ever worked my way back down to the bottom of the stack.
Flour, too lay there, forgotten, abandoned. And that was incredibly stupid. I did find the book last week and I've gone through it page by page. And, now Suzen and I are cooking from it. Flour, too is delightfully impressive. Flour, too comes with ideas that are familiar yet different. Different enough to make you sit up and say, "I'd like to try that." For example, there is the Chilled Spanish White Gazpacho. The recipe includes cucumbers, seedless grapes and almonds. Unlike some other white gazpacho recipes, this one does not include heavy cream or other dairy. It, it is actually healthy. And, no tomatoes. White means not red.
Joanne studied math and economics at Harvard with a plan to make it to Stockholm and accept a Nobel Prize someday. She began baking for fun in Boston and, well, life sometimes follows an unexpected path.
Take Breakfast, her first chapter in Flour, too. The very first recipe is Classic Apple Turnovers, followed by Cinnamon Cream Brioche. Right there you capture the essence of this book. The turnovers are classic and clearly the right way to start breakfast. But the Cinnamon Cream Brioche is strictly her riff on Nancy Silverton's Viennese Cream Brioche. Joanne has this knack for cleverly extending an existing recipe in directions to create something that customers line up for.
Of course, breakfast can also be savory and even more inventive. The café is famous for its egg sandwich: eggs whisked and then cooked in a bain marie, topped with cheese and bacon and ham, then served on focaccia with a mustard-mayo combination. And there's:
Breakfast Pizzas: brioche dough, cream fraiche, eggs, and caramelized onions, plus cheese
Ham and Vermont Cheddar Hot Pockets
Smoked Salmon Sandwiches with Herbed Ream Cheese, Arugula, and Red Onion
For Lunch, there is an abundance of soup recipes — like that gazpacho or a classic split pea — but people line up at the café for the sandwiches:
Curried Tuna with Apples and Golden Raisins
Lemony Hummus with Cucumber, Radish Sprouts, and Red Onion
Smoked Turkey with Sharp Cheddar and Cranberry Chutney
Roast Lamb with Tomato Chutney and Rosemary Goat Cheese
For Dinner, there are salads and main courses aplenty, including:
Asian Celery, Fennel, and Edamame Salad with Candied Lemon
Warm Quinoa Salad with Roasted Autumn Vegetables and Ginger-Scallion Dressing
Mushroom and Leek Lasagna with Creamy Béchamel
New England Style Baked Beans with Thick Cut Bacon
Turkey Burgers with Tomato-Onion Jam
Roasted Pork Loin with Chive Spaetzle, Slow Roasted Balsamic Onions and Oregano Mojo
There are party food ideas here, like scallion pancakes and goat cheese Portobello and cumin empanaditas. You might though want to jump to Desserts for more of Joanne's sweet creations:
Sugared Crepes with Rum-Butterscotch Bananas
Maple-Apple Upside-Down Buttermilk Cake
Bittersweet Chocolate Espresso Terrine
If you live in Boston, you might visit the café for a special, upscale dining treat either to begin or to end your day or to pause midway. And whether you live in Boston or in Montana, this wonderful book offers you the opportunity to boost your home cooking. The recipes are all approachable by the typical home cook. Some are very simple, and some will give you a bit of a challenge and take some time. But the investment is worthwhile.
For example, the New England Baked Beans are easy but show you the power of combining molasses, brown sugar and mustard. That Roasted Pork Loin with Chive Spaetzle is a dish for a wet Sunday afternoon when you want to spend time in the kitchen and end the day with a dining triumph.
Flour, too is filled with flavors and ideas that will please you and surely draw praise from the crowd at your table. Whether it is breakfast, lunch, dinner, or something in between, Flour, too has recipes that will delight you.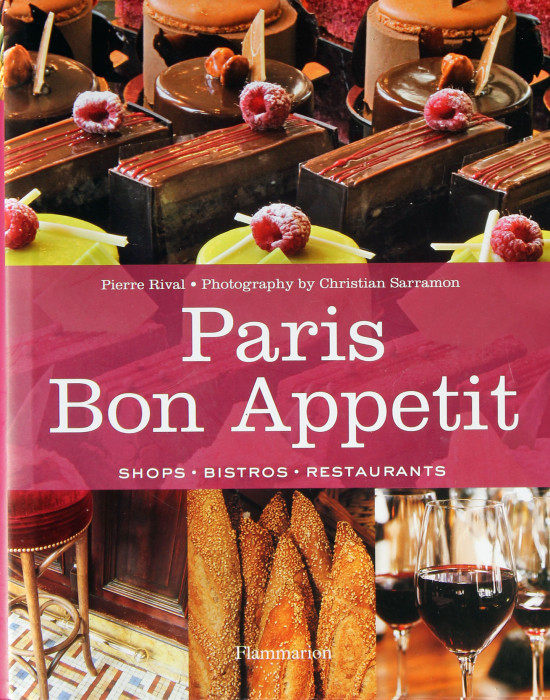 Here's are questions that cannot be answered: what is the best place to eat in Paris, where should I buy food in Paris, where should I buy wine?
It's impossible to provide a single answer to these questions and even this book does not attempt to do that. Instead, Paris Bon Appetit divides the Parisian culinary world into three different levels based on age:
Decadent Paris: the most historic and prestigious settings
Traditional Paris: old-fashioned flavors and atmospheres
Contemporary Paris: the new, the hip, the contemporary, the future
In each of these three levels, you'll find places to eat and places to buy. And always places to adore.
In Decadent Paris, you tour establishments decades old that are the definition of high-end. Many of these are world-famous, some are more quiet Parisian treasures that the locals guard to preserve the privacy and the quality. Here the great and grand restaurants are described in loving detail: Le Cinq, Laperouse, Le Precope — in all nineteen museums of gastronomy. History and ambiance are described with studied care.
There are nineteen legendary brasseries presented, too. And the difference between a restaurant and a brasserie? In 1877 it was semi-officially stated that in a brasserie beer was sold by the measure and the food only served at tables with benches. Today, you'll find chairs and tablecloths, too. This entire genre is based on Alsatian food, and began in the 1850 when railroads first connected Paris and Alsace. In 1871, German claimed Alsace as a war prize [Franco-Prussian War] and refugee Alsatians flocked to Paris. They rebuilt their world and Paris gained this new layer of grandness.
The Decadent section ends with the best in high-end food stores offering exceptional food products. Auge for wine, Dallayou as the ultimate delicatessen, Fauchon as the ultimate food store. If you are on a food tour of Paris, this list provides the top dozen stores that you must, must visit.
The Traditional Paris section begins with places to eat, not restaurants or brassieres, but bistros. This is, strangely, another war based concept. When Napoleon was defeated, the Russians occupied Paris. They wanted their food and they wanted it quickly. "Bistro" means fast in Russian. The food here does not take hours to prepare, it is not always sauce-heavy, but in the bistros listed here it is damn good. Pick any of these on your Paris tour, and you'll feel absolutely native.
The shops in this section are popular with both natives and tourists. They produce food in abundance and it is as splendid as if it were crafted just for you. Boulangerie Kayser offers fantastic breads. Got to Audroet for cheese, and Le Baron Rouge for wine. There are meat and wine stores, bread palaces, chocolate, and pastries. The prices here are not in the decadent class, but, these are still world-class establishments and you'll see euros flow from your wallet. Worth every last one.
The last section of the book, Contemporary Paris, covers the exceptional spaces and food conceived in the past two decades. The red velvet and gold leaf of royal Paris are absent in the forty restaurants described here. Modern, post-modern, austere, avant garde — these are restaurants located on movie sets. Here the experience matters as much as the food and the experience is phenomenal. The French pride themselves on quality and these spaces are ample justification. Dine at L'Arpege on minimalist cuisine in a somber room that is the perfect host for the best vegetables in the world. To sit and dine in these spaces is to be consumed by the beauty of the surroundings just as you consume the beauty of the food.
There's a long list of food and wine stores here, too. New vendors in new spaces with new glories. Visit La Maison du Whisky to see how France can transform Kentucky. Or Le Palais des Thés to see how quality and quantity can combine with no compromise.
World cities all now vie for dominance in the food world. But Paris has always been first. Paris Bon Appetit explains why Paris stands atop the world. And surely always will.