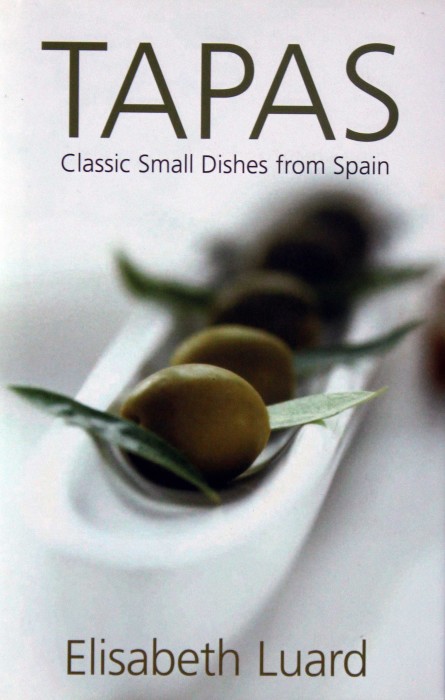 There are some benefits to being senior, not old, just senior. You have perspective. You know what the road of life has been. And you can tell younger people about a world that they could never experience because that world is gone, changed, buried under the maze of electrons that make up the world wide web.
Elisabeth Luard is a remarkable woman and writer. She's had a very abundant life and her writings cover both food and relationships. She has written brilliantly and candidly about her marriage to a man who had, to be kind, issues. Issues with alcohol and issues with women.
Through all the complexities of life that she faced, Elisabeth has managed to be a steady and marvelous food writer. Her most recent book is A Cook's Year in a Welsh Farmhouse, depicting the life she leads now.
But in the 60's, with that husband and four kids, she lived in a remote region of Southern Spain with her family and immersed herself in the food culture of Spain. The culture of tapas. And Tapas is her brilliant survey of the tapas landscape, complete not just with recipes but rich background and history.
If you go to Amazon, there are about 250 tapas books. And, perhaps because it was published in Great Britain, Tapas appears only in spot #33. But I find this book right there at spot #1, tied with the classic Tapas: The Little Dishes of Spain by Penelope Casas. If you know that book, if you love it, or if you simply want to learn about tapas — real tapas — then this Tapas is the book you want on your shelf.
Tapas comes from the Spanish word for "to cover" and originally it denoted something — some bread or cheese — placed on top of glass of wine or sherry to protect it from critters as it passed from the bar to your table. In parts of Spain, if you order a drink, you get a free tapas, a very small nibble.
Since the 60's, the concept of tapas has greatly expanded. Now more typically you order and pay, but you will still be nibbling your way from the end of work until you sit down to dinner sometime deep in the evening. Tapas is not dinner. It's the prelude.
What an opening act tapas can be. What is tapas exactly? As Elisabeth demonstrates in depth, tapas can be almost anything, from the very simple to the richly complex. Some nuts or olives, perhaps adorned with salt or spices or herbs. Or it can be lamb cutlets grilled with garlic mayonnaise — a dish so sophisticated it could be dinner if you just scaled up the quantity.
Chapters are devoted to the vast array of tapas ideas. Here is a sampling:
Basics: those simple nuts and olives
Salads and cold dishes: vinegar pickled anchovies, chicory stuffed with blue cheese
Vegetables: fried baby artichokes, green beans with almonds
Eggs and tortillas: classic potato omelet, scrambled eggs with bacon and spiced sausage
Fish, prawns, shrimp, and shellfish: pickled sardines, fried anchovies, crayfish with parsley sauce
Meat: classic meatballs with tomato sauce, pork medallions with lemon and marjoram
Chicken and game: turkey with saffron and almonds, sweet and sour rabbit, rabbit with chocolate
Croquettes, pasties and pie: shrimp croquettes, spiced meat empanadas, Gallician pork pie
The introduction and headnotes for the recipes provide you with excellent background. For over 700 years, Spain was a Muslim country. The iron pans now used to cook many tapas dishes came to Spain with those conquerors. Many of the recipe ideas and ingredients have their basis in the culture that swept in from the Middle East.
Once Spain again became Christian, and explored the New World, an entirely new array of flavors and concepts arrived. Dishes like that Rabbit with Chocolate.
The tapas world thus has exceptionally wide origins. And a local tradition of "small" plates to be shared, enabling multiple recipes to be relished in a single evening. It's the best of all worlds: more and more.
Elisabeth presents her recipes in the most authentic form possible. She goes to specific regions and cities to provide the "classic, local" recipes, the ones that are inspired and traditional. Tapas is both tasty and scholarly, a tribute to Elisabeth's penchant for detail.
With all those tapas ideas bursting from this book, where do you begin? The final chapter in the book provides menus for a variety of tapas parties: spring, summer, autumn, winter, kid's, no-cooked, vegetarian, for 2 or 4 or 6 or 8. These lists, combined with the wonderful recipes, should have you deep into tapas as soon as possible.
Tapas was published in2011 by Grub Street in London. You can go to www.grubstreet.co.uk to be seduced by their lovely portfolio of cookbooks.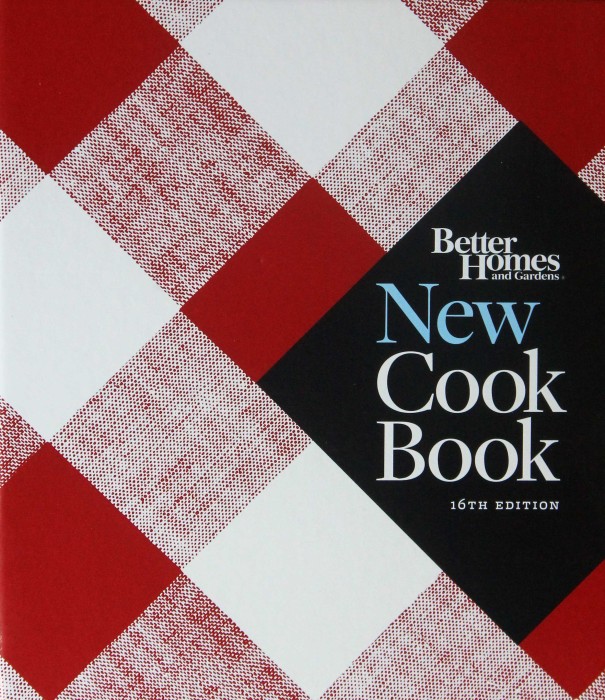 It's Throwback Thursday. Time to review an old but still very excellent cookbook. And today's choice is …
Brand new.
Well, it's actually over 80 years old, and the world's bestselling cookbook, but the newest edition, the 16th, has just been published.
Talk about packaging. The red and white checkerboard cover of the Better Homes and Gardens New Cook Book is instantly recognizable. It's a constant reference for me — especially me. Suzen is a talented cook, as good as you can get without going through the CIA. Me? I need help. Lots of help. Hundreds of pages of help. Plenty of pictures help. Plenty of tips help.
So, I often look on my bookshelf for this book's distinctive cover and grab it with a sigh and smile of relief. The BH&G tome is one we can all trust. And all use.
The previous edition, the 15th, was published fairly recently, in 2010. So two questions arise: what is different and should I add this book to my shelf? Briefly, there are distinct changes — more shifts really — in the content that make this book really "new." It's such a classic that I am happy to put the 16th next to the 15th and plan to use both. It's not a matter of "one for the other" but rather "adding a new child" to the family.
This book is not a rewrite from scratch. Most of the old recipes are there, but there are additions and clarifications. This edition reflects the changes and shifting trends in home cooking:
The inside cover has a new table for substitutions that includes Cajun and Fajita
Smoothies appear with multiple recipes
The pasta recipes are more contemporary and a whole section is devoted to homemade pasta
One new chapter appears, Holiday Favorites, which is sure to be one you will dive into this fall
The Tips appearing in each chapter have been greatly expanded to help people like, well, me
This new edition is about the same length as the old one. It's hard to quantify the content change, something on the order of 10%. If you add something, and want to keep the book length the same, then sadly some recipes must go away. So, we get smoothies, but the mint brownies are gone. That's a reason to both add the 16th but keep the 15th.
Old recipes are mostly untouched, but there are some significant boosts. Ever tried to make classic hash brown using grated potatoes? I have and I created one mass of black stuff.
"Don't blog that," was Suzen's comment. I did anyway, but made heavy use of salt, pepper, lighting and Photoshop.
The hash browns recipe in the 16th has been greatly expanded with instructions to guide you to perfect, dreamy hash browns. Not hash blacks.
So the 16th is heavily about refinements, clarifications, and reorganizations. The onion rings are still there but shifted from the Appetizers chapter to Vegetables. Many of the recipe titles have been changed to give you an immediate idea of what the flavor will be: the Asparagus Deviled Egg recipe is now title Asparagus and Ham. The net effect is to make the book more immediately clear and give you an easier path to recipe selection.
An interesting new feature is the "8 Way With …" concept. Here a basic recipe can be changed with some simple changes and additions. It lets you turn chicken breasts into something beyond chicken, an act that may draw applause from your children. Or from you.
The 16th edition makes the BH&G standard a contemporary, very friendly and very wise addition to your kitchen library. Your old copy of BH&G, like my 15th, probably has a collection of dog-eared pages. After you get your copy of the 16th, you'll find many favorites — both old and new. The 16th is big, helpful, and immensely enjoyable.