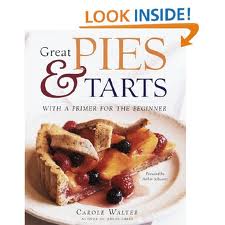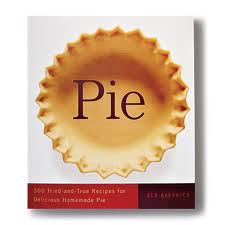 We are two thirds of the way through summer, and it is now peak season for pie makers. There are still berries to be had. Peaches abound. And soon, as fall enters, we'll have apples by the ton. In just two months, fresh pumpkin pie will tempt us.
I like pies of all kinds, but fruit is dearer to me than even chocolate. I remember my first lemon meringue pie, from the Farmers Market at 3rd and Fairfax in Los Angles. Like a first kiss, that first pie was confirmation that life could be grand.
Suzen and I have collected pie books aplenty over the years. Pie books tend to be slim, with a few dozen recipes. Slimness is not bad and those smallish books have some wonderful ideas.
But when I am in a pie mood, when I need a pie encyclopedia for something different, where do I turn? I happen to be ambidextrous and therefore I can do two page turns at once. If you love pie, then there are two very thick books that you want to consult. Great Pies and Tarts by Carole Walter is a bible at almost 500 pages. Pie by Ken Haedrich comes to us with over 600 pages. Both books are wonderful and both are indispensable. And, they complement each other.
Do you want a tangerine pie, then you need Great Pies and Tarts. Is there a watermelon afoot in your kitchen, then you need Pie. And, Great Pies and Tarts does not address watermelon while tangerine does not appear in Pie. It turns out that these wonderful books truly complement each other.
If the slim books have a few dozen recipes, these two tomes have hundreds. Does size, or quantity, matter. It does.
When you ask someone to name a pie, they are going to answer "apple." Then "cherry" and "berry" will pop up. "Peach" perhaps. "Watermelon?" Never.
Besides offering the most delicious spectrum of flavors, these two books serve a vital role. They capture and preserve a tradition of American pie recipes that might otherwise be lost. Pies from different eras and a different America. You won't find a "Deep-Dish Pluot Pie with Oatmeal-Walnut Crumb Topping" in the freezer section of your supermarket. You will in Pie. "Creamy Green Grape Pie?" Not in the store but Carole has the recipe ready and waiting for you.
Over the coming weeks, you'll see some great recipes here from these books — I've already posted Ken's Watermelon Chiffon Pie. And, recipes for crust, lots of recipes. Pie crust is something that frightens too many of us to a shelf in our store we can find one "pre-made." That's really good marketing talk for manufactured. You want your own crust, your own personal crust, and we'll have many good ideas here for you.
Along the way of this pie journey, you can visit Carole Walter at her website or join Ken Haedrich's Pie Academy for lots of serious instruction. Just click here and enjoy: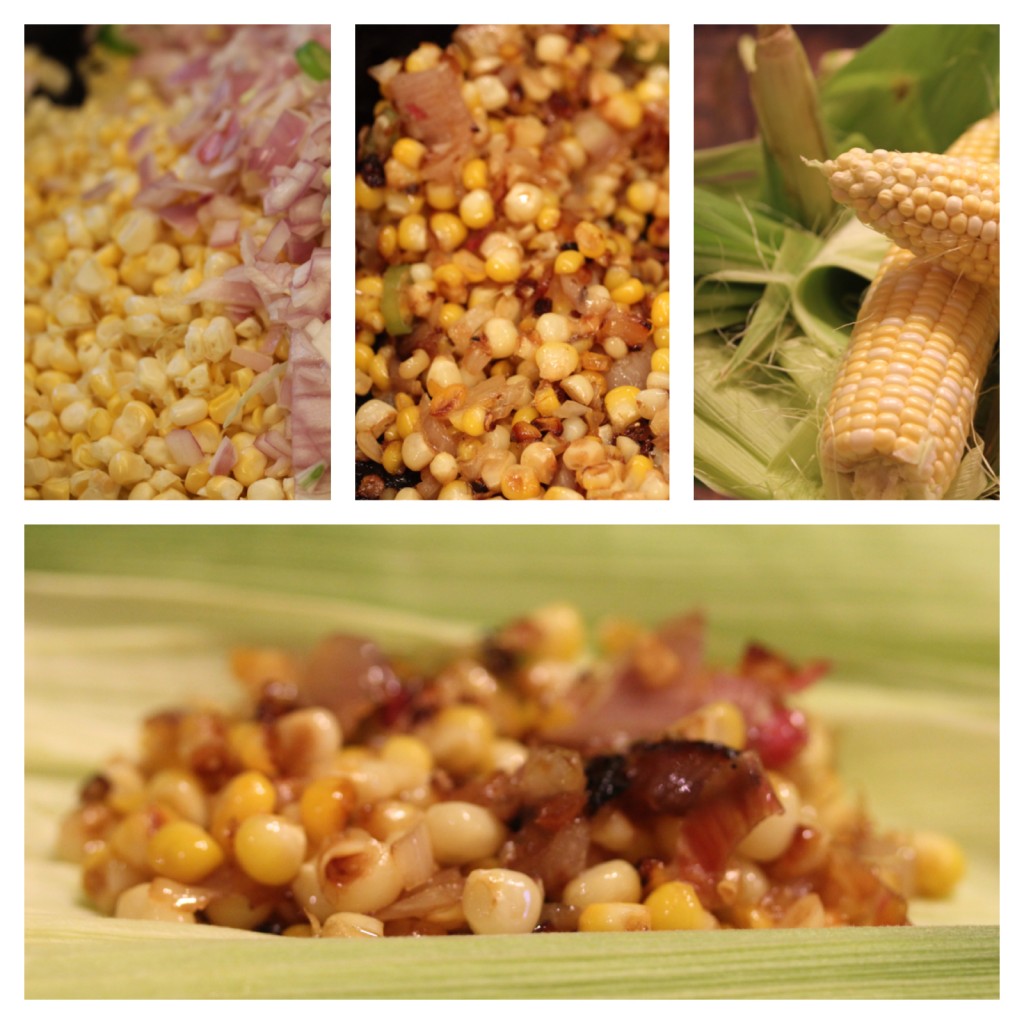 Summer heat and the drought have taken their toll on our farmers and our food supply. Still, there are options to savor the best of summer: fresh corn. To help you really enjoy corn, take a look at I Love Corn by Lisa Skye [published by Andrews McMeel].
Lisa has gathered sixty recipes from great chefs and cookbook authors from around the country to give us chapters on:
Breakfast [Sweet Corn Waffles, Jalapeno Corn Muffins, …]
Soups [Sweet Corn Soup, Fresh Corn Gazpacho, …]
Starters [Corn Ceviche, Roasted Corn Wontons, …]
Mains [Venison with Corn Cocoa and Chipotle Relish, Corn-Poached Halibut, …]
Sides [Corn Pudding with Bacon and Leeks, Warm Corn Soufflés, …]
Sweets [Cornmeal Cake with Honey and Bananas, Strawberry Corn Pone, …]
From the time you rise until you take that last snack, you can enjoy corn. I'm a big fan of corn side dishes which can provide so much contrast and interest to a meal. And, when I see a recipe that says "caramelized" then I perk up.
I made this caramelized corn with a couple of changes. I did not have shallots, so red onions were a fine substitute. And since "caramelized" implies sweetness, I wanted some heat. So I tossed in a diced poblano with the seeds.
To serve this dish, I used the corn husks arranged in a layer on the plate. It is beautiful to see, to photograph, and to devour.
You can obviously scale this recipe up and I suggest you do. Because the next day you can:
Perk it up with lime juice
Convert the leftovers into a salsa using some tomato products
Sparkle up your scrambled eggs for breakfast
In short, great recipe from a fine book.
Caramelized Corn with Shallots
Yield: 4 servings
Ingredients:
1 tablespoon unsalted butter
4 ears fresh corn, kernels removed, about 3 cups
4 large shallots cut into ½-inch slices
Pinch of granulated sugar
Kosher salt and freshly ground black pepper
2 tablespoons fresh thyme leaves plus 1 large sprig for garnish
Preparation:
In a large skillet over medium heat, melt the butter. Add the corn, shallots, sugar, and salt and pepper. Cook, stirring occasionally to prevent burning, until the corn is caramelized, about 5 minutes.
Stir in the thyme and cook for 5 minutes more. Season with salt and pepper to taste. To serve, garnish with the sprig of thyme