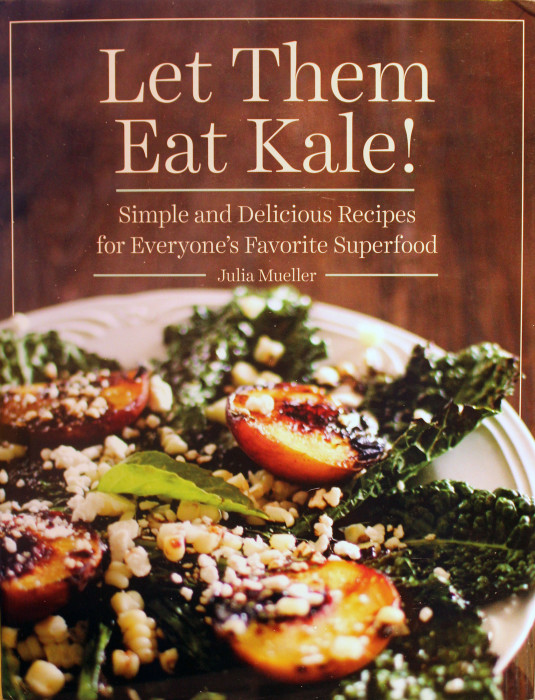 Some trends can be silly. You've had some clothing or a hairdo that you would just prefer to never see again — and you are so very happy Facebook wasn't around when you indulged.
Other trends are significant and even good for you. Kale is one of those. All of a sudden, kale is popping up everywhere. In restaurants, in grocery stores and the farmers markets, and on book shelves. If you go to Amazon and search for "kale" there are 123 hits today, with certainly more tomorrow. And most of these books are recent, published just in the last year.
So, if want to find excellent kale recipes, maybe make your own kale chips because the Whole Foods price reminds you of gold and silver, where do you turn? Which of those new kale cookbooks really gives you a bevy of wonderful recipes that you will enjoy and return to?
I'm intrigued by Let Them Eat Kale! by Julia Mueller from Skyhorse Publishing. A first, and a minor reason, is that I do believe Marie Antoinette unfortunately was misquoted. Again, that was a before-Facebook event so we'll never know.
What we do know is that author Julia Mueller has worked with dedication to fashion an array of recipes, from breakfast to dinner's main dishes, that employ kale as a key ingredient. Sometimes as the dominant ingredient, sometimes simply as an addition to integrate the nutritional values that make kale such a useful food.
In her Introduction, Julia presents kale from multiple aspects, explaining how that very basic and bitter taste can infiltrate into your culinary life. Julia's a convert, preferring kale to other greens in her salads. If you read my review of Taste, you know that there are genetic issues at play here: while humans normally avoid bitter foods, we have evolved to go for the healthy ones. And kale, as Julia points out, is very healthy. Kale is a nutrient-dense superfood packed with vitamins and minerals. The varieties of kale and the varieties of ways to cook it are all presented by Julia in few key pages.
Then it is time for the recipe chapters. Here they are with some representatives of Julia's clever yet practical recipe development:
Breakfast: Chorizo, Potato and Kale Hash; Peach and Kale Stem Smoothie; Poached Egg over Sautéed Kale
Appetizers, Side Dishes and Snacks: Vegan Cheese Kale Chips; Cheddar Kale Skillet Cornbread; Southwest Stuffed Bell Peppers; Zesty Kale Slaw
Salads: Fall Harvest Kale Salad with Cinnamon-Orange Dressing; Roasted Beet and Fig Massaged Kale Salad with Blackberry Vinaigrette
Soups, Stews and Chilis: Butternut Squash and Kale Chili; Creamy Sweet Potato and Kale Soup; Sausage, Fennel and Kale Soup
Main Dishes: Eggplant, Kale and Chickpea Tacos with Charmoula Sauce; Cauliflower and Kale Yellow Curry; Sautéed Shrimp and Kale Tacos with Pineapple, Corn, and Kale Salsa
Sauces, Salsa, and Spreads: Roasted Garlic Kale Hummus; White Bean Kale Dip; Chimichurri Sauce
To gauge this book, it's important to see the spectrum of recipes here. Some are old food friends with kale just woven into the mix to modify the flavor, texture and nutritional values, like the Southwestern Bell Peppers. Some recipes — the Eggplant, Kale and Chickpea Tacos, for example — display Julia's creative instincts. You'll find many totally new dishes here that will entice you to experiment in your kitchen.
And, thankfully, there is no Dessert chapter here with silly Kale Brownies. Julia displays some serious common sense along with her sparkling creativity.
It's impossible to thumb through this book and not stop several times to ponder a recipe. A major reason for that is the accompanying photos. Each recipe gets a lovely full page close up shot of the dish. And, in a bright book design by Skyhorse Publishing, the photos extend all the way to the edge of the page. There are no photo margins and the effect is just what you need: the photos seem to pour out beyond the page, inviting you to look twice and hopefully begin cooking.
Suzen and I began with kale salads a couple of years, just one of those culinary accidents that happen. For her corporate team building events at Cooking by the Book, Suzen introduced kale salad onto the menu and the effect was pretty dramatic: we've had corporate lawyers coming back into the kitchen asking for seconds. Now, with Let Them Eat Kale! we have a wonderful array of salads and beyond to treat our customers and ourselves.
Treat yourself. Get on the kale bandwagon and use Let Them Eat Kale! as your guide.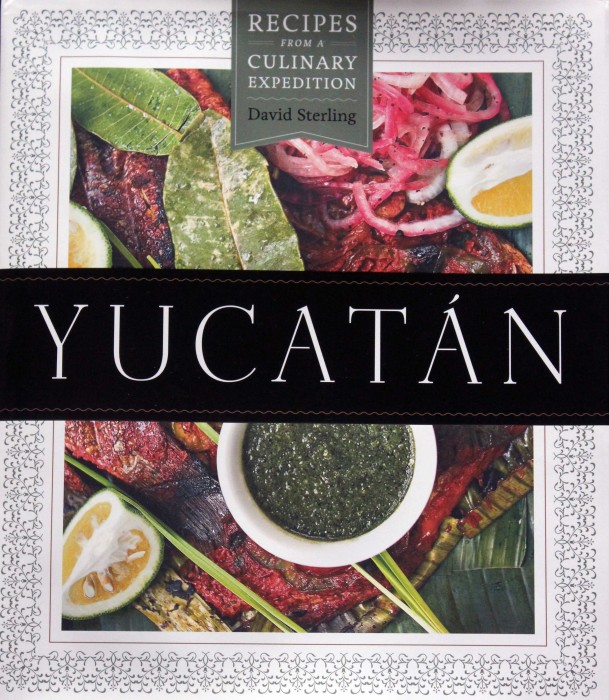 On my lap is a 6 ½ pound baby, one that I don't know quite how to describe. It's heavy, oversized and filled, filled with an incredible array of information about food, recipes, culture and history. Is there one word to describe Yucatan by David Sterling?
Yes, Yucatan is a masterpiece.
This is a huge book, with 500 pages, oversized pages. If you measure "volume" in terms of cubic inches, then this book is literally 250% bigger than the standard cookbook. Does that matter? Oh, yes, because this beautiful book is just packed with pictures, text, and a richness of detail that in unsurpassed. I'm incredibly impressed with this book. It's on book store shelves now, so you can pick up a copy — careful, it really is 6 ½ pounds — and marvel at all the contents yourself.
Author David Sterling has the only Yucatan cooking school in Mexico and many, many years spent exploring Mexico with an emphasis on his Yucatan passion. He begins with some explanations: yes, the Maya people were in Yucatan but also in a much wider area spreading south into Central America. So, this book is about Yucatan food, not all of Mayan. [I should say Maya there because, Sterling points out, Mayan refers only to the language; it's Maya for everything else].
There's some history to be explored at the start, too, because of two big explosions. 65 million years ago an asteroid struck the earth at the north end of Yucatan. That impact lead to the death of the dinosaurs. No, no human was there roasting chilies at the time. But the impact did alter the landscape, affecting things like availability of fresh water and eliminating all the high ground. Today Yucatan is flat limestone plateau, sub-tropical but with water shortages that affect what can be grown and how it is grown.
The second impact was more recent. When the Spanish explorers came, there was the greatest exchange of culinary ingredients in history. The Maya had corn and chilies in almost countless varieties. Fruits and berries in abundance. The Spanish brought pigs, citrus fruits, olive oil, vinegars, and capers. And, peppercorns. We do have some idea of what Maya cuisine was like before the Spanish arrival, and, yes, many of those dishes survive, but the current cuisine has been incredibly impacted by European influences, first Spanish, then French and Dutch. The Spanish impact was, literally, a culinary asteroid.
After these important background considerations about geography, language, and history, the book unwinds in 8 principal chapters:
The Yucatan Market
The Maya Heartland
Fertile Shores
The People's Food
The Urban Matrix
The Pueblos
Pantry Staples
Basic Techniques
The Yucatan Market is the first chapter. There are 70 eye-opening pages with full color pictures of the armada of local ingredients so essential to this cuisine. There is a cornucopia of fruits and vegetables here, many new to us in the North, with excellent descriptions of the varieties, seasons of use, and typical recipes. The chapter will make you salivate, and begin searching for some local outlet to secure them for your pantry.
The Mayan Heartland describes the territory the people of Yucatan inhabit: forest, plots of land next to their homes, larger plots further away and created with slash and burn techniques. Why slash and burn? The Yucatan is one vast limestone plateau that is not covered with a rich topsoil. It was the Maya who first perfected careful farming techniques to make the land as productive as possible. Those techniques are continued today. Here you visit typical rural Maya families and take a tour of a palm covered home. The palm is 50 years old and has never leaked.
And, in this chapter you being to encounter the recipes which are woven into the tours conducted in each chapter. Yucatan has its own variety of turkey and here you find Turkey in Maize-Thickened White Sauce. Maize is eaten, of course, but also still worshipped.
Fertile Shores is a tour of seven seaside villages. Imagine yourself in a Jeep dashing along the coast, visiting one village after another and discovering the local bests, like Lobster Tails in Charred Chile Sauce. Historically, these coastal villages were also portals between the interior and trading sites in the rest of Mexico and the Caribbean. So, not all the food is seafood. And, there is a sophistication here that might surprise you: Duck Magrets in Honey-Anise Liqueur Glaze.
People's Food takes you on another tour across the Yucatan, this time investigating dishes often with world-inspired cuisines:
Sweet and Savory Ham and Cheese Pastry
Pork Belly Confit
Pork Cracklings in Tomato Sauce
Little Tacos of Octopus
Coconut Sorbet
Corn Sorbet
Chicken and Potatoes Stewed in Oregano and Black Pepper Sauce
Yucatan Margarita with Seville Orange Juice and Mezcal,
Egg Stuffed Tortillas Bathed in in Squash Seed and Tomato Sauces
The jeep is parked for a walking tour of the markets, restaurants and homes of The Urban Matrix. The Spanish created three "cities" to conquer and then control the Yucatan: Campeche, Merida, and Valladolid. Here you will find dishes that are a step up in complexity and reflect ongoing European influence
Pompano en Papillote,
Soup de Lima [Chicken Soup with Sweet Lime Essence]
Dutch Edam Cheese Stuffed with Savory Mincemeat
Bread Pudding Soufflé with Cinnamon Syrup and Nuts
Torta Cubana [Pressed Sandwich of Roast Pork, Smoke Ham, and Cheese]
Brined Turkey Stewed in Onion and Chiles
Vinegared Soup with Mincemeat and Caper-Stuffed Ravioli;
Fried Fish with Caper Pesto Olives and Chiles in Vinaigrette
Turkey with Capers, Raisins, and Olives in Sweet Orange Sauce
This cuisine would not have been possible without the marvelous marriage of Yucatan and Spanish ingredients. It dramatically spotlights the power of evolution and integration.
The Pueblos is the last major chapter. Back in the jeep, out of the cities, and into the maze of small villages that retain historic recipes. We are in search of the best in bread, protein, fruits and desserts:
Papaya in Burnt-Sugar and Honey Glaze
Pit Smoked Pork
Maize and Chocolate Porridge
The Pantry Staples chapter is extremely important, a key to the integrity of this book. Can you cook Yucatan dishes at home? Yes, thanks to the insights here. Yucatan cuisine is about three things: smoke, spice, and chile. The spice comes from spice mixes called recardos, some in powder form and some in paste. With decades of experience, author David Sterling admits to still being confused at the plethora of recardos across the Yucatan. You'll find mounds of them in each local marketplace and each wife and mother has her own ideas, ideas honed by generations. Lots of generations. The elements of this cuisine began 8,000 years ago. The recardo recipes here are used in almost every recipe in the book.
Beyond those spice mixes, you'll find salsas, of course, plus insights into repurposing: a Yucatan cook will prepare beans for Sunday and then keep using and reusing them through the week, in one recipe after another. That underlying, asteroid-impacted limestone geography does not allow for any waste in the kitchen.
Finally, Basic Techniques covers such essentials as making masa, dealing with banana leaves, cooking tamales, and making rice the Maya way.
This has been a long review. And, it does not do justice to this great work. I plan, in future posts, to revisit Yucatan with you. We have fun journeys ahead.
In fact, in the next two days, you'll see a great recardo and then use it in a corn dish that will tears — joyful ones — to your eyes.
And, yes, I'm lobbying Suzen for us to make the Turkey with Capers, Raisins, and Olives in Sweet Orange Sauce. And, no, I'm not waiting until Thanksgiving.
Lastly, Yucatan is published by the University of Texas Press, which in 2010 published the monumental Diana Kennedy work Oaxaca al Gusto: An Infinite Gastronomy. The UT Press deserves applause for the extraordinary care and quality of these books. It is one thing just to get matters of culinary importance down on paper. It's another to have it produced with such elegance and beauty. So, if you buy Yucatan and Oaxaca too, you'll be sending a message that these efforts are relished. That would be a third impact.